Learning, showcasing content, and networking
National Film Festival for Talented Youth (NFFTY)
What is the National Film Festival for Talented Youth (NFFTY)
The National Film Festival for Talented Youth (NFFTY) is the flagship program of The Talented Youth, a non-profit founded in 2007. This annual film festival encourages and supports young filmmakers. It is a platform for filmmakers to showcase their films and build connections with other filmmakers. 
The 2020 edition of NFFTY was hosted via Airmeet. Sydney Jarol, Marketing and Engagement coordinator, NFFTY, shares their hosting experience with Airmeet. 
NFFTY is an annual event wherein young filmmakers showcase their films. Amid the pandemic, this year's edition of NFFTY had to be hosted virtually. The event had panel discussions, workshops and allowed interactions with NFFTY alumni and representatives from various film schools. 
Powered by Airmeet, 200+ filmmakers from across the globe participated in the two-day event.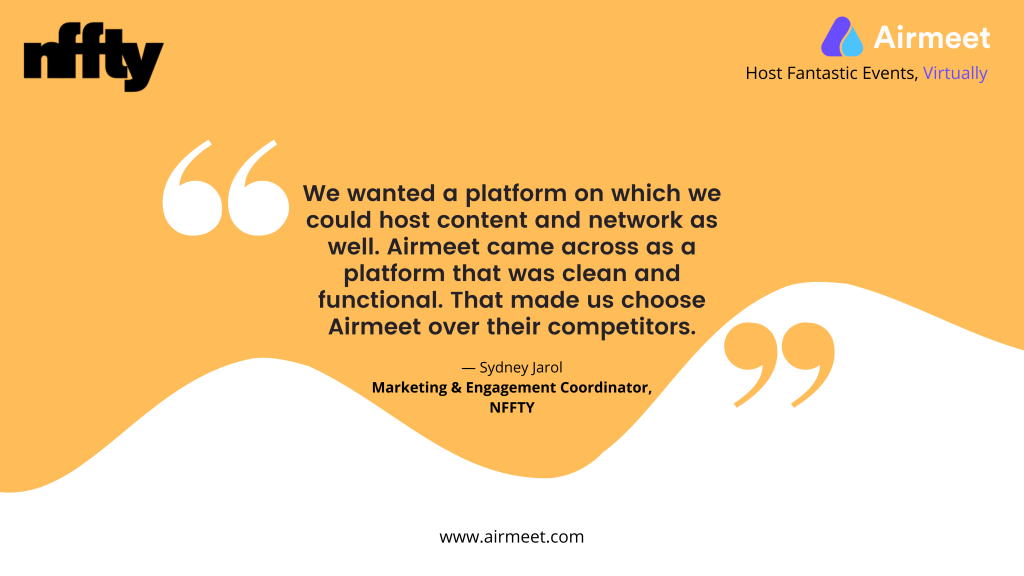 What were they looking for
NFFTY was evaluating Airmeet against a few other events hosting platforms. Their must-have feature list included the ability to network, host workshops and panel discussions, and ease of use.
Sydney says, " Airmeet offers a platform with a clean interface and extremely functional design. We were delighted that we could customise the look and feel to meet our needs. It had all the features that we were looking for, and most importantly, it fits in our budget as well." 
Most loved Airmeet features
NFFTY was glad that they could include Panel Discussions and Workshops in the event. The fact that Airmeet enabled Multiple Speakers proved to be a great plus as they hosted six panelists for a particular discussion.
The Social Lounge was well-used and appreciated by the participants and organisers alike, for offering powerful and easy networking. Q&A and Voting for Questions and answers helped keep the sessions extremely interactive. NFFTY aced the event with HD quality video and audio.
Sydney added, "Many of our participants said that the event was a great experience. They connected with other filmmakers and could also interact with the NFFTY staff. That makes us feel that we organised a successful event."
NFFTY plans to continue hosting the event virtually, even in 2021. A couple of workshops and alumni meet are in the works. The alumni meet for NFFTY filmmakers is scheduled for the fall of 2021.
Virtual Events & Community Building Insights
Subscribe to Get Updates (we promise no spam)