Weekly Deep-dive Learning Workshops
Recro is a platform that acts as a bridge between the right talent and opportunities at high-growth startups. Recro improves the growth trajectory of its vast pool of trained and qualified developers by providing them opportunities at top startups, and in the process, helping the startups make their talent acquisition process frictionless. Some of the startups that they are currently associated with include Swiggy, Cure.fit, Udaan, Dunzo, Bounce, Homelane and Zivame.
They were looking to build and nurture the community of developers by hosting value-driven learning sessions for them.
Challenge (And Solutions)
Sana Rihana, Community Initiative Lead, Recro, told us that, "We were looking for an event technology platform to raise awareness and boost learning in our tech community. For speakers, we were reaching out to industry experts and practitioners to drive knowledge sharing sessions for our community." For this, they  drew a line of comparison among  Airmeet, GoToWebinar and Zoom, to find the right technology partner for them. 
Sana also added, "After an initial evaluation, we booked a demo with the Airmeet team and got one on the same day. Such quick and easy adoption got us hooked. And as we learnt more during the demo about the feature set, we were convinced that Airmeet was the right answer for our needs."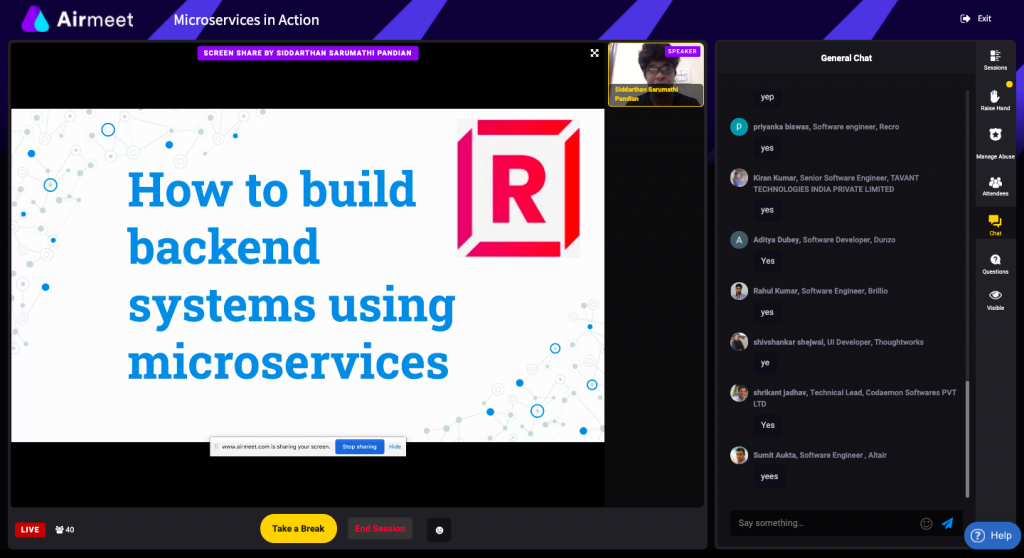 Challenge 1: Host deep-dive Knowledge-sharing Sessions
Recro planned to invite industry-experts from companies like Hotstar and HackerEarth to host deep-dive workshops and an insightful session on the best practices and industry applications. When you invite such speakers for a tech community, you want to ensure that there are no technical glitches or limiting features. It ensures that everyone has a delightful experience and makes the most of such valuable sessions.
An excellent viewing and seamless technology experience is the glue that holds everything together. 
Brilliant Quality – Airmeet offers latency-free, HD quality, real-time video streaming of events. Such a reliable and professional experience is especially important when your speakers and attendees are a developer community who is sensitive to technical issues. 
24/7 Support and Training:  Our hands-on and community-centric team is driven by the core mission of empowering community managers. Our efficient onboarding process and handy assistance ensure that help is available at every step of the way. Whether you need support in setting up events, dry runs, training, resolving queries or need some tips & tricks on community management, we make hosting easy. Sana mentioned that during one of their rehearsals, even Lalit, Founder, Airmeet, came on to ensure that they are on track and enjoying the experience. 
Intuitive, Ready-to-use Platform– Incredibly-easy interface to schedule and join events, encourages an all-inclusive community experience and allows more frequent events. Attendees can join-in directly using any modern browser. They do not need to download any program on their device; it is ready-to-use from day 1. 
Security & Privacy Features – Airmeet's architecture eliminates such breaches through features like end-to-end data encryption, follows GDPR guidelines for data security, secure cloud storage of session recordings, guest authentication and moderated chats/ raise hands.
Budget-friendly solution– Presently, Airmeet allows you to host unlimited events for absolutely no-cost. It was vital as Recro strives to build a community, without monetizing the effort.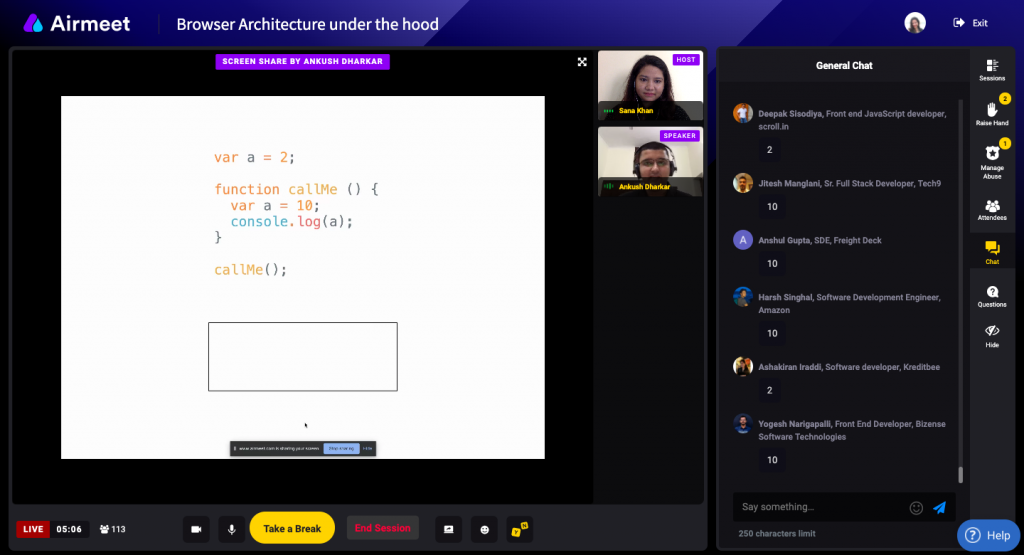 Challenge 2: Engage the Community and Encourage 1:1 Learning
The events hosted by them lasts for 3-4 hours as they dive into  in-depth discussions on the tech topics. They are followed by one on one  interaction with the speaker to help the attendees get a better understanding of the topic and master it. 
Such post-event interactions sometimes turn into a detailed discussion that easily lasts for more than 2 hours. To delineate it further, Sana said, "It is something that we are proud of – attendees love to stay back and engage on their own and need to implement it easily. Also, our events had to be very engaging and interactive as tech learning can sometimes get dull and boring. "
With a major focus on the networking aspect, Airmeet has some networking and engagement features at its core to make events exciting and interactive. These features also enable gamification. Below are the features –
The Raise Hand feature worked well for Recro because, much like an in-person event, an attendee can come on to the stage and discuss with/ question the speaker.
Once the host accepts your "Raise hand" request, you can be live on the stage by streaming your feed in real time. You can return the mic post-discussion with the speaker. It makes the entire process of interaction very personal yet moderated by the host.
Q&A – A separate window for Q&A facilitates asking questions, upvoting, sorting by popularity and managing answers.
Emoji reactions – Applaud for your speaker via emojis during the live session. It is another way to make events more enjoyable and engaging.
Screen-sharing – Speakers sometimes need to show code, give demos or share presentations. All these are possible via screen-sharing feature. It leads to boosting engagement and improving learning in tech sessions.
Social Lounge facilitates discussions and networking by enabling attendees to join in a video conference with co-attendees on the virtual table. It is a great way to interact with the speaker or network during a networking break. Sana pointed out that their speakers engage with audience 1:1 in the social lounge, clarifying doubts and explaining beyond the session. She told us that speakers have been spending up to three hours post-event in the social lounge. It is an Airmeet success story right there.
Polls – Poll feature is another excellent way to engage the audience, capture feedback and gather data, straight from your attendees.
Chat – General and direct chat feature enables safe and secure messaging. You can post comments, questions or interact with co-attendees while the event is live.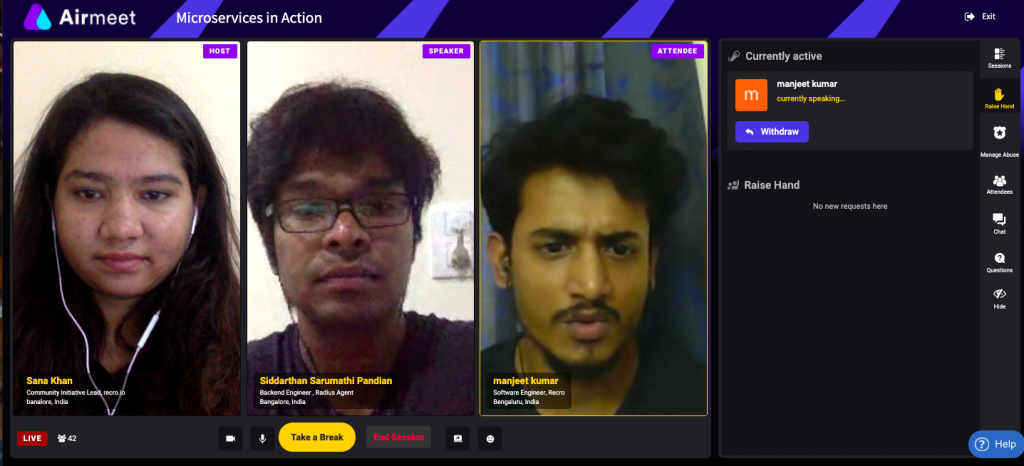 Hosting a large-scale event with a  large number of attendees requires a lot of planning and coordination. But as Recro is aiming to expand  their community size, the event software's performance and ability to support should not get compromised with the increased numbers. 
Sana said, "Within just two months of hosting these online learning sessions, we have been able to easily get 400+ registrations with 50-70% turnout. It is a significant number given the time and effort spent. It gives us tremendous confidence that we can easily scale our community and share benefits with a larger community."
Some of the Airmeet features that help you scale are –
Sync To Calendar – Airmeet enables you to easily add events to your calendar in Outlook, Google and more. It boosts attendance as people are more likely to remember when they save the date.


Huge Attendee and Speaker limit – You can host tens of thousands of attendees parallelly, with the same performance efficiency. Airmeet even allows up to 16 speakers in a session, if you are looking to host multi-speaker sessions or panel discussions.


Insights and data – Use insights and data from Airmeet to tweak your strategy and understand your audience better. You can even export the data and leverage it for marketing. It will help improve registrations and attendance in your future events.


Social live streaming – Boost your event traffic by leveraging Airmeet's live social streaming feature that enables you to run the event on social media platforms like Facebook and YouTube.


Session recording – If you are looking for more mileage on your events, share the session recording and garner attention from a wide audience.
"Airmeet gives us tremendous confidence that we can easily scale our community and share benefits with a larger community."
– Sana Rihana, Community Initiative Lead, Recro
Sana explained, "We are on track to achieve our business goals and more via Airmeet easily. And the journey has been inspiring and easy as a cakewalk for us. We especially are delighted with the Social lounge, Raise Hands and Scalability features of Airmeet that have helped us grow so fast and provide value to our community. We are now looking to leverage Airmeet to host open discussions or brainstorming sessions soon. We also want to give a more hands-on experience to our dev community by giving them assignments during events and improving understanding. Shortly, we also plan to host closed community events where we will be hosting events only for the speakers."
If you are a community manager and looking to scale and nurture your community then Airmeet should be your ideal choice. Call us for an Airmeet walkthrough today!
Also read – AllThingsConnected Singapore Builds a Thriving Community on Airmeet
Virtual Events & Community Building Insights
Subscribe to Get Updates (we promise no spam)