Electric vehicle/Automobile Industry
Employee Town Halls, College Campus meets, Community building events
Ather Energy is a Bengaluru-based startup that launched India's first intelligent electric scooter, providing mobility solutions to people from a range of backgrounds. Intelligent vehicles will revolutionize our commute experience in the future, and the Ather 450X stands at the cusp of this exciting reality. Ather Energy launched India's first truly intelligent, electric scooter – Ather 450 in 2018, followed by their new flagship offering Ather 450X in 2020. They have also established a comprehensive electric vehicle charging network called AtherGrid, designed and built in India.
Ather Energy hosts multiple events in a year, both in-house and for the community. Rohith Hariharan working as a University Relations & Employer Branding Internal Communications, said, "Pre-pandemic the events were in-person, but once the pandemic hit, we shifted to virtual. Until June last year, we used the free G Suite to interact with upto 500 attendees. But when Google pulled the plug on this facility, we started to look for an event platform that was more feature-rich and offered a more interactive solution."
Ather Energy zeroed in on Airmeet and has hosted multiple events on the platform. These can be classified majorly into three broad categories:
All-Hands or Town halls – A regular event hosted once every four weeks to gather the whole organization for company updates.


Community-building events – Ather Energy offers a program called 'Ather Vantage', where they talk to the community about the challenges faced as an organization and explain ways to resolve them.


College Campus Meets – These are organized to interact with and build an employer brand that connects with students, for pre-placement interactions and engagement sessions within the campuses.

Rohith shared that they explored four to five other platforms, but those were soon eliminated. Airmeet fits the bill because of its ability to offer recording of the entire event, features enabling interaction, analytics, pricing, and providing a solution across platforms and devices.
Challenges (And Solutions)
Rohith gave us an insight into the event and their experience. He mentioned, "In-person events had a different set of challenges which became easier in the pandemic world. As we moved to virtual, we had a list of must-haves for the virtual platform we'd choose."
Challenge 1 : Keeping the momentum going with quality virtual all-hands meetings
Rohit said, "Once the pandemic hit, there was a fear about maintaining the same amount of momentum as was established arduously during the in-person events. We have all hands happening once every four weeks, and getting the organization to commit that everybody will spend one hour for information exchange was a very difficult thing."
With Airmeet, Ather Energy could create multiple successful all hands with ease. Rohit said, "We have 350-400 participants logging in. It took a little while to get accustomed to the virtual setting, but things soon fell into place."
Ather Energy could set the stage for the leader to communicate business progress, vision, and the way forward for the organization through the following Airmeet features:
Quality streaming: HD quality and lag-free streaming played a pivotal role in keeping the participants interested and glued to the meeting.


Ease of use across devices: Rohith mentioned, "Onboarding through Airmeet across various devices and browsers made it convenient for users. It was a very smooth process.While having a mobile app is also necessary for the convenience of people who login through mobile"


Recording: This was Airmeet's most crucial feature for Ather Energy. Rohith said, "After the event, we post its recording on our intranet. People who miss out on attending the event can watch it later. Between the live event and the recording, we are able to reach about 75% of the organization's employees. The recording feature is a big advantage. In a physical space, recording an event requires a lot of logistical planning and effort. Airmeet's ability to record a meeting is a big advantage."


Visitor's Count: Rohith said, "One of the important features was getting to know the count of attendees who have joined before we go live in the event. This number is visibly displayed at the top. It is a great platform for large scale events."


Analytics: Rohit said, "The analytics report provided by Airmeet was an additional perk that inspired us to select Airmeet over other platforms. I could see the attendance, how many people asked questions, how many reacted etc."


Pricing: Airmeet offered very competitive pricing, which was a considering factor for Ather Energy.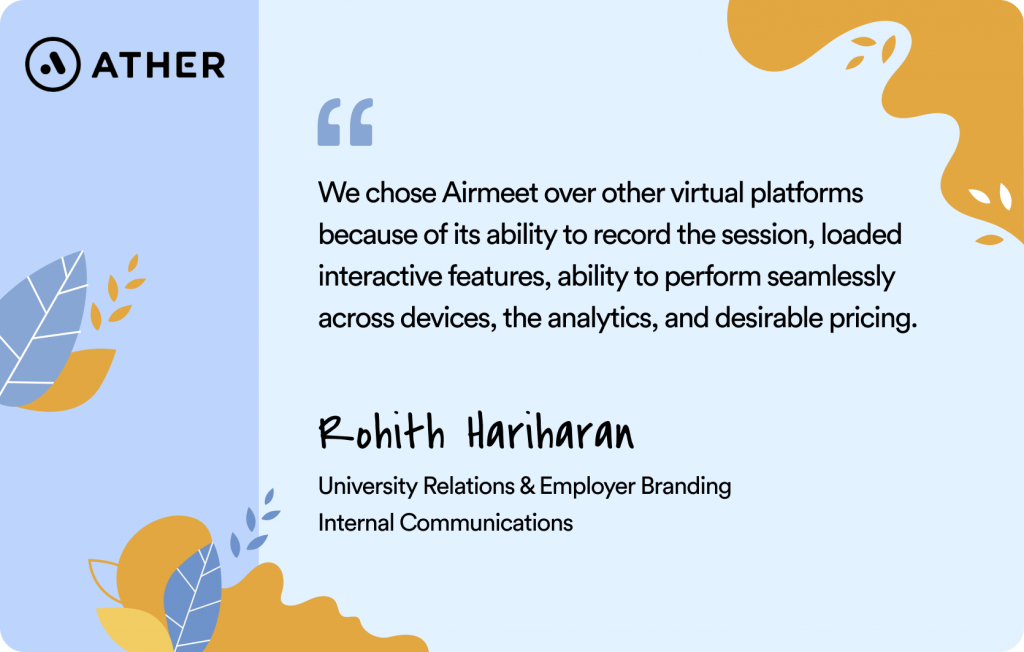 As Marlys explored her options on Airmeet, she realized she could stick with Airmeet for more of her virtual events requirements for EMC. She shed more light on her plans, saying, "Going forward, I'm planning to hold my exhibitor webinars on Airmeet as well. I can teach my webinar sessions, then ask anyone who has questions to meet me over in the lounge later. I look forward to using features like posting questions on-screen and polls too."
While discussing the future of the events industry, she mentioned, "The future is definitely hybrid, now that people have gotten used to the virtual component. There is no one right way of doing a hybrid event, but I think Airmeet is well-equipped to do such events. I see a lot of potential for conducting events on Airmeet in the future. Every time I log in to Airmeet; I see a pop-up showing new features added."
Towards the end, when asked how she usually described Airmeet, Marlys summarized her thoughts, saying, "I describe it as a way to come together and have the feeling of being there in-person, and feeling like a community. Just having that ability to make a connection is amazing. That's what's missing in so many other virtual platforms."
If you are a trade show manager or an exhibitor, you already know how crucial it is to offer or have an exceptional booth for building your business image and relationships. So
book your demo now on Airmeet to experience virtual booths like never before.
Challenge 2 : Offering interaction and deep audience engagement
Ather Energy wanted to provide an engaging and interactive experience throughout the event.
Airmeet provided various promising features for effective audience interaction-
Chatbox, Raise Hand, and Emojis: Attendees could interact effortlessly on the platform with a bunch of features. Rohith mentioned, "Chat was very lively, a lot of conversations took place there. Participants used emojis while messaging to add that zing. 'Raise Hand' was used by participants to ask questions."


Social Lounge: Rohith appreciated the lounge saying, "The lounge feature in Airmeet was great for forming small chatter groups for networking. It's a wonderful feature from a bonding perspective and has the ability to recreate a physical event virtually. We could do a pre-event table set-up as per our requirements."


Backstage: Rohith mentioned, "The backstage gave us the ability to prepare speakers before going live. We got the feeling of being on stage and could interact effortlessly."


Live Streaming: Rohith said, "Airmeet allowed us to go live and stream the event easily, making it comfortable for people."


Q&A: During the 60 minutes all-hands meeting, questions and answers kept popping up. It created a lot of interaction. Rohith said, "In Ather Energy, everyone participates, our tone of communication is sarcasm, and the medium is banter, so we used it quite effectively."


Pull the question on screen: Rohith said, "A very useful feature was pulling the question to the stage. If a person is watching a recording, it becomes difficult to understand what question was asked. When an attendee asks a question, it is reflected on screen and this is a great add-on."

Besides the all-hands meetings, Ather Energy has successfully hosted community events and campus meets on Airmeet. Rohith mentioned, "Since June 2020, we have started a program called 'Ather Vantage'. The idea of Athervantage is to reach out to all the potential talent,
irrespective of whether we are hiring or not. We wanted to build a community and talk with them about what kind of a place we are, and share insights into our company culture. We wanted to be in constant touch with them and build a cookie jar for talent."

Ather Energy appreciated Airmeet's ability to humanize virtual events. Rohith particularly talked about how they used the social lounge for these types of events. They could leverage the social lounge tables for campus interactions and use them as rooms for interviews or group discussion.
Ather Energy plans to continue utilizing Airmeet for its monthly all-hands meetings. Rohith said, "Even post-pandemic, we would continue to use a tool like Airmeet for all-hands because of the capability to record and multiple other benefits.

If you are looking to host engaging and effective all-hands meetings that employees look forward to, contact todaay
Virtual Events & Community Building Insights
Subscribe to Get Updates (we promise no spam)