Webinars, Virtual events, and Hybrid events
Building an event-centric marketing strategy helped Tenbound optimize every stage of the funnel. And what's even better? They never had sales complaining about an inadequate pipeline. Let's see how they did it.
Tenbound helps B2B SaaS companies build sales and talent pipelines through research, advisory, and the power of events. Although the sales development industry has been thriving for a few years, expertise in the subject is still rare. Tenbound fills the knowledge gap through cutting-edge research, high-quality events, consulting, training, and coaching programs for all levels of sales development teams. 
Tenbound helps clients identify top sales and talent pipeline growth priorities by working closely with them as a trusted partner. Their goals for virtual and in-person events are:
Creating brand awareness

Discovering new audiences
Educate prospects and customers
Offering engaging and immersive event experiences
Building and supporting a community of sales development, talent, and pipe
Productizing the community
David Dulany, CEO at Tenbound, spared some time to speak with us about his experience with Airmeet.
Event-led growth—an integral part of Tenbound
David is an Event-led growth (ELG) evangelist, and he revealed that ELG has been part of his marketing and growth strategy since day one at Tenbound. He believes that creating an event wave throughout the year leads to maximum growth. 
According to David, at Tenbound, the team discovers new audiences across the entire event cycle and engages them with newsletters and other collateral. This cyclical regimen of events throughout the year maintains the marketing momentum. David calls it an "event wave." 
The company emailers nudge prospects to sign up for the next event, and eventually, all the leads are fed into the sales cycle and nurtured to achieve growth outcomes. If this happens consistently over time, you'll hardly need to worry about an empty pipeline.
Why Tenbound chooses to stick around with Airmeet
David says that 50% of his marketing growth is sourced through events, and the collaboration with Airmeet has been very successful. 
"I love working with Airmeet. They are just great people. The team really cares, which is rare these days. They go above and beyond to help to ensure you are successful at what you are doing." 
Different types of events hosted with Airmeet
Tenbound holds multiple events during the year—both digital and in-person. The events are experience-centric, not content-heavy. David says, "You can watch an online webinar a gazillion times and get the information downloaded, but what's the point? I strongly believe events have to be engaging and interactive."
Every year, they conduct monthly webinars, three virtual conference events, and one in-person event with a virtual component – which is supercharged by Airmeet. 
1. Monthly webinars 
David focuses on the interactive aspect of virtual events. The free webinars are curated for brand awareness and to offer value to the attendees. So, at Tenbound, the primary webinar structure is interactive and attendee-friendly so that no one regrets entering the event. He continues, "We offer three actionable insights and three takeaways that we break down for our attendees in the beginning. We also make the audience participate in the ongoing dialogue, followed by a lot of Q&As in the end." The main CTA at the webinar is getting onto the newsletter. 
2. Quarterly virtual conference 
The quarterly virtual conferences are role-specific and sales and development focused. David says, "The virtual events are like building a wave!" And we could not agree more. The virtual conferences aim to include thought leadership and advisory in sales and development, offering an avenue to attendees to learn from the best to become successful at what they are doing. Tenbound holds such conferences twice a year. 
David says that the spring quarter focuses on the high-level leadership, where mostly C-level execs have focussed discussions on strategy and pipeline planning. At the same time, the summer conferences solve tactical sales and development problems for mid-managers, reps, and teams through well-curated content and agenda. The fall conference is usually for revenue operations and technical aspects of sales and development. 
3. In-person conference 
The in-persons conference has the traditional set-up. There is something for everyone—from CXOs to reps and teams. The virtual aspect of the conference is covered by Airmeet. The overall agenda of Tenbound in holding these events is to build a never-ending event wave that generates quality leads by the end of every year. 
The way forward: Building an event wave at Tenbound
Tenbound works to solve tough sales and development problems through the power of events with Airmeet. David says, "If we do not build exceptional experiences for our attendees—our prospects, partners, and customers—our events will most likely collapse. So, to keep that momentum up, we create high-quality event experiences that help us build an event wave."
The real-time data can be procured directly from events to sustain the event wave as Tenbound has in-built integrations with Sales Development Representative and Business Development. 
Representative databases. The insights contribute to feeding valuable inputs into the subsequent event agenda and improving the content and experience planning.
Tenbound hopes to explore Airmeet's analytics integrations and "fluid space" to provide an enhanced experience to attendees.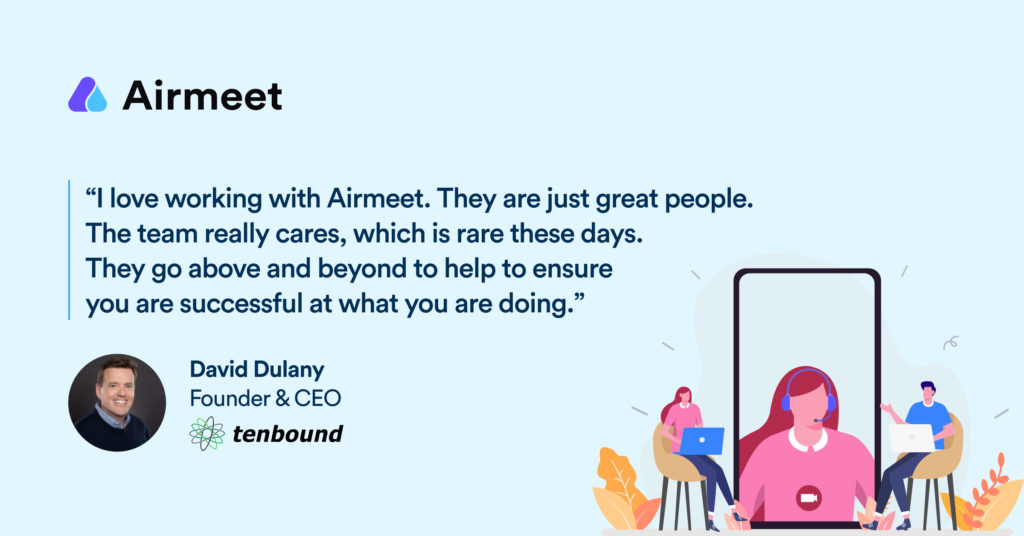 Book a demo today to explore Airmeet's dynamic platform and add a must-have tool to your marketing strategy.
Virtual Events & Community Building Insights
Subscribe to Get Updates (we promise no spam)