Recession is a harsh reality. Layoffs, budget cuts, disheartening business forecasts. It can overwhelm you to a breaking point. In such situations, marketing teams face massive pressure to cut and you have two options to choose from—retreat altogether or recalibrate your marketing plan.
The two brilliant CMOs Darryl Praill at Agorapulse and Mark Kilens at Airmeet convened at the premiere episode of Airmeet's Eventions series: The Show Must Go On: Don't Retreat, Recalibrate, on July 28, 2022.
Missed the class?
Here is the recap of the dazzling conversation between the two veterans where they discussed learnings from the previous downturns they have had witnessed and bounced off exclusive, actionable ideas to recalibrate their marketing to recession-proof their growth.
Tune in to the pod here:
OR
Watch the full episode:
1. Adjust your targets to a realistic forecast
Darryl emphasizes, "It's not about growing your business during an economic downturn. It comes down to survival." Organizations don't want to cut on people but on the program spends and tech stack in order to meet the projected goals during normal times. 
Leadership questions marketing teams for cut. It is inevitable. So, know your numbers before anything. Take a note of all your bottom line metrics—cost per lead by channel, customer acquisition cost, long-term value, churn rate, everything. You can save your job by defending your contribution to the business knowing your numbers.
It is fine to cut 50% off on major channels
If you know your numbers and your CEO or CFO asks you to cut on a major channel, don't hesitate to do it for the short term. Don't kill a channel completely, like pay-per-click. However, you can cut on it for a quarter or two to see where it goes and how it fares.


The most pragmatic approach to address the churning is through adjusting targets with your executive team and board, so teams would work towards achieving realistic targets and do not burn out to backfill the pipeline.
2. Quality partnerships to stay afloat during stormy times
Build a trust halo with quality partnerships. Identify companies that fit within your ICP and with communities with your ideal buyer groups, where people engage and interact. It is an important step that businesses should consider as soon as possible.
Try co-selling by referring your customers to your partners, and they'll do the same for you to maintain your sales. Your reach goes through the roof if you build healthy and sustainable partnerships because you are reaching out to those you wouldn't have reached organically.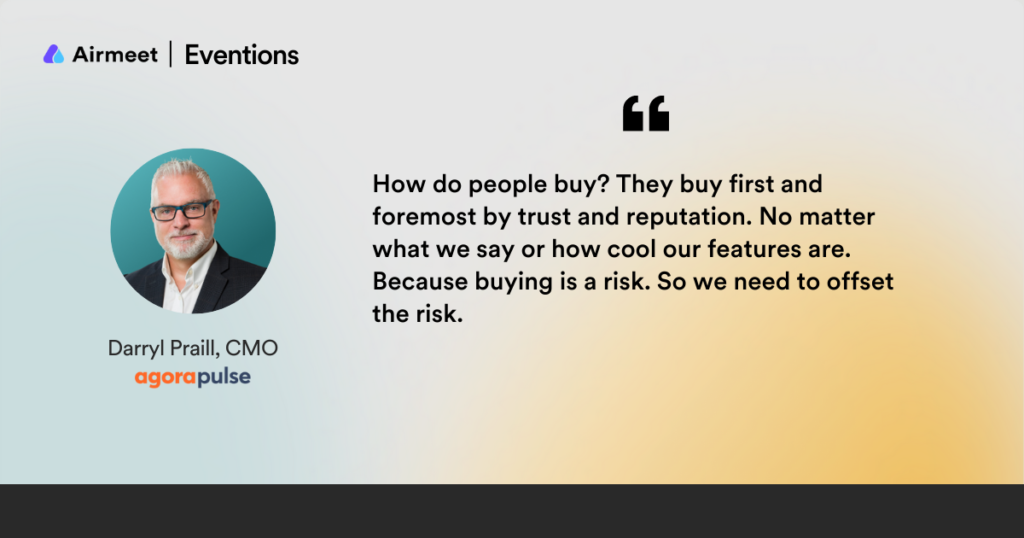 3. Push your customer marketing to 2X or 3X velocity!
Acquiring a customer costs you money. Your spending is already high in that department, so acquiring more customers at the exact cost is not wise.
So, get your customers to defend your investment. Let them roar! Push their words out, on your social media, in your blogs, in customer stories, website, everywhere.
Leverage your customer voice by incentivizing them, even if it means doubling or tripling your customer marketing budget during a recession. Infuse that messaging throughout your marketing by engaging with them, by involving them. They are your champions, after all.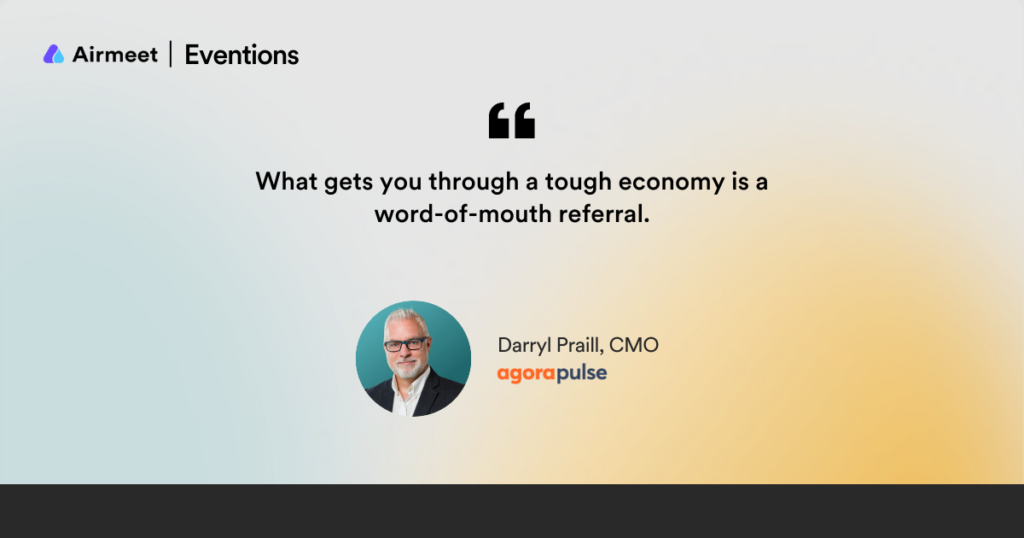 4. Build a boatload of brand evangelists
No teams should work in silos. Come together as a team—sales, marketing, and customer success teams. 
Foster them and develop such boatloads of evangelists across your organization as they will appeal to different people and different personas in their own way while keeping your messaging intact. 
For example, you can train your sales rep to do social to ensure they are doing social selling and going multichannel. Building a robust inner circle with consistent messaging and cross-team training will lead you a long way. Marketers must be front liners—they must make some noise and face the camera to lead by example.
5. Know your sales reps' commission plans
Communicate with your sales rep to know their commission plans as your programs are represented and promoted by the sales team. 
Understand their motivation force and how they make a decision. 
Share the content the marketing team produces with them and make an ask to digest and promote it from their handles and incentivize them.
6. Focus on expansion pipeline
There will always be some customers who are on the cusp of upgrading. Proactively pursue them by equipping your account managers and customer success teams to take steps in the right direction.
Incentivize the marketing team, maybe with an Amazon voucher, when they go the extra mile to team up with Sales and CSM and work towards expansion. 
Measures like these will result in a significant ROI value. So, plan them well, and most importantly execute them well for the desired outcome.
7. Educate your customers with value-centric content
Double down on value-based messaging. 
If you cannot sell your product during a recession, understand the ROI that your product delivers and spin it around to fit your messaging.
Articulate the messaging and infuse it into your website. 
You might have to equip your sales and customer success teams with insights. Still, it can genuinely be a differentiator if you could infuse the messaging across the website and other collaterals.
Nurture expansion pipeline by doing regular customer education. 
Hosting specific monthly training events, learning about different segments, or anything that offers your customer a value addition to their current knowledge base has enormous potential to grow customer success and advocacy. 
Churn out content in all forms. Go multichannel—host online user conferences, focused groups of customers. If you are budget conscious, do it on a small case but with consistency. 
The only way to sail through an economic downturn is by putting yourself out there with all your might as a thought leader and value-driven brand. Every interaction matters, so leverage it to the fullest.
Fill in the form below to register with us for more of such insightful episodes on the Airmeet Eventions. The series entails six masterclasses with the top leaders in the industry, who'll share exclusive, experience-based knowledge and winning actionable marketing ideas to scale with event attendees. Registrations are always free at Airmeet.