Power Ensemble 2021: Partners in Collaboration
Virtual Partner Conference with Parallel Sessions
L&T – Power IC, a business brand of Larsen & Toubro Group, is a major EPC player offering varied solutions in thermal and nuclear power sectors and air pollution control systems, while maintaining highest standards of safety and quality. 
The 'Power Ensemble 2021: Partners in Collaboration' is the annual partner conference organised by L&T – Power IC's SCM (Supply Chain Management) department at L&T Knowledge City, Vadodara. The conference, designed to deepen vendor engagement, aims for a candid dialogue with the partners who sell with L&T Power. 
In the past, they had roughly 67 vendors with 79 participants for the same event in the physical format, in the pre-pandemic world. In contrast, the interactive virtual conference, powered by Airmeet, had around 163 vendors and 166 participants from across India and abroad. 
Aaditya Baxi, Asst. Manager, and Sandeep Thanki, Asst. General Manager, both from Supply Chain Management, L&T Power, shared details of why and how their organisation chose Airmeet and how they created an immersive, interactive experience for their partners, at par with the physical conference, despite hosting the event virtually. 
Challenges (and Solutions)
The Power Ensemble is a yearly vendor meet that has so far been conducted physically and is meant to power the partnerships of L&T. 
Sandeep explained, "In the physical format, our event was a day-long event. It mainly consisted of 3 parts. First, the address from L&T – Power IC, which entailed describing in detail the company's requirements from the partners. The second phase is aimed to be an interactive discussion where we listen to our partners' voice. And the last phase included partner interaction with our higher management. In this phase, our IC (Independent Company) head would interact with the vendors 1:1, take live questions, reveal our company's future plans and the opportunities underlying for the partners. 
This entire day event had to be compressed into a half-day virtual event to maintain interest of participants who have remotely engaged, given the pandemic restrictions. Similar to the in-person event, the virtual event's initial phase would focus on expectation setting from L&T Power, then discussion rooms with different vendors and finally the address by IC head, followed by Q&A."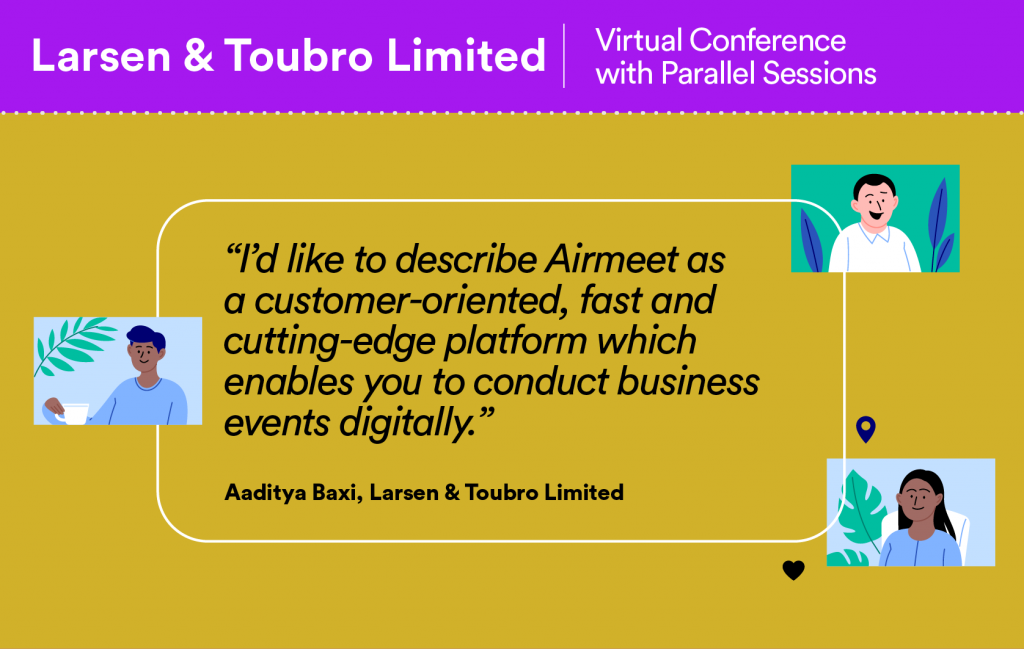 Challenge 1: Transition to a Virtual Event with focus on frictionless user experience
Their first challenge was to quickly pivot to virtual events. The main goal of the virtual event was to focus on a seamless, professional experience.
Sandeep said, "We were looking for virtual event technology partners to host our virtual conference, and after thorough comparative study with other available market platforms, we decided to go with Airmeet."
Here is a list of L&T – Power IC's requirements and what compelled them to sign Airmeet –
No failure of connectivity or platform crash: Sandeep said, "It should not happen that people are waiting, but the video is not getting streamed, or the view is not proper. That was the first and foremost factor for us."

This primary requirement was met with Airmeet's reliable and robust platform suitable for an enterprise-quality event solution. With Airmeet, they were rest assured of the quality, as it provided HD-quality, no-latency, real time-streaming of the event.
User-friendly environment. Easy onboarding:  Sandeep shared, "We needed to onboard vendors remotely, and some of them may not have been as tech-savvy. So, given that constraint, the platform needed to be easy enough for them to navigate and use."

Airmeet is known for its intuitive design and simple UI. These features backed by fast and easy onboarding through 24/7 support, Guides/ FAQs, demos and dry runs ensured that everyone at the event enjoyed a hassle-free experience.
Consumption of bandwidth should be limited: Airmeet is fast and lightweight with the focus on delighting customers.  Its unique design is conservative in bandwidth utilisation and offers the best audio, video, and content sharing experience irrespective of your network conditions. It does not require any downloads and allows event participation via any modern browser.
Professional look-and-feel: Sandeep said, "It was essential for us that the banners, background and logos are professionally done. The overall look and feel were really good. The site arena, video functions and other features were remarkable. The standardisation of templates made it easy for us. So, when we needed stage backdrop size, those pixels were all standardised. That ensured that there was minimum back and forth between teams, and we had what we needed in the first go."
Private, invite-only event with strong security: Another critical requirement for the business event was to ensure the safety and privacy of attendees and the event by ensuring that only registered users were allowed access. Airmeet's infrastructure, architecture, data protection and compliance ensure that your user data and event are safe at all times.
Challenge 2: Run 8 parallel sessions with Q&A, controlled hygiene & deep engagement
Aaditya shared, "There were a total of 10 sessions. The first session was more of a monologue where L&T department heads presented to the partners. Then there were eight parallel sessions where speakers and partners were invited to the stage to discuss. So, these were more of an interaction with the vendors. The event ended with a Q&A session with the partners. 
Explaining further about their event setup, Sandeep said, "In the discussion room, every participant got the opportunity to grace the stage and interact. While inviting anybody on the stage and discussing with them there, that interaction was very smooth. There was no lag in bringing people on the stage."
All of this was made possible with Airmeet's conference setup plan that allowed them to run multiple parrallel sessions, enable deep interaction through session chat and Q&A, as well as ensure seamless event execution with the prescence of a dedicated account manager.
Aaditya added, "Another good feature about Airmeet is the technical host, who sits at the back of the sessions and controls all video, presentations and helps the seamless execution of the event."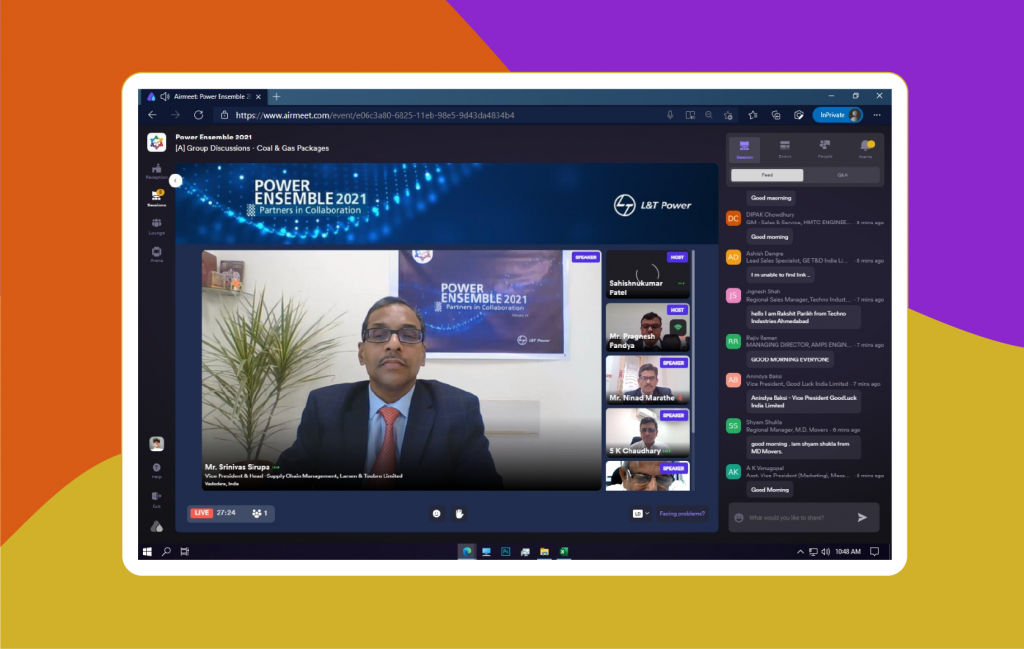 Interactive Event with Deep Engagement
Transitioning from physical events, it is a common concern to make virtual events interactive and immersive. Airmeet is built to humanise events and ensures this through its interactive features –
Raise-hand & Invite to Stage – This feature allowed them to invite their participants to join the speakers to share the stage and have a conversation.
Q&A – Airmeet has an exclusive Q&A window that allowed its participants to ask questions, upvote and get answers.
Pre-recorded videos – As the name suggests, they could engage their audience with pre-recorded speaker/ sponsor videos.
Features like emojis are some more rich engagement features available on Airmeet.
Virtual Events & Community Building Insights
Subscribe to Get Updates (we promise no spam)