Remember the days of manning your event booth at an in-person conference tapping each of your booth visitors' lanyard with that good ol' lead scanner to get their name and email…shared with you in a spreadsheet 2 days after the event?
The good news is, we're now in a world where you can get all the data you could ever need on your event registrants and attendees in *gasp* real-time.
One of my favorite benefits of virtual events is the plethora of real-time data on your attendees and their buying intent, session performance, engagement insights, and so much more.
AirIntel provides a complete picture of your event and how they affect your pipeline, reach, and loyalty. Today, we're going to focus on just one part of that complete picture: registrant and attendee data.
Before we dive into six unique ways you can use this data, let's review the data points that will give you a full snapshot of your registrants and attendees.
Key Registrant and Attendee Data Points
Data gaps and lack of visibility into who your attendees are makes it hard to personalize event experiences and event outreach, leading to lower conversions.
Here are 8 key pieces of data on your registrants and attendees you should be leveraging to boost engagement and conversions:
Registrant Name

Email

Total event registrations (including past events)

New or repeat registrant

Total time spent in event

Joined Pre-Event (Y/N)

Attendance status

Custom registration form fields
At first glance, these data points might seem like simple pieces of information that will be synced to your CRM. I can assure you, there are several strategic ways you can leverage this data.
Let's get into it. 🤓
6 Game-Changing Ways to Use Your Registrant and Attendee Data
1. Use Registrant Event History to Personalize Email Invites
What it is: With registrant event history you gain visibility into the breakdown of new versus repeat registrants and attendees.
The Play: Create personalized event invites to build and engage your community. If someone has attended two or three of your events, send them a more personal invite. You could thank them for being so engaged with your events, and you can even recommend an upcoming event for them based on their previous event activity. Here's a template 👇
Subject Line:
You're on the verge of pulling an event hat trick 👀
Email Copy:
Hi [first name or "there"] 👋,
First, I want to say thank you for joining us at two of our events recently. We hope you've learned a ton and enjoyed networking with other [role / persona] pros.
Since you attended events on [common topic] I wanted to recommend our upcoming event, [event name].
[Event description] i.e. Season 2 of Eventions is here and it's stacked with marketing leaders that have expertly integrated events into their revenue strategies. 
Join us at [event name and link] on [event date] to get [top benefit of attending the event].
Tune in to learn how to:
Save your seat here to get that hat trick [registration link].
2. Customize Registration Fields to Increase Your Attendee Rate
What it is: You have the ability to add any custom fields to your event registration form. (And yes, these fields will sync to your CRM!)
The Play: Use custom field information to personalize the event experience for your attendees. Collect details like job function or interests to match your attendees with a relevant group of other attendees in a networking session.
💡Bonus Tip: During registration, create a field for your registrants to leave a question they have on the event topic or a specific question for the speakers. This will help increase your attendee rate by giving registrants one more reason to attend. And *Bonus Bonus Tip* you'll get very insightful intent data with this tactic.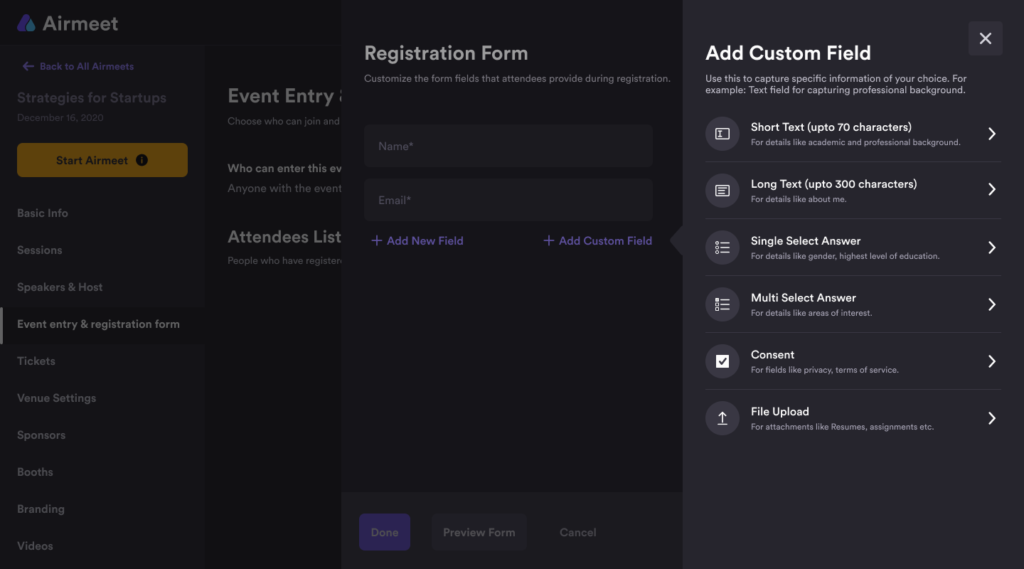 3. Use Channel Performance Data to Fine-Tune Your Promotion Strategy
What it is: See what channels are working (and not working) to drive registrations. This data will also give you insight into if your distribution strategy is bringing in the right audience.
The Play: Identify the channel that brings in the maximum impact to fine-tune your promotion strategy for future events. Understand what levers you can pull to overachieve your registration goals.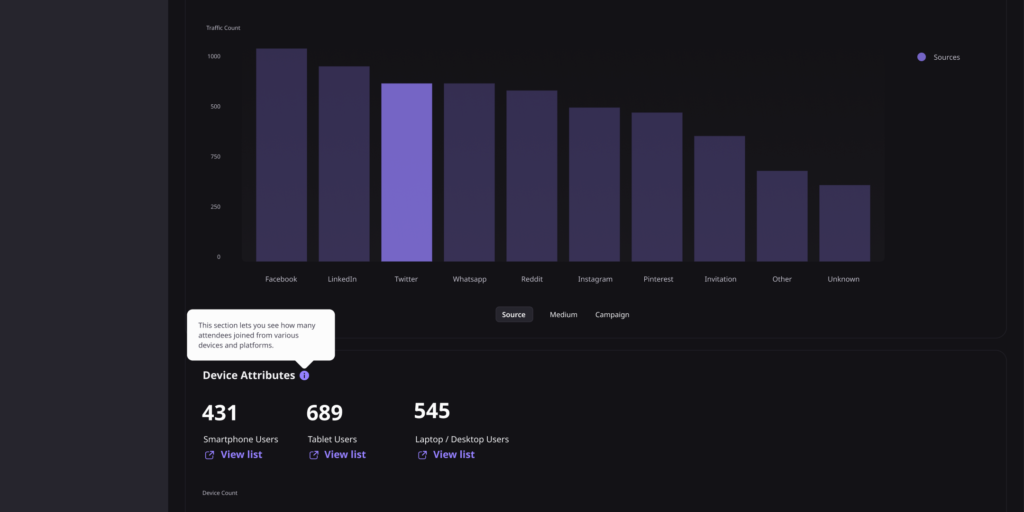 4. Create Segments to Control Session Access
What it is: Segments are a list of users in your event who meet certain criteria. Audience segments can be formed based on the data you collect with custom registration fields data.
The Play: Use segments to control session access and deliver highly engaging experiences. For example, you could give access to marketing panel discussion only to those who have a CMO job title.
💡Bonus Tip: If you're hosting a ticketed event, give access to exclusive panel only to VIP ticket holders.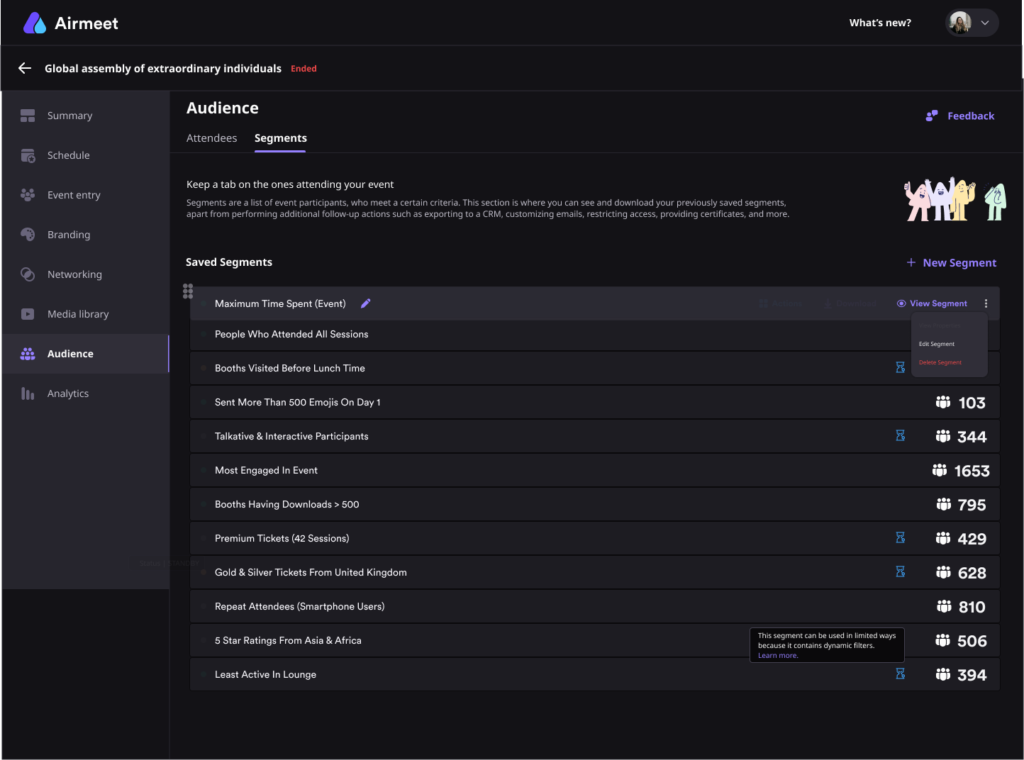 5. Use Registration Data to Get Speakers and Sponsors
What it is: Without supporting data points about previous event's performance, it can be hard to get speakers and sponsors for future events. It's essential for you (and your speakers and sponsors will appreciate this) to have clear data on your registrant profile.
The Play: Share an in-depth breakdown of who your typical registrants are. You can share everything from business segments, job titles to any information you collect via custom registration fields.
💡Bonus Tip: Offer to collaborate with your speakers and sponsors to build your event registration form. Are there custom fields you can add that both parties will benefit from?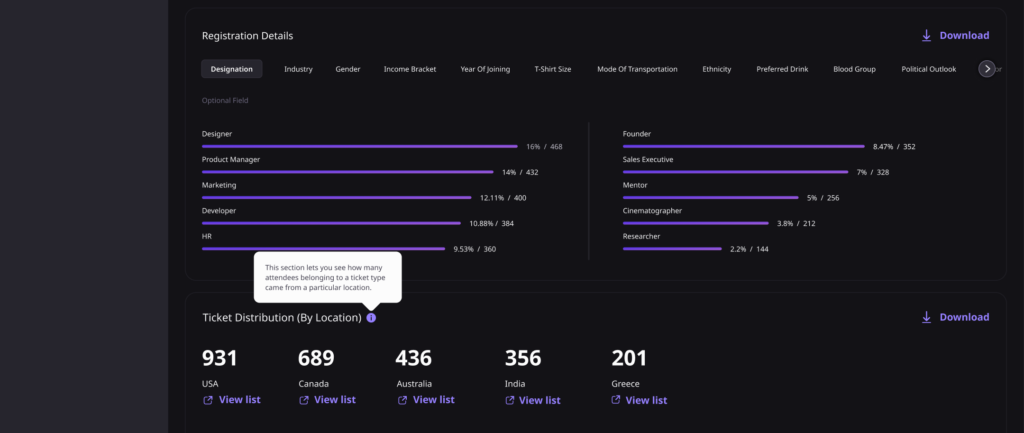 6. Understand Attendee Rates to Optimize Promotion
What it is: Your registrant to attendee rate will give you an idea of how many registrations you need to hit your event attendance goal. You can also compare the turnout rate across your events to understand attendee trends.
The Play: Use your registration to attendee conversion rate insights to optimize promotion for future events. Look at historical data to identify the number of registrations that you would need to hit your event attendance goals and promote accordingly. Combine this with the channel performance data to boost registrations through the right channels
Put your registrant and attendee data into action with Airmeet 
Measuring the outcomes of your event hasn't always been easy. Organizers with the right data points can curate the right content and communication for every attendee. Without that data, event ROI and post-event campaign effectiveness suffer.
AirIntel provides a complete picture of your event and how they affect your pipeline, reach, and loyalty. It provides actionable first-party data and attendee insights to revenue teams.
Ready to put your registrant and attendee data into action? Host your first Airmeet webinar for free.