One way to both build and maintain strong relationships with your customers is through interconnected event experiences. Events aren't one-and-done anymore—they're ongoing strategies that deliver valuable experiences. Using Event-led Growth, you can focus and personalize your events, helping to progress your deals and accounts even faster.
What is the Engage stage?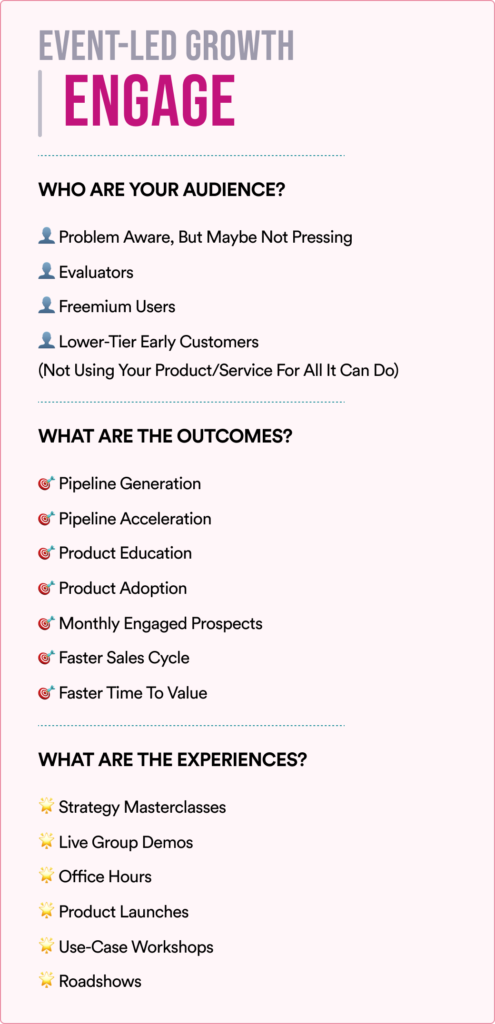 While the Discover stage of events is all about building brand awareness and affinity for an unaware audience, the events in the Engage stage have the potential to dig a bit deeper. Helping your customers and prospects understand your value as quickly as possible can accelerate any deal—that's what the Engage stage is all about. In this stage, you're dealing with already-warm prospects who have the potential to become lifelong customers.
Understanding the Engage audience
Kathryn Frankson, the Global Director of Marketing at Money20/20, understands that moving people forward from the Discovery stage can feel like a hurdle, but it's all about understanding your audience and their needs. "At this stage, people know you," says Frankson. "The Engage phase is about putting more meat on the bone around the product itself. This is about knowing what your industry needs."
When someone is shopping for a solution, it's likely they're doing their due diligence, looking for a credibility-builder, and seeking social proof that your product or service meets their needs. "As an organizer, you need to be thinking about the coolest things you can do that no one else is doing," says Kathryn. "You should be providing mind-blowing information, bringing industry subject matter expertise in-house so you have a true voice of the customer, and making sure not to speak in platitudes." 
Authenticity is important for this audience segment because they want to make a decision and feel good about it. They want to know they can trust that choosing your solution is a choice they can back up to their leadership and that everyone will see the benefits. 
Some new obstacles that might arise here compared to the Discover phase are the need to get them over that "maybe" line. You can do this by assessing your value proposition to this group: Do they expect to make connections? Give them a taste of the attendee list in advance. Do they want to experience new products? Consider new ways to demo that your competitors would never dream of.
Knowing what outcomes to measure
Determining what that kind of experience should be like depends on the outcomes you're trying to achieve. Pipeline generation and acceleration, product education and adoption, and faster sales cycles are some of the goals you might see associated with an Engage-stage event. 
It's true that at the Discover stage events are problem-focused, but once your customer gets to know you a little better it's time to start showing your product off as a solution. Following up on the trust you built in the earlier stage means that your Engage audience is willing to listen to what you have to say about your product and the merit of its adoption. These goals easily translate to directly actionable event types.
Packaging matters: Deliver the right experience
Connecting your audience and your outcomes should lead you to the right event type for the job. We know the Engage audience is problem- and brand-aware, we know they are likely looking to buy if offered a good value—your event strategy is how you offer that value. 
This customer has a firm knowledge base to work with, so play to that strength and help them build on it. An Engage audience likes to get their hands dirty, to get to know the product inside and out before they commit to the sale. Providing consistent educational experiences offers them that opportunity. 
While this audience still doesn't have all the time in the world to invest, like a three-day event, they're interested enough to give you a few hours of their time, or perhaps even a full day. Of course, people are willing to focus for longer when they feel they're getting value out of an event—so make sure you're delivering that value at every turn.
That means carefully considering your run of show, and staffing your team with people who are committed to making your event sing—because there's a lot on the line. "It's about ensuring you're committed to making changes and you have the right talent in your programming," says Kathryn. "Continually doing gut checks and making sure you have that wow factor."
Don't call them "marketing events"—call them "revenue events"
One of the reasons some stakeholders don't consider events to be revenue-drivers is that they still consider events as one-off marketing occasions. Event-led Growth comes from a collaborative strategy that engages multiple teams and impacts organization-wide outcomes. 
"Whatever problems you're facing in your business, events can be the catalyst for solving them—but it's not just a lever you can pull," warns Kathryn, "It's harder to be agile if you don't have an event strategy embedded in your business. Simply put, events are a tool for business objectives."
Nobody knows the wants and needs of existing accounts like the Sales team does. Delivering valuable experiences that move customers down the pipeline requires intel on what those customers find both meaningful and enticing. But in order to do that, you need to demonstrate that you can prove value. 
Aleksandra Panyukhina is the Experience Marketing Lead at Pixelz, and she's had lots of practice collaborating with teams that have their own ways of communicating. "My advice for anyone looking to build up a collaboration with Sales: start with the language," she says. "As soon as you're able to chime in and add value, once you can show that your events drive revenue, you get so much more freedom to do all the awesome stuff."
Product and Product Marketing
Because the Engage stage is the time to start driving home your product or service as a solution, working closely with the product and product marketing team is a great way for the events team to hone in on clear, focused messaging. Educating the audience on best practices and unique offerings can speed up the time to value, so getting that information directly from the team who creates and markets the product means your knowledge comes straight from the source. 
Being able to prove revenue-building potential to any department or stakeholder puts everyone on the same page and results in well-thought-out, targeted experiences your customers will remember.
Who's doing these events?
If you're seeking inspiration on what a successful Engage event looks like, look no further for examples:
Skills Summit was a virtual summit put on by team training software company Lessonly as an introduction to their new product release, "Skills." The event was a half-day gathering that focused on skills development, connection, and creating moments of joy. Featuring breakout sessions, a keynote speaker, and customer stories, the experiences were split between introducing the specific product and providing personal development that anyone could find valuable. Audiences are still walking the line in the Engage phase and want to leave your event having gained something they can take with them in the industry.
Strategy Bootcamp is a series of sessions hosted by the strategy execution company Cascade. These boot camps are a great example of how to continuously provide engagement opportunities for your audience between major events. Cascade balances its annual conferences with these one-hour events that bring people together to learn about strategy and offer opportunities for certification. The boot camps serve as a great engagement technique for newly acquired prospects and help to nurture intent.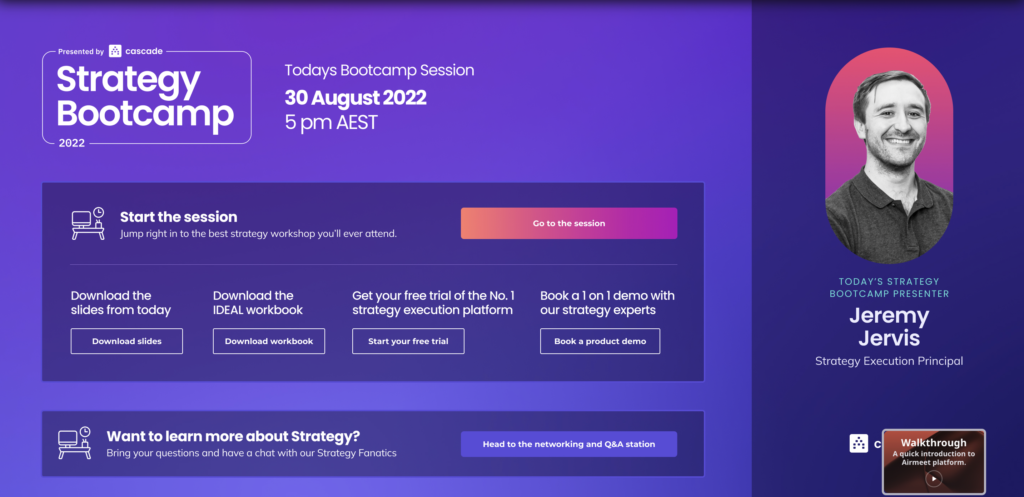 The power of the Engage event
For an Engage phase event, there's the opportunity to move the needle on metrics across the board—so long as you define your audience, deliver on your why, and craft an experience that helps you stand out from the competition they're considering. And once you have them hooked, you're well on your way to creating a loyal customer for life. 
Kathryn Frankson says, "Events are the biggest megaphone you can use to promote, grow, entice, and create value."