Getting referrals, selling additional licenses, or promoting new use cases to already-loyal consumers is an easy way to impact revenue—these channels are equally as important as acquisition. Combining customer affinity with a strong, continuous event calendar has the potential to build the kind of community that makes growth inevitable. And seeking the right balance of Discover, Engage, and Grow events is one of the pillars of Event-led Growth.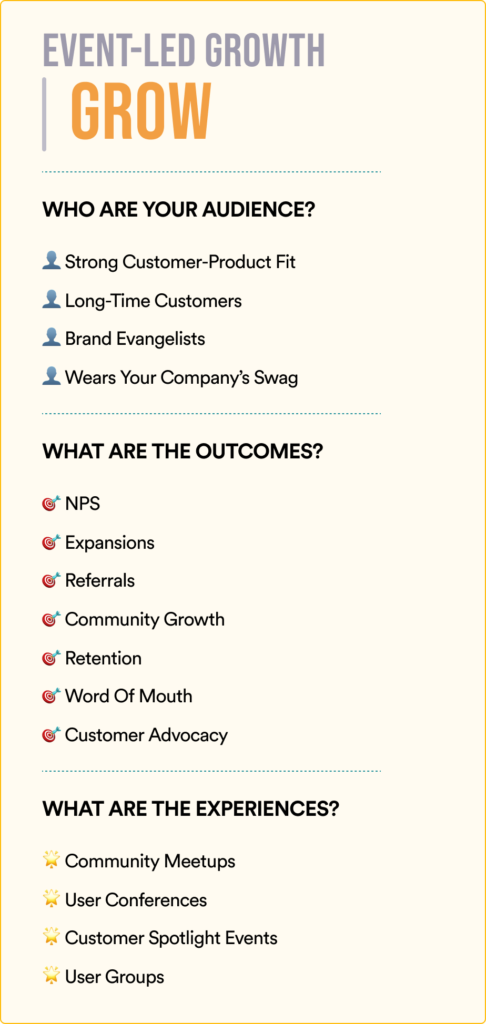 How do you know when your Engage audience has crossed that line? Katie Brunette, Sr. Director of Global Events and Campaigns at Seismic, has a definition:
So much competition and noise exist today, so what can truly help you stay secure and future-proof your business is your loyal community. That's your biggest moat right there. Nurturing a community means asking yourself, what can we do for them? That's why the Grow stage is all about connecting your customers with more opportunities to learn, network, and boost themselves.
Understanding the Grow audience
The Grow audience has gone the distance with your company. They know your product inside and out, have attended all kinds of events, and are happy to sing your praises to their friends. 
These audience members have a strong customer-product fit, they are long-time evangelists, and they're loud about their love of your product and organization. You might even see them wearing your swag. In order to keep this mutual admiration society going, it's important to provide just as much value to your Grow audience as they provide for you. This is where events come in.
Katie Wengenroth is the Director of Field Marketing and Events for the sales execution platform Outreach. She knows that leading with exceptional, in-demand experiences is the key to this audience's heart.
The mindset of this audience is going to be key when determining event type and experiences, so take it from an expert: "This group is likely coming to our events to connect with like-minded attendees, so that guest list is important," says Katie. "They're already fans of ours who know our capabilities, which means they probably trust us and the community we'd bring together. Meet that trust with execution." 
Finally, it's integral to look at this audience like you would any VIP. Because of all they've done or have the capacity to do for you, they've earned the chance to gain more access to you and your resources. "In my mind, they've earned the right to give feedback and really be heard," says Katie. "They've even earned some insight into the future of the product." This audience loves exclusivity and the chance to share their wisdom, so give them that access.
Knowing what outcomes to measure
Understanding the key outcomes for the Grow stage can help determine the right experiences for this audience. Expansions, Referrals, and NPS are some of the outcomes you might see associated with a Grow stage event. 
In other words, the more you're able to wow your customers with a continuous cycle of memorable experiences, the more likely they are to refer you to new leads, advocate for you, and remain loyal customers who renew and expand their contracts with you year over year.
Packaging matters: Deliver the right experience
When choosing an event type for this group, so much is about the feeling you create. The Grow audience should leave your event feeling special, connected, and like they're leaving with new opportunities or information. Consider event types that facilitate that kind of atmosphere like community meetups, user conferences, pilot programs, and user groups.
"Customers can be your best reference and your best referral, make sure you're keeping them happy and engaged and showing them what the company can do for them outside of the core product," says Katie. 
Agenda items might include the opportunity to hear from other customers, discuss the product roadmap, feedback sessions, and some kind of wine and dine or gifting, either in person or virtually. Every step should be carefully curated to provide maximum value for your MVPs.
Building and engaging a community through events
Building a community comes with an inherent promise: that you have plenty to offer without yet asking for anything in return. If you want to adopt a growth mindset when it comes to building your event strategy, start by wondering what you can do for your community and how to bring that offering to life. Next, start building that community with intention. 
Zoë Hartsfield is the Demand Generation Manager for digital learning and enablement platform Spekit, and she knows the Grow stage is all about deep, meaningful relationships that get better with time. Therefore, they are full of expansion opportunities. "Customers can be your best reference, so I think making sure that you're keeping them happy and engaged and showing what the company can do for them outside of the core product is so important," she says.
Sales and customer service have become a lot more consultative these days. It's less about selling a product and more about dissecting a customer's business problems and initiatives for the next quarter and finding a solution that fits. When it comes to a Grow audience, you can even push the bounds and find a fit that's outside your company—because it's all about trust. In that way, the Grow stage trickles into the creation of fans and evangelists who become referrals or resources for any number of teams moving forward.
Who's doing these events?
If you're on the lookout for great Grow-stage events, Airmeet's own Power Hour is a great example. Power Hour is Airmeet's monthly crossover event that's part customer workshop and part meetup. The monthly cadence gives the Airmeet team to explore the depth and breath of use cases, product roadmap, best practices, and success stories. Another upside to running it monthly is the opportunity to build engagement loops within the community. There's no better sign that you're on the right track to building strong customer affinity than repeat attendees who show up to your events regularly.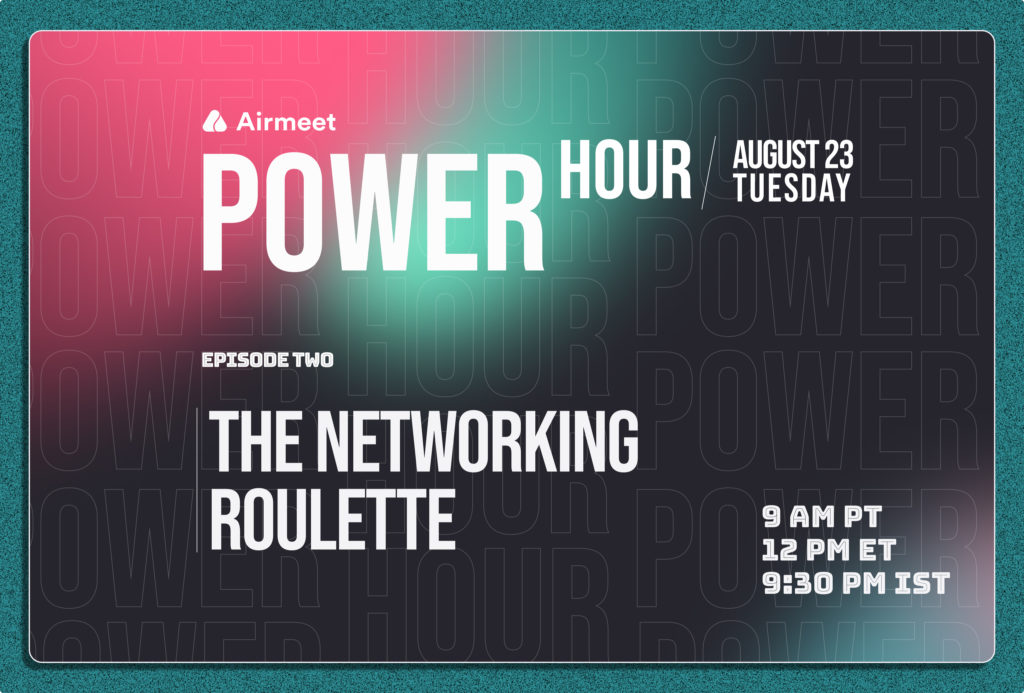 These events are a chance for power users and brand evangelists to get firsthand access to new marquee features, live customer success stories, the opportunity to network with industry peers, and the ability to collaborate with Airmeet's product team. These events are more than just about learning best practices; they're a pathway to a more intimate relationship with a brand.
A well-balanced event calendar
With Grow being the last stage of events in a cycle, it's reasonable to ask how to strike a balance between so many event types and audiences.

A well-balanced event calendar is one that matches your business objectives. Growth comes from different avenues—generating new prospects and moving them along, or nurturing your leads with the hopes of building a community of evangelists. You identify your levers and let that dictate your event strategy.
Based on your answers, you can begin slotting in events across your entire year's calendar to help you meet your goals. True balance isn't about an equal proportion of the three types of events but about meeting your business goals. Depending on which, your event calendar might be weighted more in one direction. If you're focused on improving retention, more Engage and Grow events will fill the calendar. If new acquisition and brand awareness in a specific region are your focus points, Discover events take the place. No matter what, there is an event type that will drive impact for your business.
Once you've determined where events can help you reach your goals, you can drill down into your event calendar with event themes, topics, and relevant hosts. Ultimately, ELG is simply a core go-to-market strategy that works across the customer journey—A strategic initiative across the entire company.