Conference, Awards ceremony
Multiple including Infrastructure/Pharma/IT/Energy
More than a century in the making, RPG's history can be traced back to the early 1800s. Today the company has established itself in diverse industries like banking, infrastructure, energy, tyres, textiles and IT, to name a few. A conglomerate with a diversified portfolio, RPG Enterprises (also known as RPG Group) consists of over fifteen companies across core sectors of the economy, with a turnover of US ~$4 Billion.
The group is always looking to enable an environment where people can push their limits and explore their entrepreneurial spirit. To this end, they host an  event called 'Innovation Festival' every year. It is an opportunity for RPGians to display their innovative projects in the form of prototypes, demos or models. Entries are accepted under five different categories, and the top entries win awards.
The impressive, exposition-style event saw RPG's top brass and eminent business leaders in attendance. This year the pandemic caused the group to swivel to virtual for their flagship event. Read on to learn of the challenges they encountered and how Airmeet solved them.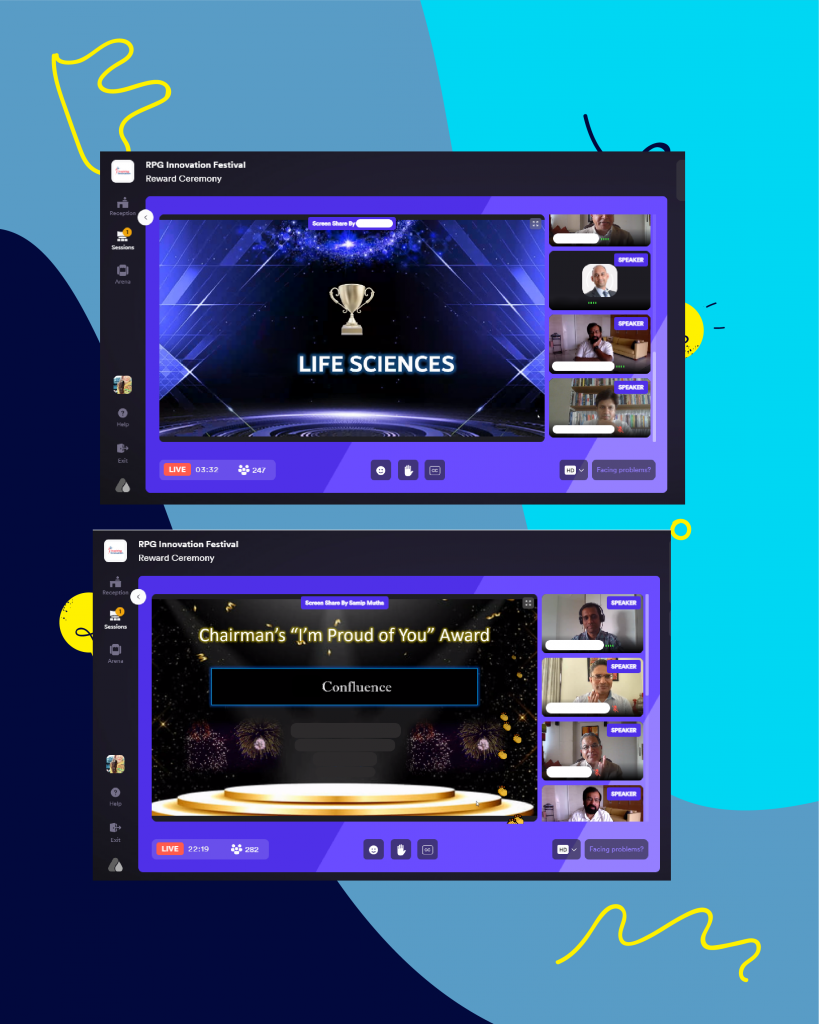 Challenges (and solutions)
Challenge 1: Finding a technology partner that can live up to the prestige of the event
A name to reckon with, RPG needed a platform that could support and pull off a world-class event. They were looking to celebrate their Founder's day marquee event with leadership interactions and a keynote session. The event would present the top 30 innovations in RPG to the leadership, and the best would be awarded. Airmeet rose to the challenge and successfully hosted Season 3 of the Innovation Festival with these features.
This year, RPG's virtual Innovation Festival had three main sessions with 1370 registrants, 1054 attendees, and 13 speakers. The top 30 teams were selected after two rounds of evaluation from 280+ entries that were received.  These were commemorated in style with Airmeet's exceptional features and capabilities.
Excellent quality: Airmeet's superior HD-quality, and lag-free video and audio enabled RPG to host a large, , premium quality glitch-free conference effortlessly.
Scale: With Airmeet's ability to host upto 100k attendees, the experience was seamless considering that there were over 1000 participants at the Innovation Festival event.
Privacy & security: RPG's  prestigious event invited big names from the industry. Providing a safe and secure environment was a priority. Airmeet's security measures incorporate data encryption, cloud security, network & application security and application security. Airmeet ensures data integrity and confidentiality and follows a zero-tolerance policy against any violations, ensuring that the event could be executed seamlessly without worrying about security.
Excellent support: The prompt and efficient customer support from the get-go until the event is concluded and analytics are furnished was what RPG needed to keep an event of this scale running smoothly. The RPG team had rehearsals, training for the internal team as well as booth owners and speaker dry runs to ensure a smooth event.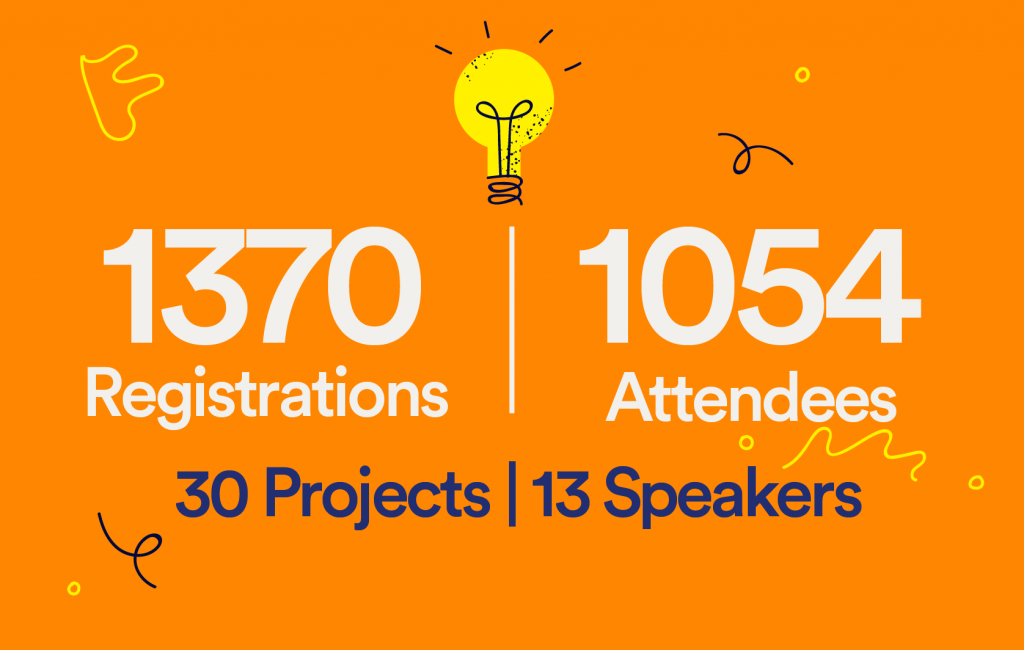 Challenge 2: Reproduce their marquee event virtually with booths, sessions and interaction
The RPG's in-person Innovation Festival would be a dynamic affair showcasing the top 30 projects selected from a wide number of entries. All participants would have a chance to interact with attendees and present their projects. Speakers would be distinguished personalities from the business world.
RPG group wanted to replicate the conference format with different sessions, multiple booths and interaction capabilities. Airmeet simulated the in-person experience with these features-
Versatility: RPG's event had three main sessions, including the keynote and the awards session, all which ran smoothly with Airmeet' s ability to host various formats like large scale conferences, fairs, networking events, webinars, panel discussions, fireside chats, workshops etc.
Booths: There were 32 booths at the event via which all innovations could be presented effectively.  The Booths allowed interactions between project teams and the participants from RPG companies, evaluators and leadership. The LIVE interaction with the team helped participants understand the challenges they faced and the benefits they delivered.
Invite to Stage: This feature gave an in-person award ceremony feel as participants got an experience of the stage. Hosts could choose who they want to invite to the stage and for how long.
Emojis: This feature allowed attendees to participate, share their appreciation during the live events and add to the event's vibe without disrupting the flow.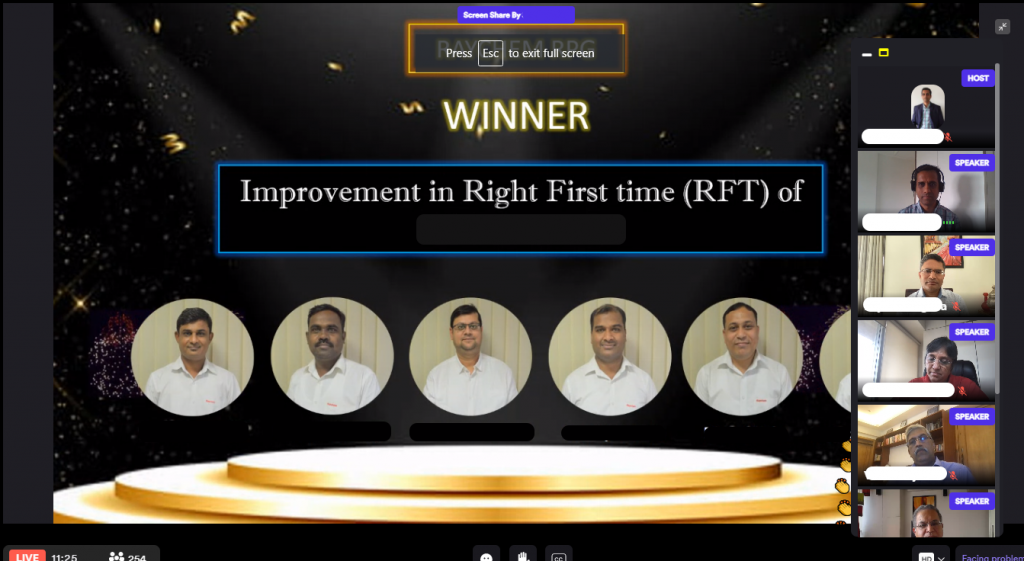 RPG is keen on exploring virtual platforms for company town halls and annual days. Airmeet's versatile and user-friendly interface makes it extremely easy to host any type of event, from large scale symposiums to intimate AMAs.
Book a demo today to learn how Airmeet can help you host your next successful virtual event.
Virtual Events & Community Building Insights
Subscribe to Get Updates (we promise no spam)