'Spark: Reimagine Expos & Events' & 'Virtual Lunch' events
Exhibition Marketing: Training & Services
Exhibit Marketers Cafe, or EMC for short, is a one-of-its-kind training agency that offers workshops and online training for exhibitors and show managers. They solely focus on helping show organizers and exhibitors best represent their business at physical trade shows and online events.
Marlys Arnold, the founder of EMC, started the conversation with a crisp introduction saying, "For the past two decades, I have been a trade show marketing consultant, working with exhibitors of all sizes in all kinds of industries, helping them do a better job and get better results from their exhibits. I've written a couple of books on this subject; I'm in my 16th season of the Trade Show Insights  blog and podcast, so I've been around in the trade show industry for a long time."
"Trade shows are hugely expensive for exhibitors to participate in, so they have got to make sure that they get their money back. But exhibitors never really stopped to think if they had the right strategy to make that experience rewarding for them," said Marlys, explaining the exigency of their services in today's trade show industry. For individual exhibitors, EMC helps them redesign their booth, train their staff on how to interact, provide mystery shopping evaluations, offer competitor reports, etc. Essentially, it includes everything that would help exhibitors do a better job.
Transitioning to virtual events
When asked what her stand was on virtual events, Marlys recollected, "I've seen 9/11, I've been through 2008-09 (the global financial crisis), and last year, of course, the entire events industry came to a screeching halt practically overnight. I've been trying to explain to show organizers and meeting planners that they need to add a virtual component to their events for the last ten years. But they thought they would be cannibalizing their face-to-face events if they gave a virtual option. Last year, they just had to scramble and figure out how to do it on the fly."
We discussed the biggest challenge exhibitors faced on virtual platforms through the last year, and Marlys explained, "You know there are many platforms out there, and a lot of them are just not good enough. Many of them just spun up during the last year, and they didn't know what they were doing. It was sad to watch organizers using platforms that weren't benefiting their exhibitors. Some virtual platforms may be great for the conference and sessions, but they really didn't offer much for the exhibitors and didn't give them a way to interact."
Since March 2020, Marlys has made it her mission to become an expert in all kinds of virtual trade shows and events. After exhaustive research and participating in well over 100 events, she learned about a lot of different platforms. Some of which were good, while many were definitely not good. And then she discovered Airmeet.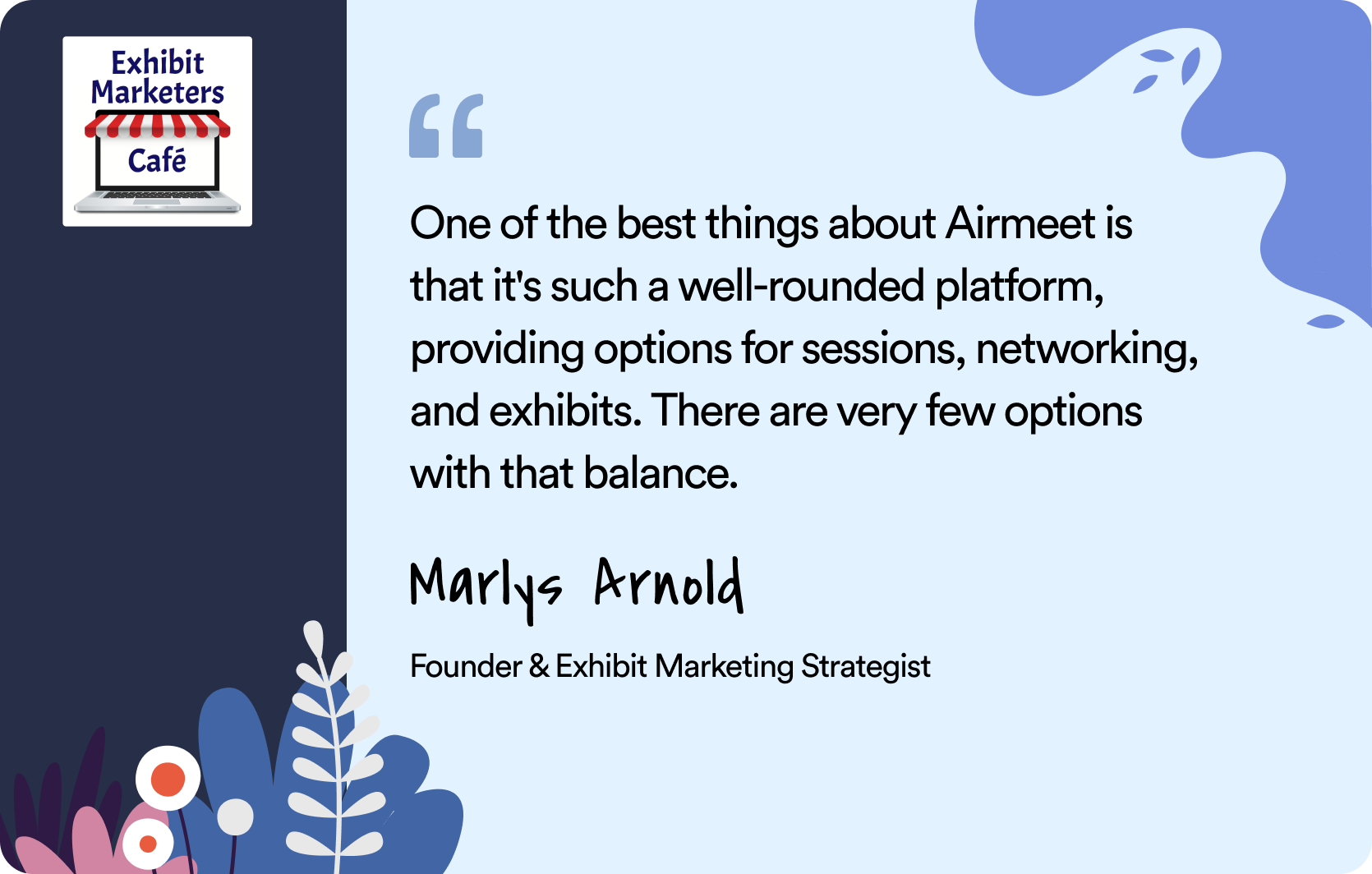 Elaborating on her event experience with Airmeet, Marlys went on to say, "I started what we call 'Virtual Lunch' for the trade show community. Last year I did it every Tuesday, now I host it twice a month. It is only for half an hour, usually through live streams on Facebook or YouTube. Sometimes we do it as a networking event on Airmeet. It's typically like a talk show where we have special guests we interview. But when we host it on Airmeet, I invite everyone who otherwise just casually watches the live streams to join us in the Lounge. And every time on Airmeet, people tend to stay late. I remember once I set an event up to last an hour, but people stayed on for an hour and a half, networking and chatting."
She also mentioned her recent Airmeet event saying, "I held a 2-day online conference in June (2021) called 'Spark: Reimagine Expos & Events'. I hosted the roundtables and exhibitor booths in Airmeet for that. We had sessions for the first half of the day and the roundtables and exhibitions at the end. And again, they stayed late in the Lounge, even on the last day."
"I've sat in on many other networking-type platforms before, but was amazed by the number of people who told me that they have never seen any platform like Airmeet."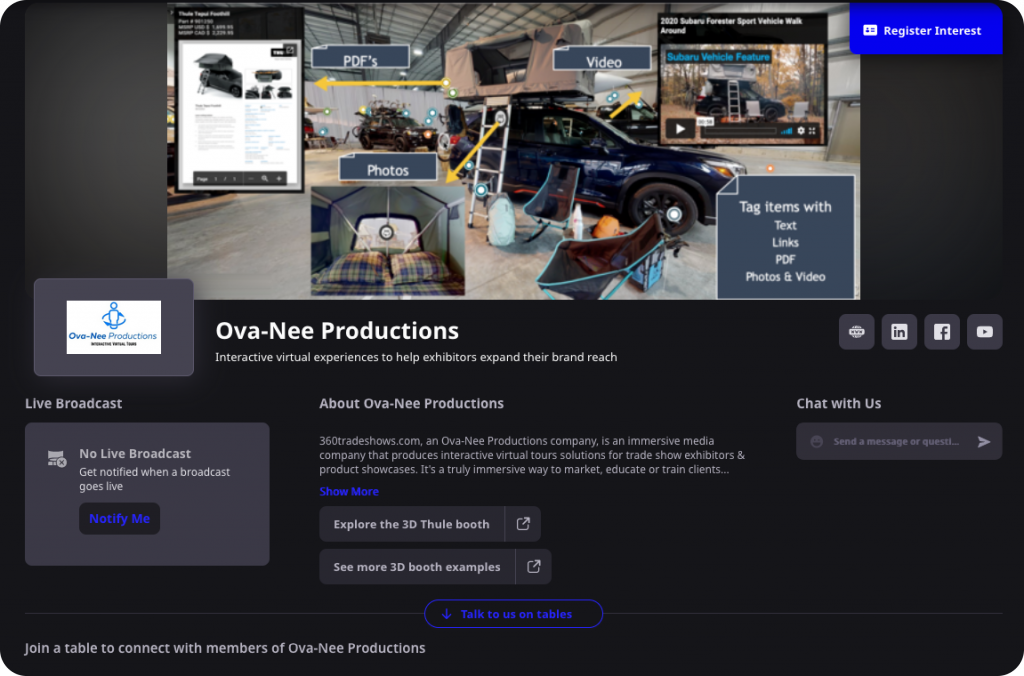 Challenges (and Solutions)
Challenge 1 :Having a virtual platform with exhibit booths that offered realistic and productive interactions between the exhibitors and attendees.
"The platforms that just have a directory or list of exhibitors where they each have a web page, that's not a virtual booth. It's just another way to have a website," said Marlys, when we discussed the most crucial factor she felt was missing in most virtual event platforms. Virtual booths are the primary source of marketing and generating ROIs for exhibitors during any virtual event. So unless the platform offered an interactive booth, they struggled to recoup their investment. Apart from this, having other options to network and share information was equally crucial, in her opinion.
EMC's entire business model revolves around helping exhibitors create booths that attract attendees. Hence, Marlys specifically appreciated and utilized the exhibitor booths on Airmeet. She emphasized some of the unique features that make Airmeet her top choice for networking events, which included the following:
Easy booth setup
Talking about the setup process, she mentioned, "At the Spark event, exhibitors said that they loved how easy it was to use Airmeet. I loved how the exhibitors were able to set up their own booth because, in a lot of platforms, the organizer has to set it up for everybody."
Virtual tables in booths
"What I love about Airmeet is the virtual tables, especially in the booths, where you have that opportunity for them to have that interactive experience. I always tell exhibitors no matter what platform you're on, you have got to have a way to interact with the attendees, and I love that Airmeet has that." she shared.
Live demo in booths
She continued, "I really appreciate that Airmeet has a live demo feature where exhibitors can actually do something live. That's another thing I tell exhibitors – just like in a physical booth, you've got to have something going on, some reason to invite people into your booths. If it's just a page on the internet, that's not really going to draw anybody in. So the ability to be able to do those face-to-face interactions is so important. I think it's so much more realistic than other platforms where they can't have that level of engagement inside a booth."
Social lounge
Throughout the events, Marlys noticed that many exhibitors and attendees shared introductions at the social lounge as well. People who knew each other had the opportunity to catch up with their peers. She mentioned that, "A lot of people said that their favorite part of the event was sitting in the Airmeet Social Lounge. And these are trade show industry people who have seen a lot of platforms too."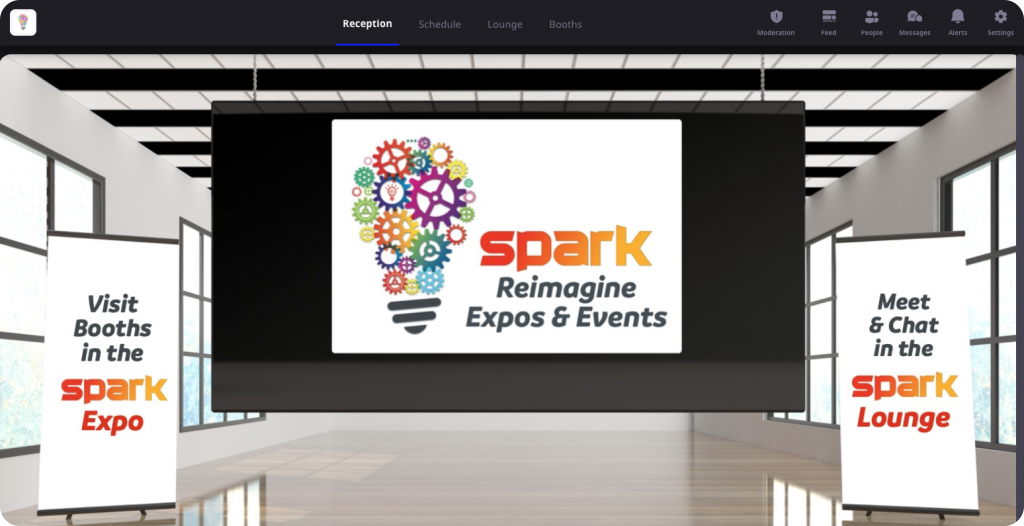 Challenge 2 : Offering the exhibitors relevant and actionable analytics for improving their target ROIs
In physical events, exhibitors could never collect accurate data of all the actions that occurred at their booth. Unless they scanned the attendee badges, they would not know who wandered into their booth and have no solid data to analyze their ROIs precisely. But Airmeet made that overly simple for Marlys through the post-event analytics features.
Post-event analytics
Marlys explained why this feature was a game-changer for her events, saying, "I always emphasize to exhibitors that the best thing about online booths is that you can see how many people came, what they clicked on, what they were interested in, etc. I appreciate that Airmeet has all the data and statistics that they can get after the event and that they can capture the email addresses of the people that are in their booth."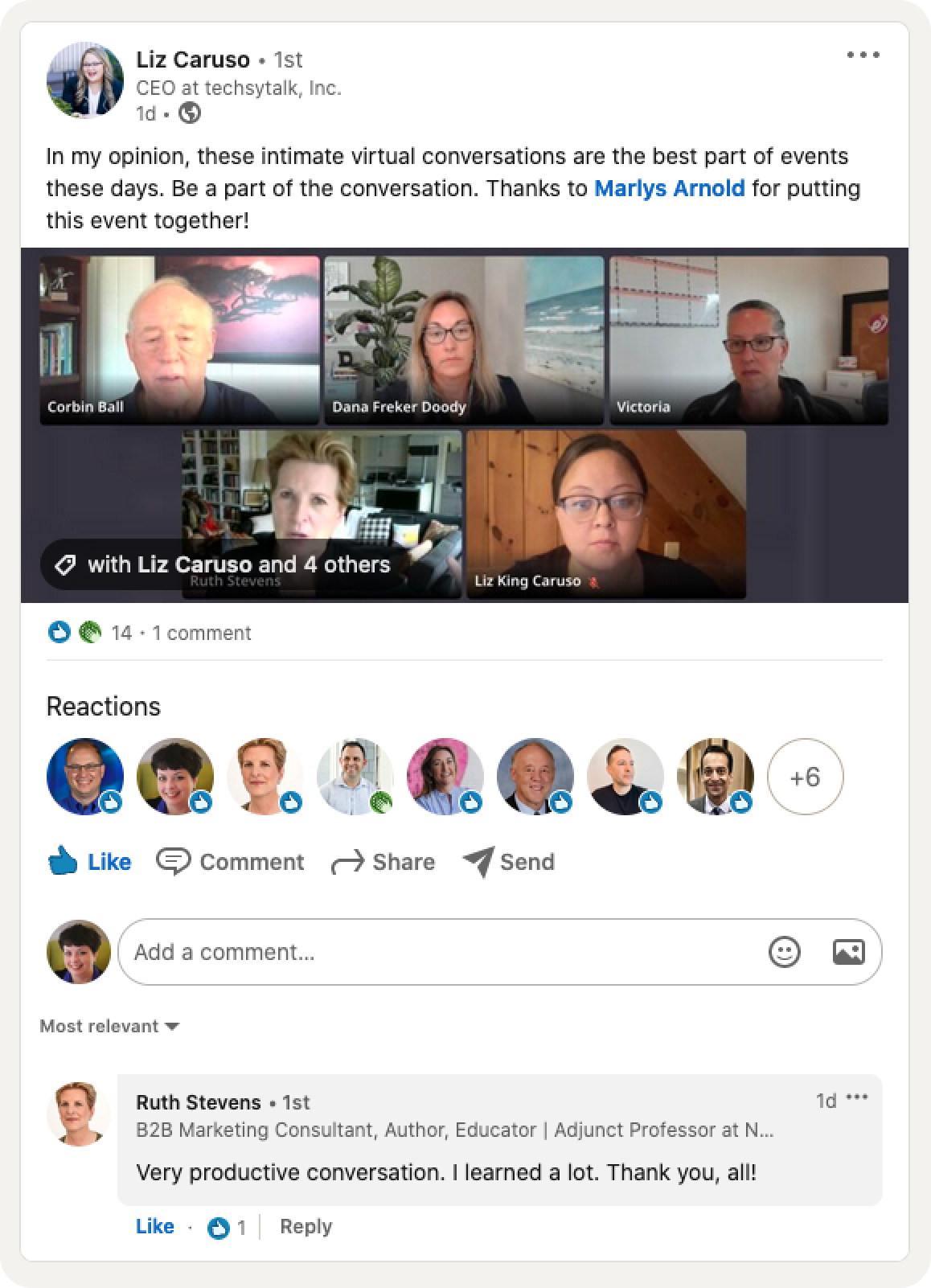 As Marlys explored her options on Airmeet, she realized she could stick with Airmeet for more of her virtual events requirements for EMC. She shed more light on her plans, saying, "Going forward, I'm planning to hold my exhibitor webinars on Airmeet as well. I can teach my webinar sessions, then ask anyone who has questions to meet me over in the lounge later. I look forward to using features like posting questions on-screen and polls too."
While discussing the future of the events industry, she mentioned, "The future is definitely hybrid, now that people have gotten used to the virtual component. There is no one right way of doing a hybrid event, but I think Airmeet is well-equipped to do such events. I see a lot of potential for conducting events on Airmeet in the future. Every time I log in to Airmeet; I see a pop-up showing new features added."
Towards the end, when asked how she usually described Airmeet, Marlys summarized her thoughts, saying, "I describe it as a way to come together and have the feeling of being there in-person, and feeling like a community. Just having that ability to make a connection is amazing. That's what's missing in so many other virtual platforms."
If you are a trade show manager or an exhibitor, you already know how crucial it is to offer or have an exceptional booth for building your business image and relationships. So
book your demo now on Airmeet to experience virtual booths like never before.
Virtual Events & Community Building Insights
Subscribe to Get Updates (we promise no spam)