Knowledge Capital is a large team of analysts and associates from some of the top investment firms that have come together to help founders and investors access deep sectoral insights and make better decisions. The team includes founders and investors working to support and grow the Indian startup ecosystem. 
Their mission is to have industry thought leaders share their knowledge about startups by decoding various sectors and themes. The objective is to help entrepreneurs and investors expand their horizons, access deep sectoral insights, and make better decisions with conviction. 
Knowledge Capital hosted Investments Decoded, a three-day virtual summit that allowed participants to learn from prominent Angel Investors from the Indian/South Asian Ecosystem. For 3 days in April, the summit covered everything crucial to angel investing – the basics and nuances, through a combination of keynote talks, masterclasses, and panel discussions.
Their objective was to bring deep filtered knowledge and learnings from real-world practitioners. Through Investments Decoded, they wanted to achieve the following objectives – 
Develop a deeper understanding of the Fundamentals of Angel Investing
Decode the multiple ways to enable Angel Investing
Establish the diverse ways of building Deal Flow
Grasp the nuances of identifying and doubling down on the right deals
Figure out the true value addition as a part of the ecosystem
Jivraj Singh Sachar, who played the crucial role of organizer-cum- moderator-cum-host at the event, shares the journey of hosting the virtual event on Airmeet.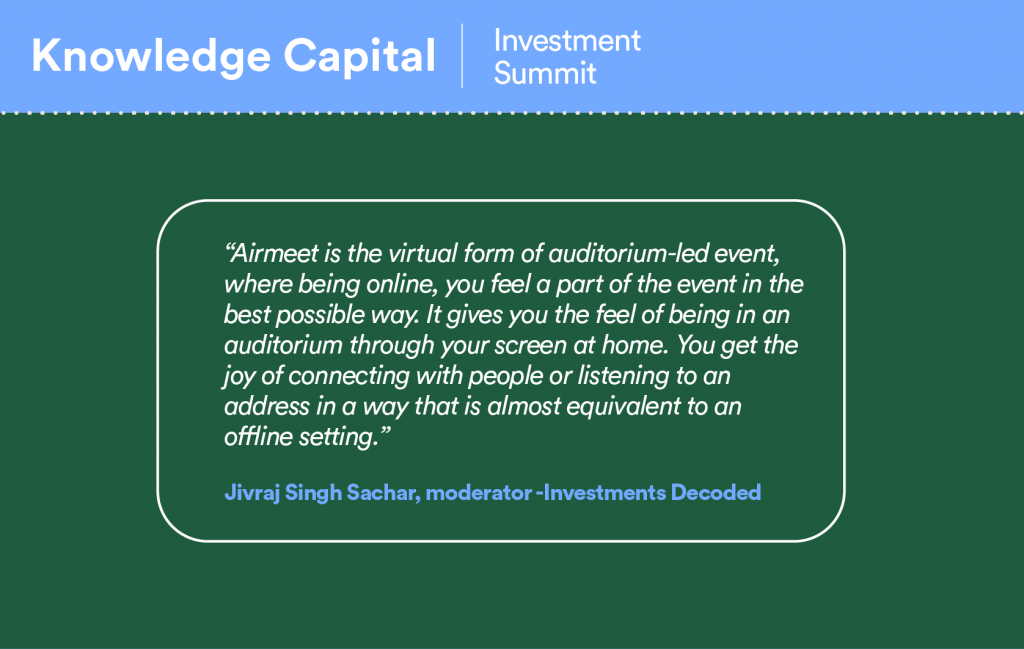 Challenges (and solutions)
Challenge 1: Organising a unique and engaging virtual event on a platform that is easy to use
Knowledge Capital wanted its event to stand out in terms of the overall experience for all participants.
Jivraj mentioned, "I first came across Airmeet at an event where I was moderating a panel. Since then, I've been recommending the platform to anyone that wants to host a virtual event. Zoom is a great product for normal conversations, but for specific events, there are no differentiation factors with Zoom or Google Meet. The experience on the consumer end is pretty bland. We wanted a platform with differentiating factors and a better consumer experience. As we explored further, some of the features that stood out with Airmeet were the intuitive user interface, ease of operation, and loads of customisable features."
This is what made the experience for all stakeholders delightful-
Phenomenal quality: The audience appreciated the lag-free, HD quality of videos, outstanding UI, and interactive design. They found a brilliant viewing experience, stable run, and elevated event experience.
Ease of use: Airmeet proved to be very simple and quick to use for the host and the attendees. The hosts found it convenient to quickly plan, set up, promote, and host the virtual event from a single platform with no third-party integrations. Jivraj said, "You can bring so many people on the dashboard, the organisers have separate access, there are so many customisable factors. The fact that you generate specific speaker links makes it more customisable for speakers as an organiser. "
For the attendees, Airmeet worked perfectly on all modern browsers, and they did not require any software or extensions. It was a hassle-free sign-up, easy login, and onboarding for the audience.
Scale: Knowledge Capital targeted the event for the global audience and planned it on a large scale. Jivraj mentioned that one of the main goals for the event was to have a good turnout. " We wanted to have enough turnout. we had highly curated content and wanted to have a turnout to justify that effort." With Airmeet, they had an option to invite thousands of participants to attend sessions parallelly.
Secure platform: With Airmeet's best practices around data security, data protection, confidentiality with a zero-tolerance policy against any breach or violation; Knowledge Capital could focus on hosting the event without worrying about privacy and security. The platform possesses cloud security, network & application security, application security, and data encryption. That assured them of a safe and stress-free event.
Engagement features: Jivraj shared that the second leading goal they hoped to achieve was to make the experience more engaging. He said, "The Q&A and the poll features stand apart. The fact that you can upvote questions makes it very easy for a moderator to understand and sort what you have to ask. I attended an IIT Kharagpur session on Airmeet where there were ten polls in a one-hour session, and that was really engaging."
Regarding the Social Lounge, he mentioned, "Initially some of the best connections I've made were through the social lounge. The networking factor it provides is great." He said that all these, along with the chat feature, are very systematic. " For example, a DM on Airmeet is much better than on Zoom. The overall user experience is much better. I loved the product in and out."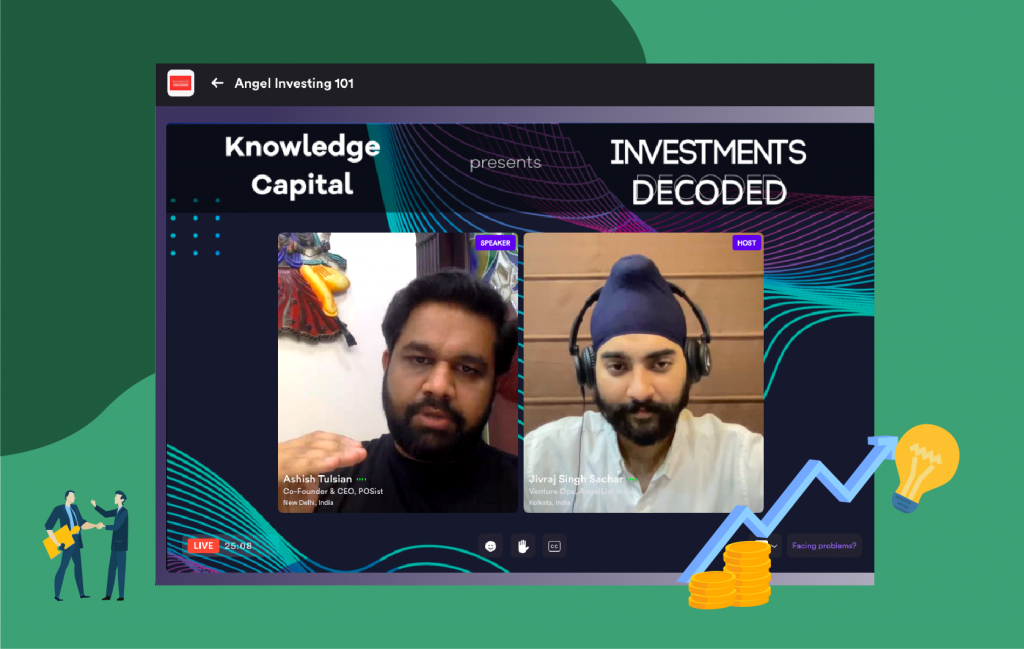 Challenge 2: Hosting multi-day, multi-track events with a great speaker experience
Knowledge Capital provides the infrastructure so investors and startups can focus on what they do best. They wanted to demystify the process of investing for their community by hosting an intensive value-packed event. They wanted to plan multiple power-packed, engaging, and knowledge-sharing sessions where every session would be consequential.
The three-day event at Airmeet was packed with progressive sessions, one after the other. The prominent features that the organisers appreciated were-
Multiple sessions and speakers: The platform is designed well from the speaker's perspective too. Knowledge Capital could host multiple engaging sessions at one virtual event. Airmeet allows up to 16 speakers to be present in a single session. The audience could see all the experts parallelly. This feature allowed them to host keynote talks, masterclasses, and panel discussions conveniently during the event.
Backstage and speaker experience: The Backstage feature was especially useful as where they could set up and discuss last minute points before the actual session started. Jivraj mentioned, " The backstage feature where you can talk to folks is a virtual representation of an offline event. You meet backstage, then go live in front of an audience. The facility to revamp the speaker's perspective is wonderful. The UI for the speakers, including pinning speakers and making sure the focus is on them, was great." 
Live Stage Controls: During the event, the host had various controls handy to ensure smooth execution of the event. Jivraj shared, " As a host, you can bring out certain factors like the backdrop of the screen, sharing the stage etc. In comparison to Zoom, where  there's a lot of noise coming through because everyone can speak with people unmuting themselves or turning their video on, all these issues were not present with Airmeet." They had a choice to switch off the camera, quick access to buttons controlling the video, audio, and screen-share options. Easy access to conversation tabs like chats, mute/unmute, raise hand, DM made the experience very convenient for the organisers.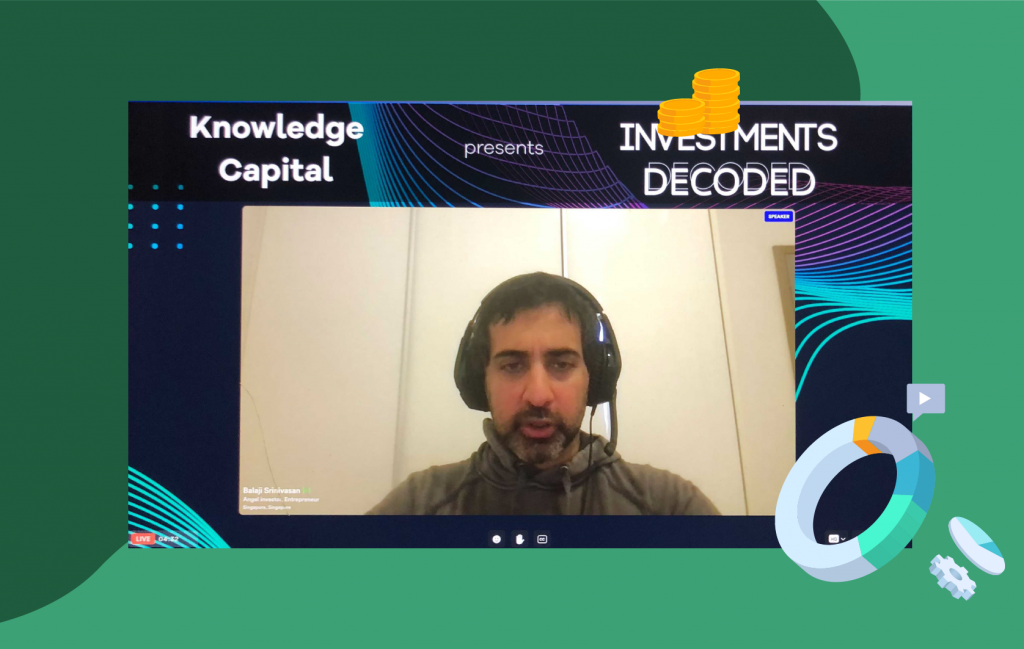 Challenge 3: Creating a virtual, tiered ticketed event
Knowledge Capital hosted their first ticketed event on Airmeet with different tiers from a single dashboard. The audience included regular attendees, partners and guests. 
Airmeet allowed the host to set up and manage ticketing with different tiers from a single dashboard and monetise on the go. Jivraj divulged, "This was my first ticketed event. The fact that I was able to generate specific links for all attendees was admirable; that was not something I have done before as an organiser. The ticketing process was great. All in all, it was very smooth. The ease of the platform speaks for itself. It was effortless to understand. Even if an Airmeet team member hadn't been there, we would have managed it easily."
Knowledge Capital was hoping for the first-day registrations to cross 250, and it did go up to 270-280. The virtual reception had all tabs in place, and no registrant faced any issue. The funds were collected for the social cause of extending help for covid relief.
The Knowledge Capital team hopes to host another event six months down the line. Jivraj said, "Given the present scenario, virtual events are here to stay, and that's going to be the future. We would love to use Airmeet more often and more tangibly as well. We love the product, and we are overwhelmed with the commendable support team. Each member of Airmeet is eager to assist in every possible way. All our clients appreciated the event and the platform."
Book a product demo today and check out how Airmeet can provide solutions to your concerns and challenges, making your event smooth and successful.
Virtual Events & Community Building Insights
Subscribe to Get Updates (we promise no spam)