Project Management and Training Programs
Dinsmore Compass, a business management consultation agency in Rio de Janeiro, is a specialist in increasing productivity through Consulting, Corporate Education and Outsourcing, for more than 35 years.

They seek to achieve superior performance in terms of financial results and stakeholder satisfaction, aiming to do more in less time through teamwork and effective use of resources.
They organized monthly webinars for project and process management and company training. The pandemic drove them to organize a virtual conference for the first time. Here is a glimpse of their experience hosting the virtual conference via Airmeet. 
Dinsmore Compass planned a large-scale event that combined a networking conference celebrating 35 years in the industry and an in-memoriam for their founder Paul Dinsmore. They wanted the event to influence attendees beyond the limits of Brazil, said Werther Krause, Chief Transformation Officer.
Dinsmore Compass organized a unique conference with multiple speakers, offering relevant, quality content and attracting attendees from the USA, Mexico, Canada, France, and Portugal.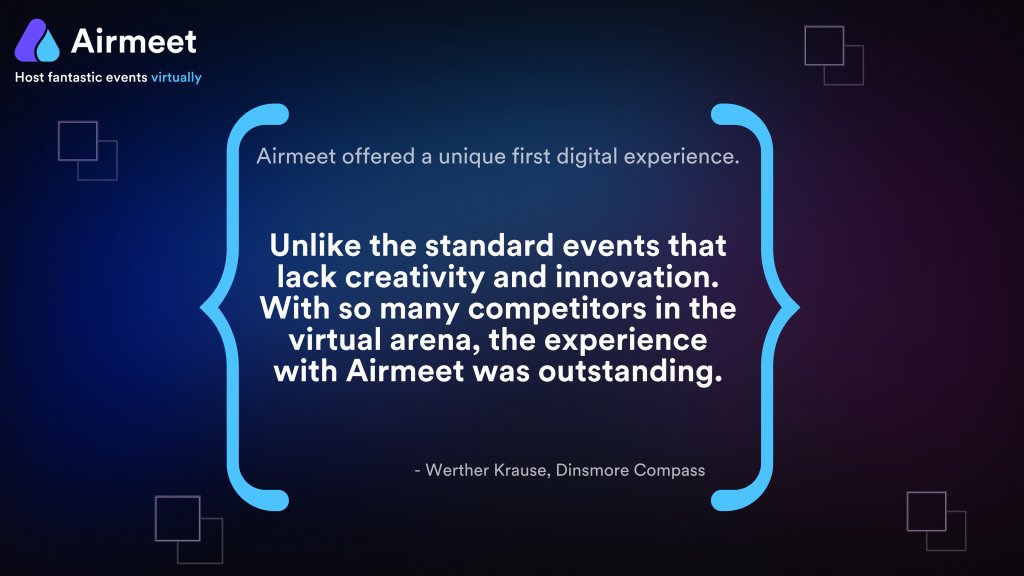 What were they looking for?
Dinsmore Compass had always promoted physical events. Once  the pandemic hit, they began exploring virtual platforms to host an event that would help them stay relevant. They wanted to promote networking that would be similar to an on-site conference with booths and warm-up sessions.
Werther mentioned that their goal was to achieve 500 registrations and 200 live participants with an NPS above 80 in their first virtual conference.
Most loved features included end-to-end functionalities available in one platform, parallel sessions, and backstage facility. With Airmeet's easy-to-use format, Dinsmore Compass could book speakers and execute the conference effortlessly. Airmeet's live support team was available throughout the planning and implementation.
Dinsmore Compass is considering Airmeet as their official virtual event platform for future events to support the community development efforts. They plan to host numerous webinars every month and virtual conferences every year. Airmeet is now part of their strategic plan to beat the competition, delivering an outstanding digital experience to the audience. 
Virtual Events & Community Building Insights
Subscribe to Get Updates (we promise no spam)