Dealmakers Disruptions Series
About the Company
Dealmakers curate high-interaction events for senior executives in the legal, finance, and technology industries. Known for a relentless focus on quality, their events showcase the hottest industry topics, A-list speakers, one-to-one deal oriented meetings, and a qualified audience of decision-makers.
Dealmakers exhibit deep industry experience and strong connections in complex markets. They understand the issues and deliver the most relevant content gathering the best group of decision-makers for discussion, debate, and dealmaking.
About the Event 
Wendy Chou, Founder & CEO at Dealmakers, spoke about the company's first-time experience on Airmeet. She said, "We produce content and bring people together for both formal and informal networking opportunities. Before the pandemic, it was primarily in-person. We work very in a few niche industries like intellectual property and litigation funding/ finance.
Whether the event is in-person or virtual, we provide highly curated offerings and experiences to the executives. For example, our in-person event will have a top-notch venue, and we will invite only the movers and shakers of the industry. We deliver high-quality content, and the other big aspect of our meetings is facilitating one-on-one business deal-making opportunities. 
When the pandemic had just hit, it was pretty difficult to run virtual meet-ups because we were restricted to Google Meet and Zoom, which had limited tools. 
Then, a huge explosion of webinar platforms took place, and we did a lot of due diligence to find the right platform for us."
Challenges (and Solutions)
Challenge 1: Providing one-on-one virtual meet-up opportunities, just like in physical events, to enable productive connections
Wendy mentioned, "During in-person events, our main venue is a panel discussion room, and the rest of the space is dedicated to one-on-one meetings. We want our audience to have productive discussions inside and outside of the panel discussion room. We allow them to have official partnership discussions and get deals done on-site. Post pandemic, we wanted to be able to carry these things forward, in the virtual setting – high quality webinars accompanied by virtual meet-ups."
Solution: Wendy appreciated that Airmeet offered an experience that was very similar to their style of working. She loved the following Airmeet Premium Webinar features:
Event Format: Comparing Airmeet with other platforms, Wendy said, "Earlier we tried ON24, and it was quite limited then. It felt like speakers were just talking to the audience with very limited feedback. It was pretty old school with a typical Q&A box. There were limited networking or virtual meet-up opportunities! Airmeet's premium webinar plan offered a similar sort of format to what we were using in our in-person virtual conferences. We found it suitable for single events like virtual meet-ups or webinars. The event hosted was not like a regular webinar; attendees were not passive listeners, but active participants." 
Social Lounge and Q&A: Wendy said, "We planned our first digital disruption series in such a way that the first 45 minutes was a content session- panel discussion and interactive Q&A where attendees could ask their questions. In the last 15 minutes, we encouraged them into the social lounge to network at tables, to network organically."
Invite-to-Stage: Dealmakers team was impressed with this Airmeet feature that allowed attendees and sponsors to come onto the stage and ask questions, becoming an active part of the panel discussion. Wendy mentioned, "This is the kind of exposure we like to give to our attendees and sponsors. Our sponsors at the event were completely blown away by the concept of calling them on stage. It was fairly unique, and they were very happy with their experience."
Tables: Wendy attended an event on Airmeet before hosting their own event. She shared, "I found the event on Airmeet to be very structured with a panel, Q&A, and networking. Towards the end of the event, when we were sitting in the networking lounge, it was full with not enough room for everyone to grab a seat. The organizers instantaneously brought the attendees to the main room and created extra tables so that more people could network. At that point, I was sold on Airmeet. It was exactly like how we would do it in an in-person event; it was incredible. In our event, we utilized tables for one-on-one virtual meet-ups / meetings that provided deal-making opportunities."
Support: Wendy highly commended the assistance provided by the Airmeet support team.  She added, "Whenever there were any issues during the planning phase or in real-time, we would get on to chat support, and almost immediately, we got help to troubleshoot the issue. I have also gone to the support lounge, and more complex issues were resolved right away. I felt very confident about Airmeet in this respect. I knew that my team would always get the event support in time."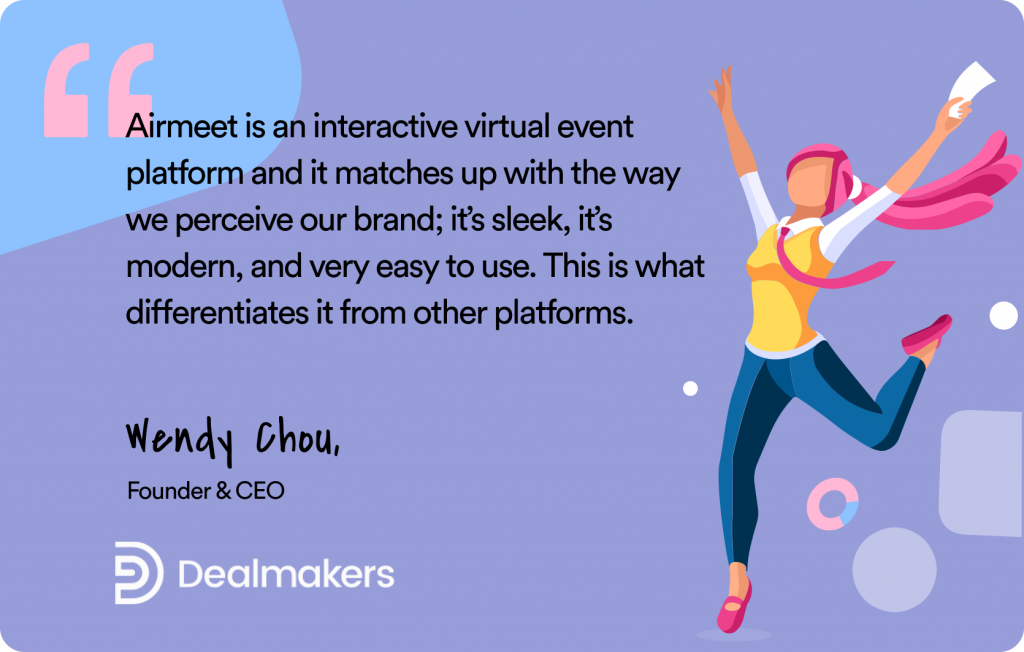 Challenge 2 : Offer the audience and sponsors a fully immersive virtual meet-up experience that is consistent with their high-quality luxury brand image
Dealmakers wanted their virtual set up to offer the audience an excellent experience that was consistent with their brand and in-person events. 
Wendy said, "We tried a lot of event platforms, but many of them were taken off the list right away because they didn't offer a great feel or enough meeting opportunities to the attendees. Our brand is like a high-quality luxury brand. We couldn't put up something clunky."
Airmeet's sleek and smart interface, HD audio and video quality, and ease of use won the hearts of the Dealmakers team.
Dealmakers Disruptions series from a business perspective was specifically geared towards sponsors. Wendy mentioned, "We wanted to deliver more value to our sponsors and offer enhanced packages for certain higher-level sponsors. We created packages for sponsors that came in for single or multiple in-person events. A gold or platinum level sponsor could get additional exposure at the virtual events. This could be for a topic different from what they were speaking on or just at a different time of the year. It was something lucrative from the sponsor's perspective. The sponsors loved this kind of exposure, and why wouldn't they?" 
Analytics 
Wendy said, "Leveraging the analytics report was super helpful. It was interesting for us to look at how many people attended per topic, and who all interacted." 
I appreciate Airmeet for their responses to my feedback. With most suggestions, they would either come back saying it is already in the pipeline or that they would seriously consider it." 
Way Forward: Virtual meet-ups vs. In-person
Wendy had a very clear and pertinent view when comparing physical and virtual events. She said, "Virtual Events are not a replacement for in-person events, but an added value. Most of the events are now hybrid. We see virtual events and virtual meet-ups as an add-on.
In-person events are episodic; they would happen once or twice a year. But virtual meet-ups and events allow us to deliver content and connect throughout the year, generate additional leads and serve our sponsors. It helps brands to stay on top of their mind.
Therefore, I don't see them one versus another. They are both valuable tools in our toolbox, especially for a company like us who specializes in delivering content and connecting people."
Wendy mentioned some people asked her if she was worried that hosting a virtual meet-up would result in fewer people attending in-person events. To that, she responded, "In our last hybrid event, we ended up bringing in more people to the table. Those people who couldn't make it in person due to logistical reasons or pandemic restrictions could attend a virtual event."
She also shared, "For our in-person events, the attendees are reviewed and selected based on seniority level. We don't have any such criterion for our virtual events, so it's kind of an open forum, and it allows the engagement of a broader audience.
Moving forward, I see all event types as value adds for business and the broader audience. A blend of virtual, hybrid, and in-person attracts more audience."
Future events
Wendy said, "We cater to around 200 participants per event right now. We would expect to see virtual event attendee numbers grow here. We are planning to work on an annual calendar and organize monthly virtual events leveraging Airmeet for these."
If you want to offer an immersive and interactive experience to your participants in a virtual venue, contact Airmeet for a demo.
Virtual Events & Community Building Insights
Subscribe to Get Updates (we promise no spam)