Strategy execution platform
Fest, Bootcamp, Webinar, etc.
Cascade is a strategy execution platform that helps thousands of organizations fulfill their visions by building their business and departmental plans, including tracking and execution of initiatives, team performance, and more. Their customers are redefining the world as we know it – from battling the AIDS epidemic, establishing a supply chain for COVID-19 vaccines, to building the world's fastest Formula One car.
Cascade is a team of 100+ people building the future of strategy. They are scaling up fast and aim to have Cascade in the hands of millions of people, driving alignment and focus.
Objectives/Business Goals
Cascade works as a strategic platform that closes the gap between planning and execution. They consider events as a long-term TOFU & MOFU strategy to achieve business goals, through brand awareness, and nurturing and educating prospects and customers. Their primary business goals and objectives with hosting virtual events are to
Build a larger community 
Create brand awareness 
Nurture & educate prospects
Spread awareness while adding value
Offer engaging, interactive experiences 
Lucas Goransky, Head of Strategy Factory at Cascade, shares details of their experience with Airmeet.
Lucas said, "We want events to bring people together and contribute towards our business goals. Airmeet gave us unique opportunities to connect with our customers, clients, and prospects to create brand awareness, brand impact, and brand recognition." 
Different types of events hosted with Airmeet
Lucas said, "Airmeet is a great platform to create awareness, nurture leads and connect people. We believe in the power of demand generation, which is providing value to prospects and potential customers before asking them to sign for a free trial or use the platform.
We generate the most valuable content possible so that we are at the top of the mind when it comes to strategy. Whenever someone realizes they have strategy needs, they should come back to our platform."
Cascade made optimal use of the Airmeet platform as a comprehensive event-led growth marketing tool, with a year-long strategy.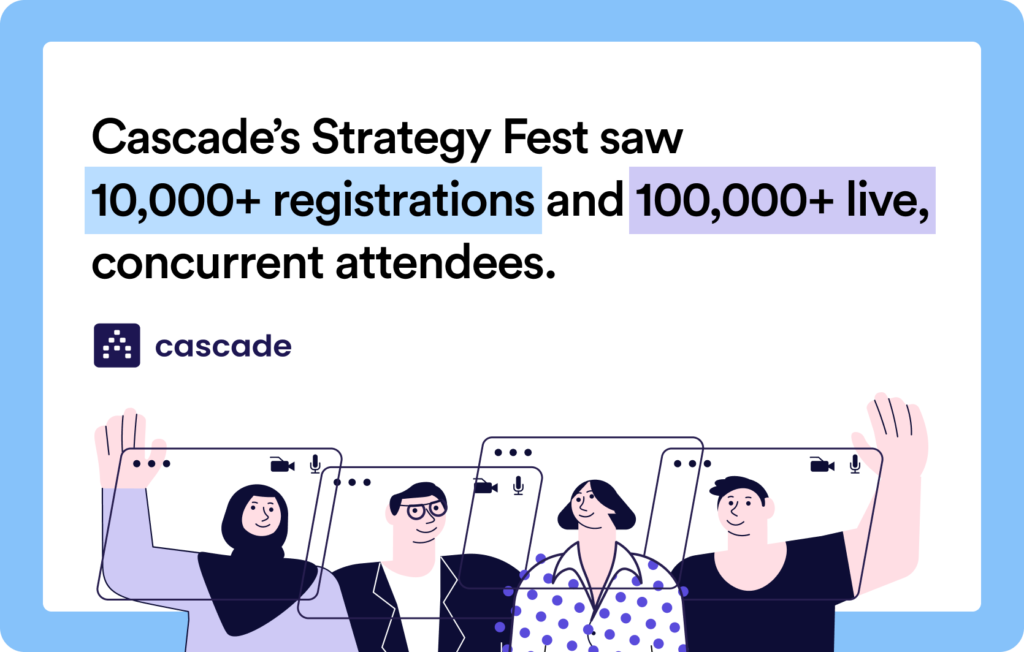 They hosted the following types of events to target different stages in their marketing funnel-
Airmeet helped Cascade raise brand awareness by assisting them in reaching 10,000 registrations with this event. Cascade organized a virtual strategy fest which was their kick-off event last year. Lucas said, "The number of registrations was just incredible. Airmeet easily handled 100,000+ live, concurrent attendees.
We wanted to create a festival and not just an event. The Cascade team offered additional value to their prospects to make the four-and-a-half-hour event significantly dynamic. They brought great speakers and enhanced the entertainment and networking opportunities with  
Speed networking – Lucas mentioned, "We liked the idea and casual approach of speed networking." The feature allowed attendees to make connections, and Cascade could leverage it to build their community. 
Roundtable discussions – Airmeet's social lounge was highly appreciated for effective roundtable discussions and increased engagement. Lucas said, "Airmeet is filled with features to engage with the virtual audience, like chat, networking, the ability to hop on a camera and ask questions, etc." This feature helped spark interest and targeted the top of the funnel effectively.
Live music & stand-up comedy– Cascade believes it is imperative to understand what the audience is looking for in an event and provide them with something worth their time. Lucas mentioned that most people today are experiencing Zoom fatigue. Virtual events need to be unique and memorable to ensure brand recall. Airmeet facilitated having live music and stand-up comedy at the fest, ensuring that the audience had a great experience. 
Taking another step forward in the marketing funnel, Cascade plans to celebrate a worldwide event called World strategy day. Lucas said, "It will be very technical on the strategy part and will get us closer to our middle of the funnel goals." The event aims to create a desire for the product, and Airmeet can help showcase it and educate the audience in a fun and interactive way.
Cascade has been successfully hosting five-day boot camps on Airmeet. Lucas mentioned, "We've done strategy boot camps that lasted for an hour per day where there was a 40-minute session followed by a 20-minute round table discussion with people from all over the world. It brought people together to learn more about strategy and get certifications on carrying out strategy the Cascade way."
The boot camps proved brilliant as they helped Cascade reach the middle of the funnel.
Cascade hosted a few successful ultimate strategy webinars and will continue to host more. Webinars work wonders initially by driving traffic on your landing page, gathering information about prospects, and later converting them into leads. Webinars help build relationships with the audience. Airmeet's features allow customization and add value for the customer.
Engagement features like chat, emojis, raise hand, polls, and Q&A allow attendees to interact within themselves and with the speaker or panelists. Events can be powered up with gamification, a much-appreciated feature for Cascade.
Airmeet has helped Cascade create a large and loyal community, moving towards the bottom of the funnel. Lucas shared, "We will soon launch our ambassador program, where Cascade will bring all its ambassadors together to have roundtable discussions and webinars. It will be more like a closed community event with the people who contribute to the community daily or weekly." 
Airmeet proves to be a comprehensive platform for achieving event-led growth goals with these additional features-
Unique and intuitive platform –Lucas said, "We are fortunate to find a great platform like Airmeet. I was the host of the Strategy Fest and found the platform very intuitive and easy to use." This goes a long way in keeping audiences on for the length of the event.
Customization – You can create a grand first impression for your attendees by creating a lively reception. Lucas said, "I love the idea of the reception. I think that the reception area is very welcoming, has a completely different style, and gives the feel of a live event."

Similarly, various other features can also be customized to create an event that resonates with your brand. Lucas said, "We want to create events that are slightly different from what people are used to. Our communication style is very bold. Airmeet is a great platform, as it is continuously growing, updating, and releasing new features." 
Integrations – Cascade utilized Airmeet's integrations with HubSpot for the strategy fest last year. They were able to track all necessary details via the CRM. They also did an integration with LinkedIn. 
Analytics – Analytics reports help to measure the success of an event. Cascade, in particular, used metrics like the registrations conversion rate to attendees. Lucas said, "We also did follow-ups to analyze the social engagement with the events and gave away badges and certifications.

In the long run, we try to understand how many people that attended are converted in the pipeline." Airmeet's analytics helps steer the marketing strategy for the future.
Cascade is looking forward to similar calendar events with Airmeet this year, repeating the strategy fest in June and world strategy day in November.
Lucas elaborated, "People are still reluctant to go for physical events due to travel and safety measures required, etc. People often prefer virtual events as they can conveniently log in from the safety of their homes. 
With virtual events, it can be harder to create something different, as it is only a two-sensory experience. Therefore, it is imperative to have an evolving and interactive virtual platform like Airmeet."
A new feature introduced by Airmeet called "fluid space" offers flexibility for organizers to host informal networking sessions that are not bound to tables and Cascade hopes to explore this intuitive feature and provide greater value to attendees.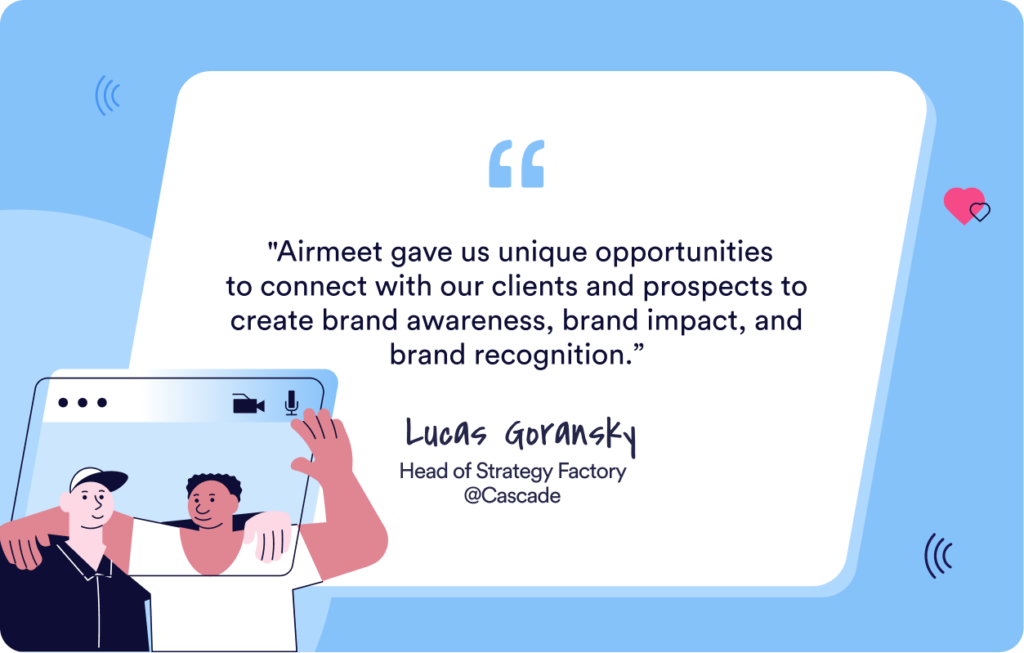 Lucas's message to companies who are looking at event-led growth as a strategy is, "Be different. Understand the target audience, especially your prospects. See what they value and what they do in their free time, what will be worth it for them? When we think about an event at Cascade, we think about actionable items. A prospect, friend, or customer who joins the event must leave with something that they can immediately utilize to implement as a new strategy.
The marketing team should understand how to formulate strategy in a better and more meaningful way. Post-event, when an attendee closes the laptop, s/he should have something in mind regarding what can be turned around to achieve a goal!"
Book a demo today to explore Airmeet's dynamic platform and add a must-have tool to your marketing strategy.
Virtual Events & Community Building Insights
Subscribe to Get Updates (we promise no spam)