Climate Change and Environment
What is Bare Necessities?
Bare Necessities is a zero-waste social enterprise based in Bengaluru, India. The organisation inspires people to lead a zero-waste sustainable life. They conduct workshops to educate people about climate change and zero waste living. They also manufacture sustainable, biodegradable and eco-friendly products that help people lead a better lifestyle. 
Mehul Manjeshwar, CMO of the organisation, shares about the event and their experience.
Countizen, a global initiative of TED Countdown, was launched in October 2020. This initiative looks at solutions to tackle and mitigate climate change. All TED countdown partners can host local TEDx events in their cities/countries and spread the message.
In tandem with this, Bare Necessities hosted a TED event called TEDx Cubbon park. The speakers of the event were people who were working for the environment. Five individuals who work or are associated with environmental causes shared about their work and how they are doing their bit to reduce the effects of climate change.
The event had about 150 registrations, and every session had about 80 attendees.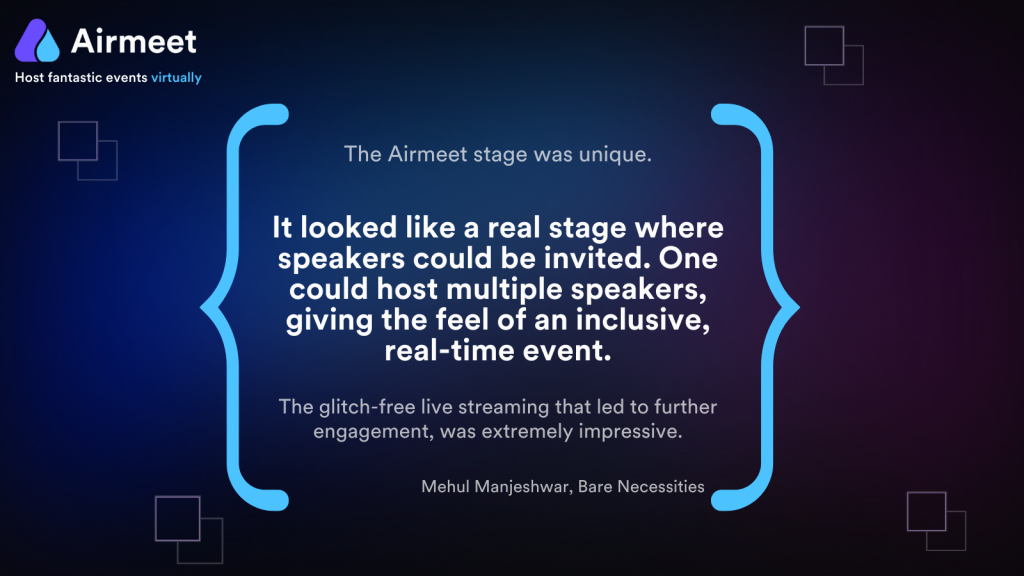 What were they looking for
Mehul mentioned that Bare Necessities conducted a lot of physical events. As an organisation with a lean team, they realised that physical events were an arduous task. The pandemic and lockdown just accelerated the need for a virtual space to conduct events. The TEDX Cubbon park was a big event which attracted a global audience. The event would feature on the parent website, which meant that the quality had to be world-class.
The team was looking for a medium with rich engagement features, especially like chat, emojis, polls etc. They had tried various platforms like Google Meet and Hangouts but found them lacking in engagement features. Moreover, Bare Necessities wanted a platform that supported live streaming which was missing in other event platforms.
Mehul mentioned that the founder of Bare Necessities, Sahar was a speaker for another TED event which was hosted on Airmeet. Sahar was impressed with the platform and its seamless operation. She encouraged and advocated for Airmeet to be the virtual partner for TEDx Cubbon Park.
Bare Necessities liked multiple features of Airmeet. The first feature that Mehul appreciated was customisation and branding. Using this feature, they could customise the event with banners and logos and create an event page.
Mehul was extremely impressed with the glitch-free live streaming offered by Airmeet. He said that besides attendees, the event had multiple views and comments on YouTube and Facebook. 
The automated video was very convenient and handy for the organisers. Mehul says, "for small teams like ours this is a handy feature. We were able to relay the talks at a click of a button and enjoy them as an audience as well."
Other features appreciated were the engagement features like raise hand, polls and emojis. They felt that these were integrated well into the platform and gave the speaker and organisers real-time feedback.
Lastly, Mehul said that the stage on Airmeet was unique. It looked like a real stage where speakers could be invited. One could host multiple speakers, giving the feel of an inclusive, real-time event. 
Bare Necessities plans to host most of their future virtual workshops and webinars using Airmeet. They find the platform interactive and the social lounge is a feature that they would like to explore and use to the fullest. Mehul signs off, saying that, "virtual events have taken precedence for us and we see Airmeet as a long term partner to host these events."
Virtual Events & Community Building Insights
Subscribe to Get Updates (we promise no spam)