Bizom University & Panel Discussions
Retail Intelligence Platform
Bizom is a retail intelligence platform for consumer goods brands in emerging markets. Launched in 2012, they have catered to hundreds of clients and have a deep understanding of the sales processes across verticals. They aim to put the power of technology and data in the hands of field sales and supply chain workers and help them sell efficiently.
To this end, they would have multiple in-person interactions with their customers around product education and adoption. However, since the pandemic hit, physical events were down to zero.
Bizom is now trying to help FMCG companies stay relevant during COVID times. Akshay Karal, AVP Marketing, Bizom says, "What happened due to the pandemic is that everything we knew about distribution changed drastically. People couldn't go to market anymore.
One of the key metrics to track efficiency in consumer goods distribution is time spent in the market. It changed overnight. Customers had to be completely remote. We had products which enabled this, but adoption was a challenge."
To help customers navigate this new normal and keep up with market trends, Bizom has been hosting two different formats of virtual events on Airmeet. The first is the Bizom University which is a series of interactive webinars, run entirely among their customers to educate them about new products and features. Here a lot of new COVID specific products are launched.
The second type of events they host is Panel discussions, where they bring together thought leaders and industry experts from different verticals to share their insights and experiences.
Let's take a deep dive into the challenges Bizom faced when they had to pivot entirely to online events, and how Airmeet helped pave the way.
Challenge 1: Zeroing-in on a platform that was primarily, easy to use
Bizom had to educate not only their customers about digitising the entire sales and distribution process but the whole retail universe. They started exploring various means of sharing content instead of just blogs. When they decided to host virtual events, they looked at different tools and platforms.
Akshay mentioned, "Being a small SaaS startup we have a small marketing team. We wanted to get things out as soon as possible. To run an event through Hangouts, for instance, we'd have to build a lot of marketing content like Landing Pages etc. We would also have to drive very time-consuming registrations.
We explored webinar platforms similar to GoToWebinar- one deterrent was, of course, cost, the other being that it was difficult to navigate."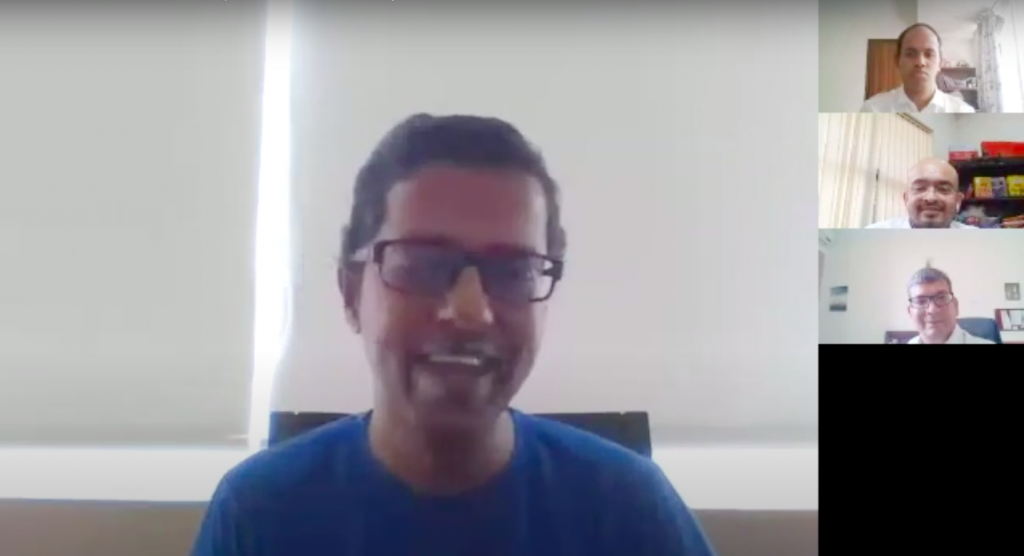 Airmeet is an all-in-one platform that lets you publish your event details, drive registrations and go live all from a single interface. 
Ease of use:  Our intuitive platform makes it a breeze to create, schedule and join events. The interface is extremely user friendly. Attendees can join-in directly using any modern web browser. They don't need to download anything on their machine; it is ready-to-use from the get-go.


Conducive registration process: Akshay said, "Airmeet helped us take care of a lot of things that we didn't want to take care of manually. For example, driving registrations, simple things like creating the landing page etc. all of that is now automated." 


Easy access to attendee information: The registration process for an Airmeet event records all relevant information about the attendees. You can also request attendees to share what they are specifically looking for from the event.
Akshay said, "We used LinkedIn live's beta version for hosting events initially. It mentions that you have a certain number of your followers attending, but there is no way to know who they are. As a marketer, not being able to go back to that lead is just not done."
Cost-effective: Airmeet is currently free for all users. Most platforms either do not support large numbers of attendees or offer expensive plans for the same. Airmeet provides a secure and cost-effective platform for any format of virtual events.


24/7 Support and assistance: Our hands-on team is motivated to empower community managers. Our efficient onboarding process and extremely accessible assistance ensure that help is available throughout. Whether you are looking for assistance in training, setting up the event, rehearsing or ironing out glitches we are there to support and assist.


Moderated event: Airmeet provides the capability to not just moderate chats and questions; it also allows the host to moderate the attendees. Akshay particularly appreciated the option of banning disruptive attendees.
Challenge 2: Providing a high-quality experience with great reach
Akshay mentions, "Before Airmeet, we tried LinkedIn live — the challenge was the internet requirements affected the quality of content, and there were audio-visual issues. I explored other options and got a demo with Airmeet. I was more than happy." 
Airmeet offers an excellent viewing experience and allows you to live-stream as well as record your event.
Brilliant quality: Airmeet provides latency-free, HD quality, real time video streaming of events. Such a reliable and professional experience is essential for event success.


Live streaming: Augment your event traffic by leveraging Airmeet's live social streaming feature that lets you run the event on social media platforms like Facebook and YouTube. Bizom streams their events live on Youtube and found the experience phenomenal.


Session recording: If you are looking to increase mileage on your events, share the session recording on different channels and reach a wider audience. Akshay specified, "Having the video on social media, so people who missed it could go n watch was great. It was available immediately post the event with no need to curate the video."


Security & privacy features: Airmeet's architecture eliminates breaches through features like end-to-end data encryption. It follows GDPR guidelines for data security and offers secure cloud storage of session recordings.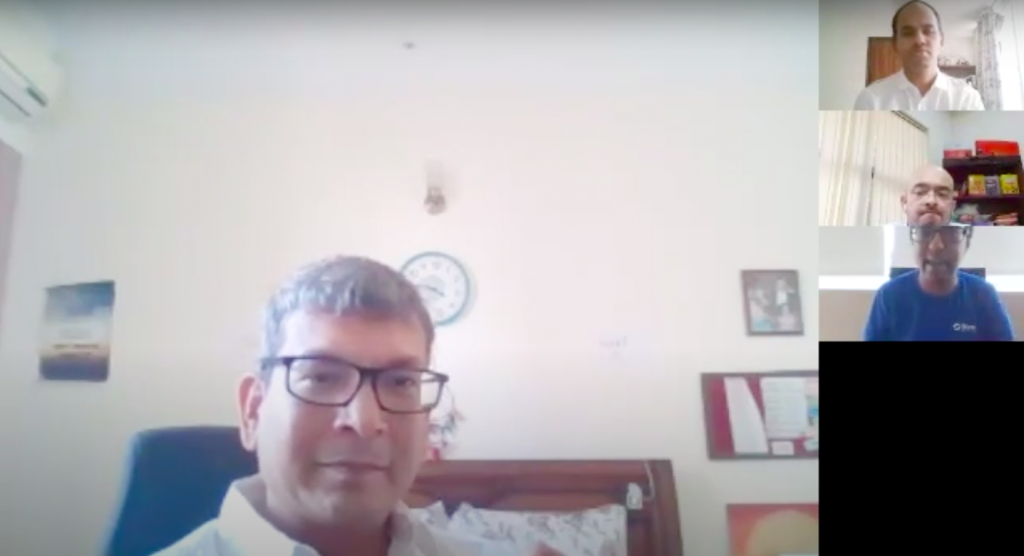 Challenge 3: Hosting an interactive and engaging virtual event
Akshay said, "The true value of Bizom is that it provides insights into the road to market for customers. There is a need to educate a large variety of audiences- influencers and decision-makers, about the challenges and how Bizom adds value."
Bizom explored video as their primary channel. They created product videos, help videos, and testimonials which did well, but people needed a little more interaction. Bizom needed to get closer to their audience in these times.
At the core of Airmeet are the networking and engagement features that make events exciting and interactive. 
Social Lounge: It facilitates discussions and networking by letting attendees join in a video conference with co-attendees on a virtual table. It is an excellent way to interact with the speaker or network during a networking break.

Akshay clarified, "We create help videos, but most users still want to talk to you about how it will impact them. In the Social Lounge, members from the product team join-in to solve problems, give suggestions and clarify any doubts."

Polls: Poll is another great feature to engage the audience, capture feedback and gather data, straight from the attendees. 

Q&A: A dedicated window for Q&A facilitates asking questions, upvoting, sorting by popularity and managing answers. Bizom university is entirely about engagement and how to keep the community active while sharing relevant information.
Raise Hand: Much like in an in-person event, an attendee can come on to the stage and debate with/question the speaker. Once your "Raise hand" request is accepted, you can come live on the stage by streaming your feed in real time. It makes interaction very personal.
"All the platforms I explored lacked the interaction from the audience to the speakers. It was a one-way communication like a lecture. Airmeet's Raise hand, Q&A, polls, share stage- all these allowed interactions that were kickass. I really love it!" exclaimed Akshay.
"Airmeet's Raise hand, Q&A, polls, share stage features all these allowed interactions that were kickass. I really love it!"
– Akshay Karal, AVP Marketing, Bizom 
Bizom hosts an annual Bizom Conclave where they get a lot of their customers under one roof and try to understand their challenges. They try to gain insights into how clients want Bizom to design the product road map. Bizom is considering hosting such an event virtually and is looking forward to Airmeet's new features!
Book a demo today and check out how Airmeet can help solve pain points for your organisation!
Virtual Events & Community Building Insights
Subscribe to Get Updates (we promise no spam)