Zeta is a fintech company that augments the capabilities of legacy banks and new-age fintech institutions by providing digital solutions to launch modern retail and corporate fintech products. Looking to make payments invisible and seamless, Zeta has built a modern stack for Financial Institutions for debit, credit, prepaid, loans, authentication and fraud and risk management. Zeta offers modern processing and embeddable banking solutions, calling itself the next-gen platform for fintech, banks and distributors.
Zeta held its first Confluence event, in-person, in 2018. The event was where the company and leadership would reflect on the year gone by, celebrate the milestones, and share the broad road map to explain the company's future aspirations and targets.
It was about coming together as a team to celebrating successes. It also was an opportunity for teams from across locations to come together and share their ideas and views. Employees, also known as "Zeta knots" would have the opportunity to interact with the founders informally, as well as catch up with colleagues from other locations.
Zeta Confluence is held every year around Zeta's anniversary. This year Zeta was compelled to explore the virtual space for hosting its annual event due to the pandemic. Learn how the company hosted an effective and highly charged event virtually, using Airmeet.
Challenges (And Solutions)
Challenge: Seamless delivery and lag-free experience, plus easy access for all attendees
As Mithun put it, "The most important 'non-negotiable' factor while evaluating virtual event platforms was the seamless, lag-free delivery and experience it could provide for the large-scale event. All other factors were secondary."
Airmeet enabled Zeta to have everyone and everything, on one platform while supporting a variety of sessions These Airmeet features ensured that Zeta could achieve all that they set out to.
Outstanding quality & delivery: Airmeet's lag-free, HD quality, super-fast UI/ UX, interactive design and live video streaming of events gave Zeta the confidence that their event would give their employees a seamless experience.
Ability to support multiple formats and sessions: Zeta Confluence 2021 was hosted over two days with 12 speakers. There were numerous sessions, including Speaker presentations, Felicitations, AMAs, Q&As, a lucky draw and even a live band performance! With Airmeet's ability to support a variety of formats, Zeta was able to humanize the event and bring in as much of an in-person experience as was possible.
Scale:  The event saw 809 registrants and 769 attendees. Airmeet's ability to host up to 100k participants ensured that this scale was achieved effortlessly.
No download:  Airmeet's WebRTC protocol enabled video chat over the web, without any downloads. Zeta hosts, designated speakers and employees could quickly and seamlessly join, host or participate in the event right from their browser without having to download anything. The fact that Airmeet supports all modern browsers while assuring quality helped Zeta host a secure and easily accessible event.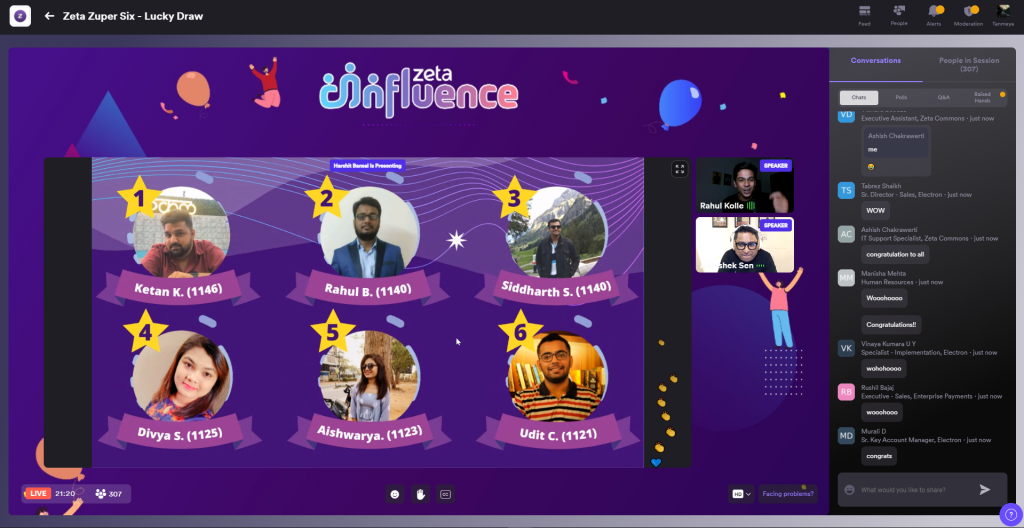 Challenge: Get as close to possible as a physical event, in terms of engagement
The event was a two-day long event and keeping people engaged and hooked onto any platform for such a long duration was a challenge in itself. Zeta wanted to bring in as much interaction and engagement as possible, and also get a sense of how people were feeling during the event.
The various engagement touchpoint features of Airmeet and the way they are integrated into the event and positioned within the platform was simple and user friendly, ensuring that Zeta was able to deliver a highly charged, interactive and engaging experience to its employees with:
Custom reception: The option of having a custom reception for the event was well met by Zeta senior team members. The reception was the official welcome area for the participants. Here, Zeta employees could see what's happening live and check what sessions were scheduled. The reception could also be customized with the brand logo and in the brand colors. Zeta saw the value in this feature to enthuse employees for a smooth and successful event.
Interactive UI/UX: That the presenter was able to see how many people were in the session, who they were as well as can get constant feedback and reactions, motivated the speakers, performers and MC.
Invite-to-Stage: Attendees could raise their hands and hosts could invite them to stage, upping the level of interactivity and engagement, just like in an in-person event.
Reactions / Emojis: The attendees could participate and show their appreciation during each session in the event without disrupting the flow via emojis. These were particularly useful as Zeta felicitated their "Zeta Incredibles" their long-service award employees.
Live chat, Q&A; Session polls: The Zeta event team had a pulse of the event and overall feeling of the attendees through the live chat feature that was used extensively during the various tracks, where employees could actively participate with informal and inclusive banter. Q&A and polls served as an effective tool to gather relevant data from all attendees during the sessions.
Social lounge and speed networking: The Social Lounge was a great way for the employees to connect and socialize informally. Speed networking allowed them to connect with members that they would probably not have a chance to interact with on a day-to-day basis, enriching the interaction goals of the event.
Said Mithin, "Airmeet really ups the game for online engagement when it comes to larger-scale virtual events. With the seamlessness of streaming and delivery it offers, we didn't need to put in additional effort to engage people as it is organically built-in."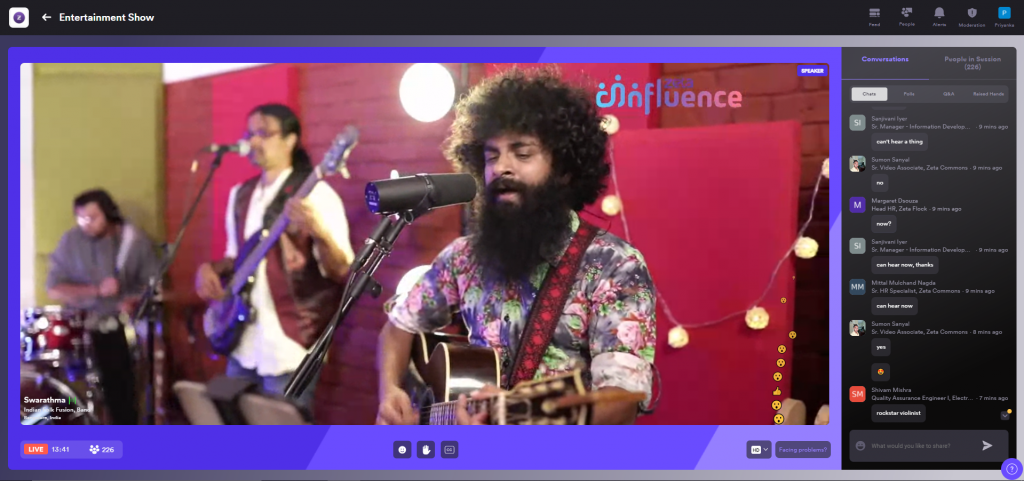 Challenge: Avail of excellent support services for flawless event execution.
Zeta's core planning team comprised of two members supported by individuals of their HR & admin teams. Zeta was looking for additional support and a high degree of moderation by the Airmeet events team. 
24×7  event support: Airmeet provided them end-to-end services for conducting the event seamlessly. The Airmeet team helped create the conference format event, conducted multiple speaker dry runs along with an event dry run and offered technical hosting for the rehearsals as well as the main event. The support team was available all through the event. 
Seema, part of the Zeta event planning team mentioned, " I have never attended a better confluence in my life. Even in-person conferences are at times not so well coordinated."
Zeta was extremely happy with the Airmeet platform overall and was blown away by the support offered. They plan to continue with the online routine for their standard set of events, as well as for their Hackathons.
Learn how you can wield the exciting Airmeet features for spectacular company events from town halls to annual days, conferences, award ceremonies, celebrations and more!
Book a demo with Airmeet and check it out for yourself today!
Virtual Events & Community Building Insights
Subscribe to Get Updates (we promise no spam)