Founded in 1871 as a land-grant institution, the University of Arkansas is home to 27,000 students representing all 50 states and more than 120 countries with 10 colleges and schools offering more than 210 academic programs.
KayLee Simmons, Director of Career Events at the University plans and hosts events for all 27,000 students as well as for alumni. 
Here's how they've used Airmeet for 5 career fairs, 4 mixer / networking events and 600 mock interviews.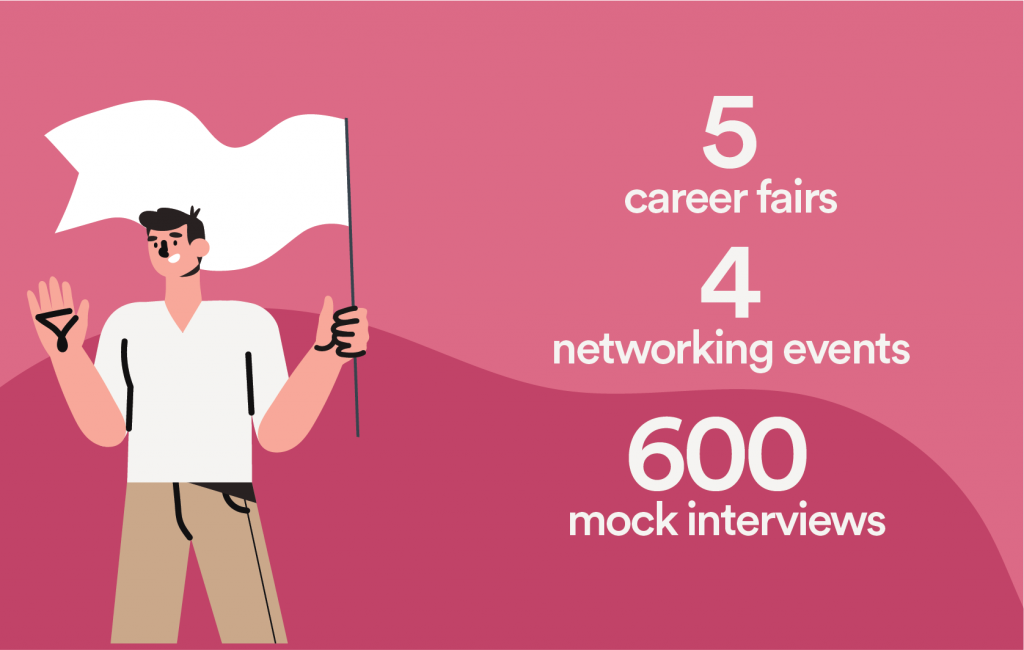 Challenge: Finding a robust platform capable of hosting the University's largest career event
The University had already pivoted to virtual events with another platform in the earlier quarter and were very unhappy with the experience. Critical to the success of their larger events, the need of the hour was a robust, easy-to-use platform with multiple features to suit the various  needs of the fair. They needed to be able to host interactive speaker sessions, have employer tables where students could learn about employers and job opportunities as well as a space for private video chats between employers and students.
With their multifold requirements, they started researching other platforms. Online research led them to Airmeet and they decided to experiment with the platform for one of their smaller networking events. The experience was so flawless that they immediately pivoted to Airmeet for all of their future events.
KayLee Simmons, The Director of Career Events at the University explained; "The STEM Virtual Career Fair offers UA students studying Science, Technology, Engineering, and Math disciplines the opportunity to attend the fair, research STEM employers and view and apply for job and internship opportunities. Students also wanted to chat online with recruiters about full-time, part-time, co-op, or internship positions. The fair attracts over 120 big brand employers from around the nation as well as nearly 1500 students. We couldn't afford to let anything go wrong!"
Airmeet proved to be just what they needed with it's
Capacity to host large numbers: Airmeet with its ability to host up to tens of thousand attendees effortlessly, made it the ideal choice for the University's largest event, as well as their many smaller events.
Intuitive easy-to-use user interface: Hosting such large numbers left little room for preparing and training the audience to use the platform. Airmeet was so intuitive and easy-to-use that speakers, employers and students had no trouble navigating their way through the event.
Ability to have unlimited tables in the social lounge for employer booths and 1:1 table chats. : The University was able to allow multiple employers to speak on the virtual stage where students could listen, engage,  and ask questions. With Airmeet's ability to have unlimited virtual tables in the social lounge, it was possible to have everybody under the same roof at the same time.
Invite-to-stage: This feature was a great add-on that enabled speakers to hear directly from their audience creating an interactive and engaging experience.
Excellent customer support: With such large numbers the easy to access, the prompt and quick customer support that Airmeet provided ensured that the event was glitch-free from start to finish.
Challenge: Providing secure, private spaces for interviews and 1:1 conversations
During their career fairs and their mixer networking events, participants often engaged in 1:1 conversations, interviews and networking.
Airmeet's table features worked perfectly for this and allowed for undisturbed one-on-one conversations as well as interactive group sessions.
Social Lounge Tables: The social lounge was used in multiple ways. It was used for employers and students to meet each other, for Alumni to network, as well as for student mock practice interviews
Security: Airmeet takes this very seriously with end-to-end encryption and GDPR compliance for data protection that ensured that there were no threats to the event. Since there is no downloadable component and installer, the user is always safe.
"Airmeet is a life-like virtual platform to meet people in a virtual space. Our College of Engineering used the Social Lounge feature for first-year engineering student mock interviews that had over 600 students participating. Students had to just check in at our top table at a pre-scheduled time where they were given a table number. All they had to do was scroll down and join their table once a virtual seat opened up! We had 20/30 simultaneous 1:1 mock interview tables running. It all worked out so well." stated Kaylee.
Challenge: Assessing event success and ROI
"Catering, shuttles, renting the venue, security, tables – we saved considerably. For all of the logistics, I usually need a 2nd person to plan everything but when we moved virtually I could do it all myself so easily," said Kaylee
She added: "Students and employers really enjoyed it and receiving the event analytics post-event was so helpful."
Analytics: The post-event stats and analytics provided by Airmeet give details regarding how many people registered for the event, how many actually attended and how many actively participated in the event, as well as their levels of engagement.
This is especially handy while reporting the success of the event, planning future events and presenting numbers to sponsors as well as in preparing a cost-benefit analysis.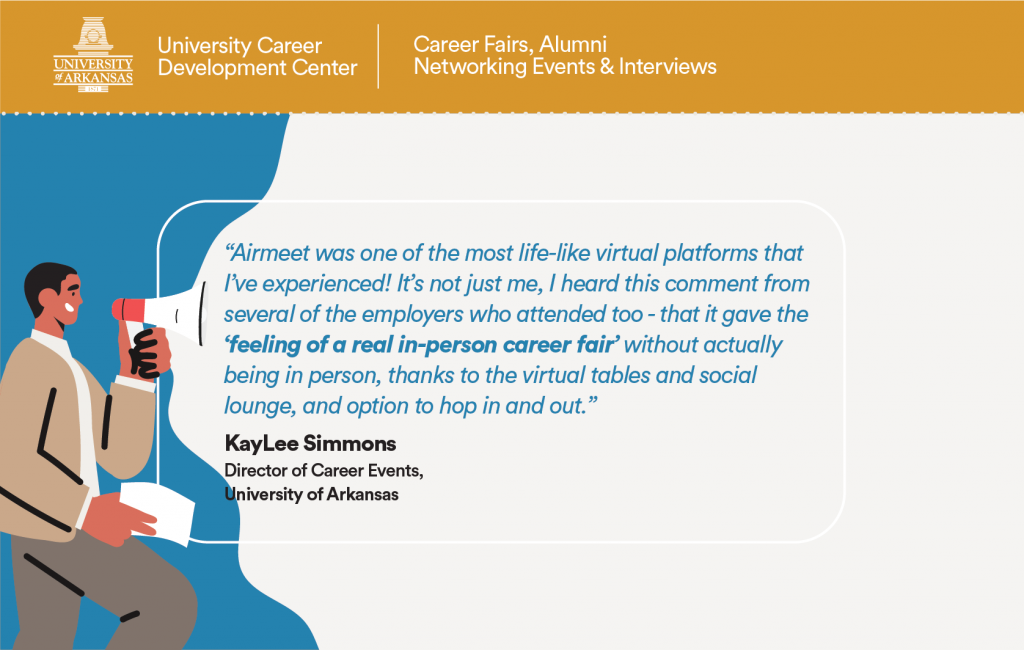 "Now that we have experienced the advantages of Virtual events, some of our fairs will continue to be Virtual as it proved to be better for both employers and students. However, going forward, for our larger events, we plan to have hybrid events in the hope that we get the maximum traffic as possible," said KayLee.
The Career Development Center also has a 'Career Studio' which she hopes to add a virtual aspect too, where students can drop in for resume reviews, cover letter reviews, mock interviews, and more from a trained peer career mentor.
The University of Arkansas used Airmeet in multiple different ways, from career fairs to mock interviews and were able to host several successful virtual career fairs on Airmeet. 
Book a Demo and see how Airmeet can amplify your event!
Virtual Events & Community Building Insights
Subscribe to Get Updates (we promise no spam)