TLDC Community Day: Building with Stories (multiple events)
TLDC (The Training, Learning and Development Community)
Training, Learning and Development
TLDC (The Training, Learning and Development Community) is a virtual event producer. It gathers instructional designers and educators to share resources and puts them together as podcasts on YouTube. 
Before the advent of the pandemic, since 2016, TLDC hosted live events and conferences with 200+ attendees. As the pandemic hit, they explored the virtual format. They eventually felt that it is an opportunity to create even higher buzz for their events and invite a greater number of participants online. 
Out of the four Airmeet events successfully completed, the first event took place in December 2020. Post this achievement, Mr Luis Malbas, Founder, TLDC, decided to create a series of events, called 'Community Day', to share knowledge and network within the community. They hosted the last event with six speakers, 16 booths, and various table hosts. 
The series came to an effective end on 30th April with the 'Spring Community Day' event. This event brought Learning & Development professionals together from around the world for full-day sessions and a networking experience featuring 21 exhibitors.
TLDC also organised one free event in March, marked for women. The event was named "Women of L&D 2021". It was an incredible experience with 600 registrations, 280 attendees, and 9 speakers.
The event details described below show how Airmeet met the hopes and expectations of TLDC and which features gave them an edge.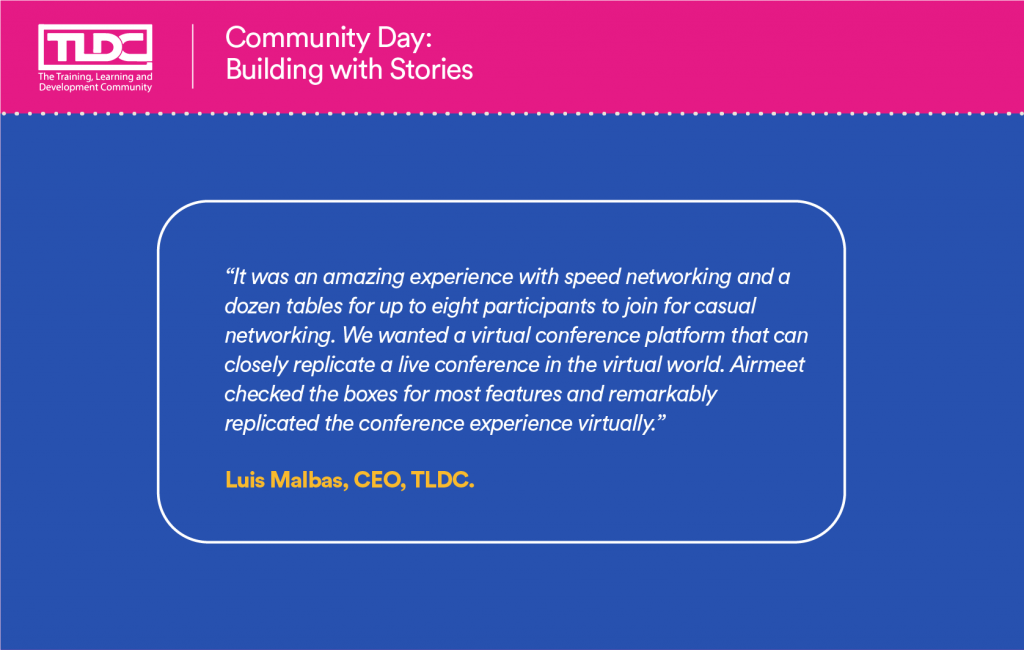 Challenges (and solutions)
Challenge 1: Shifting from physical to Virtual without missing out on networking goals
TLDC had to swiftly transition to a virtual platform for hosting their networking and knowledge sharing event. They were not ready to compromise on their networking goals and were looking for interactive features to create a space where the audience could connect, share and celebrate.
The primary focus of TLDC was on building communities for personal and professional development. They believe that learners gain the most value from the courses when they get opportunities to collaborate, discuss and engage with like-minded people.
With a distinct set of requirements, Luis performed a comparative analysis on various virtual event platforms and found that all their event requirements were fulfilled by Airmeet.  Airmeet's virtual venue allowed his community to move freely across multiple sessions, network at the lounge, and drop in on exhibitor booths to have meaningful interactions.
Airmeet's ability to deliver real engagement and best-in-class interactions proved to be a boon for them as they could avail the following features:
Reception: Airmeet allowed TLDC to build and customise a sophisticated and premium virtual reception that gave a warm welcome to the attendees.
Stage: The Airmeet stage humanised the opening session for an inspirational and practical start to a transformed workspace. TLDC could  run multiple sessions in parallel, engaging audiences from diverse backgrounds without compromising on video and audio quality. Their speakers planned an instructional story design to discover, design, and deliver stories and give the human touch to virtual attendees.
Social Lounge: TLDC found this to be the best feature for networking. Attendees had a spontaneous and life-like, engaging, and interactive experience using the social lounge. TLDC had set up tables with different logos and table names to ensure a rich networking experience for all the attendees. Airmeet's virtual tables proved to be the perfect feature, offering educators opportunities to connect with the attendees and share information. This format promoted conversation, and every audience member felt like an active participant. The attendees could stay back post the event to network, find opportunities, and build awareness.
Speed Networking: Speed Networking was the highlight of the event. TLDC was looking for a collaborative tool that fosters peer-to-peer learning and engagement. Participants who enabled speed networking got matched with each other for a quick one-on-one virtual meeting. The host could decide the time duration of each discussion.
Participants could continue to speed network with new matches and build as many authentic connections as possible. By default, when anyone would join an event, they would be in a breakout room with social tables that could support seamless conversations. The platform displayed attendee profile details and name tags that helped break the ice and connect better.
Polls Feature: Luis utilised the poll feature very well in the March event named "Women of L&D 2021". The audience could participate easily via the poll feature. Luis said, "With Airmeet, it goes as it says. We couldn't have pulled the women's event so well if it wasn't with Airmeet".
Exhibitor Booths: Airmeet allowed the hosts to sell high-converting booths to sponsors and maximised the event ROI. Booths were an excellent interface where attendees came and interacted. TLDC offered vendor booths to exhibitors for free. There were 21 booths where people could download resources and do branding.
Challenge 2: Needed a versatile event platform with ease of use and maneuverability.
The majority of participants and speakers in the Spring Community Event 2021 were California locals. However, the virtual event could also attract other audiences, mostly from four countries- the US, UK, Canada, and the Netherlands. 
The theme of the Community Day event was "Building with Stories". It was an online event for TLDC members and supporters to gather, celebrate, and learn from and about each other. Luis said, "The attendees found it even simpler than zoom and liked it a lot. The audience included C-level executives as well as an entry-level instructional designer." In the event, everyone is a peer, exploring everyone's journey. The entire event lasted for 7-8 hours, with six sessions of 45 mins each. 
The ease of use was due to the following characteristics:
Easy to Access – It took no time for the team and audience to get familiar with the platform. 
The audience could log in on the Go – No downloading was required with Airmeet. 
Multiple Sessions – More than one session could take place simultaneously. TLDC planned the last session focused on casual networking, talking about a favourite book, favourite podcast, telling stories, some magic tricks, music, more like a community of educators' getting together in an informal environment to share resources and informatio.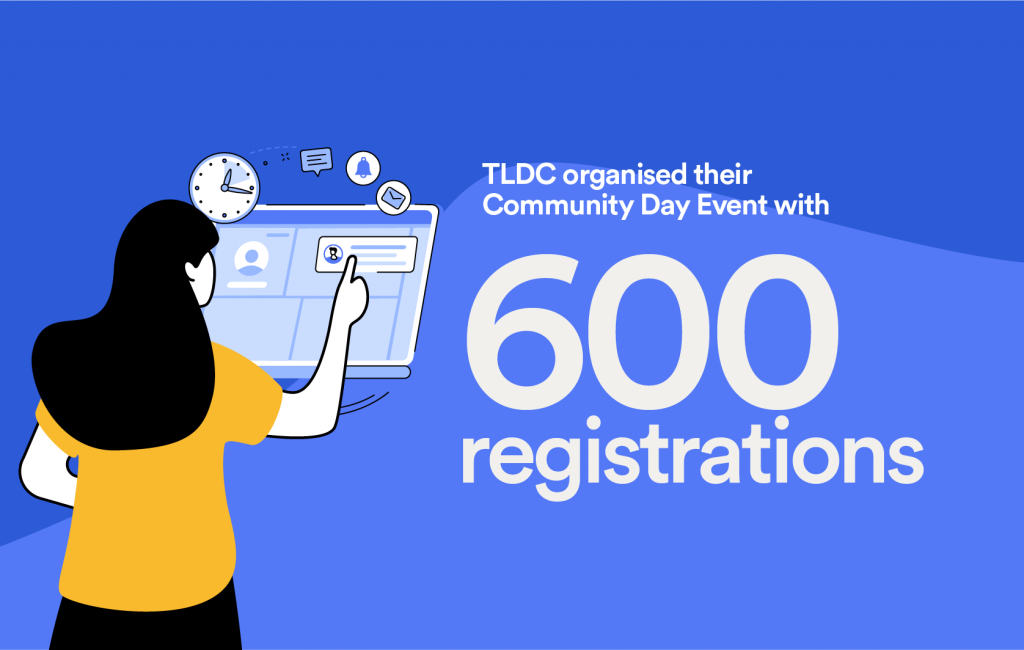 Challenge 3: Required a platform that upgrades its features and offers 24x7 customer support
Luis mentioned, "Having a 24×7 support is the most implausible feature that proved to be of great help. The support is not just available; it's very resourceful too. Another premium feature is the SPOC (Single Point of Contact) for all communication and project management. "
Luis appreciated that Airmeet continues to upgrade its existing features and add new ones for the ease and comfort of the attendees. TLDC had its first event with Airmeet in December, and since then, the platform has evolved to be simpler, quicker, and feature-packed. 
The upgrade in features as noticed by TLDC were:
Change in the user interface
Menu tabs placed right on top
Backend features with event registrations
Quicker uploading of information on Booth     
24×7 support 
Capture interactions and get actionable analytics
Luis Malbas, CEO, TLDC, is extremely satisfied with Airmeet and has already listed five upcoming events. Leveraging features like session recording, event support lounge, sponsor booths, and speed networking is what they look forward to in those events.
Luis said, "Airmeet features allow attendees to be so social with quick tabs. The interactions during the event made attendees emotional and truly connected. It was a very unique and authentic event, exactly how we wanted. I am very satisfied with Airmeet and have planned another five events, similar in size and format in 2021".
He further mentioned, "The events will be spaced out, for a continuous community connection. The next one is planned for July. We are hoping for another celebration and growing the community in the next event where attendees will get excited, connect and celebrate. Even post-pandemic, for the next ten years, I will not go live for bigger events. The virtual way is here to stay."
Book a demo today and check out how Airmeet can give that much need boost to your next virtual event!
Virtual Events & Community Building Insights
Subscribe to Get Updates (we promise no spam)