Brick & Mortar Bookstore/Retail
Swamp Fox Bookstore is located in Marion, Iowa, USA. They run a book store to encourage reading, sharing, and interactions with authors. The store opened right in the middle of the pandemic and explored the virtual way of connecting authors to the reading community, with author webinars.
Terri LeBlanc, one of the co-owners of Swamp Fox Bookstore, talks about their journey of opening a physical bookstore during the pandemic and connecting with authors worldwide through virtual events.
Terri mentioned, "We opened a bookstore during the pandemic in July 2020. It was a small bookstore, and we were not sure if we would get enough foot traffic, but with the summer, there was a gradual increase in footfall, and the bookstore became a community location. It was a place for people to come physically, buy books, and connect while following the norms of social distancing and masks. It was the interaction that everybody was craving. 
We continued, with the goal in mind that someday we would open a larger location in town and wanted to understand the community's reading preferences to curate that kind of a collection."
About the Author Webinars
Terri further shared, "Before the pandemic, it was mostly in-person events. We hosted several book clubs and author events in person. We had the first opportunity in June 2019 to do a virtual event with one of my favorite authors- Rachel Caine. She was busy working on a series and wasn't traveling for events. So, I thought I would reach out to see what we could work out. She agreed to do a Skype call because that was the easiest thing for her, and it was just a voice call. 
We set up the laptop in the middle of the store, put the speakers on, and had the opportunity to talk one-on-one with her. That was the first virtual event that I hosted with an author and then I went on to host a few author webinars as well. That's how I got used to being the host and the technical person behind the scenes simultaneously.
When I found Airmeet, it intrigued me because it felt like a very simplified interface. I had used Zoom and Skype, which were good for voice calls. With Zoom, it always felt like the controls were moving around and people had to download the software; therefore, I wanted a simpler solution for the author webinars I had in mind."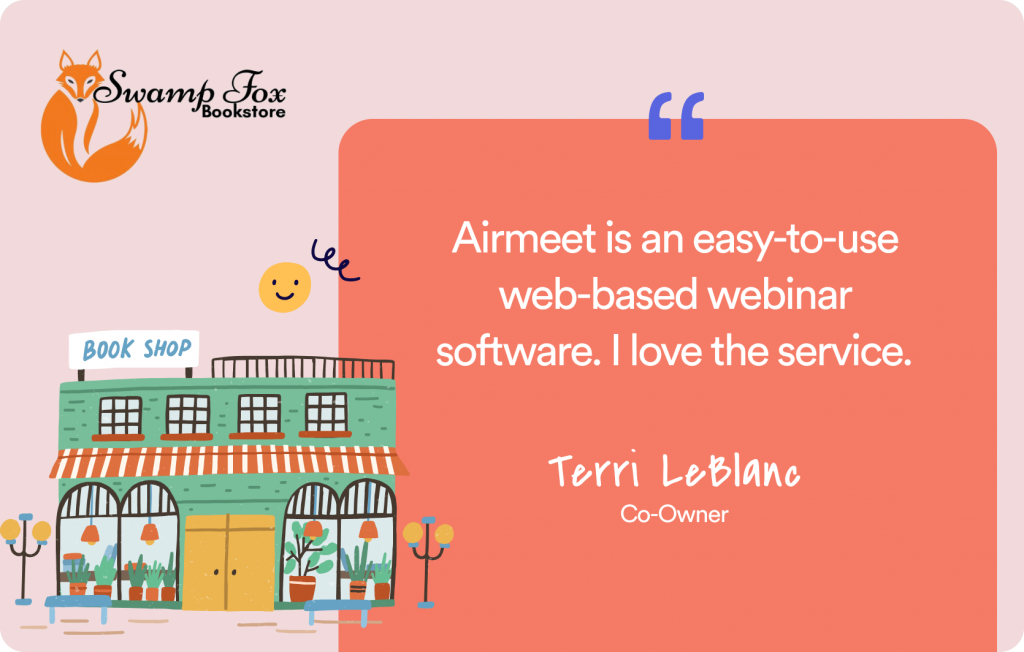 Challenges (and Solutions)
Challenge 1: Providing a quality, far-reaching author webinar experience to online attendees
Terri said, "I wanted our events to go online to gain more followers and more views on the videos."
The following Airmeet premium webinar features helped them host successful author webinars and garner many positive reviews.
Live-streaming – Terri said, "I wanted to stream our event directly on Facebook, and Airmeet made it possible with just a click of a button. During the event, as we go live, it goes right to Facebook. I usually keep two screens so that I can keep Facebook open and forward any questions coming there. This process is pretty smooth, and it keeps my stress levels low."
Recording – Terri said, "Sometimes not many people can watch the program live, but when the recording is shared in the form of a playlist, some of the audience watch them later. That's how an author webinar that was watched by 10 or 15 people gets 100 views. Interested attendees are coming back to the video later, clicking on the link, and watching it, which is great.
Q&A – Terri said, "Most of our audience are people not as comfortable with technology, and they do ask questions; that's been a great thing. We get a lot of unique questions with the Q&A sessions."
Customization in registration – Terri mentioned, "Our attendees are the general public joining in for the author webinar. The ability to add or remove some fields during registration makes a lot of sense. I like to customize the fields to ask questions. For example, I added a field- what's your favorite book? Such questions act as a survey for us to understand our attendees, and can also be utilized to ignite a conversation."
She added, "With the pandemic, we had the opportunity to interact with authors that wouldn't usually come to Iowa. A publisher wouldn't necessarily send an author here as it is expensive to get here. The ability to reach out to someone no matter where they were or have somebody from a different country tune into our event or find our videos was quite appealing to me."
Challenge 2: To find a simplified, easy-to-use, webinar interface for 'not so technology savvy' attendees and speakers
Most of the attendees not very technologically savvy. Therefore, they were looking for a simplified platform. The following Airmeet features worked well for them:
No download & simple UI – Terri mentioned, "Firstly, Airmeet has a clean interface, and attendees can use the features without any difficulty. Secondly, they don't have to worry about downloading. This makes it easy for them."


Backstage – Terri said, "The platform is really easy to use from a speaker standpoint. I liked the backstage feature a lot, where a speaker gets all the clarity before going live. A speaker can do all trials and testing, once or a couple of times. The countdown helps to show exactly when you go live."

She shared how they could reach out to the author to set up an Airmeet a couple of weeks before the event and send them a list of questions they had seeded to get the speaker comfortable.

Screen share – Terri said, "During the event, the authors haven't had any difficulty trying to figure out where to click on the screen, to share their screen. It's been very clear to them where they need to go to share their screen and then click again to go backstage. So that's been wonderful."


Support – Terri said, "The Airmeet support system worked well. Once there was some audio issue, and I got the response on chat really quick. Most of the time, I could find the answers in the knowledge base shared by Airmeet."


Terri also mentioned how she could easily run Airmeet from her home connection and didn't have to shut down the store to run a virtual event.
Challenge 3 : To meet readers' desire to interact with authors and other readers through author webinars
"During the pandemic, the readers- me included- developed a craving to socialize for that interaction with the authors. It was great that we were able to meet with authors virtually through author webinars that motivate readers." Terri said.  "There are times when an author finds it difficult to travel to our regional location, and as a bookseller and reader myself, I wanted to create a personal connection with the author and the books.."
Terri mentioned, "I loved the services provided by Airmeet that allowed the bookstore to connect with the author and other readers. I would love to explore the social lounge more once our audience gets more comfortable with technology, maybe in our future events. I am also glad to know about the session replay feature and look forward to using it."
If you are planning one such event, and wish to improve your event metrics, book a Airmeet demo.
Virtual Events & Community Building Insights
Subscribe to Get Updates (we promise no spam)