Not-for-profit HR network
The National HRD Network (NHRDN) is a global center committed to grooming leaders across industries. It aims to support the development of human resources through education, training, research and experience sharing.
A not-for-profit organisation, NHRDN looks to accelerate and develop human resource expertise. Through education, NHRDN intends to make available forums that can address opportunities and challenges for HR professionals.
It has more than 13000 members from multinationals, private and public organisations, including government, MSME and NGOs spread across 30 Chapters in India.
NHRDN's Bangalore chapter has hosted its prestigious signature event- HR showcase, every year for almost a decade. Recognised across India as one of the finest shows of the industry, it would usually be a mega in-person event, hosted over two days at huge popular venues, with an average footfall of 2000+ attendees.
Last year, NHRDN was compelled to pivot to virtual due to the pandemic. This is a study of how the Airmeet team rose to the occasion, going above and beyond to deliver on their expectations.
Challenges (and solutions)
Challenge 1: Recreating an in-person like event with a full suite of features
Prakrithi Shetty, Honorable Vice President at National HRD Network, said, "We were going to host the 9th year edition of the HR showcase, which is the signature program of the Bangalore chapter. One of the finest shows we do every year, we have multiple things at the event."
Explaining the usual in-person event, she said that they would have competitions and knowledge sessions.
"The unique thing about these competitions is that they are like stalls. Competition stalls would be for corporate HR best practices, best CSR initiative, best startup, best academia etc.
Under each category, there would be a series of reviews. We would shortlist about 50 corporate HR best practices, 10-20 academia, 10-20 startups and then showcase them under the umbrella of the competition. A jury would evaluate all these categories."
The event was run on a mammoth scale. NGOs and corporates participated in the CSR category, employees from at least 50 companies would participate in the best companies competition with their own booths etc.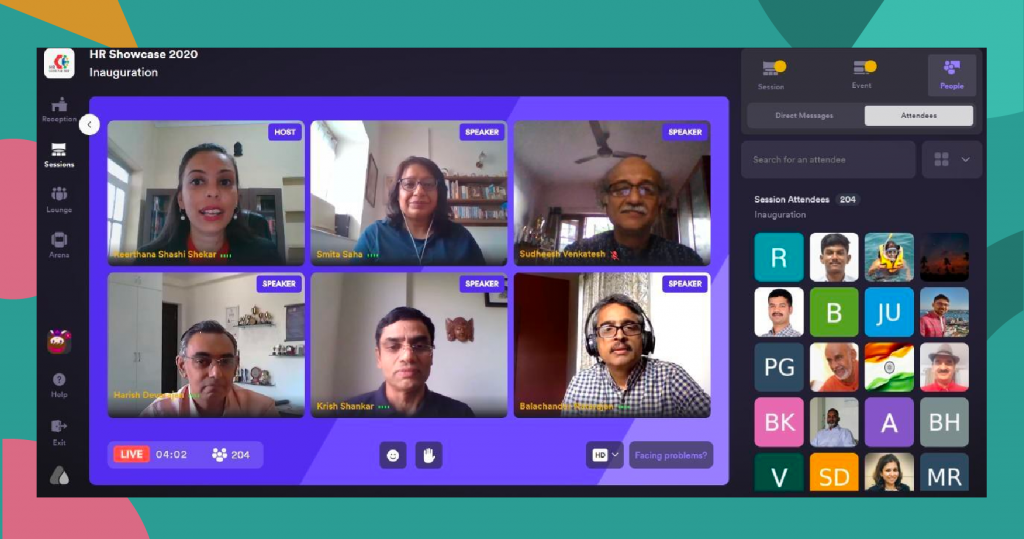 In all, there would be approximately 100 booths and 2000 plus participants, with the rest of the companies coming and looking at each other's practices. Parallelly they had concurrent knowledge sessions. These included panel discussions, master classes, fireside chats etc. People could go around the booths that were manned by the corporates themselves, or they could attend the knowledge sessions.
Prakrithi explained, " Last year was very different for us. We had to reimagine the way we operate and decide whether we can pass on the event this year or still make an attempt to make it virtual. We'd never done it before and didn't know how to drive it. We didn't even know whether companies would participate or how the entries would come. It was completely unchartered territory."
Regarding their next steps, Prakrithi disclosed, "We began exploring different platforms. A team member had worked with Airmeet before; that's how we got the lead. We explored just the lounge at Airmeet then, but we wanted a full suite of things. We wanted the exhibition format with booths and concurrent sessions. Airmeet at the time had the lounge, and the option for webinar sessions. However, the Airmeet team came forward and said they were game to provide the features we required, so we decided to experiment."
These were the aspects that made Airmeet stand apart for NHRDN:
Committed team: Airmeet took on the challenge to provide the required customisations and delivered the same in record time. Prakrithi enthused, "Airmeet treated this as their own event project. They tried to provide everything that was asked for and customised as much as possible. Airmeet built the trust and confidence to pull off the event successfully.
The team was very forthcoming. They always took responsibility and met deadlines. Their agility and customisation mindset was amazing. I loved their energy and passion to focus on what the customer wants."
Transparency: "Airmeet team was very transparent. They committed to timelines and managed them. There were many good check-in meetings to see what was working and what was not." explained Prakrithi.
Airmeet scaled up rapidly and provided the booths and additional features in record time. "Booths could be set up without a glitch. We also had parallel knowledge sessions running well.
From an overall participant experience point of view, they really tried to provide as much as they could."
Prakrithi added, "It was a very successful event. We were able to benchmark our signature event to the next level. We could replicate programs we normally did physically, into a virtual environment. We had close to 45 + corporates, 10-15 CSRs and close to 100 booths. We had 2000+ attendees. It was fantastic!"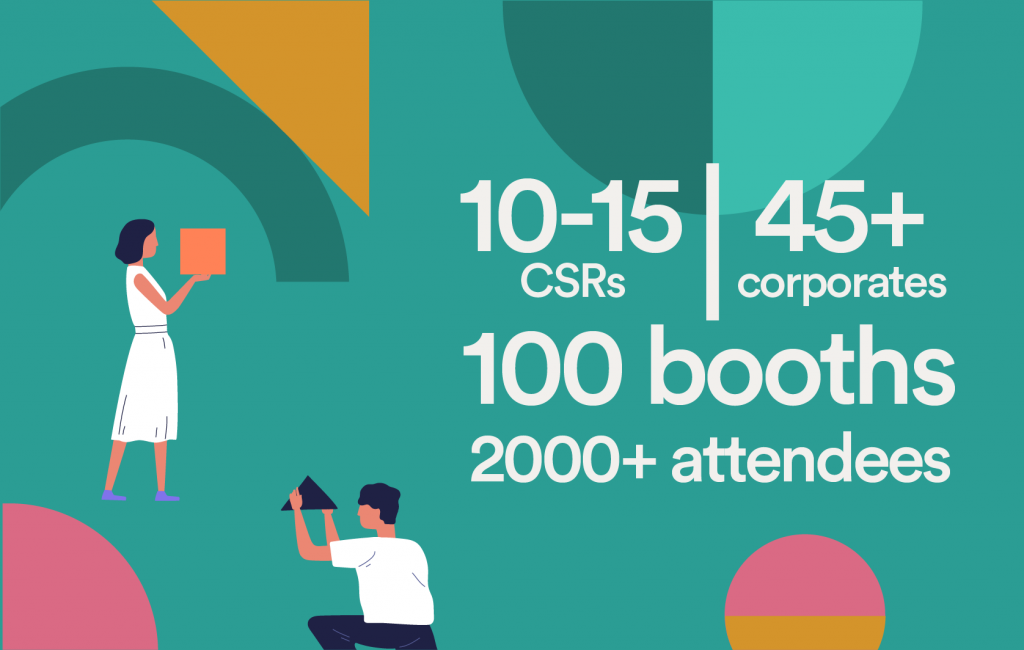 Challenge 2: Need for the platform to be stable and scalable in order to attract sponsors while also being economical
Prakrithi shared, "To enable what we really wanted, we needed a platform which is robust and can host large numbers. For us, it was a very prestigious program. When we go to the sponsors, we commit to a certain experience. If there were to be a glitch from the user experience point of view, that would spoil the entire thing."
Sponsors for in-person events were never a problem. However, for a virtual event, we didn't know if companies would participate and have money to sponsor. Everyone was struggling with the covid scenario at their end. We were not sure if people would even think to participate in a competition in this time of crisis."
Airmeet won them over because of –
Excellent quality– Airmeet offers lag-free video and audio with superior HD quality. Hosting a huge conference with multiple exhibitors and sponsors is a breeze with no glitches encountered.
Scalability- Airmeet can easily host tens of thousands of participants. As Prakrithi said, "The way they scaled up for our HR showcase- everybody could login in numbers of thousands. That was fantastic!"
Airmeet's industry reputation- We positioned Airmeet as our virtual partner. We pitched to sponsors showing them the amazing networking lounges and session features and in this way we could showcase how effective the event would be online."
Prakrithi sees hybrid as the future for events. According to her, "While virtual gives reach and comfort, physical gives closeness. When it comes to virtual, Airmeet will definitely play a big role. The kind of support Airmeet has given is phenomenal.
Book a demo and explore the platform for your event needs today!
Virtual Events & Community Building Insights
Subscribe to Get Updates (we promise no spam)