"Virtual events have opened a world of possibilities for us. We're duplicating this program in our Georgia region based on member feedback and our success rates." – Victoria Younes is the Executive Events Manager for Kaiser Permanente
Kaiser Permanente is one of America's leading health care providers and nonprofit health plans. The organization operates in eight states as well as the District of Columbia, delivering health coverage and care into one unified experience. Members enjoy prepaid and simplified access to various health care services across inpatient and outpatient settings, pharmacy, lab, and imaging.
Event-Led Growth strategy
Victoria Younes is the Executive Events Manager for Kaiser Permanente in the Mid-Atlantic states. She's in charge of running events for Medicare members to educate them on membership benefits and resources and improve retention. "These are no-cost events for our members," Victoria explains. "Our Event-Led growth strategy is sharing the education and benefits of Kaiser Permanente with our members, who will share it with their friends and family, who are invited to come to our virtual events as well. At the end of the day, our hope is that those friends and family members who join and are seeing all of the benefits will convert to a member."
She also coordinates staff events to educate employees on important topics and foster a strong sense of community. 
The challenges of transitioning to virtual events
Victoria was at the center of the rapid transition to virtual events at the start of the pandemic. She was tasked with taking formerly in-person events online and was disappointed with the solutions available. 
With Zoom and similar platforms, she found that the experience was "very black and white." Victoria explains, "You either had everyone on camera and unmuted and talking at the same time…or everybody was off-camera and muted and the presenters were just talking at them."
Cumbersome registration processes
The registration experience was equally lackluster. Attendees would have to register for breakout sessions individually and provide their contact information again and again.  
For members, Victoria wanted to open up communication between participants who might be lonely at home during the pandemic. And for employees, she wanted them to feel like they were part of the event, working together in the same room. 
No matter who the audience is, Victoria wants them to feel like their opinion matters, which is almost impossible with basic webinar tools. 
Victoria's team experienced a number of frustrations, from audio malfunctions to screen-sharing issues. To top it all off, they were paying high subscription costs with many add-on fees for unreliable features. 
She was ready to find a solution that would be slick, simple, and affordable, allowing her to grow their virtual reach in a post-2020 world.
Discovering life-like virtual events with Airmeet
When vetting event management platforms, Victoria happened to attend a live event hosted with Airmeet. It was like none of the other platforms she had tried. "I was really excited to see how alive it was, with the chat, the QA, and the different sessions," Victoria explains. "When I raised my virtual hand, my camera flipped on and I was able to chat with the presenters." 
That was the moment she was sold. She had finally found a solution where the presenters could host two-way conversations. 
Victoria loved Airmeet's one-stop shop for collaborative events. Our analytics capabilities, white-labelled branding, and reasonable costs helped seal the deal.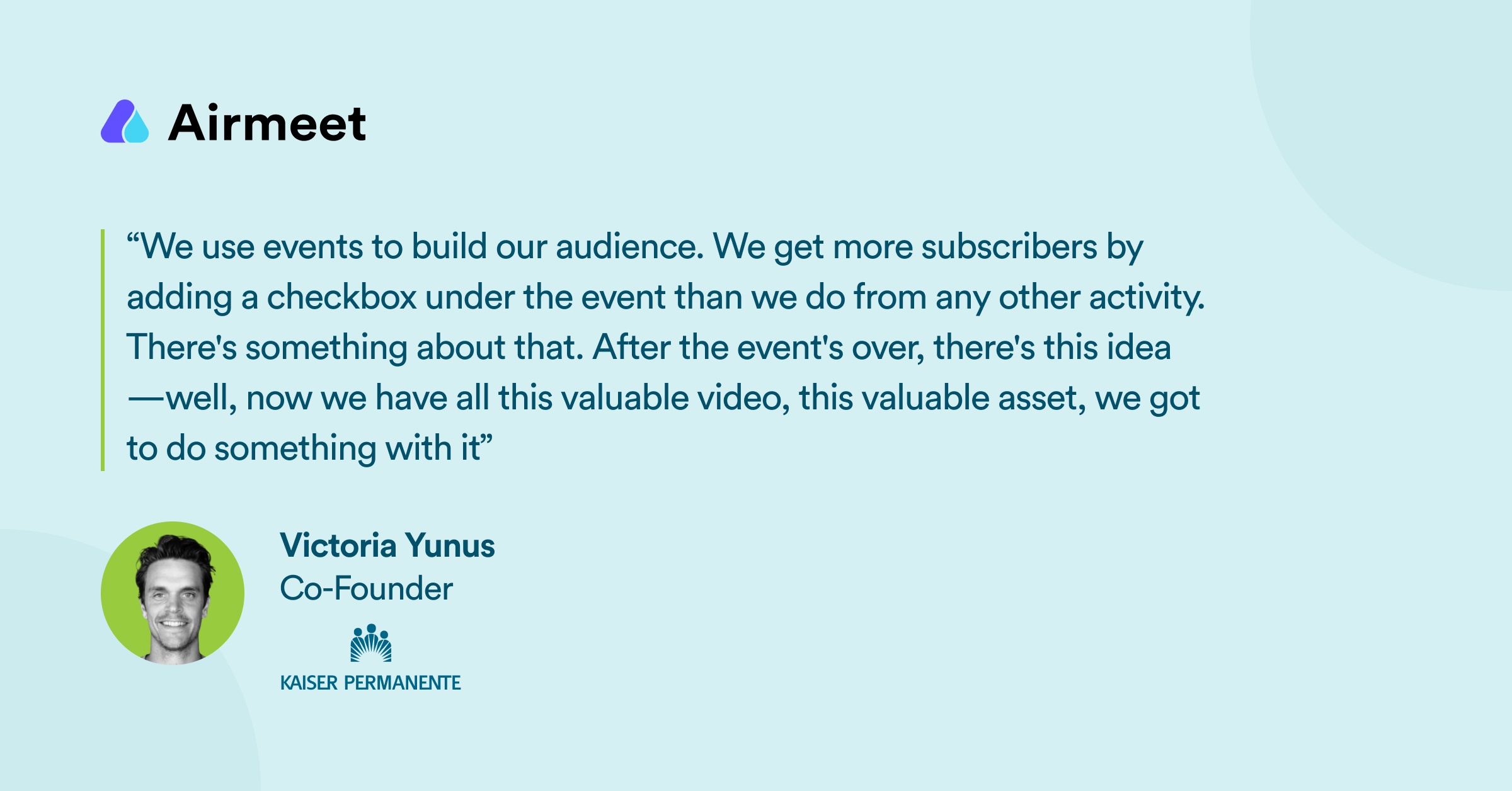 The ROI of reaching more people and converting new members
"When we were doing events in-person, we were able to organize half the number of workshops that we do virtually, and we were only able to accommodate 10 to 15 people per event—for a total of 200 people annually," says Victoria. "Now that we're virtual, we're reaching over 10,000 people annually." Whereas before, their reach didn't equate to a percentage of the target audience (Medicare members in the Mid-Atlantic region), they're now engaging 10% of that segment for a whopping 4900% increase in event reach.
The team is reaching non-members too. "We've seen growth through our virtual programs when someone has attended an event and then converted into a member," says Victoria. "We're able to track that. There's a symbiotic relationship between having more events, reaching a broad audience, and increasing our member base." 
They're using post-event survey responses to get inspiration for what types of events to create next, from career education to chair pilates and dance cardio.
The path ahead: Scaling success & going hybrid
With both employees and members enjoying the accessibility of virtual events, Victoria and her team don't plan on returning to in-person events. "Virtual events have opened a world of possibilities for us. We're duplicating this program in our Georgia region based on member feedback and our success rates," she says.
In addition to scaling the program to at least one other region, Victoria also plans to host hybrid events. She's looking forward to providing "collaboration between in-person and virtual attendees."
That's the beauty of Airmeet. Connecting people barrier-free. 
Book a demo today to explore Airmeet's dynamic platform and add a must-have tool to your marketing strategy.