Account Aggregator Go-Live
iSPIRT's Account Aggregator Go-Live was a large-scale virtual launch event that had eminent speakers from across the financial industry and policy makers. The Keynote Address was given by RBI's deputy governor Shri M Rajeshwar Rao. 
iSPIRT is a non-profit organization run by volunteers who work towards the digital enablement of the country and all its ecosystems. Their most recent event on Airmeet was a large-scale virtual launch event. The frameworks such as UPI, Aadhaar, DigiLocker, eSign are designed by iSPIRT. They have brought about many innovations that have caused a paradigm shift in the way the country operates digitally.
IndiaStack has 3 layers,:
Identity layer which brought the Aadhaar
Payment layer, which was the UPI
Consent layer that introduces Account Aggregator (AA)
Account Aggregator has created a digital infrastructure that helps transfer clients' data with their consent, from the entity that holds the data to the entity that could use the data.
iSPIRT is a technology think tank in India that is helping in the adoption of this new initiative in the country. It is pushing industries and the players to take up this network, become a part of this ecosystem, and benefit from it to be made bigger and more useful. DigiSahamati Foundation (Sahamati), the industry alliance for the Account Aggregator ecosystem has worked to get the bigger players in the financial industry to adopt this ecosystem in the last couple of months.
On 2nd September 2021, they held an event on Airmeet called 'Account Aggregator Go-Live' to let players in the financial industry know about this framework and the fact that it is already being used by some of the large players in the industry.
Ruchi Pai, responsible for evangelization and outreach at the DigiSahamati Foundation, explains how they hosted the virtual launch event for their Account Aggregator framework on Airmeet.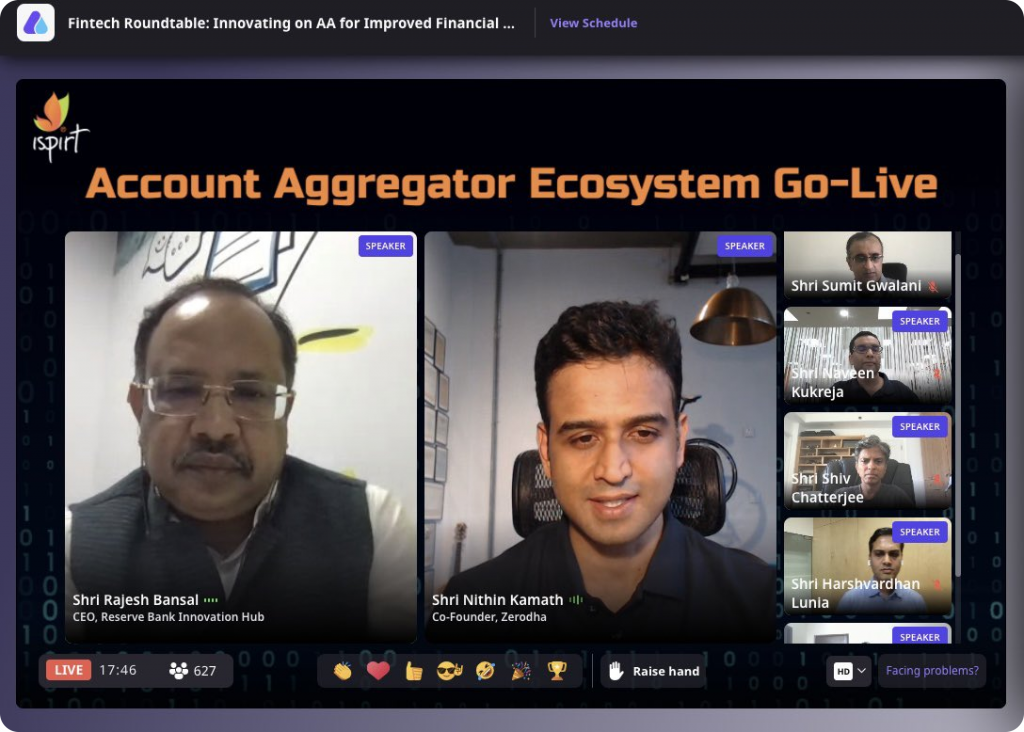 Challenges (and Solutions)
Challenge 1: Being able to host a large-scale virtual launch event
iSPIRT needed a top-notch robust platform to host their event. Ruchi mentioned, "We didn't want to take a chance with such a big virtual launch event."
And with Airmeet's Premium Webinar features, they got what they were looking for.
Airmeet features that helped iSPIRT host a quality launch event on a large scale were:
Sophisticated UI: Ruchi said, "I think Airmeet is a very sophisticated platform. Their front-end is very sophisticated. One of the reasons why we were very comfortable using Airmeet was its look and feel."
Quality: Airmeet provided an HD (720p) video high-quality experience for their live sessions and virtual table conferences for networking along with lag-free streaming.
Customization: Airmeet offered customization options for creating banners for their branding. 
Stability: Airmeet's stable platform allowed them to host their virtual launch event on a big scale, with numerous participants. Ruchi mentioned, "In the overall 2.5-3 hour, event there were 1954 registrations."
Challenge 2 : Having a seamless virtual launch event and conference experience
iSPIRT not only needed a robust platform to host their event on a big scale but also one where they could host their event in a hassle-free manner.
The following Airmeet Premium Webinar features enabled them to host their large-scale event without any hassle:
Tables: With tables, they established effective networking among their attendees and provided value to them. Ruchi mentioned, "I liked the fact that people were using Airmeet quite efficiently. We had marked the tables, and people could network easily. When we were about to log off, there were still about 150 people who were there networking on the tables."
Customer Support: Ruchi said, "The support was great. The person who helped us in removing the event constraints was really good and very swift. We managed to change the event host, the profile image, and handle the constraints we had in the event."
Analytics Report: Airmeet shared the analytics report the very next day of the event. When asked what she was looking forward to exploring in the report, Ruchi said, "I would want to see the dropout rate and, if possible, the region where the maximum participation is coming from.

Things like which session got the maximum emoticons, etc., would help me understand what interests people most. A graph of the dropout would be very interesting to see and know if there was any middle of the session dropout that eventually rejoined later."

Video Uploads: "Airmeet recorded the sessions automatically, and we uploaded them on the iSPIRT YouTube channel. There were session-wise recordings available too on the platform. We were able to have a lot of traction there as well." Ruchi shared.
Multiple Sessions: When asked about her other favorite features of Airmeet, Ruchi said, "I like the way the sessions can be lined up." With Airmeet, they could easily schedule and host multiple sessions like presentations and live AA application demos.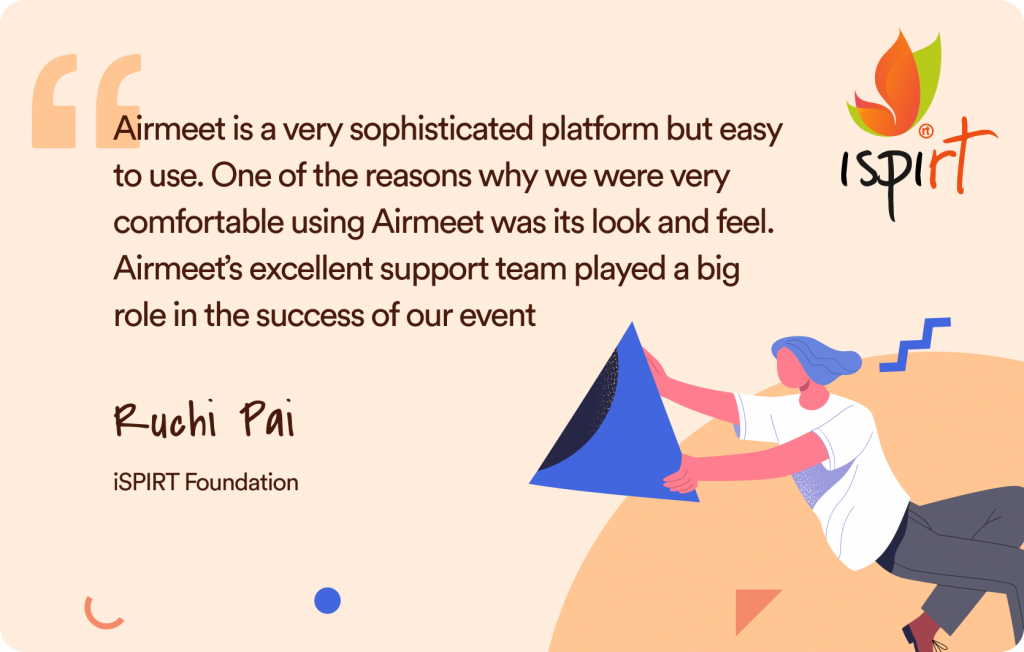 Sahamati had already used Airmeet for other events like hackathons. Ruchi said, "We do have many events planned in the future. I think I would be more confident in doing events on Airmeet now since the business of hosting events on such platforms was new to us before."
Airmeet helped iSPIRT host a large-scale event with close to a thousand attendees and eminent speakers. They could provide value to the attendees and create the desired traction. Book your Airmeet demo today to find out how you, too, can utilize the platform to host your large-scale event effectively.
Virtual Events & Community Building Insights
Subscribe to Get Updates (we promise no spam)