Intertape Polymer Group 2021 Technology & Innovation Summit
Technology & Innovation Summit
Intertape Polymer Group Inc. is a packaging products and systems company headquartered in Montreal, Quebec, and Sarasota, Florida. It is a recognized leader in the development, manufacture, and sale of a variety of paper and film-based pressure-sensitive and water-activated tapes, stretch and shrink films, protective packaging, woven and non-woven products, and packaging machinery for industrial and retail use.
Intertape Polymer Group employs approximately 3,700 employees with operations in 31 locations, including 21 manufacturing facilities in North America, four in Asia, and one in Europe.
Pre-pandemic, they hosted various events, which were always in person. For example, just last year, Intertape Polymer Group organised a 4-day event in Montreal. However, this year the pandemic pushed them to move online, and here is their journey of how they hosted a successful summit on Airmeet.
Ronald M Englehart, Corporate Continuous Improvement Practitioner, Jayakumar Perumal, Global Continuous Improvement Director, and Erik Richardson, Continuous Improvement Leader, Intertape Polymer Group, shared the details of their 3-day virtual summit.
Challenges (And Solutions)
Challenge: Transitioning to an online event and engaging with a broader audience
Amidst Covid, Intertape Polymer Group was concerned about their team's health and safety, but hosting an event was also incumbent, so the only way out was going virtual.
Intertape Polymer Group team investigated several event platforms. One of their core team members, Jayakumar Perumal, attended an Airmeet event and recommended it to the team.
Jayakumar said, "No matter what, we wanted to host the event this year; we didn't want a year to go by without doing it. We wanted to make sure we are delivering. It was an opportunity to reconnect with the lost links. Being a manufacturing company, we have certain core competencies that we wanted to utilise to communicate and engage with industry leaders and related organisations. The Airmeet platform helped us achieve this. Hosting an event online gave us the flexibility and much greater registrations as compared to a live event."
Ronald elaborated, "The core team consists of 4-5 individuals who were responsible for the live event, and the same team did all planning and execution for the virtual summit". The two most essential requisites of going online and engaging attendees got fulfilled this way-
Amplified attendance:  "Attendance-wise, the count raised to 3 times, i.e. from 81 participants in the last live event, total registrations for this year's virtual event was 254, with a maximum of 233 audiences engaged at a particular time. Virtual allowed us to reach a broader group, and was cost-effective too as there was no travel, hotel room, food expenses involved", said Ronald.
Ease-of-use:  Jayakumar mentioned, "The Airmeet platform was very simple. Once registrants logged in, their user experience was very good. We got a lot of feedback from different users, and they all appreciated it."
Social Lounge: The audience could select their seat on a table to connect with the people seated there, just like a mini virtual conference. They can even shift from one table to another. Ronald said, "Social tables were available for the audience to go in and out and interact."
Emojis: This is the simplest yet powerful way of expression. Ronald mentioned, "I liked emojis; the audience was using them throughout the event."
Chat and Q&A feature:  The event audience utilized these options to ask their queries and connect with speakers and fellow attendees. Erik Richardson said, "The chat went well. the host and co-host could easily monitor the chat window."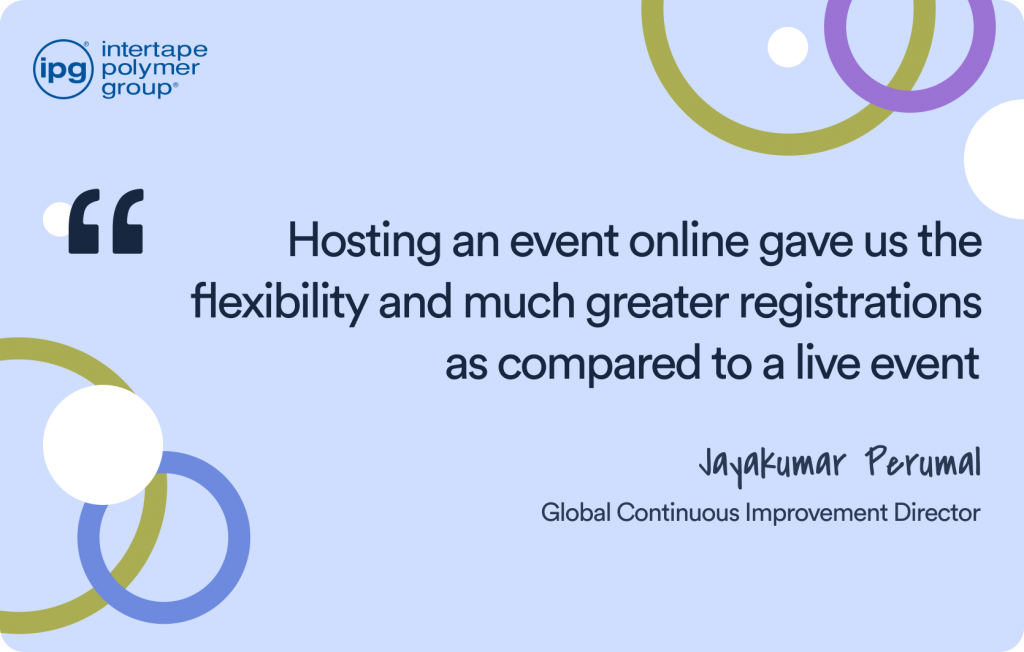 Challenge: Hosting a seamless, high-quality event
Ronald divulged, "We were working with Teams earlier, but with an increase in the number of attendees, the bandwidth became an issue. When they did a screen share with the larger group, the content became grainy, connections were getting lost, and there were connectivity issues. All these concerns raised issues in continuing forward with Teams." Intertape Polymer Group was looking for a platform that could resolve these issues, have better connectivity, and no dropouts or struggles with deliverable content.
Ronald said, "We planned the first half as the operational summit, and that was about the communication protocol. The second half was the technology and innovation summit, which was about spotlighting our digital transformation journey. We benefited through Airmeet in the following way:
High video quality without lags:  With Airmeet, there was no struggle in showing the content, and it was a seamless user experience. There was no latency and superior HD-quality audio/ video, offering a pleasant experience to users.

Got new registrants:  Through the virtual event on Airmeet, we realised that certain people are not part of our community but showed interest and wanted to engage. It was an opportunity for us to present our material, get more engagement and involvement from those people who weren't engaged already."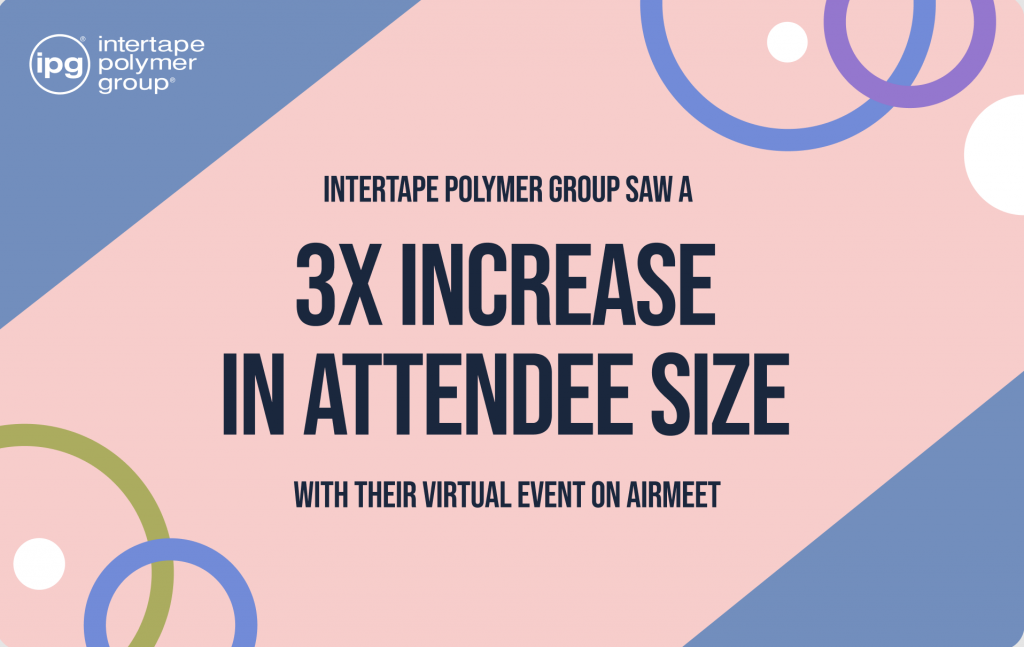 Challenge: To integrate and showcase multiple speakers and external vendors in the best possible way
Jayakumar mentioned, "We have vendors and support partners who are an integral part of our events. They were always with us at the live events and had physical booths set up then. We wanted to make sure something similar happens during the virtual event as well. The challenge was how to invite and connect with outside resources like keynote speakers, vendors, and suppliers and engage them virtually."
Event sponsors were happy with the interaction opportunities at the event. Airmeet allowed the sponsors to board with a spotlight in the reception area and across relevant stages and sessions. In addition, Airmeet provided a one-stop solution to all the challenges and helped Intertape Polymer Group achieve its objectives by leveraging on the following features:
Test or Dry run:  The host and speakers could do a test run before the actual event to get a detailed product walk-through.
Backstage facility:  This facility was utilised by speakers where they could check the audio, video, and device functions to avoid last-minute surprises and also interact with the host and other speakers, getting to know them before they go live.
Intuitive, User-friendly Interface:  The UI/ UX of Airmeet was very responsive and allowed users to get onboard, navigate and sit back to enjoy the event.
Erik said, "Next year, we shall plan a Hybrid event, as the supply chain industry is eager to leverage the virtual platform." To know more about how you can host virtual and hybrid events, book a demo at Airmeet
Virtual Events & Community Building Insights
Subscribe to Get Updates (we promise no spam)