The Internet(s) of Everything
Business, Creative Research Lab for Digital Economy
Andres Colmenares, the co-founder of Internet Age Media(IAM) & The Billion Seconds Institute, is a technological strategist who aims to change how the digital economy is changing everything. IAM is a creative research lab helping citizens and organizations to anticipate, understand and address the socio-ecological challenges and opportunities emerging from the co-evolution of digital technologies and internet cultures.
Since 2015, through events, workshops, and creative partnerships, IAM has brought together hundreds of designers, artists, strategists, researchers, and technologists, to share knowledge, exchange perspectives, and collectively imagine better futures. In March 2020, they moved to the virtual event space.
Their new initiative, Billion Seconds Institute, is a lifelong learning initiative to organize a network of specialists, advisors, and communities of practice to reimagine how we understand and shape the mental, social and environmental impacts of the digital economy.
It is a primary focus for the company, and IAM is leveraging Airmeet's premium webinar features to further its  mission. They have two branches, one for consultancy and another one related to developing partnerships. They aim to expand and activate holistic ways of thinking for today, tomorrow, and the next billion seconds.
Pre-pandemic, IAM's annual events were held in-person, in Barcelona with around 350 people. The 'Internet(s) of Everything' Sessions is an entirely new series. It is a twice a week program of live conversations and podcast series about the socio-ecological dimensions of digital technologies and infrastructures and how they shape the most relevant cultural trends of the 2020s.
The Everything refers to the Everything Manifesto, a collection of proposals and thought experiments contained in 10 hypothetical questions and five values, published by IAM in 2019, as a meta-brief to change how the digital economy impacts the planet earth.
The Internet(s) of Everything Sessions are part of the Knowledge Exchange Programme of The Billion Seconds Institute. They started this Knowledge Exchange Program, which is essentially a series of activities for members only, and some are open to the public. It's a monthly series of events, inviting people from all over the world.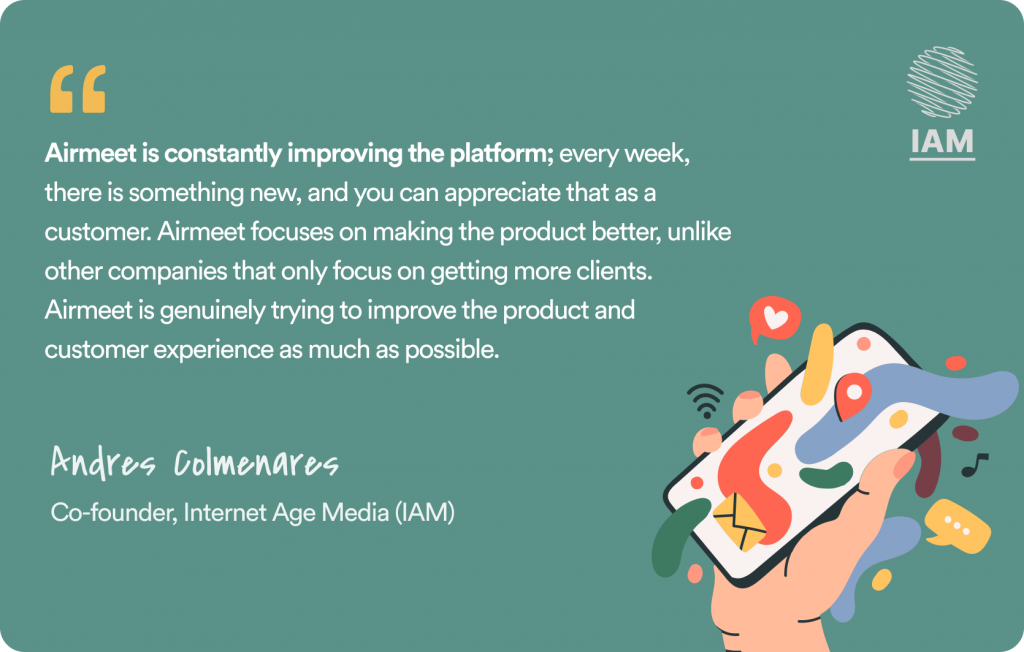 Challenges (And Solutions)
Since last year, IAM has been organizing events online. Their first experience with Zoom wasn't ideal for their requirement. They were looking for a platform that was specifically designed for larger, immersive and interactive event types. They evaluated many other platforms to find one where they could host engaging virtual events.
Challenge: Hosting a series of unique events on a cutting edge platform that provides enhanced customer experience
Andres Colmenares said, "Since we knew that we wanted to do a series of events for a longer time, at different scales, we wanted to choose a platform that offers a different experience and adds value in every event."
IAM has already hosted the first three events in the series powered by Airmeet premium webinar. Andres happily mentioned, "Airmeet is constantly improving the platform, literally every week there is something new, and you can appreciate that as a customer. They focus on making the product better, unlike other companies who use the investment to get more clients and charge higher. Airmeet is trying to improve its product and experience as much as possible."
Challenge: IAM wanted a one-stop solution to deliver real engagement and share knowledge
The Billion Seconds Institute wanted to host highly engaging virtual events to promote networking through their Knowledge Exchange Program. For this initiative, they wanted a platform with interactive features and an easy interface.
Andres Colmenares mentioned, "We did an event in November 2020 on Hopin, but it has limitations with engagement features and speaker's performance."
Airmeet is an online venue for all events, designed to deliver real engagement and best-in-class interactions. Andres Colmenares liked Airmeet for all its interactive features and organized an opening ceremony with 50 attendees. Here's how Airmeet premium webinar features helped achieve their engagement goals.
Registrations & Login Process:  Airmeet did not require any download and had a simple user interface. Andres Colmenares said, "With almost 100 registrations for each event, there were 60-70 turn-ups, and we heard no complaints regarding any issues with the process.
Most other browsers, including Hopin, require the attendees to create an account, which wasn't the case with Airmeet. Attendees were able to connect with the event hosts rather than the platform, which made all the difference."
Set up & Pricing:  Airmeet offered a clutter-free and intuitive event platform that allowed an easy setup, launch, and management of the entire event.
Andres Colmenares mentioned, "As a host, it was super easy to use and set-up the back end with Airmeet. We don't have a technical team; therefore, we needed to simultaneously take care of many things.
It took us more time on Hopin to test and set up with too many confusing options. Hopin's pricing model was designed such that there was a massive gap between the two alternative options. For example, if you wanted additional features, the cost increased dramatically. Also, selling tickets through Hopin was complicated.
So far, we have used our external ticketing platform, but we are eager to explore Airmeet's Eventbrite integration for ticketing with a bigger audience."
Smooth Induction: Andres shared, "For our first Airmeet, there were 50-60 new participants, and we wanted them all to introduce themselves individually. On Airmeet, this process went very smoothly without any technical glitch. The mic was passed virtually from one person to another. This experience was extremely close to an in-person event, dissolving the difference between the stage and the audience to feel more like a community."
Social Lounge – Andres said, "Airmeet's Social Lounge is a spatial metaphor for a networking venue. It replicated the feel of a live event, where the audience reached the venue, looked around, and interacted with fellow attendees. The social lounge opened a virtual venue for the participants. They could move freely across multiple sessions and had a networking lounge for meaningful interactions. It immensely boosted engagement and networking."
Chat and Q&A:  "The chat option increased the possibilities of engagement with speakers and among attendees. Q&A opened up a dedicated window to ask questions and manage answers." added Andres.
Sync with Speakers backstage:  Andres appreciated the speaker experience with Airmeet. he said, "The Backstage feature added a remarkable human touch to the speaker experience. The backstage meetings were casual yet very helpful to build a real connection. Our relationship with speakers improved majorly, as it felt like having a conversation on a video call. It made a big difference to have backstage time with the speakers."
Video View:  Regarding Airmeet's visual format, Andres mentioned, "We didn't want it to be like Zoom, where there is one speaker and a gallery view of small windows with all individual attendees. We wanted it to be conversational, like in a video call. Airmeet gave us an option where 2-3 people shared the screen simultaneously, and it felt more like a video call. It was very natural."
Reaction Emojis:  Andres's favorite feature was the reaction emoji. He noted, " It's a lively way to give feedback. Speakers were delighted to get an immediate response from the audience without distracting away from the presentation."
Recording: Regarding the recording options on Airmeet, Andres said, "Some of our members registered but couldn't attend the event due to different time zones or other reasons, but they were eager to watch the event recordings. Airmeet allowed us to record and share these effortlessly."
Andres Colmenares commented, "We wanted to encourage solutions coming from all around the world. Amongst the multiple factors, the key reason for choosing Airmeet was its relentless focus on improving the product and the customer experience. We are gathering organic feedback from the community, and people are tweeting about the platform, not just the event. Airmeet is new for many of them, and they liked it."
Andres Colmenares mentioned, "We liked Airmeet for its functional design and engagement features. After trying Hopin for our last event, we found that it was limited in terms of engagement and possibilities for speakers. We found Airmeet to be way ahead in these spheres.
We are extremely delighted with the virtual experience of the first three events on Airmeet and have planned three more sessions in the coming months on the platform." To know more, book a free Demo at Airmeet
Virtual Events & Community Building Insights
Subscribe to Get Updates (we promise no spam)