HACSA Sankofa Summit 2021
The Heritage and Cultural Society of Africa (HACSA)
The Heritage and Cultural Society of Africa (HACSA) was founded to promote and celebrate African heritage, culture, and the achievements of people of African descent. It seeks to reunite the African diaspora and highlights the importance of its heritage and culture.
HACSA works towards the socio-economic development of the community. These efforts are within the framework of women's empowerment, environmental protection, and the UN sustainable development goals. It works through advocacy, education, innovation, and collaboration with both individuals and partner organizations in Africa and the diaspora.
The HACSA Foundation is a non-governmental, nonpartisan, non-profit organization. This civil society and charity organization is working to develop a network of Africanist experts and enthusiasts and reunite Africans across the globe. It has created a forum in which serious debates take place on how Africa can tell its own stories, develop its narratives and harness its abundant resources for the improvement of the quality of life of its people.
HACSA planned annual in-person conferences until 2019. The in-person event would be held in a hotel conference hall with a stage, a welcome lobby, a section for sponsors' advertising, and an area for displayed art & craft, and items for sale. People would travel from all over the world to attend the event in Africa.
The idea was to reunite those millions of people of African descent who lived in other parts of the world and connect them back to their home, and their roots. The physical events welcomed around 500-700 attendees.
Post pandemic, they shifted to virtual. The theme of the summit hosted on Airmeet was to bridge the cultural, linguistic, and geographic gaps.
HACSA summit was a unique opportunity for networking with people of African descent, settled globally. The summit brought together heads of state, opinion leaders, practitioners, academics, students, creatives, and enthusiasts interested in all things Africa.
This year, since the HACSA Sankofa Summit was virtual, it was accessible to more people. The event had exciting keynote speakers, panel discussions, exhibitions, films, music, virtual heritage tours, and much more.
Challenges (And Solutions)
Challenge 1 : Finding a platform that provides value to sponsors
GT Svanikier, Technology Coordinator, HACSA, mentioned, "We are a non-profit organization and rely on our sponsors for donations. Most of our sponsors are traditional, and we were afraid there might not be enough traction."
Sponsor Booths: HACSA team utilized the booths on Airmeet and reserved them for individual sponsors during the event. Sponsors could use booths for promotions or to showcase themselves at the event. GT said, "The attendees enjoyed the booths and their interactivity."


Analytics: GT said, "Analytics is an exciting and great feature, and we loved it. We are grateful to Airmeet for the analytics report. It allowed us to dig into the detailed data, see what worked, and check out the interactions that mattered. For our future conferences, we can use the analytics reports to show what worked for sponsors and what didn't work. This will aid in our pitch to sponsors. We can show them how sponsors got coverage in the event and benefitted largely from it."
Challenge 2 : Offering a seamless and engaging experience to the audience
GT shared the technical perspective of virtual events from a head show runner's point of view. He said, "I have been the showrunner for HACSA during our Zoom virtual webinar series, and another event which was the launch of HACSA in the USA. It was very stressful to host it on Zoom when I wanted to show media through the share screen. As a presenter, if my computer dies or the Wi-Fi has any issues, it impacts the entire presentation. If I get a pop-up notification, everyone is watching my screen. I was always worried whether everything would go perfectly."
Pre-recorded videos: GT found the solution with Airmeet. He said, "It was possible to queue up high-quality videos ahead of time on the Airmeet platform and then play them to the audience. In this case, even if my computer died or the internet went out, it didn't matter. How well attendees would see those videos was only dependent on their internet, which was fantastic. All the technical backend stuff went very smoothly, and being a host in the background was very easy."
Challenge 3 : An uncomplicated and easily navigable UI
Natasha Gordon, Operations Manager at HACSA, said, "I was a little paranoid and anxious about how people would navigate the platform because Airmeet was a completely new thing for a majority of the attendees. Since the event attendees were from different demographics, we wanted to make sure that people could enter the conference with ease, and there wouldn't be any complications."
User-friendly UI and professional look and feel: Natasha said, "It was great to see that attendees were fascinated with the interface as they logged in, and they could easily navigate through Airmeet quite well. They were blown away by the look of the platform and were not expecting something this cool"

GT further stated, "Everyone got comfortable with the platform once they used it. The organizers and attendees got easily accustomed to it after their first day of the conference."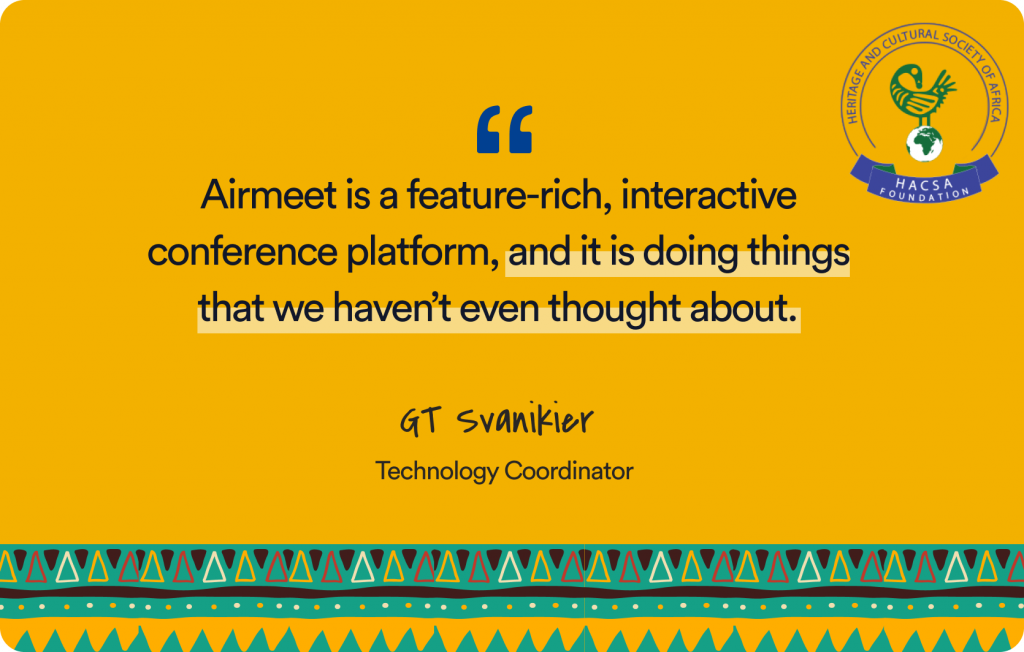 Challenge 4 : Enabling effective networking among event participants
GT and Natasha were delighted with Airmeet's interactive features. The features that made their event outstanding were-
Speed Networking: This was Natasha's favorite feature. She said, "Speed Networking was pretty cool. It was a lot of fun." GT added, "People enjoyed the interactivity of the platform; they enjoyed the booths and meeting new people via speed networking."


Social Lounge: GT felt attendees' interaction on the tables in the lounge area was the best place for networking.
Challenge 5 : A cost-effective event platform loaded with unique features
Being a non-profit organization, HACSA wanted an efficient yet cost-effective platform for its event.The following Airmeet features dazzled GT and Natasha;
Functionalities: GT said, "While exploring Airmeet for the first time, we realized that Airmeet would give people an experience that was way more interactive than just a normal Zoom. With everything being online, people are sick of having to dial into Zoom meetings. During the Airmeet demo, we were quickly convinced of the platform's abilities and functionalities. What we envisioned for the summit and what Airmeet offered were very well aligned.

Analytics: Natasha said, "I think the analytics report was great as it gave a detailed breakdown of who was interacting in the event and how."
Natasha said, "Airmeet can be described as a way more interactive and innovative Zoom call. It's like you are on a Zoom call, but you could do a thousand more things in that same space."  GT added, "Airmeet is a very feature-rich, interactive conference platform, and it is doing things that we haven't even thought about." He also appreciated the fact that Airmeet is growing rapidly and announcing new product features and additions almost every week.
GT discussed HACSA's future plans with Airmeet. They have taken a yearly subscription with Airmeet and plan to keep using Airmeet for monthly webinars. He said, "Our conference has many different panels, and each panel is at least an hour long. We would like to host sessions on Airmeet where we can run a debrief and break down each panel. These meetings can be hosted in the lounge, where about 50 people can interact while watching the recorded panel.
Some of our organizers are planning to have an in-person conference next year in July in Ghana, and we would love to host a hybrid conference via Airmeet so that people can connect without having to travel."
In light of HACSA's event success, wouldn't you be interested in exploring Airmeet for your next event? Book a demo and we'll walk you through what we have to offer!
Virtual Events & Community Building Insights
Subscribe to Get Updates (we promise no spam)