E+ Capacity Building in Higher Education and National Erasmus Offices (NEO)
Higher Education Networking
A large-scale global conference by Erasmus+
Erasmus+ is one of the most known programs of the European Union (EU), supporting education, training, youth, and sport. Erasmus+ is a very wide program, covering a diverse range of actions, among them Capacity Building in Higher Education. 
The National Erasmus+ Offices (NEO) of Morocco, Israel, Georgia and in collaboration with EACEA hosted a large-scale global conference called ''Erasmus+ CBHE Virtual Fair' in October 2021. This event was a unique opportunity for representatives of Higher Education Institutions (HEIs) from around the globe to connect, learn from successful projects funded under Erasmus+, get inspiration for new projects and look for new partners in view of creating quality partnerships under Erasmus.
Einav Livne, the Director and Coordinator at NEO Israel, Dr. Lika Glonti, Head of the NEO Georgia, and Alexander Stelz,  Project Manager from EACEA, tell us how Airmeet helped them hosting such a large-scale global conference and providing a seamless networking experience to their registrants.
Regarding the conference,  Einav shared, "It was a very large event. Over 3000 people registered for it. Many higher education institutions from all over the world joined. 
They were responsible for the capacity-building project in different fields like health, food, engineering, empowerment of social groups, teacher education, etc. Anything that can actually help build capacity and bring expertise and knowledge in the field of higher education to institutions all over the world."
Lika said, "It was a 2-day event. First, there was a short introduction; then, it was split into thematic groups where we gave opportunities to the projects to present themselves. The sessions were in the form of either a presentation or training."
On choosing Airmeet, Einav said, "There were several options that we checked, but Airmeet was the platform that seemed to fit best. The Airmeet pricing was fair as well. Hence, we chose it."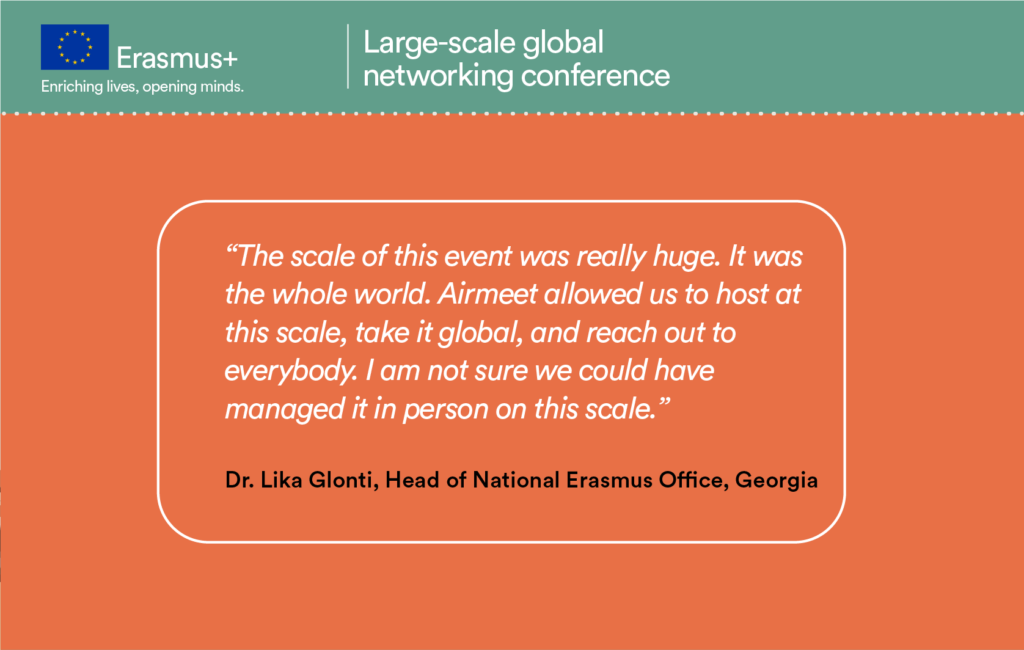 Challenges (and Solutions)
Challenge 1: Hosting a large-scale global conference, virtually
Einav mentioned, "We were looking for an online platform to host an event with people from all over the world and also showcase the results of higher education capacity building projects." 
They conceived of doing a joint conference to showcase the projects. It grew into a global event that anyone could participate in. 
She further went on to say, "The goal was to attract as many institutions from across the world to get inspired from successful projects
previously carried out so that they could design their own capacity-building project customized to their specific context and needs. Also, we wanted that when they saw the project, they would learn from it and could implement the output in their higher education institutions themselves." 
Lika mentioned, "After this event, we had two other events on different platforms. There was one platform where we were supposed to present our posters, but it just didn't work."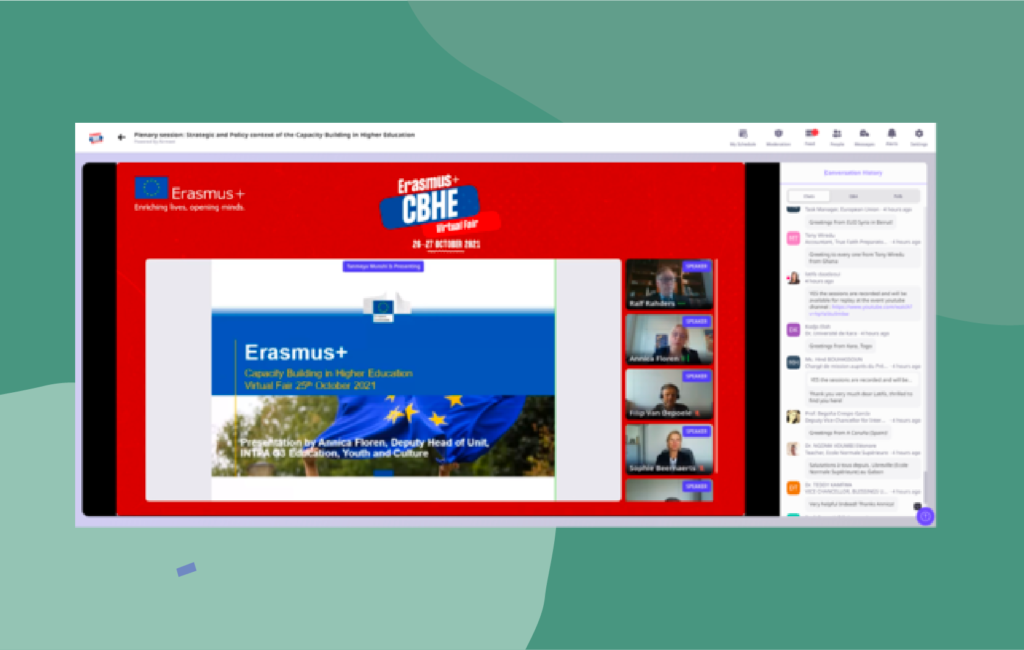 Airmeet helped them overcome this challenge in the following ways:
Ease of Scale: Airmeet provided a robust and stable platform capable of hosting events with up to 100K attendees. Einav said, "I think our goal was very much achieved. It was very successful in the sense that it brought people together and helped them network for
possible cooperation within the Erasmus+ programme."

About the scale, Lika said, "The scale of this event was really huge. It would have been much more complicated to organize it in person because we brought people from the whole world, including places like  Botswana, Zimbabwe, Bhutan, Columbia, Venezuela, etc. Airmeet allowed us to make the scale bigger and reach out to everybody on a global level."

Ease of Use and Quality: Lika said, "The video quality of the platform was very amazing. It was very easy and comfortable to use, much more than I expected. It was very easy to moderate and regulate the event, share the screen, share videos, etc."

Einav added, "It was very nice that we could pin people on stage, Airmeet was visually appealing and technically a very sound platform."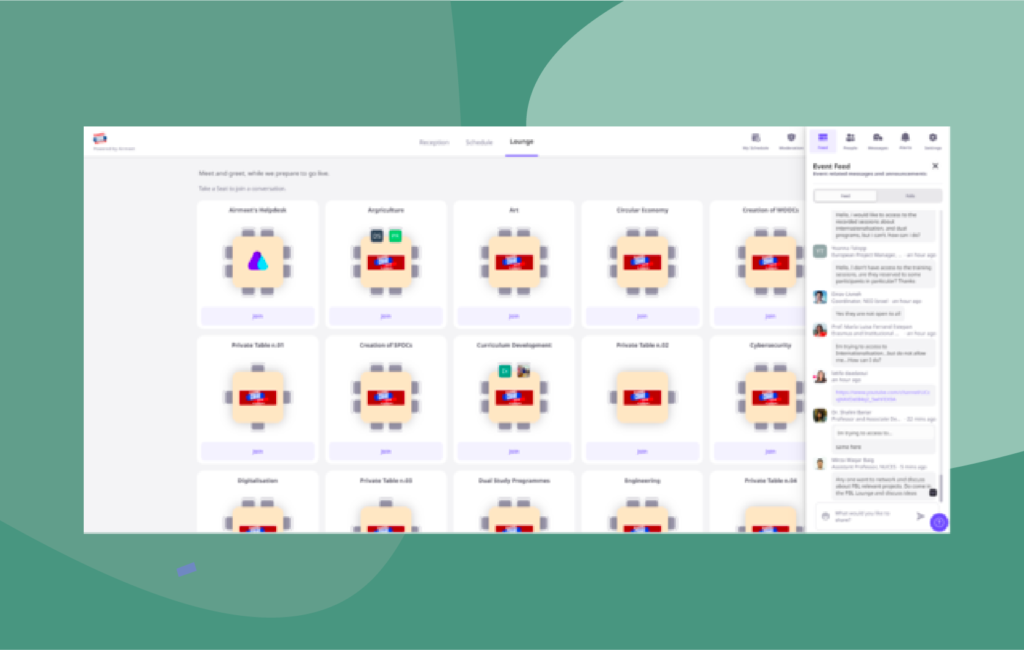 Challenge 2: Having a seamless event experience with immersive networking opportunities during a large-scale global conference
The organizing team needed a platform to provide them with a smooth and interactive experience and enable the attendees to network effectively.
Airmeet provided them with the following networking and interaction opportunities to make their event successful:
Virtual Lounge and Chats: Lika mentioned, "We had an active lounge and there were very interesting discussions there. Besides that, most of the interaction happened in the chats."

She further added, "Since we were also moderating the session, I can tell you as an insider that it was a very big communication going on. For example, It's not easy to bring people from South Africa, Bhutan, and Georgia together at one table. But we could achieve that here, easily."

Q&A: Lika said, "There was also enough time left in the different sessions of the event  for a question and answer session." Through this feature, she could moderate the questions asked by the attendees during interactive discussions and have their concerns addressed.
Ease of Interaction: Einav mentioned, "I liked that you could directly make a video call to someone without going to the network table." Lika said, "We had short bios of all the presenters so someone could just scroll through it and directly address the potential partners."
Live Streaming: Einav said, "We used social media to share a lot of the sessions. Maybe a quarter of the sessions were streamed on social media. They got many views, and this enabled people who couldn't participate in the event to see the content and hear about the Fair."
Backstage: Lika said, "I loved the backstage where I could talk with my speakers and prepare myself. For me, as a moderator, it made things easier. It helped us to clearly structure the agenda. It was also very comfortable for me to gather the speakers before the conference. It was like a preparatory spot we had as moderators before we went on screen and online. So it was really good, and I loved it."
Customer Support: Einav mentioned, "The technical support was very fast and responsive." To this, Lika added, "The support was very accessible, and it was really reassuring and comfortable to know that there was someone to readily support us during the course of the event."
Airmeet not only helped the group of Erasmus+ Offices host their global event seamlessly, but it also helped them establish effective networking and garner great feedback.
Lika mentioned, "From the feedback we got from participants, it was a successful event. The main goal was to present good practices and promote the program. But the biggest impact and positive byproduct of the event was that people built connections and kept in touch. People found each other and are now talking about future cooperation possibilities. We still have follow-up communications to the ones established in the event.
Among the attendees, we also had people who had already experienced this program. It was a nice mix of newcomers as well as experienced people who were building an international network together.  In my opinion, this conference was a success because it fulfilled all our hopes, goals, and visions."
Book your demo to know how you too can leverage Airmeet's features to seamlessly host an interactive and successful large-scale global conference.
Virtual Events & Community Building Insights
Subscribe to Get Updates (we promise no spam)