DHD Films is an award-winning video production and motion graphics studio based in Dallas, Texas. They specialize in creating and deploying visual campaigns using video, the fastest-growing communications medium.
Known as a production studio of choice for many global brands, their clients include Fortune 500 companies, innovative start-ups, government, and creative agencies.
The pandemic saw many of their clients needing help organizing and executing virtual events, prompting DHD Films to add Virtual Event Production to their service offerings. Aubri Nowowiejski, Director of Virtual Events, DHD Films, shared insights into the firm's experience with Airmeet. She said, "DHD specializes in video production. When the pandemic hit, there was a lot of need from our clients to assist them with their virtual productions. We had some experience in this space, having done a few broadcasts and records in the past. I had worked for an event agency before this and had used Airmeet there. I was glad to introduce DHD films to Airmeet".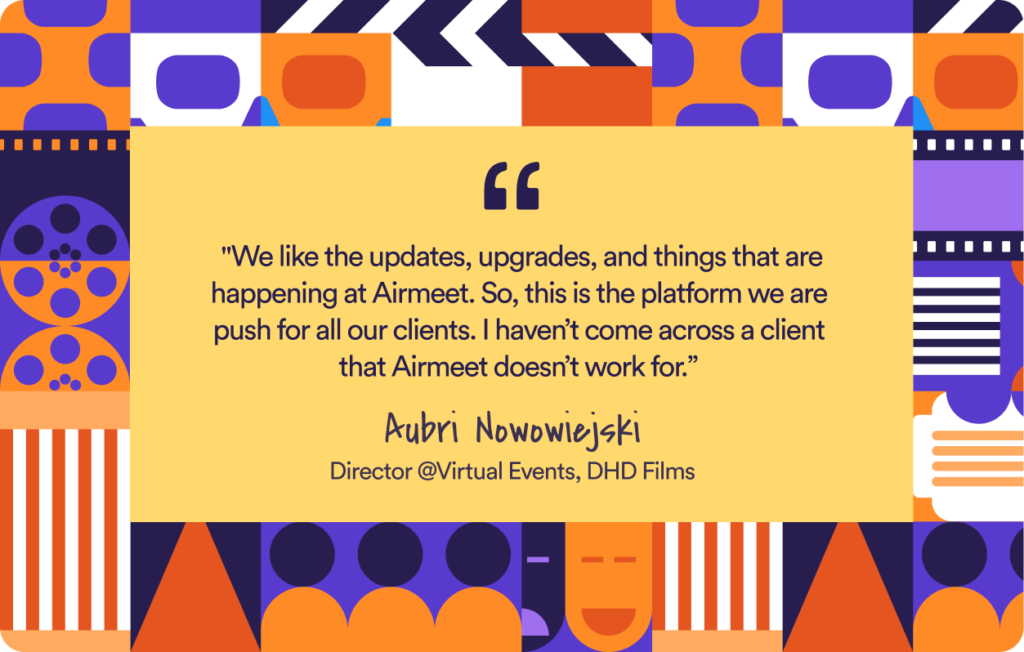 Expanding service offerings to include Virtual Event Production
Aubri opened up about their transformation post-pandemic. She said, "I was exclusively into in-person events until the pandemic hit. By February of 2020, as Covid rose, there were possibilities of things shutting down. It was unprecedented, and everything required shuffling and rescheduling for later.
I immediately knew we needed to shift gears. I started researching, comparing, and contrasting every single web platform out there. At that time, there weren't many players in the space, and the ones that were there were very clunky. That's when I came across Airmeet.
Challenges (and Solutions)
Challenge 1: To find a sleek virtual event platform that would boost their service offering af Virtual Event Production
Airmeet proved to be the best fit due to the following:
Look & Feel: Aubri shared, "We checked Hopin first, but I liked the visuals of Airmeet better, it looked more advanced, and that became the distinguishing factor initially."
Upgrades: Aubri mentioned, "Last year, we tried to stay platform agnostic and would accommodate when a client requested for a particular platform. But now, looking at what Airmeet brings to the table, including all the updates and upgrades, we are very comfortable with the platform. Airmeet is constantly evolving, and I have seen so many advancements made. When we suggest something, and the platform makes it happen, that's the best thing. We are now pushing Airmeet to all our clients, and I haven't come across a client that it doesn't work for."
Challenge 2: To produce unique, engaging virtual events that emulate an in-person experience
Aubri said, "We organize events for a gamut of industries. The events are both internal – like town halls and all-hands meetings for companies, as well as external. For example, one of our clients, TaskUs, a global company, hosted this huge event like a webinar on steroids. It included big-name speakers with a keynote mixed with product education and networking opportunities.
Airmeet offered an all-in-one platform for different events across industries where the following features could be leveraged:
Social Lounge – Aubri cherished the Social lounge by saying, "The lounge is equivalent to the hallways at the convention centers, where people can have casual conversations. That is what people were missing. In my opinion, Airmeet's lounge is the differentiating factor."
Recalling one of their events, Aubri divulged, "In one of my favorite events, we leveraged the Social Lounge to replicate an in-person event experience. It was like a social event where we had entertainers in different rooms for activities like in a physical event. We leveraged the lounge to create these rooms. We had mixologists at two tables and had sent out boxes before the event to every attendee. During the event, the mixologists did live demonstrations. We also had fire dancers, caricature artists, Elvis Presley impersonators and more in different rooms/tables.
We were concerned that the older generation wouldn't be able to navigate between the tables. But to our surprise, they had a blast and were thoroughly engaged. I think that Airmeet's Social Lounge has so much potential, and so many things can be done there."
Ease of Use – Aubri said, "There is a lot of ease in setting up events on the platform. The customization opportunities are more than enough, without being overwhelming."
Branding Opportunities – Aubri divulged, "There are amazing branding opportunities in Airmeet from the reception to the lobby and booths, which is a huge plus for organziers and sponsors alike."
Customization – Aubri shared, "I love the customization possibilities. We can turn on and turn off certain features based on our client's needs. I especially appreciate the capability of changing the labels. We had a client that was very particular about calling the lounge fellowship. It was great that we had the ability to do that. I also highly appreciate the ability to clone previous environments."
Support – With regards Airmeet support, "Everyone's extremely responsive, and I love that. I think it is another differentiator that Airmeet has a 24/7 support lounge that you can hop into and get your questions answered. Our account representative is also phenomenal."
Booths – Aubri said, "We have an event coming up where we will be leveraging the booths feature. We had used it earlier, but only as a single booth for an expert from the company, where attendees could drop in to learn more about the product.
In the upcoming event, we will have various booths. Airmeet has added some additional enhancements like the ability to go live within the booth, change the buttons, capture leads, and assign multiple exhibitors and resources to a booth. We look forward to trying these out"
Alerts and Reactions– Aubri was very happy to say, "Airmeet has added a lot of really cool features like the ability to put someone's question up on the screen, pin a question, dynamic polling, invite people to stage or give them the option to raise their hand. The reactions and alerts are great features to keep the audience engaged."
Way Forward: Virtual event production as a service offering
According to Aubri, "Airmeet is a platform that has done a great job of virtually translating things like the reception and lobby to look similar to how would it would be in an in-person event.
I am excited to be a part of this journey and see how the platform progresses. Airmeet is now our preferred platform and it is like a partner program now. I have not yet taken advantage of other recent advancements like the leader-board for gamification, which looks like a really exciting update. I am also eager to view the breakout feature.
If a client comes to us and is locked in some sort of contract with another platform, we honor that. But while renewing the contract, we will go with Airmeet. For our Virtual Event Production services, we won't explore other platform options as we have done enough events here and are comfortable with it. We like the updates, upgrades, and things that are happening at Airmeet. So, this is the platform we are going to push for all our clients."
Book your demo to know more and plan your next big event.
Virtual Events & Community Building Insights
Subscribe to Get Updates (we promise no spam)