Software Testing Platform
The Chartered Institute of Personnel Management of Nigeria was established as an umbrella Association for Practitioners of Personnel Management in 1968 as the Personnel Management Association of Nigeria. In 1973, it was renamed the Institute of Personnel Management of Nigeria. Finally, Act No. 58 of 1992 chartered the Institute.
At CIPM Nigeria, they set the pace and provide a voice for the HR profession in Nigeria, promoting new and improved HR and management practices and continuously enhancing HR's positive impact on business performance in organizations of all sizes. CIPM membership gives HR professionals the recognition and mark of professional competence and enhanced career prospects, among many other benefits. 
ROI / Benefits for the customer (numbers):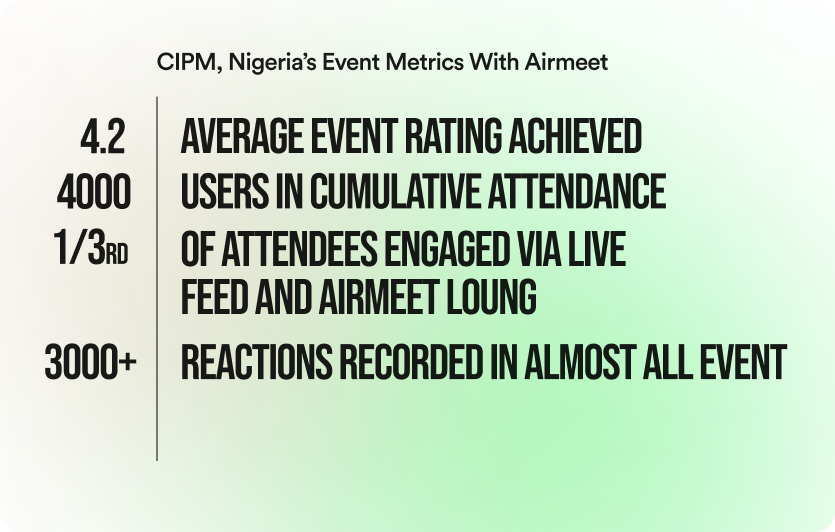 The absence of post-event reports and analytics proved to be a significant source of inconvenience for them. This lack of data hindered their ability to assess the success of their events, analyze attendee engagement, and make informed decisions for future endeavors.
On the other hand, the customer was equally concerned about enhancing the overall event experience for attendees. Their primary goal was to ensure that participants felt deeply connected to the events and sessions, fostering interactions that mirrored the authentic experience of physically attending the event. Real-time engagement was the key, as they aimed to create an environment where attendees could seamlessly connect, participate, and derive value, regardless of their physical location.
Leveraging the availability of event performance and analytics was a transformative step for the customer. With this invaluable resource at their disposal, they can meticulously dissect event data, extracting insights that proved instrumental in driving their company's growth and enhancing their brand value. Armed with comprehensive analytics, the client gained a deeper understanding of attendee behavior, preferences, and engagement patterns. This empowered them to make data-driven decisions, tailor their events to meet audience expectations, and refine their marketing strategies for maximum impact.
By harnessing the capabilities of Airmeet features, the client was able to craft a unique and compelling event experience. Attendees found themselves immersed in a dynamic environment where they could seamlessly interact with one another, capitalizing on platform features designed to facilitate engagement. The Live Feed feature became a hub for attendees to express their thoughts, share questions, and foster meaningful discussions, thereby fostering a sense of community and participation.
With the analytics provided by the Airmeet platform, the customer effortlessly accesses and interprets their event reports, harnessing the data to foster the expansion of their brand.
The Welcoming Video feature resonated deeply with the customer, who perceived its significance in establishing a meaningful connection with the audience. This approach aims to cultivate an enriched participant experience, fostering a genuine sense of involvement throughout the event.
Email Customization and Deliverability
Utilizing this feature, the customer gained access to distinctive template categories that enabled them to select templates at their convenience. The provided statistics aided the customer in monitoring their email delivery status and success rate.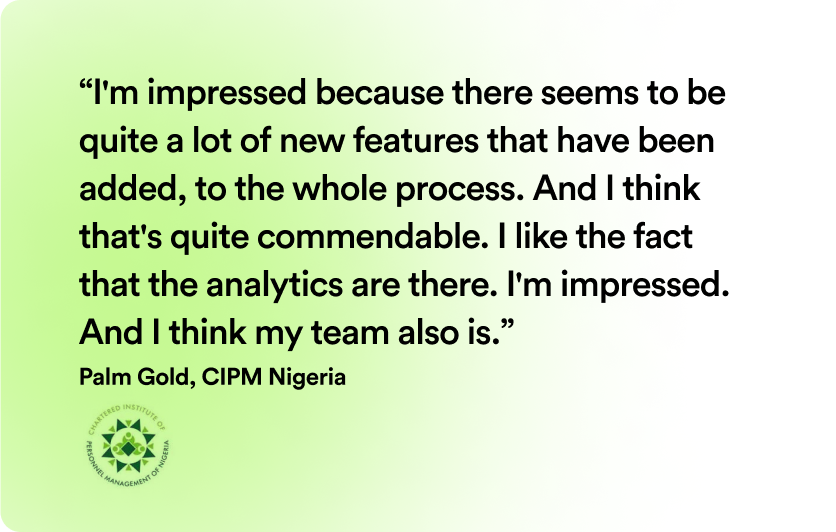 The client had easy access to event reports thanks to Airmeet's analytics, and they were able to easily derive useful insights that fueled their brand's growth strategy. The customer strongly connected with the welcoming video feature. They aimed to utilize this feature to give people the feeling of actually being present at the event's location, enabling live interaction to enhance the participant's experience by fostering a real sense of involvement throughout the event.
By utilizing Airmeet's features, the customer improved their connection with the audience. This fresh approach elevated event engagement and participant involvement, yielding impressive results. The events received an outstanding average rating of over 4.2, a significant achievement. Additionally, the collective attendance across all events exceeded 4,000 people.
In conclusion, leveraging Airmeet's features, the customer proficiently executed their events and engaged with their audiences. This enabled them to establish stronger connections and enrich attendees' event experiences. 
Accurate information and analytics improved their understanding of event performance and audience engagement, allowing them to make informed decisions and effective adjustments. These strategies not only heightened engagement rates but also boosted their return on investment (ROI).