Botho University Employability Fair 2022
Student and Alumni Affairs, Botho University
Located in the capital city of Gaborone, Botho University is a pan african private tertiary employability focussed educational institution starting with its first campus in Botswana, 25 years ago and with branch campuses in Lesotho, Namibia, Eswatini and a growing blended and distance learning campus . It  aspires to contribute to the growth and development of the regions it operates in by providing quality education and opportunities to its students and graduates.
Since the Covid 19 pandemic, it became really difficult to reach out to graduates and offer them alumni engagement initiatives targeted toward their career growth. The Student and Alumni Affairs department (SAAD) prided itself on making graduate placement a key priority and had built quite a significant reputation for itself for making employability such a strategic priority. Despite the challenges brought on by the pandemic,  the university wanted to continue to find innovative ways to engage with graduates by using technology to connect with employers. Botho University then decided to opt for a unique virtual employability fair for their recent graduates in Botswana. Graduates got a chance to meet employers in an interactive virtual environment that made the entire experience seamless and as engaging as a physical meet. Ms. Phatsimo Mosimanegape, Team Leader – Employability & Entrepreneurship Development at Botho University, gave us an insight into the event and their experience. She said, "Preparing for a virtual event is equally intensive as a physical event but the rewards are also richer as it offers more accessibility to graduates and employers who can connect from anywhere. There was a great reduction in the costs related to logistics as well and we could focus more on the recruitment process and the user experience."
Ms. Phatsimo shared the challenges they faced on their first virtual event journey and how Airmeet resolved them to create an innovative virtual career fair despite the short timelines.
Challenge 1: Cost-effective virtual platform
Ms. Phatsimo shared the challenges they faced on their first virtual event journey and how Airmeet resolved them to create an innovative virtual career fair despite the short timelines.
Botho University explored many platforms for hosting an enriching career fair. They wanted to provide an exceptional online experience while staying within their budget.
Solution: Phatsimo mentioned, "We explored various platforms, but Airmeet's very first impression was extremely positive. We searched for alternatives to check the features and pricing.We tried to benchmark by checking the platforms our partner universities were using. The interface of the platform they were using wasn't attractive and engaging. And when we checked the price, it was also way more expensive; almost five times what Airmeet offered. We are very cost conscious as it is important for our sustainability and we always look for a good return on investment of our time, effort and resources. We came to Airmeet for its cost-effectiveness as well as its features, which were just what we needed for an effective and impactful employability fair. The fair had 250 participants, including 29 employers and 150 student graduates."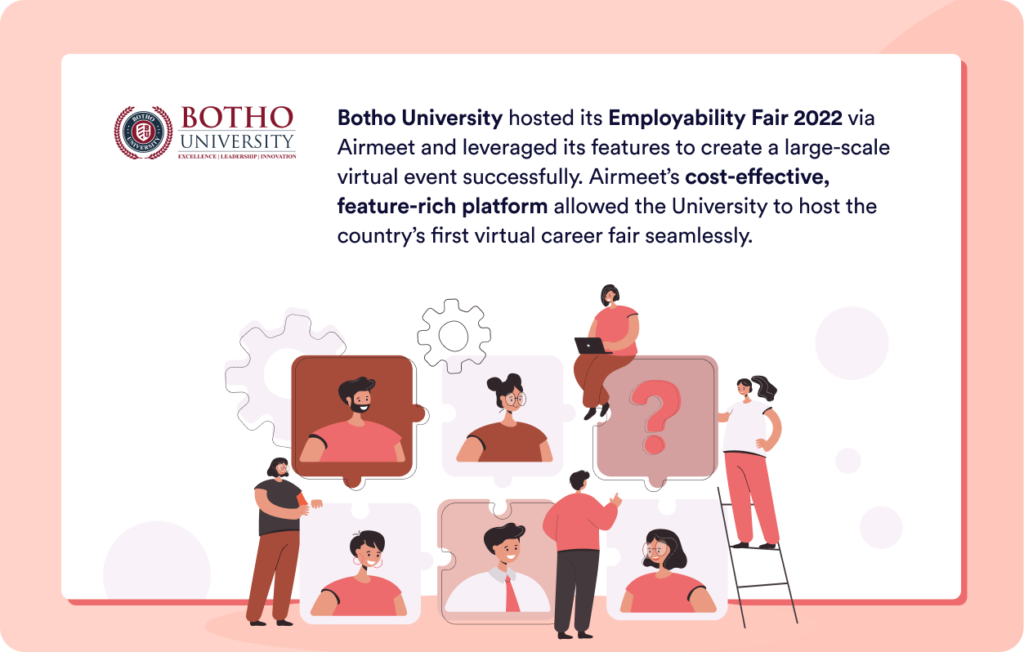 Challenge 2: Offering real-time, interactive, and deep audience engagement
Botho University wanted to provide an engaging and interactive experience throughout the event. Phatsimo said, "We wanted to have representatives from the companies talking to our graduates and offering them employment opportunities."
Botho University wanted to provide an engaging and interactive experience throughout the event. Phatsimo said, "We wanted to have representatives from the companies talking to our graduates and offering them employment opportunities just like in a physical career fair."
Solution: Airmeet helped Botho University create exceptional networking opportunities with real-time results during the conference utilizing the following features:
Booths – Botho University utilized the Airmeet booth feature for conducting meaningful interviews in a conference format. Phatsimo said, "Employers had a great experience at the fair. They were able to have a booth to showcase their products and services and gain immense visibility. For many of them, using such a virtual platform was a very unique and somewhat daunting experience. But with the immense support from our team and the amazing 24X7 live support from the Airmeet team, they really got comfortable very quickly. All employers gave very positive feedback for Airmeet and found it to be an extremely interactive  and engaging platform. 
The initial interviews took place through a virtual conference, and graduates got offers right away. There were eight instant opportunities shared instantly during the fair, apart from other opportunities like internships, scholarships and training offers."
Live Booth Demo – This feature allowed the companies to connect or network with the attendees and interactively present their exhibits. The booth representatives could use the broadcast alert and announce their A/V message to all the participants. 
Phatsimo said, "The participants were constantly called to the booths to explore opportunities. The interaction between both the graduates and employers was amazing. They could interact with each other one-on-one despite them being in completely different locations. This platform really showed the power of technology in enhancing accessibility as many of our graduates live in very distant locations but could still participate in such an event. Geography should never be a barrier to opportunity." 
Panel Discussions – Phatsimo said, "We had a panel discussion at the beginning of the employability fair using the Live Stage feature, which was very well attended  actually it made the whole event feel exactly like a physical event with a grand opening. This were great anticipation from all participants including employers, staff, graduates as they witnessed the opening ceremony followed by a highly impactful panel discussion with speakers from Nigeria, South Africa and Europe. There was much enthusiasm as the participants and speakers could also provide reactions, ask questions and we even put a graduate member from the audience in the spotlight in real time which was such an exciting feature."  
Real-time feedback – Phatsimo said, "We loved the fact that we got real-time feedback from the participants, both the employers and graduates throughout the event. Everyone was constantly using the reactions and sending messages and chats to share exactly what they were enjoying about the platform, and how they found the fair impactful."
Q&A and Polls – Phatsimo shared, "The instant benefits of participation were seen during the Q&A session. We conducted quite a few polls through the event to keep up the energy and asked questions. The attendees could even hop onto the stage themselves with the "Invite to Stage" feature, ask questions, and share their experiences. 
Contest with leaderboards – Botho University utilized the leaderboard to drive greater engagement during the event. Phatsimo said, "We created a contest for attendees based on their level of participation at the event. There were great prizes for the top three participants including a tablet, a smartphone and sponsorship for a technical certification of choice. This ensured that all the attendees heavily participated and interacted with other using the Airmeet features and the entire event was filled with positive and motivational messages from everyone motivating one another on how amazing this platform was and how much they were enjoying the event in a never before seen manner. They were highly participative, asking so many questions, engaging with each other at the speed networking (such a fun concept for the target audience demographic), getting contacts from the employers, doing mini-interviews at the booth, etc."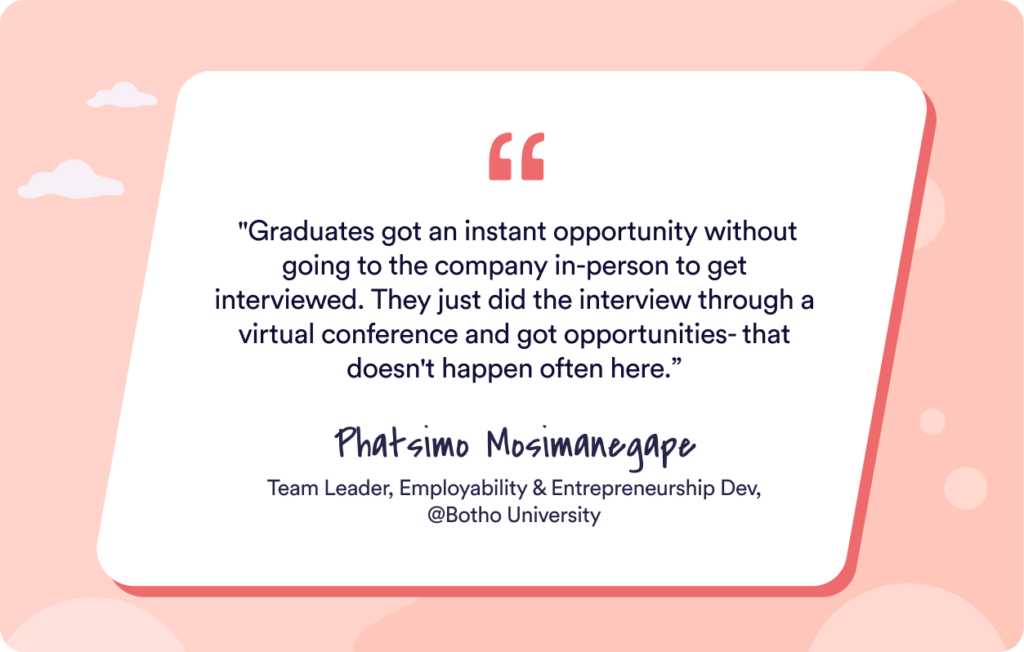 Challenge 3: Having a flawless feature-rich virtual experience
Botho University wanted to adopt innovation in the digital space and reach out to the graduates through a virtual medium. The objective was to help employers identify talent online, and graduates get instant opportunities and job offers without stepping out physically. Botho University has a reputation for driving excellence through technology and innovation and we seek partners like Airmeet who help us reinforce this image in the market. 
Solution: Airmeet's features that made the event a great success were:
Analytics – Phatsimo said, "Airmeet's analytics report showed us the number of people who went to the booths and interacted with the employers. It was the key information we were looking forward to. Immediately after the event, we shared the booth analytics with each employer and they were so pleased to gain such instant feedback on their booth performance something that very few organisers actually ever provide.  Employers' feedback was very positive and they were also able to get the constant details of their participants for follow up without the hassle of collating data collected on physical sign up sheets. Such features save a lot of time for the employer who can then focus on finding the right candidates for themselves."
Dry run – Airmeet allowed the organizers to perform multiple dry runs. Tutorials were shared to make the process simple to understand. Botho University teams organized quote a few prevent trainings sessions with all employers to familiarize them with the platform which was very important to avoid any confusions on the day. This flexibility provided by the Airmeet team was very valuable to allow us to get employers on board and enhance the overall event experience and we thank the Airmeet team for giving us multiple time slots for training.
Support – Phatsimo said, "The Airmeet's 24×7 support team was simply great and simplified the whole process in the digital space – Live 24X7 support meant nobody had to wait for working hours to get their queries resolved. The Airmeet support was awesome, going over and above what was required for us and we thank them for really taking the time out for us as new customer to make this an unforgettable experience." 
Live Streaming – Airmeet's live streaming feature allowed the team to stream their event and share videos in real time, expanding the reach of their event. Phatsimo said, "It was great to stream the event on Facebook where we host our alumni association and this is actually a great platform for us to showcase our events. The feedback from graduates who attended was very satisfying and we got a large number of comments saying they cannot wait for the next time!"
Keynote sessions recording – Phatsimo shared, "We have the keynote session recording on Facebook, and we are still getting a lot of feedback on it, showing that people are still accessing the recording." Botho Univrsity's plan is to utilize the snippets of video for social media and marketing for their next virtual event.
The digital transformation in education has given Botho University a competitive edge in the markets they operate. They have emerged as pioneers in the field by adopting cutting-edge technology and are setting an example for other universities having invested into online resources and platforms years ago and reaping the rewards for such foresight today..   
They plan to take things forward with Airmeet, to create many more enriching experiences in education. They look forward to using the Airmeet feature that lets organizers duplicate events saving the time it would take to set up everything again..Ms Phatsimo said, "We will do another employability fair, duplicating this event, requiring less effort and time. We recommend the other departments within the university, and the other campuses to utilize the Airmeet platform for their events. We have also planned future graduate and internship orientations on Airmeet. We are also recommending Airmeet to all our partners locally and internationally as a cost effective and very engaging platform that can leverage technology to truly make events accessible to a larger audience."
Book a demo today to explore Airmeet's dynamic platform for your university too.
Virtual Events & Community Building Insights
Subscribe to Get Updates (we promise no spam)