Booking a demo.
Leaving a review.
Attending an event. 
Let's be honest, we're all at least a little more excited to do those things if there's an incentive in return. 
Gifting isn't just for holidays and special occasions. It plays a HUGE role in event success.
And when done right, strategic and contextual gifts can help you book more meetings, accelerate pipeline and create the kind of memorable touches that elevate the entire event experience. 
And nobody does gifting quite like Sendoso.
That's why we're partnering with the best in the business to help you boost yours.
Join us and Sendoso on May 3rd to see how gifting can be used to drive event registration and attendance, boost attendee engagement during the event, and set up meaningful interactions that empower quality sales conversations.
Airmeet + Sendoso Integration
Airmeet offers 38 ways to engage your attendees. Now, Sendoso is on the list which means you can elevate your event engagement even more with timely and well-placed gift experiences.
The Airmeet + Sendoso integration allows event organizers to select options from the list of available Sendoso gifts. Don't mind if I do.
With this integration, you can send gifts to the entire set of attendees or registrants or to particular Audience Segments.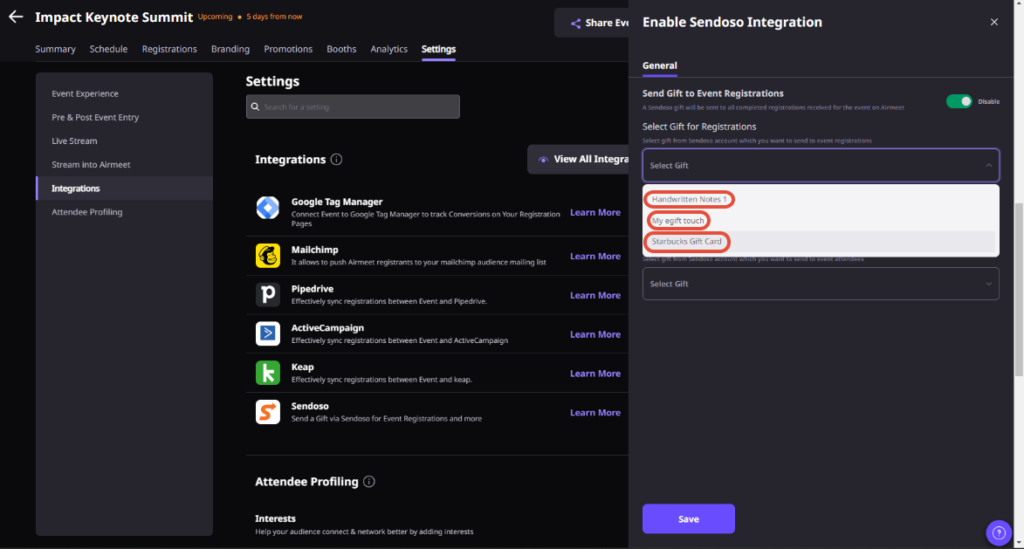 Surprise and Delight Your Attendees With Gifts That They Won't Forget
The Airmeet + Sendoso integration is a first-of-its-kind integration to incorporate gifting with webinars and online and in-person event experiences.
Marketers can now create more personalized experiences for their attendees, and tailor-made experiences for VIP prospects and customers. Not to mention, gifting is a great way to further personalize an ABM strategy.
Click here to learn more about the Airmeet + Sendoso integration.
Now let's talk about how you can incorporate gifting before, during and after your events.
Before the Event
Gifting is a great way to boost event attendance and ensure attendees are thinking about you even before they attend your event.
Here are three ways to use gifting leading up to your event:
Increase event registration and attendance with personalized gifts sent to people before your online event experience.  

If your team is doing a focused and small event to engage with key prospects or attendees from target accounts, send a gift to stay on top of your registrant's mind. 

Send curated gifts that will make your prospects feel special and look forward to attending your event.
During the Event
Adding gifting to your live event engagement strategy gives you the opportunity to enable your attendees to participate more and engage during the live event. 
Here are a few of our favorite ways to leverage gifting during your event:
Combine leaderboard points with gifting to incentivize attendees to engage more actively during the event.

Use gifts that everyone loves like Amazon gift cards or Starbucks cards to nudge buyers to perform impactful actions such as downloading a resource or clicking on a CTA.

Create segments of your most engaged attendees and sending them custom gifts after the event is over can help you build a long-lasting relationship with them. 
After the Event
The gifting doesn't need to end at the live event. Gifting post-event is a strategic way to keep buyers engaged and generate meetings and pipeline.
Here are a few ideas to drive more meetings and pipeline from your events:
Send personalized gifts to key prospects and customers as a part of tailor-made and premium online event experiences.

Nudge them with gifts to take the next step which could be booking a demo or signing up for a free trial.

Group your high value prospects or most engaged attendees into Audience Segments to send them specific gifts.
Want to check it out? Join us for a live, no-strings-attached demo of Airmeet to see how you can take your event experiences to the next level.