At Airmeet, every activity we do is tied to an overarching integrated campaign. Events too are offers that invariably fall under one of the campaigns. In fact, they're one of the major offers we create to bring the campaign and its message to life.

This is because we're primarily an Event-led go-to-market company. One, because we're big believers that events help you form real connections with your audience, in the most human way possible. But, beyond belief and intangible faith, we're event-led because events have historically worked well for us and they only continue to drive bigger and better results for the business.
So, get ready to dive into the results we've seen from our own Event-led Growth strategy and everything we've learned along the way.
Top 3 outcomes that events helped produce
Here are the top three things that directly helped further our company's goals:
#1 Predictable lead generation: 
Events drove 46% of our leads in the last 6 months. That makes events our largest attributed source of leads.
The ability to consistently hit—and, in some cases, surpass—the forecasted numbers takes the top spot. For a high-growth company like Airmeet, there needs to be a constant inflow of low and medium-intent leads, and that's where events have become a core piece of our integrated campaign strategy.
#2 Brand awareness: 
20% of all inbound leads mentioned attending one of our events.
This one's a little trickier to measure. But thanks to our decision to add a self-reported attribution funnel, we have a good indicator of how events have been driving brand awareness. What is self-reported attribution? When a prospect books a sales demo through our website, we ask them, "How did you find us?"
#3 Content production: 
22k+ pageviews and 430 new users from 7 repurposed blogs. 
Our Content and Events teams worked hand-in-hand to take stock of all the content clusters and topics we wanted to produce and built an event calendar out of it. Over the last six months, our website, blog, social media, newsletters, and media have been a concoction of consistent content and messaging—packaged differently to suit different channels.
Striking the balance in a full-funnel event calendar
Airmeet's events calendar consists of events that fulfill many purposes and outcomes at different parts of the customer journey.
A well-rounded event calendar accounts for the biggest challenges within the GTM teams and balances the right ratio of events that drive acquisition, activation, and advocacy. The other major decision concerns the frequency with which owned events should be run given the team's bandwidth.
The events have made major strides in operations, execution, and quality and you can check out what our events calendar for the next couple of months looks like.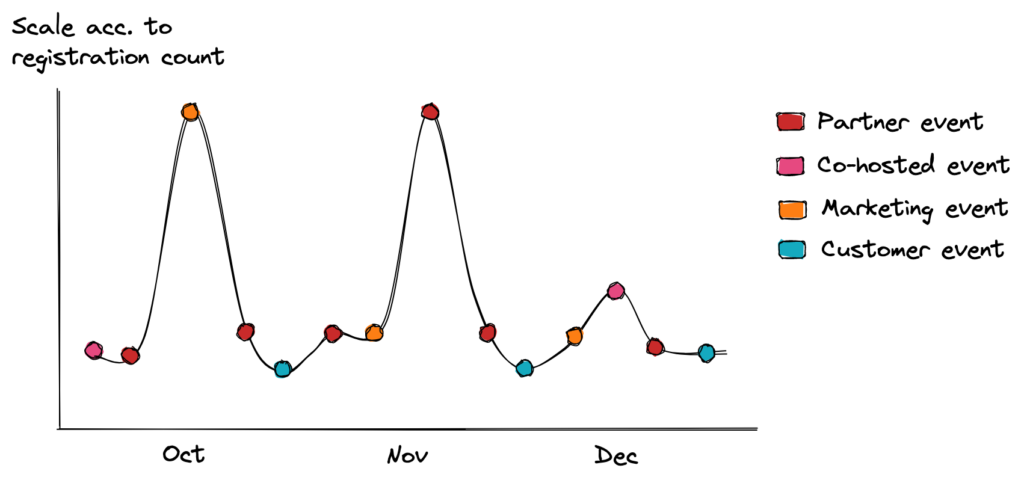 Event name: Eventions
Event type: Bimonthly virtual event series
What's it about?
An event series to drive awareness and education with the low and medium-intent audience. And build a brand property that people will love while at it.
How do we know it's working?
The leading indicators of success are registration, attendance rate, and target accounts penetrated. And lagging indicators are demos booked and pipeline sourced and influenced. Since this is a bimonthly series, another metric that the team optimizes for is repeat attendance. The team creates content, experiences, and operations conducive to this metric.
Here's a real example of one of the customer journeys where Eventions was the first touchpoint. Some of the wins and observations around this deal were: significantly higher ACV and a shorter sales cycle.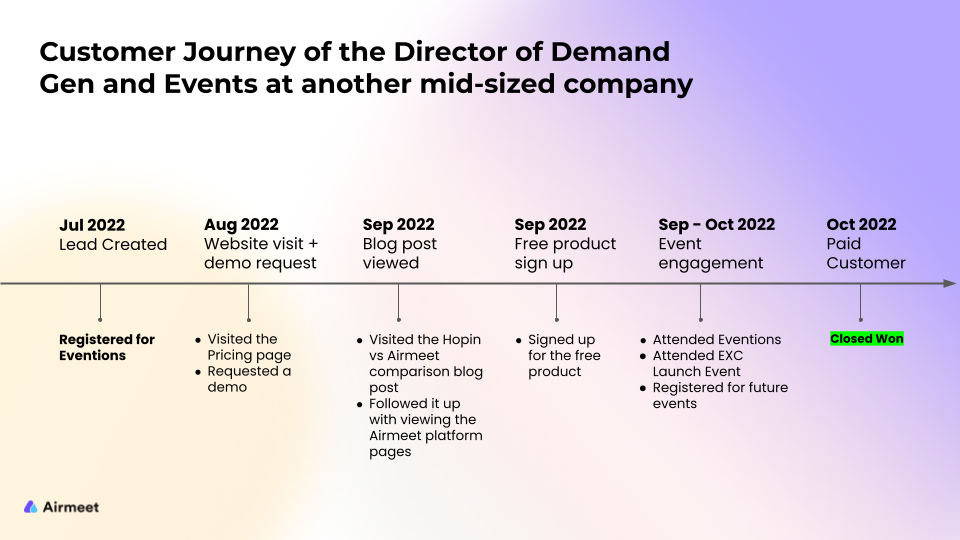 Event name: Experience Different
Event type: Product launch event
What's it about?
A one-off big-ticket event to launch and position Airmeet as the Event Experience Cloud that helps organizers create magical experiences.
How do we know it's working?
The product launch was truly an all-hands-on-deck event that was orchestrated to put Airmeet on the map. Naturally, this was the first event to have real pipeline targets associated with it. This was the start of creating Events and Sales playbooks to convert attendees into customers. So, we continued to track pipeline and downstream conversions a few months after the event.
Event name: Power Hour
Event type: Customer events
What's it about?
A monthly crossover event that's part customer workshop and part meetup targeting bottom-of-funnel prospects, freemium users, and customers to help them learn more about the product and its use cases.
How do we know it's working?
While the leading indicators are very similar to marketing events, the lagging indicators are influenced expansion and renewals.
Event name: Power party
Event type: Customer advocacy event
What's it about?
Quarterly celebration of customers and their amazing events. And a roadshow of everything that's brewing within Airmeet.
How do we know it's working?
It's hard to tie a hard metric to events of this type. Social media mentions, customer love on the chat box, and in-event engagement are the primary metrics we look for.
Event type: Sponsored events
What are they about?
Events where we're either sponsoring or entering into platform partnerships with companies that have a large overlap with our ICP.
Event type: Co-hosted events
What are they about?
Events with partners that are aligned in terms of the vision for content. The division of labor is 50:50 in most scenarios.
How do we know it's working?
Net new leads and target accounts reached are metrics that give you a vague picture of the immediate success of the event. The real impact is known only when the new leads become a part of your funnel and engage with more offers you publish.
Here's another customer journey where the first touchpoint was a summit we ran in May 2022. Eventions and a lot of other events served as touch points of "influence." The best part is this customer has since then not just attended our events but has also been a speaker and champion at some of Power Hour episodes.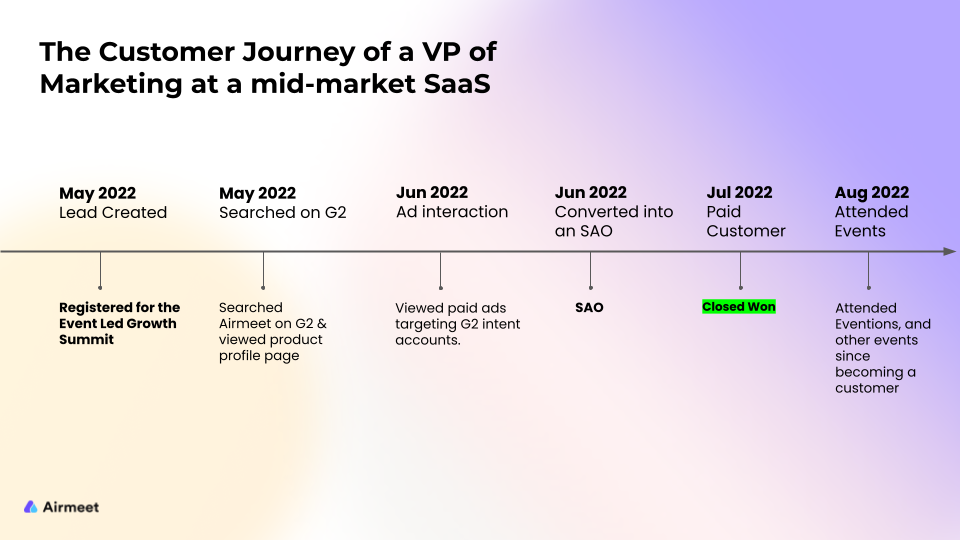 If you're curious to know how our Events team of 3 collaborate with other teams to run these events, our first Power Hour episode of the year was all about it. Give it a watch to understand the collaboration between Events and Sales, the 8-pillar content repurposing technique that amplifies the value of events, and our customer, Lukas', event strategy.
Furthering the Impact
Here are our top three priorities for the Events team this quarter. 
The shift from predictable leads to predictable pipeline
Even for a team operating at this scale and capacity, the Events team at Airmeet is still not directly responsible for a pipeline number. 
The next step is to extend the kind of predictability they've achieved with leads to pipeline too. They're doing this by working on two things:
The Event-Sales Handoff
Routine syncs, documenting briefs that contain the messaging and audience for each event, and a follow-up sequence with which the SDRs can hit the ground running.
Categorization matrix
Bucketing all the event leads based on their ICP, intent-match, and other enrichment data so that different buckets take different tracks. Those with the highest intent, grade, and ICP match are prioritized for Sales conversations. While the others take a longer route sprinkled with more educational events and content offers.
Collaborations that span beyond acquisition
Customer education and retention are a big part of almost every company's growth strategy. Close collaboration with Customer Success Account Managers to invite customers to our events is a big focus of ours. Customers could also lead sessions and inspire other customers with their knowledge.
Partnerships that drive value
Nearly 70% of our event calendar is made up of partner events. Identifying the right fit for a partner is super important to hitting your desired numbers. Our Events team is working on building the right partnerships so we can gain the attention of our target persona and nurture that into intention.
This quarter, we've added another event format to the mix—marketer-to-marketer live demos of the product and tried-and-tested frameworks on how you can start leading with events as your GTM strategy. You can get in on one of the demos here!