Fluid Space for boundary-less conversations
Do you miss walking through the event lounge, keeping an ear out for interesting conversations, and joining a chat that catches your fancy? We built this feature for the exact same reason. Attendees can now stroll through the space, form clusters that mimic in-person conversations, and indulge in stimulating conversations. Without any constraints on the way, they navigate the lounge space.
Think of it as a space for all your informal yet fruitful conversations. The place that can make your after-party come alive with lively chats, and serendipitous connections. Set it up as an exclusive lounge for your speakers to come together and make conversations after a day full of sessions. Generate FOMO by inviting only your top-engaged attendees(Psst leaderboard!) to be a part of the conversation.
Don't miss out on setting this up for your next event. This is where the real fun starts!
Airmeet 360 for deep dive into event performance and attendee engagement
Whether you want to see the big picture of your event performance or dive into details about how a particular segment engaged during the event, Airmeet 360° Analytics has all the answers. The module captures an exhaustive set of 50 data points to ensure that it has insights for every single question, you might have about the event performance and attendee engagement.
Airmeet 360° Analytics comes equipped with multiple dashboards and a segment builder. The dashboards are built to provide granular insights, such as topics that piqued attendee interest, in addition to the specific mode(s) of engagement preferred by audiences, the ROI generated for sponsors, and more. The segment builder will allow organizers to build audiences based on various engagement parameters and later use them to run targeted marketing campaigns and send personalized post-event communications.
Custom event access for hyper-personalized events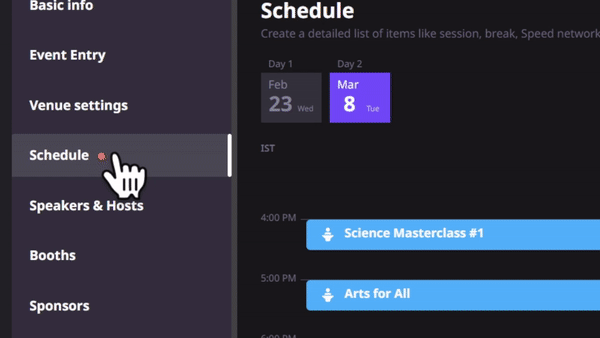 Personalization is the name of the game! Craft a personalized event experience for all your attendees by tailoring a schedule that will allow them access to a selected set of sessions based on their persona or ticketing tiers. Unlock session access to selected special guests or block a certain segment of the audience from viewing and attending specific sessions. We are handing over the master key to you with this one.
Leverage the feature to upsell tickets, and show the audience what they are missing out on with a schedule that clearly shows what sessions are available for different ticketing tiers.
Accelerate sales cycle and improve conversion with Airmeet & Eloqua integration
Get all the data about your prospects in a single place. Sync event registrations automatically between Airmeet & Eloqua to create a richer contact profile. Leverage the data to create a personalized marketing campaign that can increase event attendance. Enhance customer engagement & conversion by sending targeted post-event follow-ups based on their level of interaction during the event.
[BETA] Video announcements to liven up the event in between sessions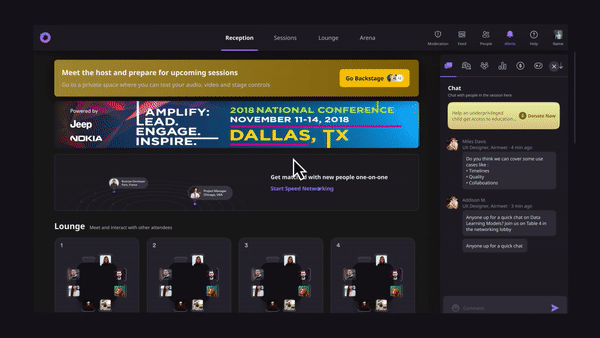 Text alerts are old school! Say hello to video announcements that will let you send out bite-sized announcements in between sessions to engage with attendees and communicate important messages that you wouldn't want them to miss otherwise. Put a face to your message to capture your audience's attention.
Announce details about the next session, give a quick shoutout to your sponsors, offer a sneak-peek into an upcoming session happening at one of the booths, give a quick recap of a completed session, and more with the easy to put together video announcements.
Live tracking of past visitor data on booth visitor panel
Let exhibitors access the visitor data for those who visited the booth right from within the booths on the visitor panel. Exhibitors will be able to see not only current visitor data but also the complete list of the attendees who have visited the booth since the start of the event. They can leverage this information to send personalized reach outs to initiate conversations.
Don't let your sponsors miss out on any potential leads ever!
Showcase all your social links from booths
Now exhibitors can highlight all their social profiles as a part of booths. We mean business when we say all social profiles. The options now include Instagram, Snapchat, Discord, and Tiktok.
Exhibitors can use this to build long-term brand advocacy by driving traffic to their brand's social media pages.
Find tables faster with 'Table Search'
Now it is easier for attendees to search and quickly join their desired table. Attendees can now jump directly into tables and start conversations right away.