Virtual events: Networking & Conference
Mike Lysko, CEO of Flock, said, "Flock provides an online platform that allows customers to better engage and communicate with their attendees by creating beautiful landing pages, emailers and mobile apps for events."
Flock explored becoming an Airmeet Channel Partner, to add a virtual event offering to their suite of services.
Transitioning to virtual events by becoming an Airmeet Channel Partner
Mike shared, "During the lockdown, we experienced an interesting journey. Having always been at the forefront of trends, we innovated then too. Pre-pandemic, streaming wasn't a new concept for us, but the bulk of our events were in-person. Clients would utilize our system to register for the events and get access to all the content and communication they needed at their fingertips.
Once the pandemic hit, we knew we needed to adapt quickly and be agile. We saw many benefits to virtual events and transitioned in March 2020 when there were a lot of restrictions being placed around the world.
Earlier, we would use a web version and then stream it. But then we adapted very quickly and started educating our clients. We hired more staff and were able to increase revenue and expand our product offering by becoming an  Airmeet Channel Partner."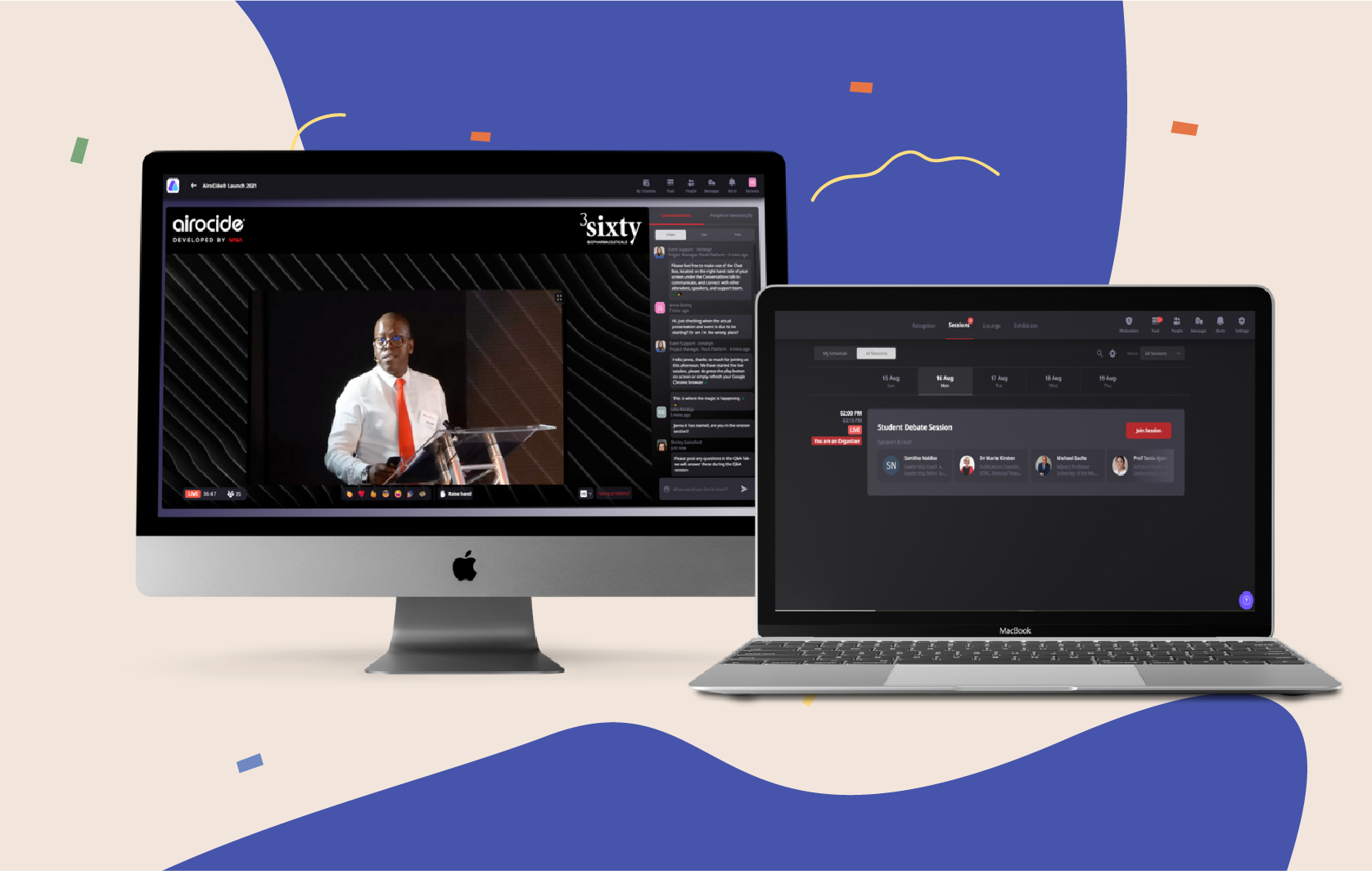 Challenges (and Solutions)
Challenge 1 :To find a slick, multi-purpose platform to host varied virtual events for multiple clients and sponsors
Flock Eventing Platform was looking for a versatile platform to meet the needs of each of its events and clients. Jessica Allen, the Operations Manager Flock, said, "Our clients include group investors, financial institutions, and pharmaceutical companies. They often host conferencing and exhibition events besides the usual type of virtual events."  Flock needed a platform that could also cater to this requirement seamlessly.
By becoming an Airmeet Channel Partner, they were able to utilize the following features to execute successful events –
Branding opportunities – Airmeet allows users to brand their events. They can customize the reception area and add logos and banners. Jessica said, "Airmeet offers great branding opportunities, and the welcome that can be provided at the reception is very good."
Easy to use and navigate – Jessica appreciated this, stating, "I think the Airmeet platform is very user friendly for both hosts and attendees. It's so easy to join a session or see what's going on; not many clicks are required to access sessions." 
Exhibitor Booth – Jessica said, "I like that exhibitor booths are multi-purpose. They can be used for sponsors and can easily be branded, which helps significantly with the return on investment. I like the fact that you can call people to the booths. The announcements prompt the audience and direct their attention to the booths.
I also like the flexibility of being able to present at the booth itself. You can present to everyone at the booth instead of to just a handful of people at a table. " 
Flock Eventing Platform has hosted close to fifteen events on Airmeet, with attendees ranging from 200 to 1000. 
Challenge 2 : Form a long-lasting relationship with a platform that is innovative and constantly evolving and adding practical features
Flock Eventing Platform needed a robust platform for their clients' varied needs. Mike divulged, "Clients are always looking for something new and better, especially for events. They want something that will enhance the experience for attendees.
We started utilizing Airmeet in 2021 after testing various systems and haven't looked back ever since. It's been great to collaborate as an Airmeet Channel Partner.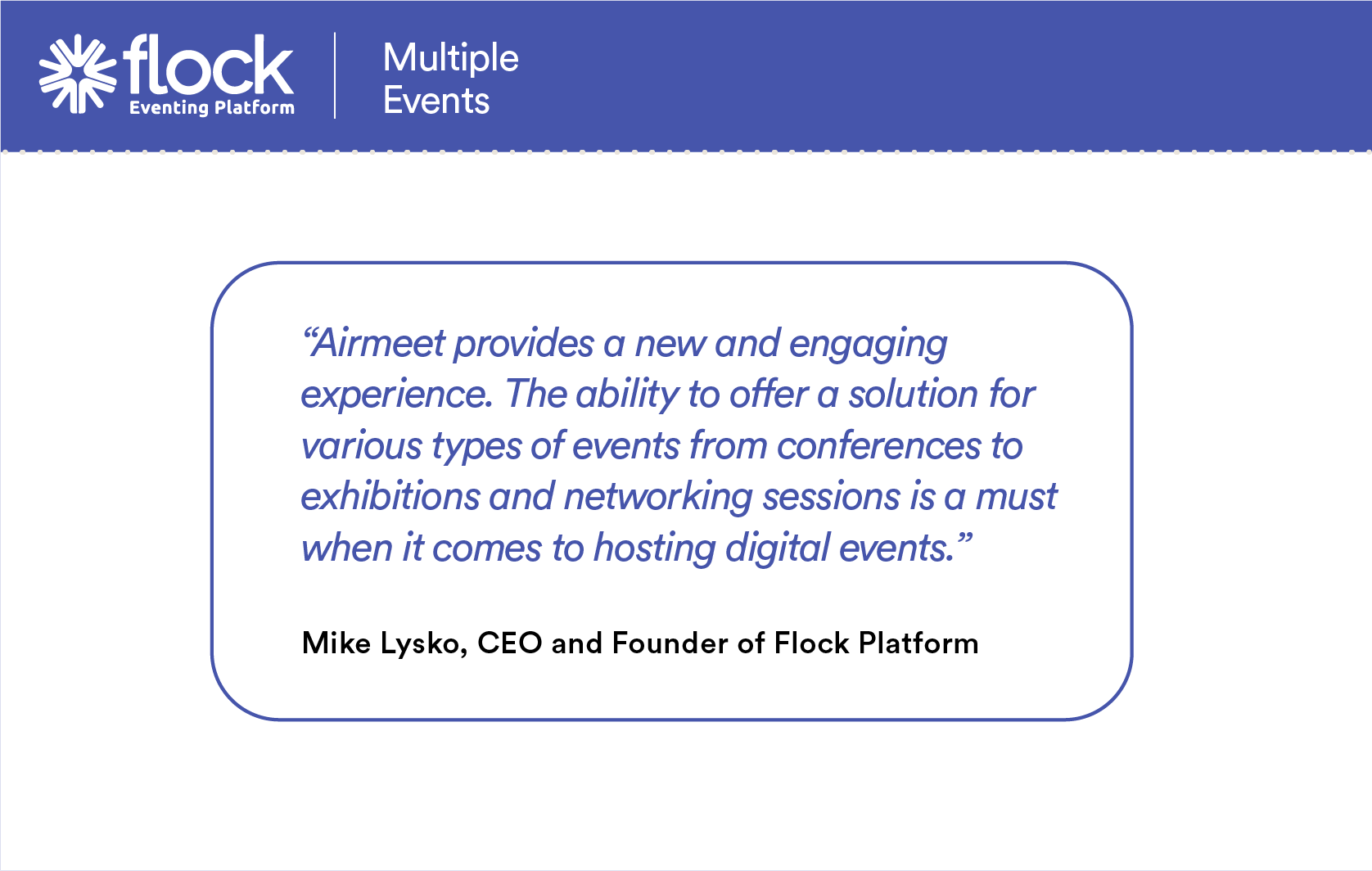 Unique Airmeet features that Flock appreciated are-
One-on-one Networking – Jessica said, "With Airmeet, we could have online booths along with the option of one-on-one networking for the delegates. It is very difficult in, say, a standard zoom call. Eventually, it all comes down to our client's requirements, but I would say nine out of ten times Airmeet ticks all the boxes." Mike added, "In a regular meeting, if I wanted to have a conversation or a breakaway discussion with an individual, it would have to happen openly. Everyone would be privy to what you're saying. So having one-on-one networking is a nice way of offering benefits while showcasing exhibitors." 
Speed Networking– Mike mentioned, "Airmeet's ability to make suggestions about who to network with and find other like-minded people is really good. It is an added feature beyond just a conferencing platform. Essentially Airmeet offers something more engaging." He further added, "Airmeet is an online platform for communities to engage, network, learn and experience events that are either physical or fully virtual."
Tables – Mike said, "Airmeet's evolution has been great. It's fantastic to see what started as a comparison to Remo has evolved into something more extensive and robust. Airmeet is a combination of a networking environment done through a table setting while simultaneously allowing various stages and multiple sessions that an attendee can visit." 
Support Services – Jessica said, "We used support for the first couple of events, but after that, we didn't need it at all." Flock also appreciated the promptness and feel of communications from team Airmeet. 
Quick Turnaround – Jessica said, "I found that Airmeet's development time is a lot quicker. Airmeet is listening to its customers and understanding their requirements. It is a very valuable feature, and not many platforms do this." 
Long-term Association – Mike said, "Our relationship with Airmeet is great. We have been able to increase and improve our offerings to our clients. Airmeet allows us to provide a lot more capabilities than a zoom call." Airmeet constantly updates the platform, giving clients like Flock the confidence to recommend Airmeet and ensure satisfying event experiences.
Way Forward as an Airmeet Channel Partner
Flock Eventing Platform looks forward to continuing its association as an Airmeet Channel Partner. They are keen to explore the leaderboard feature and the enhanced and real-time analytics on Airmeet.
Jessica said, "Airmeet is seamless, slick, and very professional, unlike the standard options which everybody is accustomed to. It provides a solution that we are happy to recommend.
Looking to expand your product offering and grow your revenue exponentially through virtual events? Explore Airmeet Channel Partner options today!
Virtual Events & Community Building Insights
Subscribe to Get Updates (we promise no spam)