You want to offer your employees the best benefits possible, but expressing it on a large scale at once is difficult. Employees who are spread out across your offices and around the country make it harder to achieve this.
Organize a virtual fair to connect your employees to carriers and company-sponsored programs. This way you can Interact easily with in-office and remote teams from all in one place.
Airmeet enables your business goal to turn into reality and transform the image of virtual gatherings completely. Take a step and talk to us today.
Customers using Airmeet to host impactful events
Airmeet comes with interactive elements that personalize events and create genuine relationships. Airmeet's social lounge or breakout rooms and speed networking are unique elements that make interaction easy, especially at the person benefits fair.
The platform is easy to use, with various user access levels that simplify administering the event in an online environment.
Read about how Airmeet helps clients host an impactful and engaging virtual event!
How HRs use Airmeet
Story 1: Zeta Confluence 2021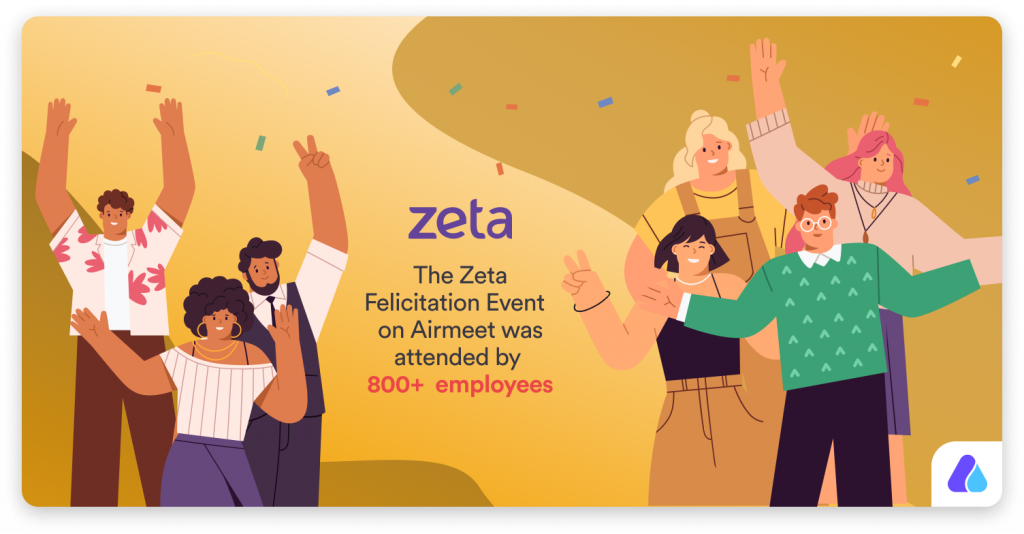 Zeta is a fintech firm that provides digital tools to create contemporary retail and corporate finance products. The virtual gathering is intended for employees to reflect, recognize achievements, and present a comprehensive map of the company's future goals.
Airmeet allowed Zeta to have everything on one platform and support many sessions. These Airmeet characteristics allowed Zeta to accomplish its goals. Its lag-free, HD quality, super-fast UI/UX, interactive design, and live video streaming of activities are provided during the Zeta event.
Airmeet's capacity to accommodate up to 100k participants and accommodate up to 100k people is guaranteed this size. Airmeet's WebRTC technology allowed web-based video conversation. Zeta hosts, speakers, and workers could easily join, host, or participate in the event hub directly from their browsers. Its quality and compatibility for all contemporary browsers helped Zeta organize a safe and accessible event.
Story 2: Fintech Calling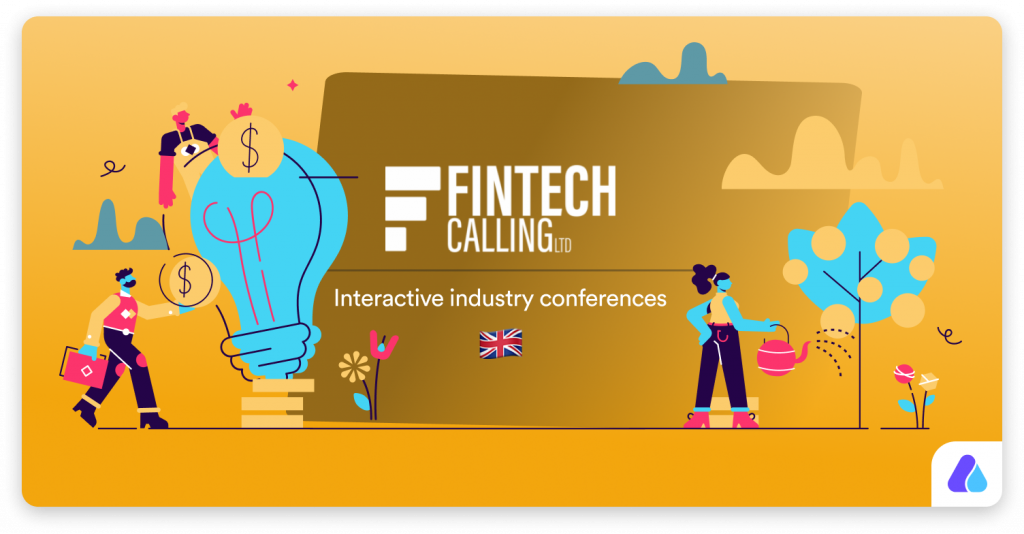 Fintech Calling, headquartered in the UK, organizes worldwide fintech events. Each year, Fintech Week Tel Aviv convenes professionals worldwide to discuss and learn about the newest developments in financial technology. In their meetings, they study, discuss, exchange ideas, and conduct business about the industry's trends.
More so, their physical events usually include a full-day conference and four nights in Tel Aviv. Nonetheless, when events shifted in virtual settings, Fintech relied on a virtual platform such as Airmeet. Fintech Calling used Airmeet to host a fully interactive four-day event with over 120 speakers and 1,400 registrants. They organized a successful and well-attended virtual event that included immersive interaction and participation from all participants.
Story 3: Interactive monthly Town Halls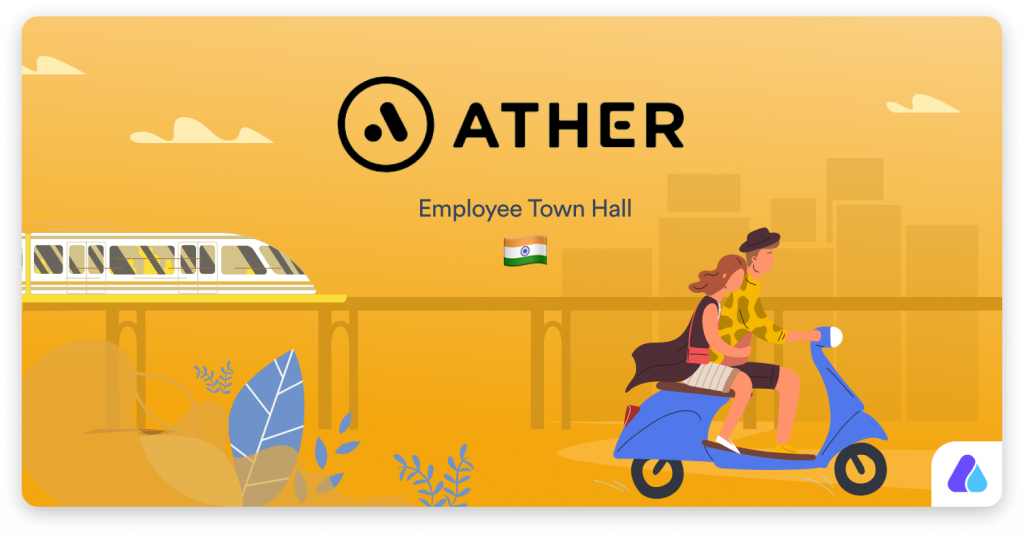 Ather Energy is a mobility solution start-up that came out with India's first intelligent scooter. Believing that intelligent mobility will fuel the growth of the automobile industry, the company is striving to revolutionize commute, one scooter at a time.
The company hosts multiple in-house and virtual events. They zeroed in Airmeet's virtual fair platform and hosted town halls and other events, like community-building programs and even college campus meets.
They chose Airmeet because of its all-inclusive event hosting and management features, real-time analytics, pricing and overall being browser and device agnostic. Also, Airmeet offered:
HD video and audio quality streaming and support
Event recording facility which made onboarding a breeze
Backstage to rid speaker anxiety
Attendees count which helped them analyze which employees have joined the event
Overall analytics that helped them measure the engagement levels of the attendees
And, finally, competitive pricing that tipped the scale to Airmeet's favor
Since they were looking for a virtual event platform that provided them with ample engagement and gamification features, Airmeet was the perfect solution. Till date, Ather Energy has hosted multiple webinars and town halls for their onboarding processes.
Engage your employees with virtual benefits fair
A virtual benefits fair is a virtual event intended to assist businesses in communicating and explaining the benefits given to their workers on a large scale.
Virtual benefits fairs enable delivering information to workers more practically by eliminating the physical and time-based obstacles associated with in-person training.
Boost loyalty, create awareness and connect better
Virtual benefit fairleads to better-educated workers who profit from the whole of their pay package rather than just their salary.
Online benefits fairs raise awareness and empower workers to make better-educated choices. Airmeet includes interactive elements like live webinars. Webcast live streaming, live chat, virtual booths, and more.
Designed for global audiences
The online aspect of virtual benefits fairs allows businesses to gather all of their workers in one virtual location for benefit learning. Fortunately, Airmeet addresses this by customizing participants' experiences and presenting them just to those providers that operate in a particular area.
Explore all features of Airmeet for a memorable event experience for you and your employees.
Stay connected and grow your community online
Plan and host all your company events on Airmeet. Employees may participate in online benefit fairs at any time and on any device that has an internet connection.
Virtual benefits fairs often feature virtual booths where participants interact with employers, sponsors, and benefits providers. Attendees may communicate with benefit providers via features such as live chat, Q&A, forums, surveys, and more chat options.
Plan and host all your company events on Airmeet
Here are some of the event hubs you can host with Airmeet.
Premium webinars
The Airmeet's premium webinar event is a wonderful area to let employees meet and interact with others in a networking webinar. Air meets can host any social event of 100k participants with no lag at all. 
Allow time in the social lounge for participants at the same table to video conference with each other. Participants check co-attendee profiles, connect over similar interests, and form relationships that will last beyond the webinar. They can also move from one table to another to optimize networking opportunities.
Conferences & summits
Virtually interact and educate your workers and other audiences. Deliver informative multi-track seminars to meet the needs and provide a fair experience for everyone. You may poll your audience during the session, answer questions, talk, and engage with them in real-time. This is one of the key features of Airmeet where you can solve gaps in understanding using chat features.
Networking events
Meaningful engagement in live networking events may help you and your staff get new views and ideas. Active networking also aids in professional growth by allowing you to acquire information, remain current, increase exposure, and build confidence.
Meet-ups
Hosts can enable this powerful and innovative way to network before the event. Airmeet's Speed Networking feature allows attendees to meet new people one-on-one quickly. Through this AI-powered matchmaking, attendees get matched with each other for 5-minute meetings, considered a huge advantage compared to traditional benefits fairs.
Workshops
Empower your workers with an engaging virtual benefits fair complete with customized vendor stalls and informative webinar presentations. With Airmeet, workshops can now be completely interactive and lively without sacrificing the goal of the workshop.
Virtual job interviews
Virtual job and internship fairs are a great method to find top worldwide talent. The recruiting procedure may be informal, inexpensive, and fast if no physical interactions are required.
It allows you to filter through a large number of resumes quickly. With the use of a digital tool, you may design an efficient procedure for locating qualified candidates. The efficiency of this recruiting tool is high since registrants may be pre-qualified and can readily measure engagement.
Hybrid events
Airmeet's Virtual Event Platform is completely browser-based, with no need to install any apps. It is simple to use and may be accessed through a variety of devices. It is completely customizable based on your brand's and company's requirements.
As a host, Hybrid events provides you with complete access and insight into extensive statistics and analytics that you can use to evaluate your event. Let your employees experience a virtual environment that can portray real-life feels. Furthermore, this online platform includes security access measures to protect your participants' privacy.
Town halls
Organize interactive company-wide town halls meeting for all of your worldwide workers.
Set the scene for your organization's leadership to convey business success, vision, and the path ahead. To obtain company objectives and ambitions, provide compelling presentations and play videos.
Onboarding
Virtual Onboarding enables you to greet all new workers simultaneously, regardless of their location or whether they will work remotely. It is now very simple to introduce new employees to a single event during a virtual orientation, using video broadcasts and recordings.
Virtual team buildings
You may host virtual parties, entertaining games, and bonding activities for your remote staff in the lounge. For your leadership training, you may also do brainstorming, informal learning, and training sessions. Virtual team buildings could be an effective tool for meaningful connections between employees.
Talk to us and explore the platform for your event needs today!
Airmeet, a recognized market leader
Airmeet is more than just a platform. It is a group of enthusiastic event professionals, consultants, planners, and hosts that want to assist you in producing events that get a standing ovation every time.
Ready to explore Airmeet for your next benefits fair?
Airmeet is the ideal platform to host your meaningful benefits fair. That's because Airmeet focuses on making you feel like you're getting more than just your money's worth. Its lag-free, HD quality, super-fast UI/UX, interactive content and design, and includes various activities giving your benefits a 100% success rate.
Talk to us and explore what huge advantages Airmeet has to offer for your next benefits fair event!