Business & Agency, Networking & Market Intelligence
Programic Asia is a marketing intelligence agency that works with national & international fortune 500 companies to connect high-profile industry professionals through corporate conferences and roundtables by invitation only. They also help partner companies host events for promotional or networking purposes. They have worked with some of the top giants such as IBM, Google and Microsoft, to name a few.
Established in Singapore in 2013, they moved to India in light of the digital boom stirring up in the country and partnered with organizations for different promotional event needs. Shantanu Awasthy, MD, Programic Asia, explained their business model; "We partner with organizations that are solution architects to help them promote their solution software and services to different industrial communities."
Programic Asia has a strong finance community of 18,000 members who routinely engage through their newsletter known as CFOengage. They also have an emerging HR community that reaches around 22,000 HR professionals across India.
Shantanu explained the advantage of cultivating such strong communities, "Any solution provider who aims to target senior professionals can leverage our platform through a live or virtual medium to get their story out and be on top of their buyer's minds."
Transitioning from Physical Events to Virtual Events
Before the pandemic, they would do about 36 to 42 live conferences, which were curated by their content team. They ensured that the attendee list only included industry leaders who would find the event's discussion relevant and valuable. For every individual event, they would tie up with suitable investment partners and invite anywhere between 200 to 500 attendees.
The second side of the business was the custom roundtable format for people who would rather engage with a smaller audience. They did around 36 of such roundtables spread over a year and catered to 15-20 high-profile personas in each of them. As Covid hit, the whole landscape of the MICE (Meetings, Incentives, Conferences & Exhibitions) industry changed.
When asked about the physical to virtual transition in the MICE industry, Shantanu added an interesting fact, "Every company, big or small, was looking to increase their digital footprint. The transition to digital was already in the process for many industries, but what the pandemic did was accelerate it to the point that everyone was racing ahead at breakneck speed."
Nothing could take away the charm and novelty of live events. But to run the business, they had to look at some virtual platforms. Their team faced many challenges while landing the right platform for their highly sophisticated audience. In the trial-and-error process, they onboarded different platforms that worked for some formats and sometimes didn't really work the way they had anticipated or were promised. A few virtual events later, they met Airmeet.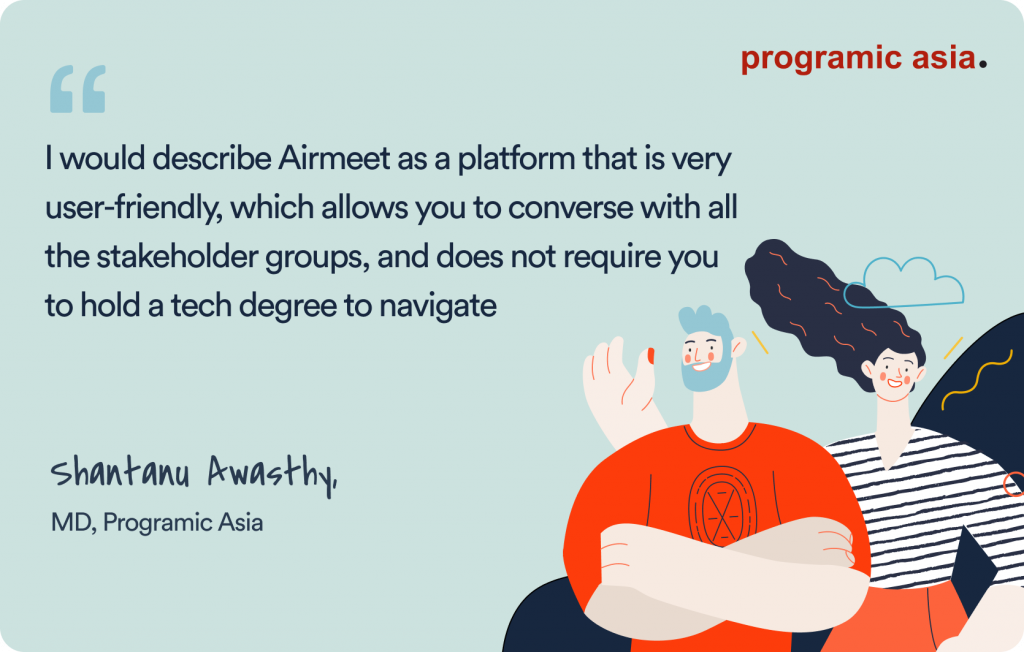 Challenges (And Solutions)
Challenge: Have a platform that is easy to use and is seamless in engagement
"The most important factor for any event organizer is the level of interaction and the ease of navigation." Shantanu continued as he explained the biggest challenge, "Transitioning from one platform to another became a leap of faith for us because every time we changed a platform, we'd have to get used to the way the platform works. That was the biggest challenge for us because we run some marquee events that, if gone wrong, would tarnish our image for good."
But here's what convinced him to stick to Airmeet:
The Airmeet UI
When asked what made him go with Airmeet, he went on to say, "I was called about Airmeet on the day of one of our events, and everything was explained in under 5 minutes, which was what I liked most about Airmeet. The ease of navigation doesn't complicate the screen or make it look like an airplane cockpit. The easy-to-use features and the interface is at par with the best. I feel a lot of time has been invested in designing its high-end UI."
Since the essential features, such as raise-hand, chat, ask questions, and control video, are strategically placed to look elegant but easily accessible, the attendees could easily engage with each other and the speakers.
The Backstage
Since the speakers were chosen from diverse fields, they needed to be prepped and allowed to get familiar before the event. And Airmeet had just the solution to enable their behind-the-stage activities. The backstage allowed the host and speakers to meet up privately while the attendees were engaged in the stage area or other platform aspects.
The Polls
The events were also intended for generating insights and discovering trends among their high-profile audience. They could obviously not record their opinions during the sessions. So Shantanu and the team frequently ran different polls to record audience opinions on different matters and were able to collect some crucial insights by the end of each event.
Challenge: Enable Sponsors to catch the audience's attention and gain new prospects
The primary source of revenue from these private events was the sponsors who partnered with Programic Asia for presenting their solutions at the event. Without a strategy to highlight the sponsors, the events would be virtually impossible. Hence, Shantanu was greatly concerned with designing presentation strategies for them while looking for virtual event platforms.
Their search ended with Airmeet and its unique sponsor booth setup options.
Booths
While summing up the features of booths, Shantanu said, "I like Airmeet's ability to put together booths, so delegates can visit them and indulge in conversations. I spoke to two of the partners, who were very happy as there were no complications whatsoever. You can upload videos and documents and share things; it's really the complete package."
Since the sponsors usually included solution providers with products or services to pitch, they need an interactive booth to engage a viewer into their solution experience. Airmeet's booths enabled such experience through the modified sponsor booths that were subtly and elegantly highlighted at different places in the event. A sponsor could make a presentation, share downloadable brochures, or redirect the attendees to their websites for more information.
The first three months into the pandemic, Programic Asia's partners were apprehensive of engaging their audiences virtually as they thought it to be something that was short-lived. But over the next months, everybody opened up to the idea of a virtual world. Today, they have around 20 to 22 events lined up until the end of December 2021.
Explaining his vision of the future, Shantanu explained, "The biggest advantage of a virtual event when pitted against real-life events is that the speakers aren't bound by geography. You can have speakers from different countries and log into any event from your home. So when everything opens up, there will be a surge in real-life events, but a sizable audience would still prefer virtual events. And hybrid (events) is the future of events."
Finally, when asked how he describes Airmeet to others, he said, "I would describe Airmeet as a platform that is very user-friendly, which allows you to converse with all the stakeholder groups, and does not require you to hold a tech degree."
Want to experience how truly effortless it is? Book your demo, and we'll walk you through the futuristic Airmeet features step-by-step.
Virtual Events & Community Building Insights
Subscribe to Get Updates (we promise no spam)