Conference with parallel sessions and booths
Civic and Social Organisation, Think Tank
Impact Hub Bern has been leading change through innovation, digitization and entrepreneurship. They serve a diverse community by providing specialized consultancy services and co-working spaces. They are proving to be the enabler for business through training, support, keynotes, community networking events and incubation programs, along with the co-working space that they provide.
However, the Covid-19 pandemic caused global disruption and accelerated the need for changing the way events were hosted. Impact Hub decided to transition all events, training, internal meetings and workshops to an online format to keep their community together.
Pablo Sulzer, Communications Lead, Impact Hub Bern and Regula Lenz, Innovation and Partnership Manager, Impact Hub Bern, shared their journey of working as an outreach partner for a major telecommunications firm, for an important multi-session event powered by Airmeet,  and how they exceeding event goals even with a small event team.
The eighth edition of 'Demo Day' was to be transitioned online, amidst the pandemic.
As a part of the startup challenge, five innovative startups competed and won against 125 applicants from over 30 countries. Once declared winners, they were able to participate in the exploration program and brainstorm with 5G experts and startup mentors.
The exploration program culminated in the demo day event, which needed to be transitioned to an online version. The event was planned to comprise five parallel sessions, where each winner would explain their innovative 5G product. The event also included a welcome session, closing session and networking break.
Challenges (and solutions)
Pablo explained how they discovered Airmeet, never to look back again, "We started, like a lot of people, with Zoom for internal meetings. We also used Slack. We also tried out Wonder, Gather and Spatial Chat. But when we heard about Airmeet from someone, we decided to give it a try. Very soon, we did an Award Ceremony via Airmeet in Nov 2020. We became huge fans and realised that this is a cool platform that we could use really well, if you get to know the features and when and what to use to deliver a powerful event. 
Since then, we have had a lot of small events too. "We are currently using it a lot and will be using it again in June for more events." 
Challenge 1: Pivoting to a virtual event for a critical partner
The Impact Hub team had to transition to virtual for the Demo Day presentations at a very fast pace.
Pablo pointed out, "We had to support an event for a major telecommunication partner based in Switzerland, and we recommended Airmeet to them. They trusted us with this event, where they were expecting around 100 participants. Our partner is into emerging technology, and that is why we wanted to be sure that what we deliver should be a well-functioning tool."
Regula described the vision of their partner and said, "They were looking for a platform where they would feel comfortable. It had to be something new, but it also had to take care of engaging the attendees. With Airmeet, it definitely met these event goals."
Here is how Airmeet features helped save the day with each event requirement-
New environment: Airmeet aims to humanize virtual events and offers exciting formats which provide a breath of fresh air in the event landscape today. It replicates a physical event and provides features that make it exciting.
Impactful, seamless experience: Since this was an event for a telecommunications company, it had to meet certain expectations, which Airmeet well surpassed. Airmeet offers superior HD-quality, lag-free video and audio. Whether you are hosting a simple webinar or a conference with multiple exhibitors and sponsors, Airmeet features make a mark.
Quick and easy onboarding: Airmeet's intuitive design coupled with its brilliant support team and training ensures that the user onboarding is easy and smooth. Participants are not required to download any component, making it quick and easy to attend without compromising their privacy and security.
Pablo said, "In the beginning, a lot of our partners were either skeptical, nervous or hesitant to learn something new. But after the onboarding session, they were so comfortable with the tool and realised how fun the platform could be."
Comfortable: Regula said, "It was challenging for us to onboard our partners, speaker and all in a short time. But once they became comfortable with the tool, they started enjoying it too."
Airmeet's UI/UX is designed keeping in mind even the not so technically advanced users, which makes it possible to enjoy the event/ environment without worrying about how to use it. It is supported on all modern browsers making it convenient to use from anywhere, anytime.
Pablo added, "Having the alerts and communication with banners helped us communicate with our audience better as everyone is aware of what is happening and what to expect."
Deliver better with analytics: The detailed analytics report, covering everything from the number of users registered, to poll details, helps you analyse the success of your events with data. Pablo pointed out, "We were able to get the registrant information using the analytics report. This helped us serve our partners better."
Challenge 2: Small team managing up to 5 parallel sessions
Pablo shared, "It was a complicated event for us as we were a small team of two people in the background. It was exciting as there was a welcome session, then five parallel sessions with a break followed by a closing session and networking. Each session had videos and presentations, along with a lot of different speakers. So this was being planned as our biggest event."
Here are the Airmeet features that supported the big event –
Conference event platform:  In the conference format Airmeet allows parallel sessions to be held with multiple speakers. This enabled five different concurrent demo sessions with minimal event manager support. Speakers can share their screen to present or use live video streaming to give a demo. 
General chatbox: Private and group chat are engagement features that are helpful for participants and hosts to interact amongst themselves. Pablo said, "Chat feature is a classic. It was really important to get some questions out there."
Emojis: Pablo said, "Emojis are playful. You can hide behind your desk. You don't have to put your camera on, but can still quickly share feedback quickly with emojis. It is a really cool feature."
Back-stage: This feature enables you to test your audio, video, and devices to spare last-minute surprises and interact with the host and other speakers to prepare them before they go live. 
Pablo pointed out, "This feature was really important for us to help our team prepare and organise our last-minute stuff."
Video uploading: You can easily stream pre-recorded videos via this feature without compromising on the video quality. 
Pablo shared, "Video uploading also worked well for us. In the beginning, we were a little bit scared that the quality will not be as good as we wanted, but in the end, it was perfect."

Booths: In the conference experience, you can have booths to allow exhibitors to showcase their offerings; host workshops in a dedicated space and more. Hosts can easily customise these booths according to their branding or other requirements. Regula said, "We had a booth in all the parallel sessions, and we decorated them too. We added a link in them to the presenter's website."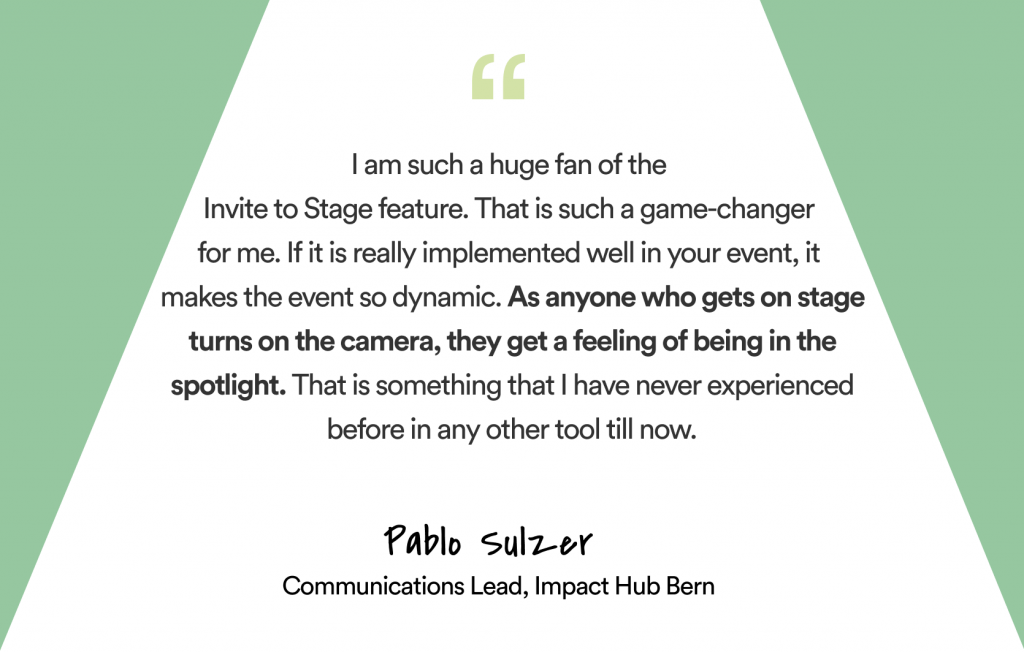 Challenge 3: Creating an engaging, lively and exciting event
One of the critical event goals was to make it engaging and interactive for the audience.
Airmeet features that make such an event possible are-
Raise Hand & Invite to Stage: Pablo described the feature and said, "I am such a huge fan of the Raise Hand & Invite to Stage feature. That is such a game-changer for me. If it is really implemented well in your event, it makes the event so dynamic. As anyone who gets on stage, turns on the camera, they get a feeling of being in the spotlight. This is something that I have never experienced before in any other tool till now."
Networking before and after the event: The social lounge feature allows participants on the same table to interact on a more personal level through live video chat on the table. Participants are free to move around from one table to another to maximise their networking goals.
Regula described their participant experience and said, "Those people who stayed behind to network had a great experience. It was a smaller group to chat to than if you had to do it during the event. So we got good feedback around that from our partner."
Impact Hub Bern website mentions, "We all know the confusion and rigours of learning about a new video conferencing tool. But in this case, the effort was definitely worth it: With the help of Airmeet, this Demo Day was also a success as an online version. The five winners of this year's challenge had the opportunity to present their projects virtually to a broad audience."
Impact Hub Bern has already hosted 5-10 official events powered by Airmeet since the pandemic. Describing their plans, Pablo said, "We plan to continue with a mix of online and offline events with a lot depending on how the crisis develops. We have one big event planned in June, using the conference setup. We are also considering the hybrid format for our upcoming events."
Regula added, "The type of event we host depends on our partners' requirements. If they want to reach a wider, global audience, then online events are the best fit."
Pablo shared how online events have been helping them, "We had a talk with the Embassy of United States with a speaker from MailChimp, and such an event was possible because of the online format."
In the current scenario, they plan to continue hosting a couple of small events and 1-2 big events via Airmeet every month.
If you have any questions about hosting your next event on Airmeet, book a demo/contact us.
Virtual Events & Community Building Insights
Subscribe to Get Updates (we promise no spam)