Technology & Financial Solutions
Sales Kickoff, Webinars, Product Demos
The CHG-MERIDIAN Group is a leading provider of IT, healthcare & industrial technology, and asset finance solutions. 12,000 customers – including corporations, SMEs, and the public sector – rely on CHG-MERIDIAN to manage their technology infrastructures in a holistic, user-oriented, and digital way. Their web-based technology and service management system TESMA® combines commercial and technological data to optimize processes and realize cost savings. The Group has an international presence with around 1,100 employees and operates in 27 countries, with headquarters in Weingarten, Germany. 
Kamila Hutchison, Head of Marketing & Communications in ANZ, shared her journey with us. She mentioned, "I look after two brands, Equigroup, and CHG-MERIDIAN. Both operate in Australia under slightly different go-to-market models. We have been in the technology, finance and asset management industry for a long time- over 30 years on the Equigroup side, and for 40 years on the CHG-MERIDIAN side. 
We offer technology finance and asset management services to corporate enterprises and government customers. From a customer engagement and marketing perspective, we use tools like Airmeet for engaging with our customers through virtual event experiences such as webinars, workshops, and product demonstrations. 
Initially, when we first started with Airmeet, it was for a sales kick-off. Traditionally every year, we host an in-person kick-off event, bringing the whole sales team from across New Zealand and Australia together to share our strategies and ambitions for the year ahead. During the pandemic, it was a challenge to bring people together face-to-face, so we hosted a virtual event."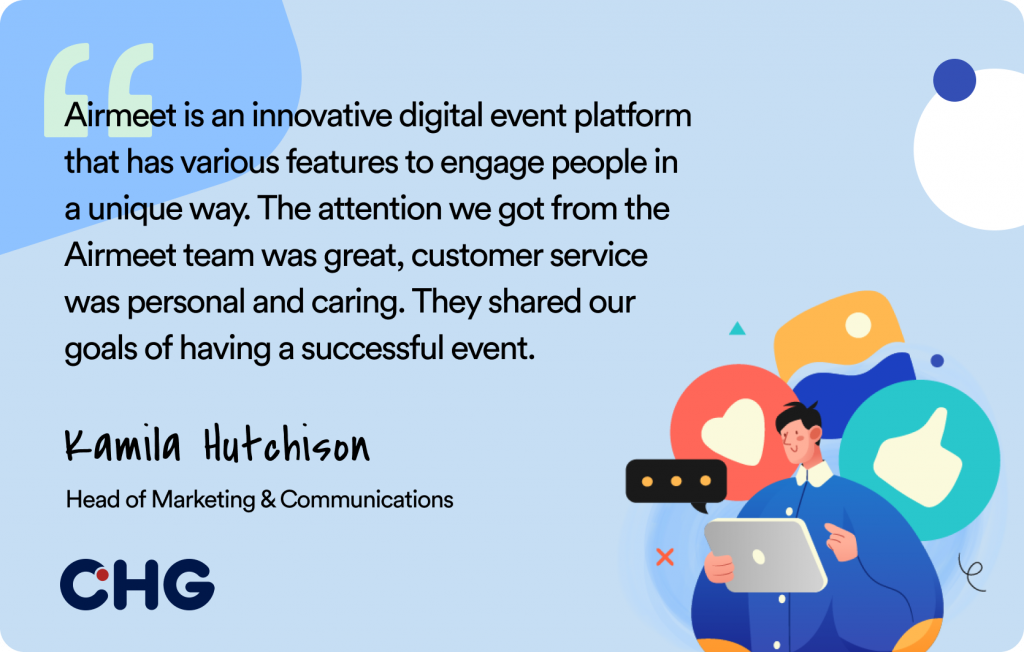 Challenges (and Solutions)
Challenge 1: Find a virtual event platform with a strong support team to handhold before and during the event
Kamila shared, "For our virtual event, we had a film crew with a stage set up in the office where our business leaders were presenting. We tried to make it a little bit more upscale than someone just sitting in their homes on a screen. We had good lighting and good video footage. We wanted this recording to be fed on a virtual event platform in the best quality."
Airmeet features that created a memorable experience for them were:
Support: Kamila said, "The Airmeet technical team was very supportive. They helped us feed the video shoot on Airmeet the way we wanted. Also, we got great support for a successful connection and connected with the Airmeet team to resolve our issues instantly. The attention we got from Airmeet was great; customer service was personal and caring. Sharing the goals just like us of having a successful event."
Dry-Runs: Kamila mentioned, "We had international guests and our board of directors joining in, and we wanted the event to be slick and efficient. Airmeet allowed us to host test sessions before the event, which was very useful. Everyone in the Airmeet team was brilliant, making sure we were comfortable and confident for the event."
Pricing: Kamila said, "There are other platforms, which offer crazy features. With Airmeet, the intersection of features with price point was perfect. The quality we got for the investment we made was really money well spent."
Challenge 2: A cutting edge, stable platform that allowed customizing the virtual event experience through virtual booths and other features
Every organization has its unique products, audience, and a different set of requirements. Therefore, customizing the event platform and utilizing it to meet their brand needs was crucial.
Airmeet features that allowed them to provide a distinct virtual event experience to their audiences were:
Virtual Booths: Kamila said, "We got creative with the virtual booths and set them up to showcase our products, innovations, and topics for our own business. We used it as a demo space and asked our sales team to navigate through the virtual booth arena. Each of the virtual booths showed content and information about a particular product.
We announced new products that we wanted to offer. Each virtual booth was different, like a microsite for that particular product. It had all the resources and all the links to the product."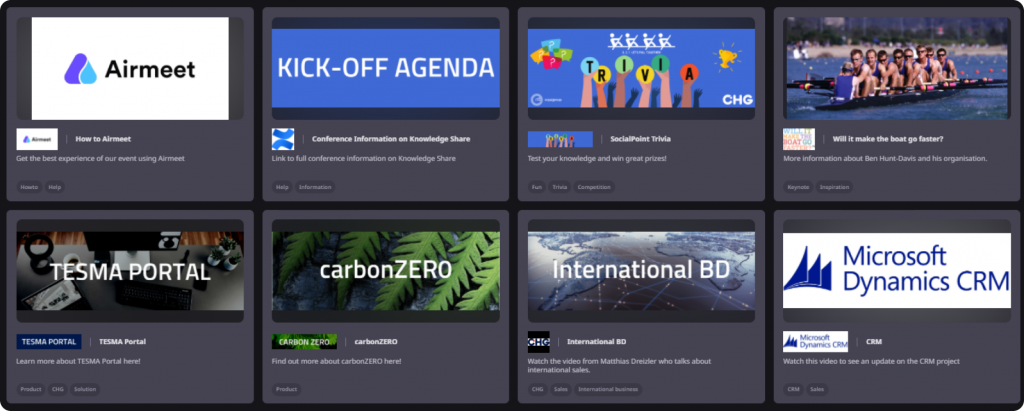 Guest Speaker at Virtual Booth: Kamila mentioned, "We also had an external speaker, an Olympian, Ben Hunt Davis join our event to share his journey of winning gold in the Sydney Olympics. He had one of the virtual booths and this had information about his website, and links to his motivational program."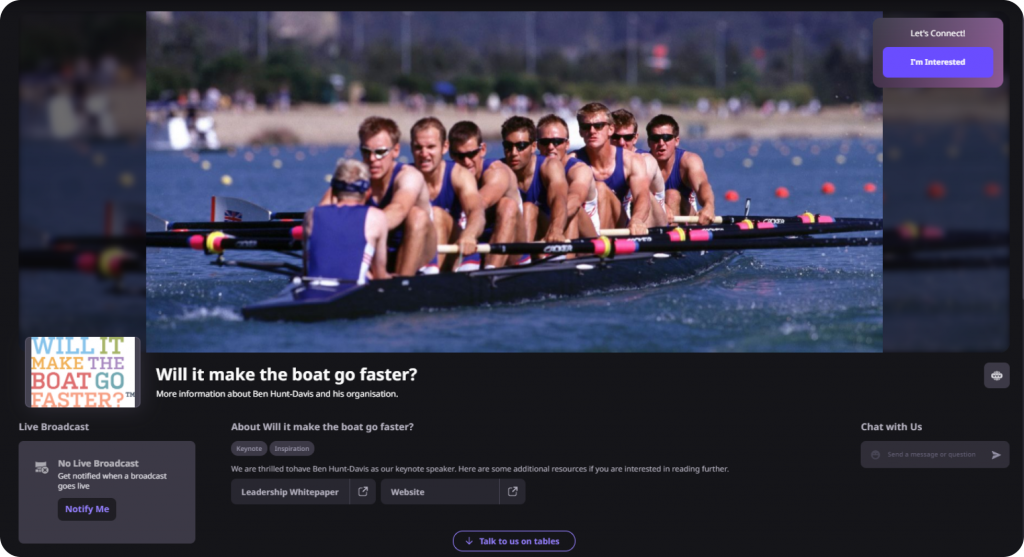 Premium Audio/Video Quality: Kamila added, "I tried many virtual event platforms and was looking for a stable platform that has a good quality video and audio signal. We even tested some 3D platforms, but they fell short technically and were not stable enough. Airmeet was stable and had a very good video and audio signal. I liked the way the video was streamed and represented on screen."
Customize the Background: Airmeet allows you to customize the look and feel of the event for a branded virtual event and virtual booths experience. The event space can be customized with your themes, logos, and branded layouts. Kamila said, "We are a technology company and wanted a platform that was innovative and aligned with our brand so we could offer a unique experience."
Challenge 3 : Engage the audience while making the event speaker-friendly
It is essential to make speakers comfortable for them to deliver their best. Following Airmeet features gave an edge to the speakers and helped the audience engage:
Emojis & Invite to stage: Kamila said, "The engagement from the audience is visible in the form of emoji-like thumbs up, hearts, etc. Our speakers could see if they could engage the audience. Our guest olympian speaker loved seeing the emojis. It was like instant gratification, unlike in other webinars where you're just speaking to the camera." She also appreciated the Invite to stage feature saying she used it to customize how long speakers were on stage.
One-on-One Networking: Kamila mentioned, "Recently, we had an internal event, a day celebrated in Australia called "Are you Ok?"- a mental health awareness day to encourage employees to check on one another- especially relevant during the pandemic. We held an internal employee event, where we showed some videos, had some speakers and scheduled a one-on-one networking session in the event, which was great. It was the first time we did that as part of the event, where actual networking took place during the event. We achieved our one-on-one networking goals."
Analytics Report: Kamila said, "It was very good to see the engagement report detailing the questions asked. It's really important for lead generation. From an internal perspective, it's good to know if it was engaging for the employees.

After the kick-off event, we had a couple of small webinar events for customers. I liked the engagement reporting about attendees. I could see who asked questions, who used chat features, etc."

Multiple Hosts:  Kamila said, "The option of having multiple hosts was a great feature. It helped us run concurrent sessions easily. People could move around between two other hosts and me. It also proved to be a boon when my laptop suddenly crashed during the event. My colleague who was the other host immediately took over, and we got things started again."
Way Forward: Virtual meet-ups vs. In-person
Kamila said, "After this event, we have a couple of webinars and product demonstrations coming up. We are also looking at using Airmeet for our next Sales Kickoff. We plan to make it a hybrid event."
Kamila was very pleased with the success of their event; she said, "I wanted an event platform that is not like Zoom, Google Meet, or Teams; I wanted something more interactive. I am looking forward to trying Airmeet Integrations like Zapier in our future events.
Airmeet is a digital event platform that has various features to engage people. It isn't a heavy platform and is the right size for your business. It is innovative- you are continuously listening to your customers and bringing in new features. I am a big fan."
If you are thinking about hosting a virtual event, take a demo at Airmeet.
Virtual Events & Community Building Insights
Subscribe to Get Updates (we promise no spam)