Startup community meet-up
BARK is a non-profit startup-community based in Tokyo, Japan. It is committed to help startups grow by resolving their issues and building an ecosystem with a synergy between dreamers and builders. BARK helps startups reach global audiences through its diverse community and learning sessions.
In the pre-COVID era, they hosted in-person networking conferences and community events to help connect both entrepreneurs and budding entrepreneurs to the right people and provide them with more business opportunities. They started looking for an event platform to help accelerate startup growth and reach the other side of the world. 
Powered by Airmeet, BARK launched its IRORI online sessions and are now reaping the benefits of virtual events. Let's take a look at their strategy and implementation details. Hopefully, these takeaways will help you with your community efforts.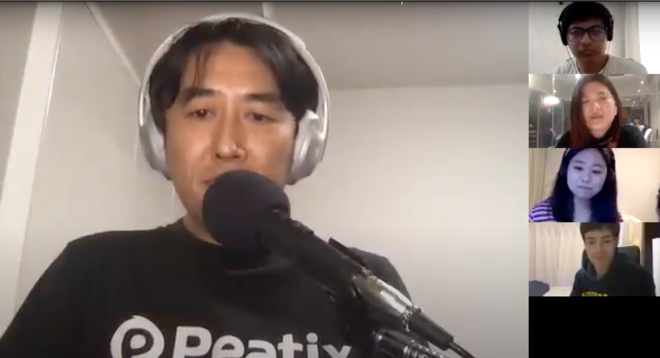 Challenges (and solutions)
IRORI Online session is based on the Japanese concept "IRORI" which is a sunken fireplace in traditional homes. Irori is a place for not only cooking but also for family interaction and shared time.  This concept which stimulates uninhibited communication among people inspired IRORI Online sessions. The focus of these sessions is to dive deeper into practical subjects with expert speakers who inspire the community.
Haruka Furukawa, CEO, BARK, says, "Meeting face-to-face and getting inspired by each other is the fastest way to build a better life and business. Even the smallest of conversations in serendipitous meetings and random encounters between two people can make a big difference. 
Our community enables such meetings based on entrepreneurial topics on scaling globally. A large number of companies and leaders are interested in going global but are unable to do so due to a globally perceived Japanese cultural and language barrier. To overcome that, we bring together multicultural people to learn, network and grow together. "
To be able to reach these goals of interacting and going global, BARK recognised that these challenges needed to be solved using an event technology partner. 
Challenge 1: Bridging the communication gap in remote events via 'Raise Hand'
Haruka mentions, "We have three guiding principles for our community to diversify and connect effectively:
To provide a platform for non-Japanese speakers and host a global community. A basic rule is that the mode of communication should be English.
We ensure that the atmosphere is casual, with no hierarchy or bullying. No VIP culture and a flat community keep the interactions going comfortably.
Our diverse and multicultural community is open to all."
To bring all these principles into practice through a virtual platform and help make better connections was a major challenge.
Airmeet enabled them to host knowledge-sharing sessions followed by effective networking.
In a typical broadcast event scenario where attendees passively consume content with zero engagement, one is likely to get distracted and tune-out after some time. Engagement features are, therefore, necessary along with an excellent viewing experience and ease-of-use to retain focus.
Airmeet's 'Raise Hand' feature allows attendees to interact with speakers face-to-face by coming live on stage. Once the host accepts your 'Raise Hand' request, you can share your live feed along with other speakers. Post your discussion on-stage you can return the mic and live feed, quite like an in-person event.
It can be your chance to come up on the stage, ask some cool questions and impress the audience as well as the speakers. It is a unique way of engaging the audience and maintaining focus.
Haruka says, "Engagement is otherwise a concern as in an in-person event you can judge the engagement level. But given the virtual event nature, it is difficult to understand how engaged your audience is. To boost this engagement, we started doing events in a very interactive and exciting way through the 'Raise Hand' feature. The atmosphere is now genuinely fun, and focus retention is higher.
We also split the meetings into smaller sessions like 30 minutes speaker presentation, followed by a 30 minutes Q&A session, and end with networking sessions. It is easier to break meetings into sessions with Airmeet."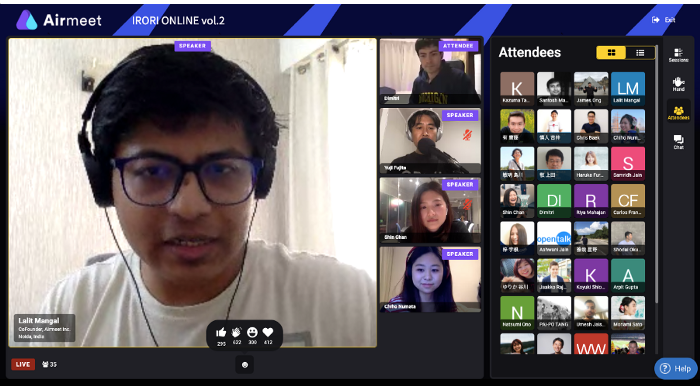 Challenge 2: Networking through 'Social Lounge' feature & scaling
To meet their goal of going global, the event technology should offer features to scale better. Networking features was a primary requisite, as well, to allow random encounters and make real connections.
Airmeet allows practically an unlimited number of attendees and up to 16 speakers to allow IRORI meet-ups to scale up. In their premiere event, BARK was able to attract 100+ registrants and 80+ attendees.
It enables you to sync the registered events to your calendar to boost attendance.
Unlimited session recordings allow the events to live-on and thus increase viewership.
Live social streaming of events is a great way to tap into your audience on your social channels.
Finally, you can view insights and analyse data to improve your event attendance.
Airmeet has been designed to make networking fun and exciting. The 'Social Lounge' feature enables attendees to connect in a video conference with co-attendees on the virtual table. It is beneficial in interacting with amazing speakers, which is otherwise not possible in webinar events. The 'Backstage' is also another unique feature of Airmeet that allows event organisers to hang-out with the speakers.
Haruka says, "One of the prime reasons we started using Airmeet was the 'Social Lounge' feature. A long way from its initial version, it now allows a lot of customisation like the number of seats and labelling the virtual tables.
Even when there are no seats available, an organiser can still come and join the table. The 'Social Lounge' feature was something that we had looked for in several products that we had tried earlier, but without luck.
Also, none of the other platforms we tried had the 'Backstage' feature which allows us to mingle with speakers."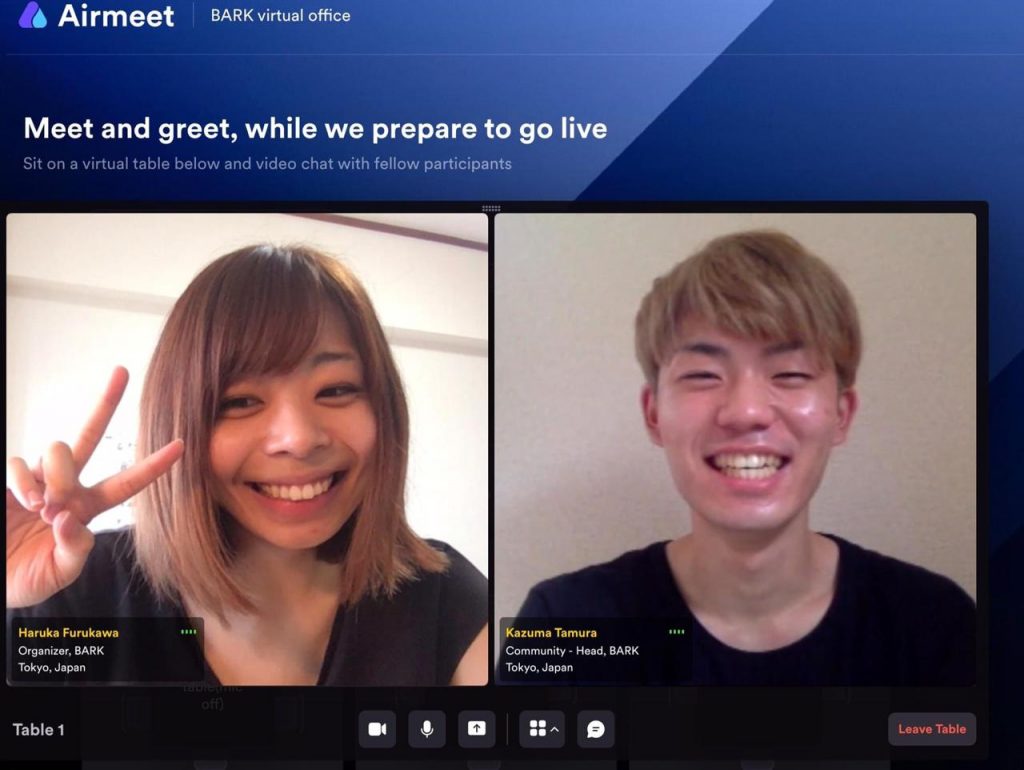 Challenge 3: Boosting engagement with chat
General and direct chat features offer a great way to comment, ask questions, and interact with everyone without disturbing the live event. All chats are moderated by the host/speaker to keep unsolicited comments at bay.
Haruka says, "We have a separate chat moderator besides the host to offer more immersive interactions. The moderator works as a catalyst for conversations and encourages people to comment and talk on these chats."
'Emojis' is another feature which is a simple yet extremely potent tool for attendee engagement. Sometimes people don't have much to add to the conversation via a comment or a question, but still want to acknowledge and appreciate. That is where the 'Emojis' feature comes in handy. It helps raise the excitement levels for everyone.
"Airmeet's events have a big event feel. So it made perfect sense for us to grow with them."
– Haruka Furukawa, CEO, BARK
Haruka says, "We were scared when we were transitioning from offline to online events. We used Blue Jeans, Remo, and Zoom before switching to Airmeet. Airmeet has a very professional interface, the 'Backstage' feature, and the most-admired 'Social Lounge' feature. 
It is built using the foundations of offline conferences experiences. Airmeet events have a big event feel, and that's where we are headed. So it made perfect sense for us to be here and grow with this team. 
We are pretty excited to try new features being released and look forward to working with the Airmeet team in the long-run."
If you have similar challenges and would like to give Airmeet a try, book a demo today.
Virtual Events & Community Building Insights
Subscribe to Get Updates (we promise no spam)