Events have been a popular marketing strategy for a long time. 
However, there's been no direct formula that guarantees a successful event.
Event-led growth (ELG) is not a silver bullet but surely a promising business framework that can catapult your audience experience and help you achieve desired outcomes through events. ELG redefines events as a string of interconnected experiences for your attendees which have existed as a single spike in your calendars for the longest time. 
With ELG, businesses can discover new avenues, engage prospects to turn them into buyers and grow customers and community.
Our panelists shared some strategies at the Event-led Growth Summit on how ELG helped them discover, engage, and grow their community and customer base to maximize their marketing efforts and business growth. 
Event-led growth: A promising event strategy
ELG advocates building an event framework where interconnected and consistent events across the year help you build momentum and create an event wave. It emphasizes weaving a compelling story across your plan that creates a flow to lead the audience from one event to the next. What you get in the end is a well-chalked-out event strategy.
There are three phases to creating interconnected experiences through events:
Discover
Engage
Growth
Our panelists Aleksandra, Jared, and Zoë had a super insightful discussion on the scope of each stage and the outcomes tied to them.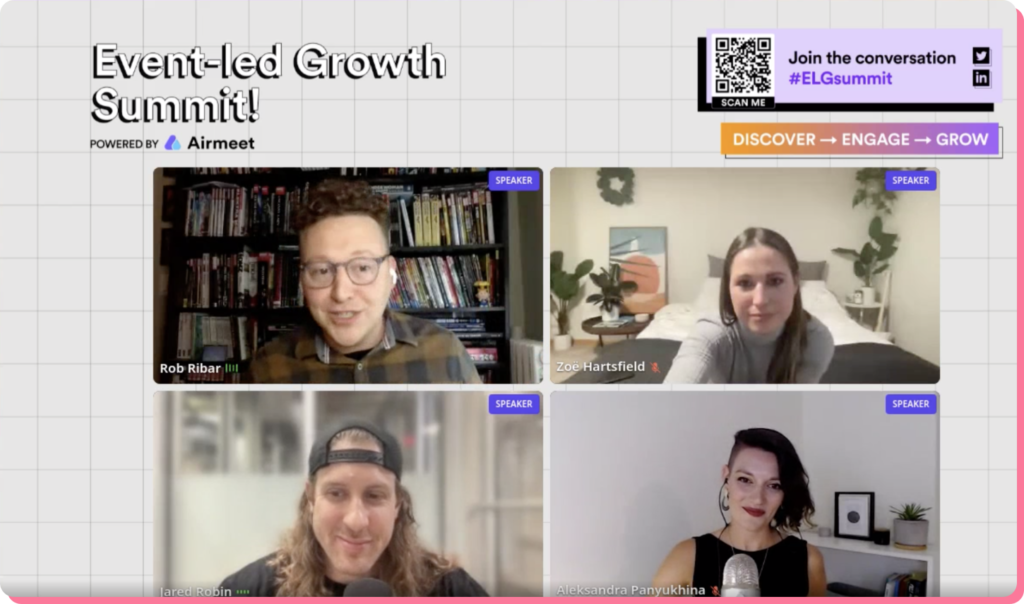 Take the conversation to the inbox
Your growth depends on how fast you discover new avenues for your business and how fast and effective is your outreach strategy. The promising business avenues include entities such as new ideas, new geographies, new audiences, and new use cases. With a quick and responsive outreach plan, you'll be able to make your brand resonate with a cold audience (both brand unaware and problem unaware) and turn them into prospects.
As Aleksandra puts it—if you are not investing in continuing the conversation about the event experience as soon as it ends, you are practically losing out on half of the investment in your actual event. So to discover the audience, follow-ups with post-event content collateral have huge potential. 
Creatively sharing event resources with a cold audience instead of sharing a demo link goes a long way. She adds that it is a great idea to hook people by effectively interacting with them during the event, including offering them gifts and exclusive deals such as early-bird access, discount coupons, etc., looping them into your sales cycle.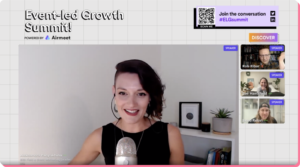 For growing a community at an organization, discovering new avenues comes by listening to the whole space instead of just an ICP. Jared shared that he takes the experimentation route to figure out the core pillar at his company that needs to be optimized to maximize the discovery of novel entities. Most of the pillars have events at the core of his organization. He zeroed in on the core pillars only by actively listening to the audience and through experimentation.
Non-salesy engagement can make your sales easier
The next stage is engagement. It is centered around engaging buyers and warm prospects to quickly make them realize the value you can deliver to them, and they become life-long customers. Sounds ideal. The good news is it's absolutely possible. 
The KPIs for many community-driven verticals in a business is engagement. How do you get your audience excited about your brand; how do you ensure that they will not hang up on you when a sales rep calls them a week after the event; how do you gauge that the audience loves your brand? These are some questions for organizations to ponder and align metrics for measuring engagement. 
For example, Zoe measures the reaction of her prospects down the funnel with an end goal: am I making the sales easier? She advises using surveys post events and making an ask for a G2 review to truly gauge how her prospects and customers perceive her brand and would be willing to engage with it.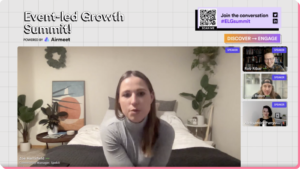 Building a conversation in a community is the first step to engaging the audience. Jared adds that community members drive community events. Rewarding them accordingly is also part of the conversation that many teams neglect. 
Own your audience's KPIs to maximize growth
Retention is the new growth. This stage involves leveraging your existing customers to buy more use cases, licenses, and referrals instead of building a new base. Jared says making your audiences' KPIs yours is the way to go if you want to retain your customers. By doing so, you are one hundred percent aligned with your customer's needs, and they are not going to go anywhere but stick around with you. You can also leverage this to feed your brand advocacy and affinity channels within your marketing plan.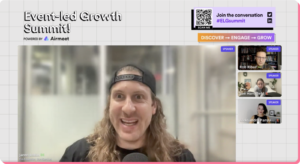 Aleksandra points out that involving the customer success team in the growth phase is crucial, which many organizations often overlook. This team has a goldmine of insights into customers and their everyday life and problems, which is hard to know otherwise. 
People buy from people that they trust and know, says Zoe. The abundance mentality is also a creative strategy where you bestow your customers with opportunities to make their lives easy. You must stay on your toes to understand their problems and give them solutions. If you don't have immediate solutions, you introduce them to other avenues that can solve their issues. You have to show up for your customers to build brand advocacy, as simple as that, and they stay with you. What goes around comes around.
Zoe explains it in the below video:
Headstart your journey with ELG 
The idea of interconnected experiences in an event is a journey from discovering your audience to retaining them as customers. It is all about building relationships with your prospects and customers, nurturing them, and giving them structure over a period of time. To do that, you need to have clearly defined KPIs for your events, align them to your audiences' needs, and measure them to gauge engagement. The best way to achieve them is to plug in the right set of metrics that keeps you on track and gets you winning.
Missed the ELG Summit? Watch event replay here.