Rather than just being siloed points on a calendar, events can be a cycle of endless growth for your business. 
Contrary to what some believe, the impact doesn't stop when the event is over—you just need to plan for it. Here are three ways to ensure you increase your event's lifetime value.
Treat events as a content pillar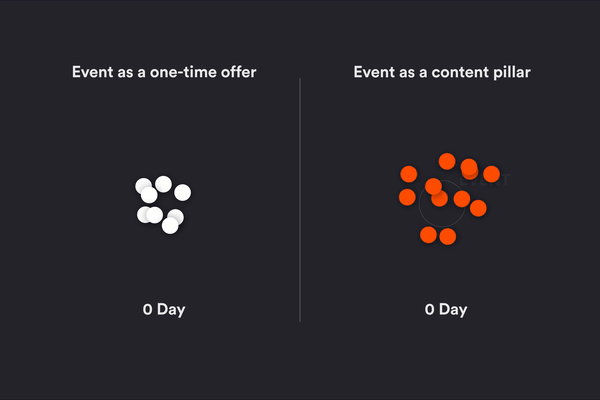 And for that, you should think about the content themes you want to produce and craft event experiences that deliver on those themes. This approach breaks down silos and aligns teams to work from one common calendar, making each effort by one team an effort for all.
There are a few things to consider when determining your content themes:
Market intelligence:

Industry movements, competitors

Product intelligence:

Features being worked on by the product team that require education

Sales intelligence:

What kinds of conversations are we winning or not winning?

Customer Success intelligence:

Challenges coming up that need to be addressed
Once your themes become clear, think of events as one of the more effective ways to get the message out.
Think of your event as the center of a solar system, feeding content to different channels so each team can meet its goals. Putting events at the center supercharges your content and also, in a way, reduces the time spent creating that content relatively.
Why should brands deliver their core content themes as live event experiences? Because it's a way to share every tier of messaging at once—from 30,000 feet all the way down—directly with the customer while producing a calendar's-worth of content at the same time. When events are seen as a content pillar, they extend their reach well past the day of, expanding into something that will go on to create long-term value.
Promote Community-led Growth
That might be why some sales teams prefer to send an event invite over a sales pitch as the first point of contact. The best salespeople understand that building a great relationship comes way before "making the sale". Reaching a customer with a relevant event is a way to provide value to them before asking for something in return.
An event becomes an organic space to ask and answer questions, resulting in a more authentic connection that doesn't feel pushy or forced. Events can make the relationship feel less like a sale and more like a collaboration. And that kind of community-building provides true lifetime value.
But, are there other ways to build this community? Of course, there are. It's just that when you send someone a newsletter, it's a one-way communication—the brand talking, the customer listening. Events dial up on the engagement because they're not unidirectional. With conversation at its core, events help nurture connections and community. 
Brands like Lattice use their virtual HR conference, Resources for Humans, and recurring webinar series as ways to nurture their 18,000+-member community. Continuously providing value means reminding your audience of their connection to your brand, and how you can help them solve their problems even before they become a paying customer.
Build on speaker and partner relationships
Everything we do is human-centered, and humans are influenced by the people they follow and respect. Using events to help build better relationships with influencers can, in turn, help you build better relationships with your customers. This goes back to authenticity: the right people talking about and promoting your unique narrative add a level of value before you've asked anything of your customer or prospect.
You don't just need to stop at thought leaders for your events, either. Involving customers is a great way to cement that connection because no one gives you critical or realistic feedback as they do. Customers will tell you if your messaging is working, and having them involved in your events serves as a proof point of the value you bring to prospects. 
When it comes to partnerships, it's more important than ever to consider their value: At a time when the market is super competitive, and customer acquisition costs are through the roof, partnered events can be a great investment because they combine efforts with aligned brands with tangential customer profiles. 
ELG works as a framework to help you achieve these goals because it takes the desire to create great content, form an engaged community, and work with partners and funnels them all into multiple focused events across the entire customer lifecycle. 
Just think about it. You produce an event, maybe with partners, to take your brand story to market. You use this event to engage existing prospects and create community. Post-event, you repurpose video content and use poll data and insights to create a content pipeline that will fill your calendar for at least the next six months. You gain some social media traction while at it. And you keep repeating this throughout the year. It's all achievable using Event-led Growth.
This framework relies on the understanding that events don't end—they have value that goes way beyond the day of an event. Consider measuring things like influenced revenue, and the leads generated through your content. Most people measure content once, but with an ELG approach, you can continue tracking those relevant pieces six or nine months down the line to show influenced revenue pipeline. Look back at each event and see the referrals you get, the level of community engagement, and the impact of a truly aligned team.  
When events are centered in your growth plan, everything else can orbit around and thrive.