But before we jump into that, a little history is in order.
Over the past few years, we've seen some transformational changes in how people want to connect. And as we're navigating this change and our new digital lives—one thing's a given. We still crave personalized, human experiences.
The brands that deliver them will win now and in the future.
Enabling people to join together on shared interests, identities, and experiences—that's what is going to make brands more human and different. 
Connections and relationships—as rudimentary as they sound—will be the backbone of growth. We're already seeing it happen. People prefer to engage on their own terms and almost always buy from their connections. Sales reps have roughly 5% of a customer's time during their buying journey.
A string of interconnected event experiences throughout the customer journey helps businesses build trust and grow revenue. It's what we call Event-led Growth.
Airmeet has been obsessing over building a platform that can help you champion Event-led Growth and deliver event experiences that are unique, different, and ROI-driven. Experiences that can wow your attendees and turn them into future customers and advocates.
On that note, we're introducing the Event Experience Cloud. It is everything you'll need to win in this connection-first world.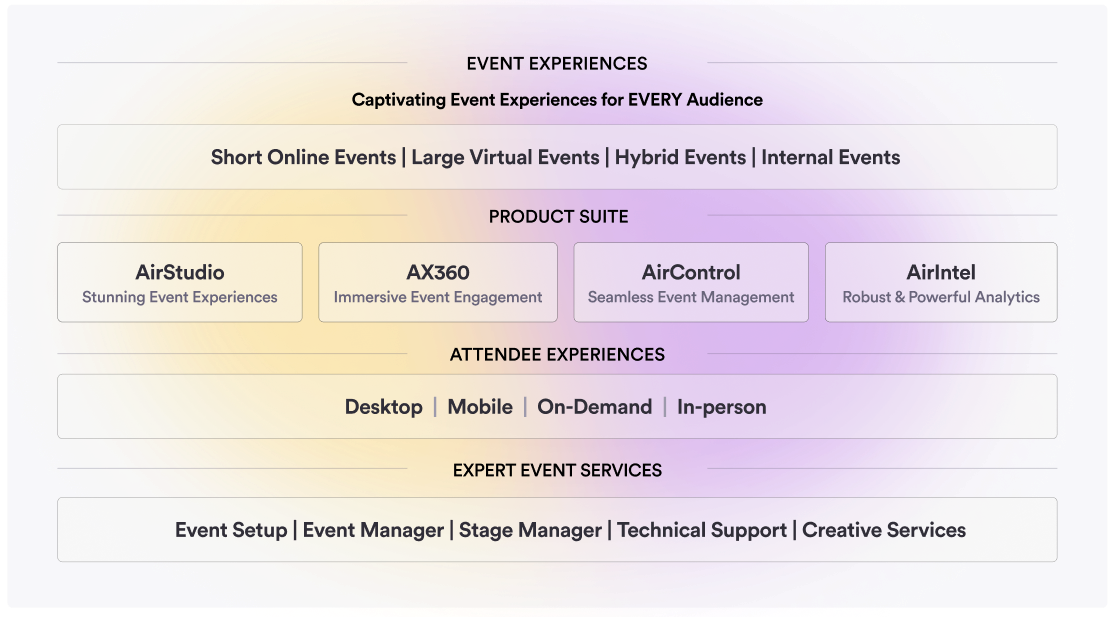 AirStudio: No two events will ever feel the same
According to a Forrester report, 63% of organizers plan to conduct the same number—or more—of virtual events. They're clearly here to stay. But if there were a report that tracked how many attendees could tell one event from another, we got another thing coming. It's just the truth—virtual events look and feel the same. And today's attendees experience some serious fatigue as a result.
AirStudio acts as an organizer's very own in-house studio to create one-of-a-kind experiences that differentiate their brands and excite attendees. From landing pages and emails to live stage and announcements, organizers can unleash their creativity on experiences that resonate. This is the antidote to event fatigue—leaving curated, uniquely branded experiences in its wake.
AX360: Purposeful engagement that creates moments of joy
Many event attendees are sitting through boring events void of any natural reason or ways to connect meaningfully. And when it comes to engagement, organizers know that there's just no winging it. Those moments of joy you try to spur for your attendees are not really unexpected but engineered.
AX360 is purposefully built to make engagement feel natural and thoughtful at the same time. Advanced speed networking, one-of-a-kind Fluid Space, Social Lounge, and Breakout Rooms give attendees more options and reasons to engage. And more engagement means more attendance, memorable experiences, and customer loyalty.
AirControl: Most stressful bits of event management under control
Event organizers know that managing and hosting an event is akin to juggling more balls than your hands can possibly hold. One minute you're looking cool and calm, and the next minute everything is crashing down around you. Events can go from being an organizer's dream to an operational nightmare at the flick of a switch.
AirControl exists to make hosting and managing events as smooth as it can be. The powerful master dashboard frees teams up to focus on event design and collaboration, and unifies event workflows across multiple events into a single platform. Create an event in minutes, not hours, with varied event templates. Choose between multiple modes of entry, registration, and ticketing depending on the type of event you're hosting. And close the loop with seamless integrations with your CRM and marketing automation platforms.
AirIntel: Give your attendees what they want, when they want it
Measuring the outcomes of your event hasn't always been easy. Organizers with the right data points can curate the right content and communication for every attendee. Without that data, event ROI and post-event campaign effectiveness suffer.
AirIntel provides a complete picture of your event and how they affect your pipeline, reach, and loyalty. Brands can deep dive into what worked and what didn't, and tailor future events based on attendees' past in-event intent behavior to create better future experiences. It provides actionable first-party data and attendee insights to revenue teams.
"Crafting memorable customer experiences is everything at Agorapulse. With Airmeet, we're able to create and host engaging and stunning event experiences that our customers love. As a result, our events see nearly 2X the attendance rate compared to industry average, and that's helped to contribute to a
600% increase in sales conversions
."
Darryl Praill
Chief Marketing Officer

Unlimit your event experiences!
Building on our attendee-first philosophy, we've made some pretty big changes to the platform's pricing, packaging, and support. Here's everything you need to know:
Unlimited events: Host as many events as you want without being restricted by pricing constraints. EXC comes with unlimited events and unlimited replays.
Attendee-based pricing: Don't pay for registrations, only pay for what actually matters — the number of people who attend.  
Premium add-ons: Even more to love about Airmeet. Give your events an additional boost with branded, 3D, and hybrid experiences. And additional add-ons to take care of your adhoc event needs.
AirCare support: Professional event services to help with A to Z, and everything in between. Our team of experts can take care of everything from creative services to dry runs to event emcee.
Are you already buzzing with new ways to engage your prospects and customers?
Book a demo with our experts, or try it for yourself.