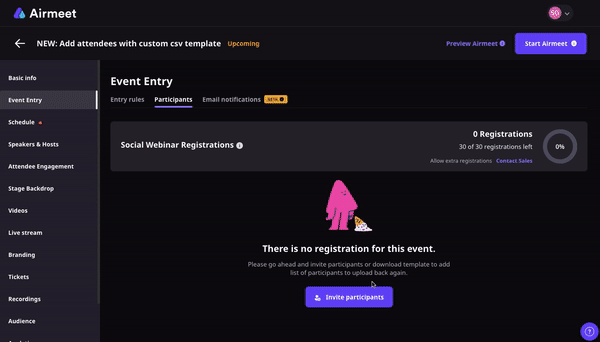 Deliver an uber personalized and unique event experience based on attendee interests and background. Build a complete attendee profile rich with multiple data points. Add as many data points as you want to your attendee profile by uploading the details directly to Airmeet via a simple CSV upload. Choose the data points that you want to be mapped to attendee details and create your custom data upload template.
You can use the added data points to personalize the schedule, session access, networking, and a lot more for your attendees. You can also send invite links to unconfirmed registrants to nudge them to complete the registration process. Provide your attendees with a memorable event experience.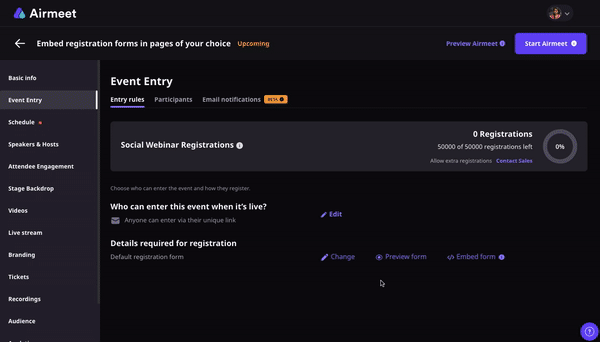 Create visibility for your event across your high-performing pages. Design the registration form on Airmeet and host it wherever you want to. Drive registrations for your event by hosting the form on all your key web pages and custom-branded landing pages. Set up the required form fields, format them with your brand colors, and copy the code to use it on any of your landing pages or microsites. The registrations will flow directly into your Airmeet event database.
A point to note – the form can be used only for non-ticketed events and when the event entry mode is set to 'Anyone can enter via their unique link'.
Sync event analytics details such as poll responses, event attendance, session attendance, email reminders, and time spent on events with all Microsoft products. Leverage event attendance & engagement data to curate targeted email campaigns for your attendees. Use the data to effectively segment your attendees and improve lead conversion.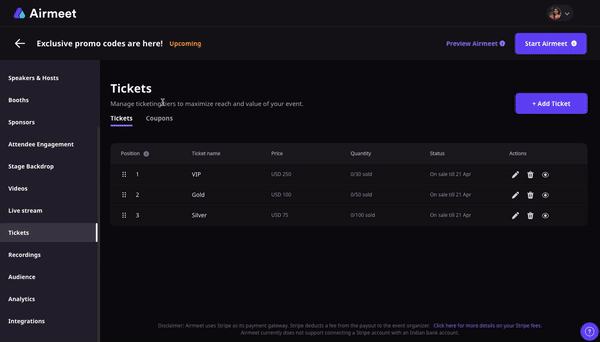 Everyone loves a good discount! Create exciting discount vouchers to drive up the registrations for your event. Make the coupons exclusive to make your loyal customers feel special. Now generate coupons for your ticketed events directly on Airmeet. Create multiple coupons, and set the discount percentage, the number of tickets, and expiry date. Customize the promo codes as per your preference, right from the name to the ticketing tier it is applicable for.
Note: The feature is currently in the beta phase. Please drop us an email at [email protected] or visit our 24*7 Support Lounge to get it enabled for your event.
Missed checking out our last month's launches? All the March 2022 product updates are here.