There are many interesting works in progress such as new data centers availability and much more that will be available soon. Read on for more information about each update below and how they can improve your next event. 
Improve attendee engagement with our rich chat feed
Improve attendee experience & engagement with our latest ability to send GIFs as a part of chat messages
Allow users to communicate faster & improve attendee participation in your events with Airmeet's rich chat feed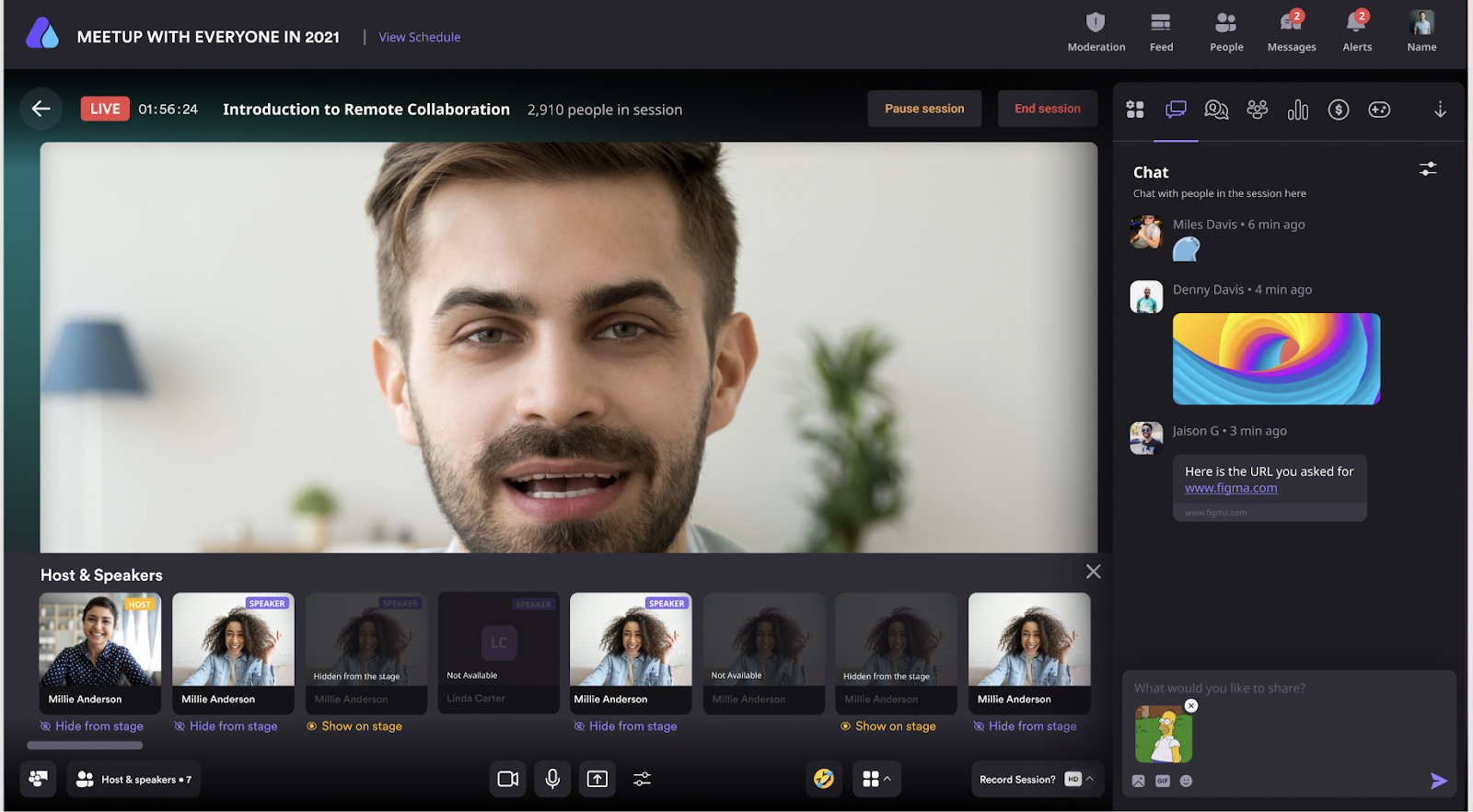 Manage all event resources in one place with document hub
The all-new document hub is a one-stop solution for all your event resource needs. Organizers can easily upload, edit and showcase multiple event resources inside the platform during the event. Organizers can also decide which documents can be seen and downloaded by attendees and also track document usage. The attendees can discover, view, and download these resources in one place without moving out of the event. 
Organize documents across different formats in one place to ease discoverability for attendees
Decide at what point in the event to make documents visible and downloadable by using document hub controls.
Increase attendee retention and event learning with in-platform viewing of file types like PDFs, videos and images
No need for organizers and speakers to cater to individual requests – all in-event and post-event resources available in one place. 
Track document views and downloads to analyze what resources are most helpful for attendees. 
Upload documents for all stages of events, including – navigation instructions, session summaries, speaker presentations, event brochures, exhibitor offerings, FAQs, and much more. 
Highlight important links inside the event and make it available to attendees at all times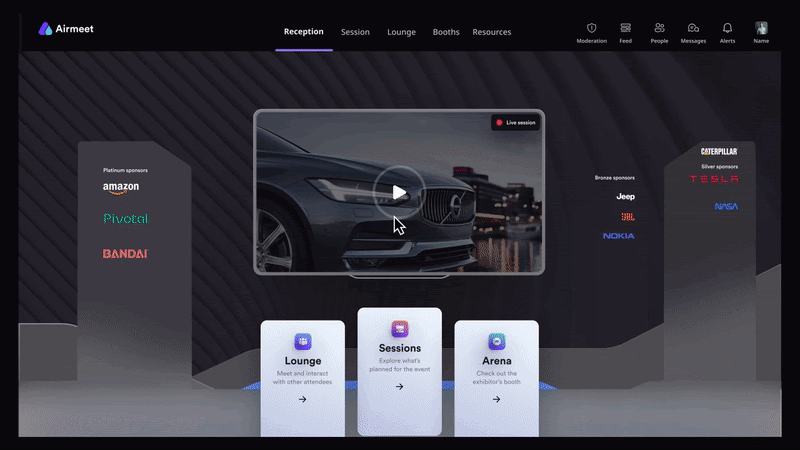 Make event resource discoverability seamless for your attendees. Add, manage, edit and control access to all event documents and make them accessible before or any time during the event. Attendees get to navigate and learn from multiple resources without having to move out of the event. Use the document hub to provide and track usage of valuable resources at all phases of the event from navigation to summary, to make event learnings richer for attendees. 
Gain insights into the pulse of the audience with Typeform integration
The typeform integration allows the user to integrate surveys created via typeform into any live session. The host can also promote it by highlighting it in the session feed. Attendees can respond to surveys right from within Airmeet. The survey will be mapped at a session level and not at an event level.
Organizers can gather feedback about the session live. Attendees can share feedback right after session, directly from Airmeet
Get attendee feedback in real time seamlessly
This enhancement ensures that you,as an organizer, don't have to switch streaming keys for different sessions of the same track.  Whenever you create a new track or update an existing track, the assigned RTMP sessions will now have a 'track streaming key' instead of an 'event/session streaming key'. You can use this track streaming key just like other streaming keys. The streaming key you enter under track streaming key will reflect on all the RTMP sessions under a particular track. As always, the summary of streaming keys used for different sessions and tracks can be viewed from the 'Stream into Airmeet' section under 'Settings' in your event dashboard.
Airmeet & Marketo Integration got better
This recent enhancement includes the following updates to our existing integration between Airmeet and Marketo
Custom field mapping for imports and exports. 
Engagement activities are being pushed to Marketo for attendees. Activity timeline events and triggers to marketo contacts for tracking attendance, at an event/session/booth level; poll responses and questions asked.