We have created a cleaner, intuitive, modern event dashboard that's designed to be easy on the eyes while conveying information quickly and effectively. You will be able to create events much faster now. We have now simplified and streamlined the visual experience, while making it easier to scale further down the line.
The all new event dashboard will deliver
Intuitive user experience
Better grouping & information hierarchy
Easy discoverability
Smoother navigation and user flow
Reduce the time taken to create an event
Check out the walkthrough video & solution article for more details. You will get an option to try this out, switch back to the old UI if needed and share feedback. After collecting the feedback, we will be doing a forced rollout to all the accounts in a few weeks with prior communication. Write back at [email protected] for any queries or feedback.
Brand your fluid space session your way by uploading any custom background image of your choice.
This provides better opportunities to customize your fluid space session & facilitate conversations. You can now upload backgrounds with relevant branding assets such as your organization logo, banner or any background that encourages attendees to gather in clusters and have a contextual interaction.
Now, preview the fluid space session with the custom background image before you make it live.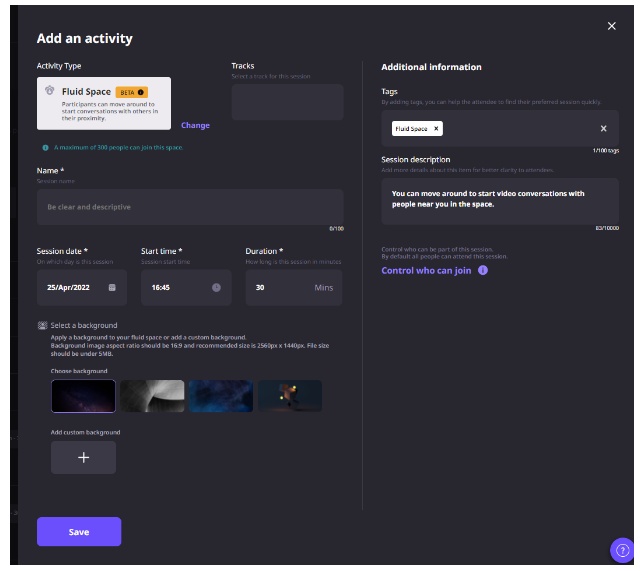 Stream your pre-recorded sessions automatically by scheduling them in advance. Select the video, mark the time, define the session duration and you are good to go. The session will start automatically and the host doesn't have to be around to start or end the session. Enjoy a hassle-free experience on the event day. Spend more time engaging with the audience and less time organizing.Note: The feature is currently in the beta phase. Please drop us an email at [email protected] or visit our 24*7 Support Lounge to get it enabled for your event.
We have made it easier for you to add all your participant data via direct CSV upload to Airmeet. Add both confirmed and unconfirmed participants lists through the CSV upload now. Once added, you can choose to trigger emails with registration links or unique event access links to the list of participants uploaded depending on their registration status.
When you upload the confirmed participant's list, it will be automatically counted towards your available registration limit. For unconfirmed participants, the registration count will be added only when the participant clicks on the registration confirmation link.