You blinked, and now your event is over.
Do you have a plan for what content you're going to create from that event? 
Or did you just publish your event on-demand and move on to the next one? Don't worry, we've all done it.
Let me tell you why it's so important to have a content strategy following your events.
The number of channels that B2B buyers interact with before making a decision has doubled from 5 in 2016 to 10 in 2021. 
And the number of interactions in the B2B buying process has jumped from 17 to 27 in just a couple of years. 
If you're limiting your content and events to a few separate channels, you're missing out on big opportunities to reach buyers, solve their problems, and remind them of your value. 
Are you thinking what I'm thinking?
When you combine content with events into one unified strategy, you can increase your output across multiple formats and channels—while ensuring brand consistency. 
Without further ado, here's exactly how you can build your post event content strategy. 👇
Why you should create a dual events and content calendar
With content and events in the same calendar, it's easier to align different teams around the same goals and initiatives. We're talking about your event managers, content marketers, demand gen, brand and creative, product marketers, customer marketers, and more. All of these teams should be working together, using the same project calendar and collaboration platform (we use Asana).
By unifying your events and content calendars, you're not only fostering better internal collaboration, but you're also paving the way for target accounts to choose their own adventure when it comes to interacting with your brand. 
Different contacts at one target account can engage with long content and bite-sized pieces. All of these interactions have a massive impact on the final buying decision. 
Take a look at the example below. A demand gen manager might attend an event and forward the recap email to their manager. A CMO from that same account might see a clip of the event on LinkedIn. And other buyers on the same team might read the ebook. All of that activity has created more opportunities for interactions with this account.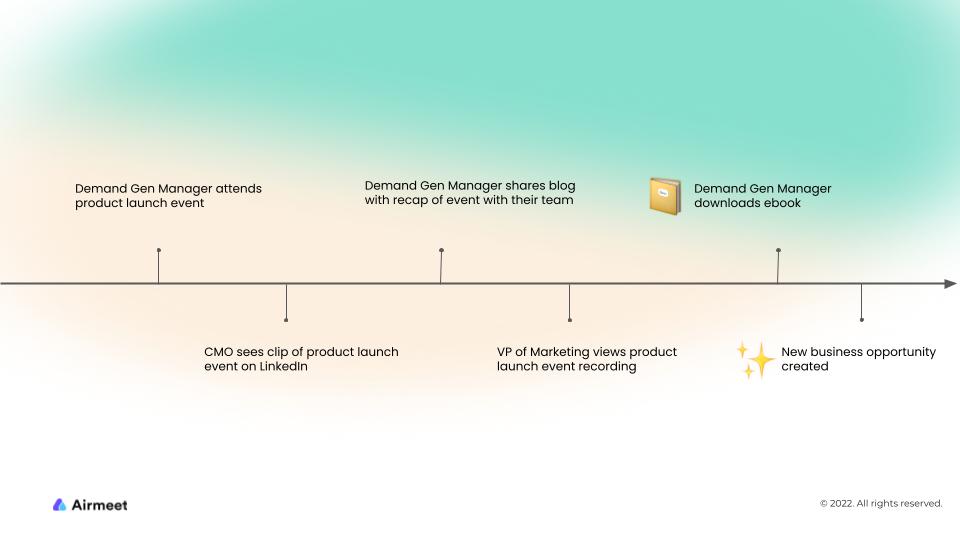 So, how do you actually make a cohesive calendar? You'll need your content marketing leaders to strategize the best offers, stories, and messages for your audiences and then brainstorm individual content pieces.
You could start with events and spin that out to content (like ebooks, video clips, etc.). Or, you could start with content (like a top-performing downloadable asset), and then convert that into an event.
8 types of content to create after an event
To stand out and deliver meaningful interactions to your target accounts, you need to be relentless in your approach.
Whether your event inspiration comes from an old asset or a new trend, your post-event marketing strategy should make the most of that content. After the event, make sure you repurpose it into a variety of content formats and channels.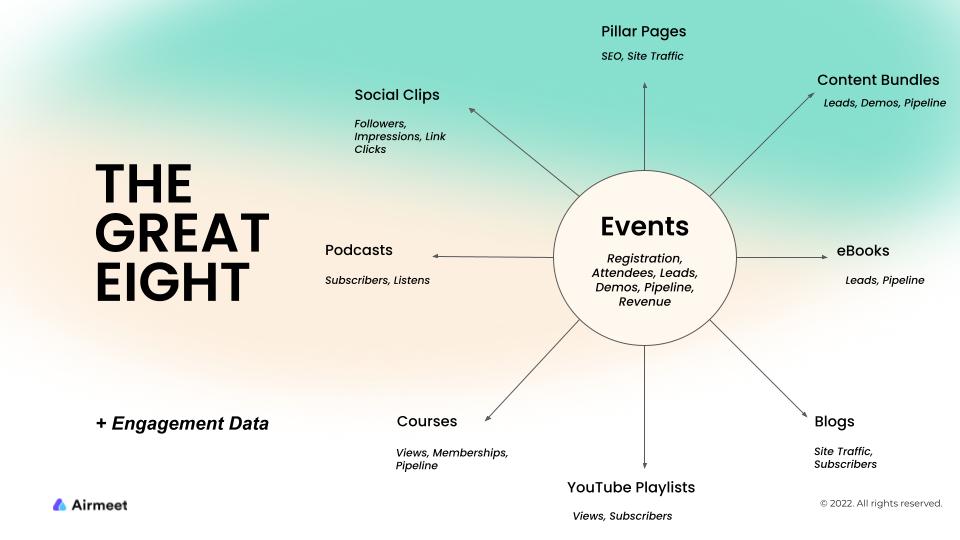 Social Clips

– Create 30-second clips for Instagram and LinkedIn and longer clips for YouTube videos.

Podcast Episodes

– Turn keynotes and breakout sessions into podcast episodes.

Blogs

– Summarize event content into blogs that promote the replay and turn expert sessions into SEO-optimized content.

ebooks

– Create one ebook for each event, or repurpose multiple events into a longer ebook on a specific topic.

YouTube Playlists

– Upload full event sessions or clips to YouTube and create playlists on dedicated topics.

Courses

– Organize event sessions and clips into courses to create a more guided content journey.

Pillar Pages

– Convert event content into pillar pages on your fundamental content topics, category builders, and thought leadership. 

Content Bundles

– Bundle quality content together, such as an event replay with a calculator, template, calendar, swipe file, or guide. 
Phew! That's a lot of options of the content that you can create from events. Let's be honest, you'll rarely create all eight of these forms of content after a single event. My top recommendation for deciding what content to create from an event is to consider your goals. 
Do you have a goal this quarter to increase site traffic? You might want to prioritize creating social clips and blogs.
What about a goal to increase leads? Consider prioritizing ebooks or content bundles.
Checkout the added impact of the different content types and choose accordingly 👇
Events are great at building attention in the short term. But the Great Eight will help build attention for the long term.
Plus, not everyone will make time for a 60-minute event, so by distilling it down into chunks that are easier to consume, you can spread your message more widely.
How to get more ROI and engagement by combining events and content
Events and content align because they deliver the experiences customers expect. Audiences today want choice, convenience, and customization. 
Events and content satisfy those demands by creating memorable experiences that propel your brand forward. People can choose the content formats, lengths, and channels they most enjoy. Customers can do things their way—whether that's following a course from start to finish or scrolling through a specific category of your blog content.
If you're looking for one strategy to follow in 2023, this is it: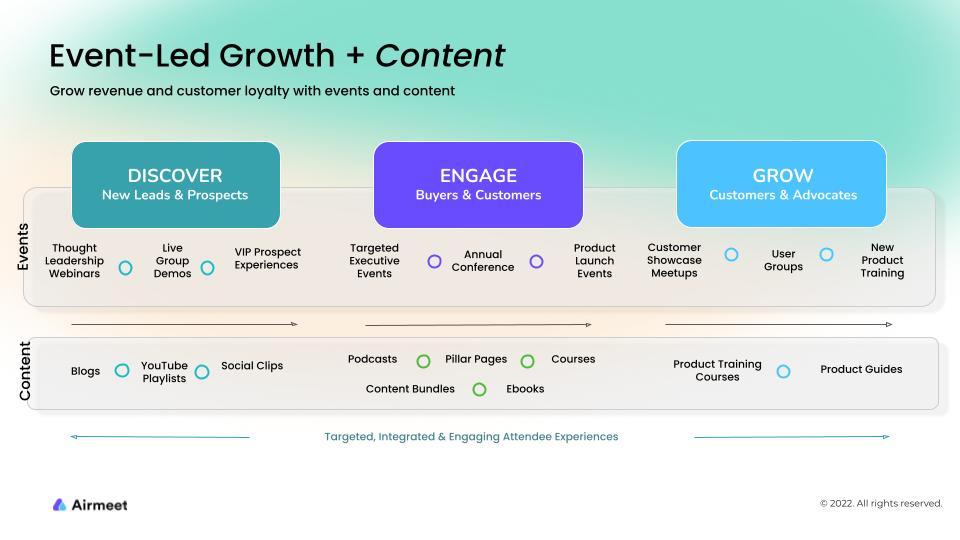 We've separated events and content into the different buying stages. Now, you know exactly which audience segments to target with every type of event and content. For example, live group demos and blog posts are great for the Discover stage, while new product trainings and product guides fit into the Grow stage.
It all starts with a main story you want to share. Choose the core problem your audience needs to solve and build out your content engine from there.
I'll leave you with one last thought. We talked a lot about how to take your events and turn it into content. But you could flip this whole strategy. That's right, you can take your content and create an event. That's a blog topic for another day. 😉
Do you want to run interactive virtual, live, and hybrid events? Host your first Airmeet webinar for free.