Events are a mega offer for business growth if planned and executed well. Perfecting alignment between the Sales and Marketing teams has remained a constant endeavor for businesses since ages. 
How can two teams who have distinct KPIs, success metrics, and different definitions can stay in sync and help manifest business growth?
Industry leaders—Sarah Jennings, Jack Foster, and Airmeet's CMO Mark Kilens—gathered on August 16th for the super insightful Airmeet Evention episode 2: The Sales and Event Marketing Waltz. 
The power-packed discussion concluded in super actionable tips, insights, and measures that businesses can adopt immediately to align the two crucial teams and maximize ROI.
Missed the class?
To fully experience the episode, watch it here: 
Here is the TL;DW (Too long; didn't watch):
Follow the 3 Ds to set foundation of a healthy alliance
The ultimate goal for both sales and marketing teams should be to celebrate revenue. If revenue fails, nobody wins.
The 3 D's introduced by Mark Kilens, CMO at Airmeet–Dashboards, Definitions, and Disqualifications emphasize the importance of having common dashboards, definitions, and processes to disqualify leads on shared agreeable grounds.
KPIs, success metrics, and leading indicators should be shared between the two teams to focus on maximizing the success of an event.
During the ideation process, it is a healthy practice to run the event formats with each other to finalize.
Experiment with different promo strategies that you could run in collaboration with each other to distribute events better. 
Both team's North star metrics (NSMs) to procure high-quality leads should be directly linked to the business' bottom line. For example, booking a demo could be an MQL–Marketing's NSM while timely follow-ups to nurture the leads could be sales' NSM.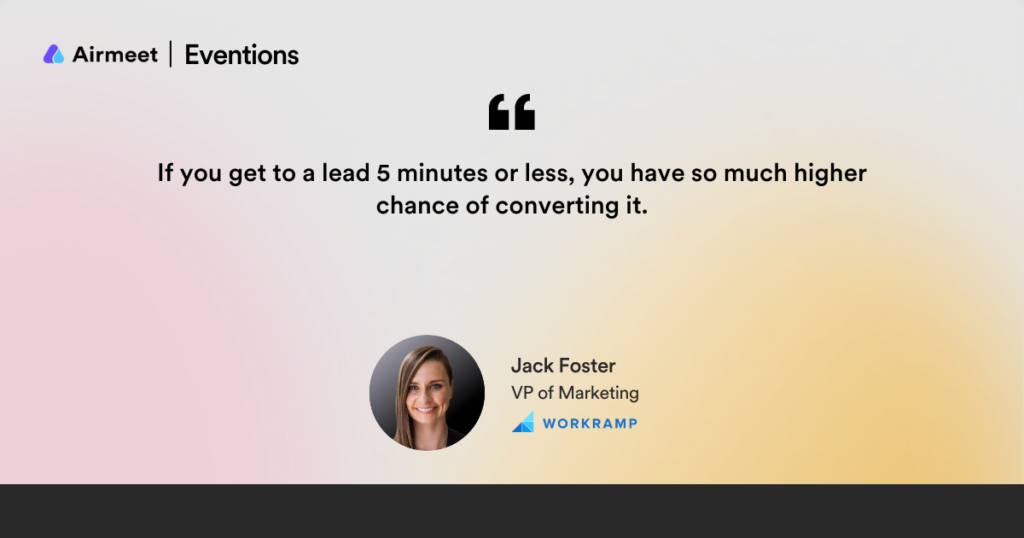 Maintain a 'S-marketing' meet-up cadence for open communication and visibility
Maintain a S-marketing (Sales and Marketing) meeting cadence at the organization level for enhanced visibility as over-communication is always better than no communication. 
Defining your leads is a critical factor when it comes to measuring the performance. Always be aligned on the definition of your leads.
Stronger alignment translates into agreeing on common data points and the same source of truth to grow the revenue.
Marketing's job is supporting sales during the sales process and all the way through the opportunity using content produced by marketing. Always be aligned and informed on the content that the company is producing. 
The marketing team must be in sync with sales with the post-event content for their outreach sequences.
Hold each other accountable: Know your metrics, share the burden
Review the success metrics at regular intervals to gather insights. The intervals could be 20, 30, 90, or 120 days post-event to gauge the performance of your event.
Share accountability and burden across teams. Pull product leaders into the situation when a customer shares major feedback.
Align on evaluating your cost per attendee to know how you are faring at budgeting.
For large-scale events, assign a sales quota for your reps to engage and rope in people to your events.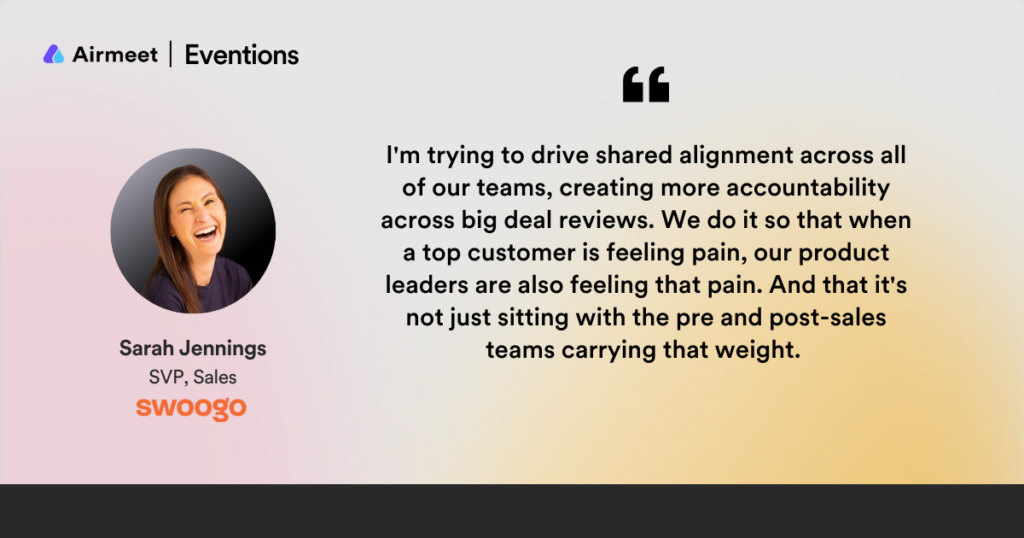 Events have immense power to bring people together to form meaningful connections—how you connect your audience to build relationships is all that matters.
Fill in the form below to register with us for more of such insightful episodes on the Airmeet Eventions. The series entails six masterclasses with the top leaders in the industry, who'll share exclusive, experience-based knowledge and win actionable marketing ideas to scale with event attendees. Registrations are always free at Airmeet.