Are you on the lookout for the best event management companies to host a successful event?
The right event management company can make or break your event. This is why you'd want to invest in a platform that helps you,
Improve your event ROI
Get a wider reach
Increase engagement across events and sessions.
Give access to recordings to increase the life-span of your content.
Give you real-time analytics.
When it comes to events, organizers strive to deliver engaging content and have satisfied participants throughout the event lifecycle. To provide such experiences, you need gamifying features that will help make your participants happy and satisfied.
Here are some top eight virtual event management companies that you can choose from for your next virtual event: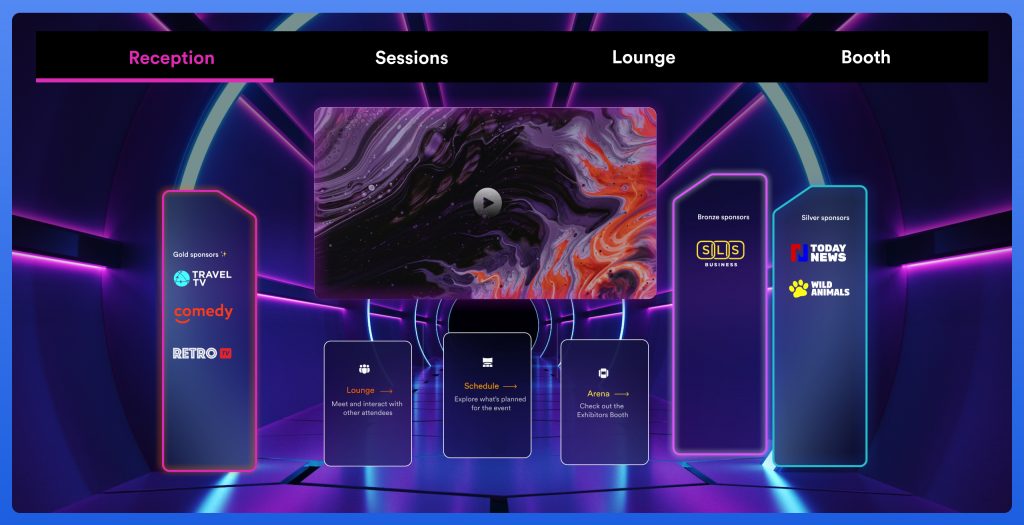 It is a comprehensive virtual and hybrid event management platform that makes hosting events as seamless as possible.
The engagement tools offered by the platform make it easy for organizers to keep the audience hooked at all times. It comes with robust gamifying features, including emoji reactions, raise hand and invite to stage, polls, Q&A, etc.
It also offers up to 720px video streaming, live streaming on social media platforms like LinkedIn and YouTube with RTMP, customizable reception booths, gated event facilities (with a magic link), social lounges (better than breakout rooms), and more.
The best part, you can set up events in minutes.
Pros
Supports up to an audience size of up to 100k participants.
Host parallel and multi-track events.
In-built ticketing system with Eventbrite integrations.
CRM integrations with Hubspot and Salesforce.
Marketing automation with Marketo and Mailchimp.
Multi-language support.
Customizable reception area.
GDPR and SOC2 compliant and end-to-end data encryption.
Live streaming with RTMP (YouTube, Facebook, Twitter, and LinkedIn).
Zapier integration.
Freemium version for one organizer.
Private backstage for speakers and organizers.
Sponsored booths.
In-app and email notifications.
Real-time analytics.
24/7 customer support and a support lounge
Cons
There is a one-time subscription option.
The freemium plan allows only up to 100 registrations.
Transform the way your audience experiences virtual events with Airmeet. Talk to a product expert today.
Zoom

It is a popular name in the category that comes with a host of cloud video conferencing capabilities. The platform allows users to join as view-only attendees. There is also the option of telephone dial-in and Zoom Rooms.
Pros
Accessibility features for specially-abled.
Breakout rooms for networking.
Reactions and emojis.
Cons
Limited branding options.
No free plans for webinars.
No integrations available.
Hopin

The platform allows users to mix and match various modules like event stage, event meetings, and event reception for delivering a better event experience. Hopin makes it possible to host virtual, hybrid, and in-person events on one platform.
Pros
Polls and surveys.
Speed networking.
Pre-recorded videos.
Cons
No booth lounge.
No Q&A.
No live streaming of events.
Remo

It allows businesses to grow and engage their audience through unique experiences with customizable floor plans.
Pros
Parallel sessions.
Attendees can share their LinkedIn profiles with others.
Customizable networking spaces.
Cons
Only six speakers.
Events can only last 8 hours.
No integrated ticketing system.
Brella

The platform allows you to host professional business conferences and events. They offer several features like intuitive attendee matchmaking and multiple live stream hosting.
Pros
Networking options.
Chat stream, resource center, Q&A
Cons
No virtual lounge.
No inbuilt ticketing system.
No landing page.
Hubilo

It is an all-in-one virtual events platform that makes it easy to host engaging events. They allow the integration of business and event workflow tools to make business event intelligence actionable.
Pros
Customizable branding.
Live streaming events.
Event polling, chats.
Cons
Session recording
Limited integration
Pre-recorded sessions
Bassett Events, Inc.

They are wedding planners and also organize charitable events and private parties. The special events can be of all sizes, ranging from high-profile get-togethers to intimate wedding affairs. The event planner has a small team that works under Jennifer Bassett.
Pros
Event production and design
Vendor contract negotiation
Sponsor and media management
Cons
Limited reach.
No engagement options to keep the audience hooked.
MKG

The full-service agency specializes in hosting product launches and other events for brands that are Instagram-worthy. The event management company believes in delivering exceptional brand experiences and not hosting regular events that do not add much value.
Pros
Creative campaign development.
Exhibit and environment design.
Cons
Limited reach.
No engagement options to keep the audience hooked.
What are the differences between a traditional event management company vs. a virtual event management company?
Events have always been a power-packed strategy for businesses to promote their products and services. The changing times, owing to the pandemic, have shifted the focus towards virtual events. Here are some tangible differences between traditional and virtual event management companies.
Engagement levels – No matter how hard organizers try, it is difficult to keep the audience engagement levels in in-person events high because of numerous distractions. Virtual event management companies score in this aspect as they have several tools like Q&A, emojis, chatbox, and polls to keep engagement levels high.
Speakers list – Virtual event management companies manage to get prominent speakers due to no travel barriers, unlike a traditional event where accommodation can become an added expenditure. Joining virtually makes it more feasible and convenient for speakers to commit.
Event reach – Virtual event management companies hold an edge over their traditional counterparts, as practically anyone from any corner of the world can attend virtual events.
Event planning -Traditional event planning can involve many hassles, right from site selection to catering for attendees. Virtual events companies eliminate these problems, giving you more time to focus on making the event content impactful. And not to mention, virtual event management companies can make your events more cost-effective and budgeting simpler.
Event hosting – Just like event planning, the hosting experience also becomes a breeze with virtual event management companies. Anyone can easily create an event in just a few minutes with a virtual event management platform. Furthermore, virtual event management companies replicate the experience of a traditional event with networking, ticketing, exhibition booths, and sponsors.
Why is Airmeet an ideal option to host your next virtual event?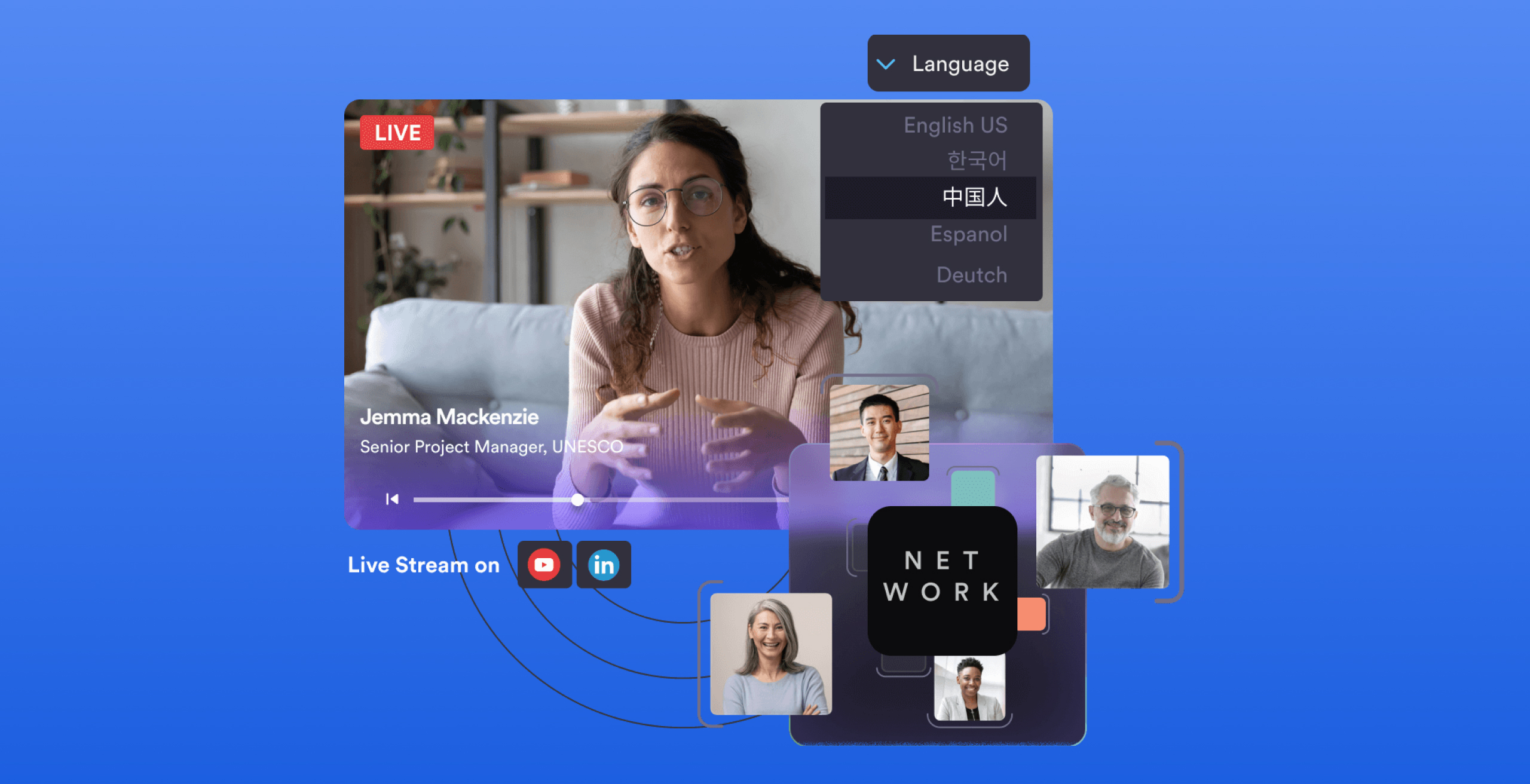 Out of all the event management companies featured here, what makes Airmeet standout are its engagement features that humanize events and spark real connections.
Social lounge and speed networking are unique features of Airmeet that make networking so seamless, even in virtual events.
Airmeet is a holistic solution for hosting any event. Whether you are looking to host company town halls, team meetings, Ask Me Anything events, networking events, fairs, ticketed events, panel discussions, or exhibitions, Airmeet can be the perfect choice for you.
The reception, booths, analytics, branding opportunities, etc., are more features that help elevate any event.
The platform is intuitive and easy to use and comes with multiple user-access levels, and integrations making it easy to manage the virtual or hybrid event. Furthermore, the platform also comes with 24/7 customer support.
If you are an event organizer and want to know how to deliver top-notch event experiences that attract attendees and invites more stakeholders,
Talk to one of our experts today.
FAQs
What do event management companies do?
An event management firm is responsible for planning, organizing, and executing events of various types. Events can be fundraisers, webinars, trade shows, conferences, corporate events, and much more. Choosing the right event management system is essential for the success of your event.
Which company is best for event management?
There are several event management companies out there that offer top-notch services. The best event management agency will depend on a specific niche of the event. For example, companies specialize in hosting trade shows, job fairs, business conferences, and much more.
Event planning companies work on everything from event planning to the event logistics. Furthermore, they also take care of other aspects like event marketing, site selection, budgeting, getting relevant permits, logistics, arranging for speakers and catering, and much more.
What are virtual events platforms?
Virtual event platforms allow you to replicate the experience of in-person events. They offer many benefits and make it possible for anyone to attend an event virtually from any corner of the world.
Which virtual event platform is best?
Many virtual event platforms are leaders in this space. If you are looking for engagement, networking, and sponsorship features, Airmeet is an ideal option. It is an all-in-one platform to host virtual and hybrid global events of all types related to business and networking.
How much does a virtual event platform cost?
The cost of hosting an event on a virtual platform would depend on the event size, duration, and platform chosen. Some platforms like Airmeet even offer a basic package for free.
How do I choose a virtual event platform?
Selecting a virtual platform will depend on several factors. First, you need to consider the objectives and outcomes you wish to achieve from the event and also the event type. If you want to host an event with a larger audience size running into thousands, Airmeet will be a suitable option as it allows up to 100k people to participate at once.
How effective are virtual events?
Virtual events are effective as they make it possible for anyone to join an event from any part of the world. Unlike in-person events, they do not involve any travel costs and save time and effort in attending an event physically. Pandemic or not, virtual events will continue enjoying popularity among the masses.
How do you plan a virtual event?
When it comes to planning a virtual event, try and understand the objective of the event first. Then assess the type of audience you need. You can then select a platform best suited for your needs and then begin with the marketing phase of the event.
What are some ways to keep the audience engaged in a virtual event?
Engagement tools like event polling, emojis, sharing the stage with the speaker, and chat options help keep the audience engaged. You can experience all these features on a virtual event platform like Airmeet.
Virtual Events & Community Building Insights
Subscribe to Get Updates (we promise no spam)